An outdoor bullet security camera is the one that shaped like a bullet or lipstick.
But do not get it wrong – most bullet surveillance cameras, especially the outdoor bullet cameras, are not as small as a real bullet.
In fact, even the mini bullet security cameras are about 8 inches long and 3 inches wide – Here I mean the bullet surveillance cameras with actual night vision to offer you solid protection day and night (why is that?).
After getting this right, let's start to explore the best bullet security cameras 2020.
Note: When you type bullet security cameras or bullet surveillance cameras in the search box, in most cases, you are looking for the outdoor bullet cameras exactly, which is weatherproof and could be used both outdoors and indoors, as the picture shows.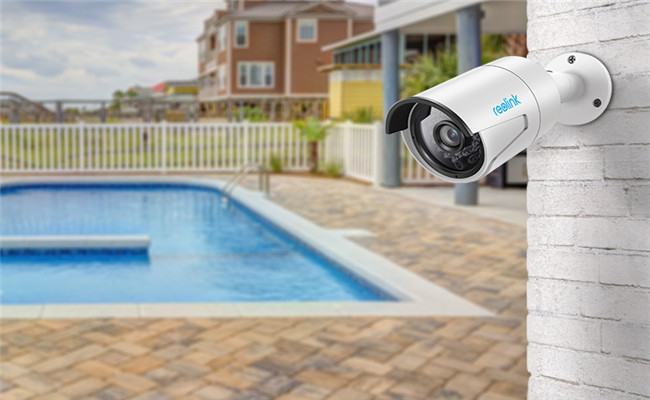 Best Outdoor Bullet Security Camera – Reolink RLC-410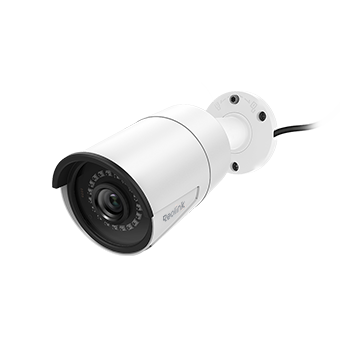 Reolink RLC-410
PoE Bullet IP Security Camera with Audio
5MP/4MP Super HD; Outdoor/Indoor Protection; 100ft Infrared Night Vision; Audio Recording; Mobile Remote Access & Control.
As the best selling IP bullet surveillance camera with 1440p HD resolution, waterproof housing, plug and play installation, and mini size, Reolink RLC-410 enjoys great popularity among users from over 200 countries.
If you are in a hurry and want a quick decision, the outdoor bullet camera Reolink RLC-410 will make no mistake in terms of features, price and tech support.
To be more specific, this camera meets every essential for a quality CCTV outdoor bullet camera. And here are the top 4 ones you should consider:
#1. It is an IP66 outdoor bullet camera.
IP66 signals that the bullet camera is perfectly to be used around the exterior of the house. (Learn more about IP66 cameras.)
That's to say, IP66 outdoor bullet camera can detect, capture and record the thieves, intruders and crimes accurately even in adverse conditions, and even when you place it without any protection outdoors.
And the bullet surveillance camera Reolink RLC-410 is the one which justifies its durability with enormous users in Canada, Russia, and other areas with extreme climate.
#2. It provides 1440p super HD resolution, much clearer than 1080p.
Have no idea about which one to choose between 1440p, 720p, 1080p high resolution bullet security cameras?
Actually, whether you want to use the camera to capture useful evidence of crimes or view live streaming remotely via smartphone and PC, 1440p outdoor bullet cameras like RLC-410 will be a better choice today, compared with 1080p ones.
1440p bullet cameras provide twice the detail of 1080p ones. You can then see every character of the car plate across the street and even the facial expressions of passengers 70 or 80 feet away. And that is not even possible for 1080p cameras.
So you don't need to worry about identifying and capturing the culprit with the 1440p HD bullet security cameras.
#3. It is easy to hide with mini bullet shape.
When you Google "outdoor mini bullet security camera" in the search box, in most cases, you are looking for a CCTV outdoor bullet camera with IR night vision and you could hide it easily.
And in that case, the hidden or mini bullet security camera could be larger than you think – probably a bullet or cigar, since the IR LEDs, which provides actual night vision with no supplement illuminator, will occupy larger space inside the camera.
The surveillance camera Reolink RLC-410, with a tiny body of only 2.6 inches high and 7.4 inches wide, is a real mini bullet security camera that could easily blend in with its surroundings to help you spy on things.
So you can conceal the outdoor bullet camera easily under the ceiling, eaves and low profile places. Potential burglars won't notice and think you have something unusually valuable inside, thieves won't get chance to destroy the camera before being captured, and your visitors won't feel uncomfortable about it.
Bonus: You may find more inspirations on how to hide your security cameras outdoors and indoors in this post>>
#4. It is cost-effective outdoor bullet IP camera.
A quality outdoor bullet security camera doesn't have to be expensive, such as the Reolink RLC-410.
It only costs you $64.99 (with free shipment) for this quality bullet security camera that offers effective protection from burglars and a real peace of mind.
With 2-year long term warranty, 30-day money back guarantee and one-on-one online support, this cost-effective outdoor bullet IP camera is reliable and worth your try.
To summarize, if you want to have an outdoor bullet camera that ticks one of the following boxes, then Reolink RLC-410 is the one.
| | |
| --- | --- |
| What you want | Reolink RLC-410 |
| IP66 waterproof/weatherproof | √ |
| Mini bullet and easy to hide | √ |
| Excellent infrared night vision | √ |
| Good quality with 2-year warranty | √ |
After all these analysis, it's also important to take a look at the reviews from others.
So here it is, the bullet security camera review from the top-tier tech reviewer PCWord:
"Reolink RLC-410 PoE review: Excellent performance, affordable price"
For more real user reviews for this bullet surveillance camera Reolink RLC-410, check the Amazon review section >>
For more video feedbacks from Reolink users, check the #ReolinkCaptures Program.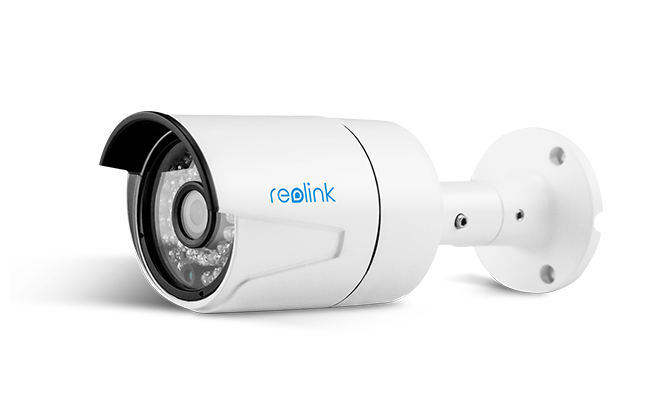 Best Outdoor Wireless Bullet Surveillance Camera – Reolink RLC-410W
As the wireless brother of the best selling bullet security camera, Reolink RLC-410W inherits all the pro features of RLC-410 including the IP66 waterproof, 1440p high definition, IR night vision, plus the bonus feature of dual band WiFi network and SD card on-board storage.
If you want a quick decision for outdoor WiFi bullet camera with plug and play installation and stable network, Reolink RLC-410W is the one.
More specifically, Reolink RLC-410W could do the top 5 things that you should never miss for any wireless bullet security camera, and more:
#1. It has dual-band WiFi and 2T2R MIMO antennas.
So the first thing before hooking up a wireless bullet security camera is to make sure the installation plan will work fine with no WiFi issues.
Generally speaking, in open areas, an outdoor WiFi bullet camera with 2T2R MIMO antennas could monitor your remote shed 250ft away with stable and smooth video. And for indoor use, the wireless bullet camera could be placed within 60ft away from the router with two walls in between.
If you are still not sure about your specific situations, you may leave us a comment, and we'd be happy to find a customized solution for you.
#2. It is an outdoor WiFi bullet security camera with SD card.
The wireless bullet security cameras with SD card allow you to store all motion event clips and the criminal evidence locally into the built-in SD card with or without Internet.
So you will have no worries about people snooping on your recordings on the Internet.
Another great bonus of the wireless bullet security camera is that it saves you monthly subscription fees of cloud storage and the extra expense of an NVR, which makes this WiFi bullet security camera a cost-effective choice.
#3. It has IP66 outdoor waterproof rating.
IP66 rated, this IP bullet security camera can be placed anywhere outdoors, like the critical places where home invasion and burglary are most likely to occur, including the front door, backyard and off-street windows (Also check top 4 tips on where to place security cameras).
#4. It is an outdoor HD bullet camera.
This CMOS bullet outdoor camera comes with 1440p resolution, offering twice clearer images than the 1080p ones do, even when mounted high up on the ceiling or second floor level to record the activity up and down the driveway, front door, backyard, garden, etc.
#5. It is IR night vision enabled.
With IR real night vision, the outdoor bullet IP camera Reolink RLC-410WS could actually see through darkness up to 100ft without any supplement light:
Any approaching burglars will set off the motion sensor immediately even when human eyes couldn't see, and the outdoor IR bullet camera would start to record, and then you will have instant notification on the mobile phone.
To get a quick glimpse of the outdoor bullet camera and do a quick matching, check the chart below:
| | |
| --- | --- |
| What you want | Reolink RLC-410 |
| Stable WiFi network | √ |
| Easy Installation, plug and play | √ |
| Remote access via phone & PC | √ |
| IP66 waterproof/weatherproof | √ |
| 1440p high definition | √ |
| Excellent IR night vision | √ |
| Good quality with 2-year warranty | √ |
Best Bullet Security Camera System – Reolink RLK8-410B4
Want to secure your new home or business with a complete bullet camera security camera system?
Packed with 4 best-selling Reolink RLC-410 and an 8 channel NVR with built-in 2TB HDD capable of weeks' long continuous recording, this bullet security camera system secures your front door, backyard, driveway and garage in a set.
Dome vs. Bullet Security Cameras, Which One to Choose
Can't decide between dome and bullet security cameras?
Actually there is no winner between them, and which one to choose mostly depends on where you are going to install the camera, and how you plan to use it.
To make things easy for you, just answer the following questions to find what suits you best.
Q1: Are you going to mount the camera on the wall or trees?
Yes? Definitely choose the bullet security cameras.
Q2: Are you going to mount the camera under the ceiling?
Both outdoor bullet IP cameras and dome cameras are OK with this position.
Q3: Do you want to use the security camera as a threat in the plain sight?
Yes? Then IP bullet security cameras could do a better job.
Q4: Do you want to hide the security camera or make it as inconspicuous as possible?
Yes? You may choose the outdoor mini bullet camera or a mini white dome security camera.
In fact, the CCTV outdoor bullet cameras are mostly installed on the wall and the dome type is born to be installed under the ceilings, which could serve as a prime guideline for your purchase.
And you can find both quality and the best outdoor bullet IP cameras and dome cameras to meet your every security need, like the top 3 best-received bullet ones listed above, and these 3 top-rated dome security cameras.
For a deeper comparison between bullet security cameras, dome cameras and PTZ ones, you may continue to read our previous post which has a well-rounded discussion about the differences between them.