Garden cameras are what advised most, by both gardening and security experts, if you've ever asked around after plant vandalism, potting shed burglary or garden break-ins, or if you want to keep an eye on your garden grow and watch wildlife. No matter whether your garden has power, WiFi coverage and light or not, there is a garden camera solution for you! Read on to find the best camera for garden that everyone can afford.
Table of Contents:
When you want to buy garden cameras, the key information is as below:
| | |
| --- | --- |
| Benefits | Theft/vandalism prevention, etc. |
| Various Situations | 5 solutions |
| Features | Night vision/PIR motion sensor |
| Recommended Camera | Reolink security cameras/systems |
#1. Garden Cameras for Theft & Vandalism Prevention
"Last year someone actually lifted a load of newly planted hedging from outside our property! We have garden CCTV cameras around, and now have them up outside the house, in case these low lifes try it again. I'd love to catch these people, wouldn't you!"
Just as the angry house owner pointed out, an outdoor garden camera is probably the only tool to help you discover the culprits and then prevent them from stealing again. Some type of fence might also help in a way, but it alone can never stop determined stealers and provide evidence as a garden CCTV does.
But don't get me wrong, some advertised garden cameras will not work. For example, the low resolution trail cam or the garden security cameras that at take photos at specific predetermined time settings.
A professional garden security camera usually has much higher resolution (1080p, 4MP and 5MP cameras are most popular today) with improved even starlight night vision, allows remote viewing on your phone via free apps, and can save up to months' garden camera footages on SD card or NVR.
For example, the garden camera Reolink Argus 2 will wake up once anyone steps into your garden and record in 1080p clear resolution day and night! You'll then know what happened to your messy garden. If you catch the thieves on the spot, you can also warm them verbally via phone to get them off your garden at once!
Pro tips: Also make use of the warning signs coming with the garden security cameras kit. It is helpful to threaten some burglars away if they know they are being taped.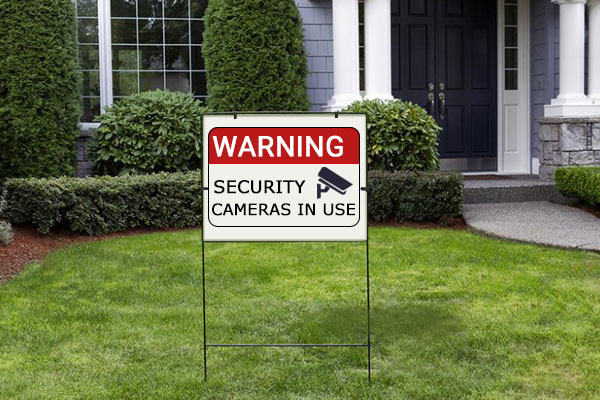 #2. Night Vision Garden Cameras for Watching Plants & Animals
Want to capture the elusive peak of your garden grow?
One of the best things you can do with the garden camera is to watch the plants growing or flowers opening. A garden camera can give you a "face on film" so that you will not miss anything, like the exciting moment of the peony blossoming.
Unlike like the dedicated garden time lapse camera which stitches images together to make time-lapse videos, a garden security camera can keep record of the REAL TIME plant growing 24/7/365. Or you may simply speed up the video to see your garden glow during a week or month period.
Here is a construction site speeding up video, captured by the Reolink RLC-410. Place it on your garden, and you will know why your plants and vegetables look messy after a sun shower:

In fact, the video captured by professional garden security camera has much higher quality, and it costs you less than a lower resolution time lapse garden video camera.
#3. Garden CCTV for Live Animal Broadcast
More excitedly, if you got a garden camera with remote viewing, which is a basic function of Reolink CCTV for garden, you can live the hedgehog, raccoon or any other garden animal's house life.
Just download a free Reolink app, connect the wildlife CCTV camera with your phone, and then you'll receive the garden camera live streams. This is what a time lapse purposed garden video camera can't do.
Here a Reolink Argus user shares his raccoon friends' garden camera live on Twitter.
Click here to see what's happening to the raccoons now on Twitter.
Editors Note: Mind that the camera in garden is better to gain 1080p at least if you want to get a very clear shot and make out details like the worms hiding in the leaves. But no worries, there are affordable 5MP, even 4K cameras for garden now with a resolution comparable to a sophisticated digital camera.
So besides the garden wildlife camera review, also remember to check the garden CCTV video sample.
#4. Garden Nature Cameras for Wildlife
Trying to find what animal is visiting your garden? Looking for an inexpensive way to record night-time visits to your back patio? Garden nature camera is the answer.
The garden nature camera can help you pick up wildlife in the garden or even in the woods beyond at night easily. And they are not that expensive even if you want a garden nature wildlife camera system, as long as you choose the right wildlife CCTV camera and brand.
Many quality garden motion cameras, including Reolink Argus 2, can not only detect the wildlife accurately with PIR motion sensor, wake up and record in less than 1 second, capture high quality photos and videos day and night, but also offer remote viewing so that you can actually see the live of your garden visitors directly on your phone, like the above mentioned Den Cam Live on Twitter.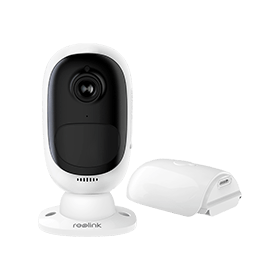 Reolink Argus 2
100% Wire-Free Starlight Camera
Rechargeable Battery & Solar Powered; Outdoor/Indoor Protection; 1080 Full HD; Starlight Night Vision; 2-Way Audio; Live View Anytime Anywhere.
Another good use of this wildlife CCTV camera is to watch birds. You can easily fix the garden bird camera on the tree or pole and aim it at the bird house to capture every movement of the garden birds. See what the Reolink user captures with his camera for garden:
Garden CCTV Reolink RLC-511W captures:
Extra tips: Do make sure you get a real night camera for garden, if there are expected night-time visitors. By this I mean, the infrared garden camera with IR lights that allows you to see the wildlife clearly even when there is no light outside. Currently, the starlight night vision garden camera is the best you can find.
And pay attention to the motion sensor of wildlife CCTV cameras, especially those works on batteries. If the garden camera produces loads of false alarms, the battery life won't last long. And the best garden wildlife camera is built with PIR motion sensor that can distinguish between the wildlife and natural elements.
#5. Stop Home & Garden Break-ins with Cameras for Garden
Not a victim of the garden theft and vandalism? Not enthusiastic about the wildlife? A garden security camera is also necessary to secure your home from break-ins.
Crime statistics tell us that, on average, 1 in 7 households a year experience a theft from the garden. And 85% police surveyed believed that garden spy cameras do help deter burglary attempts, like the video captured by Reolink camera shows.
Usually, a camera for garden can provide 80° to 130° wide viewing angle so that you can not only look out the garden but also the fences and the door together. So you can catch the intruders' face if they try to jump the fence to sneak inside or break into your backyard gate.
Extra Tips: Check this post to explore more ways to secure your garden sheds, gates, storage cottage, etc.
Best Garden Cameras (Wireless, Systems & More)
Garden security cameras are quite affordable these days with multiple functions like preventing garden theft and vandalism, watching wildlife, live animal broadcasting, stopping home break-ins, etc.
And here are several popular garden cameras models of your choice, according to your specific situations.
Reolink Argus 2 is the best selling WiFi garden camera, recommended by numerous top tie tech media (PCMag, Techhive, Makeuseof, etc.) as an affordable, quality, and easy to install mini security camera.
Key features:
1080p HD resolution, capture the thieves with facial details
PIR motion sensor has higher level of sensitivity to human and animal passing by
Starlight infrared garden camera tells you what happened even in low light conditions
100% wire-free, no cables and electrical outlets needed, easy to install
Garden video captured by Reolink Argus:
Other than that, the small Reolink Argus 2 could also become a garden spy camera, with camouflage skins available. There is a user creatively hiding the Reolink Argus 2 in a PVC tube to watch his front door area as well as the garden: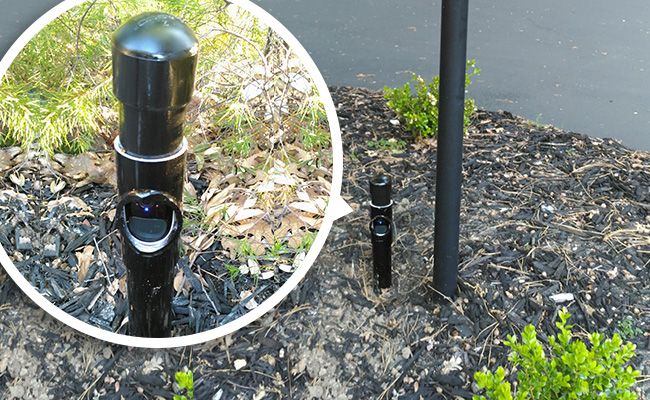 Have no WiFi coverage in your garden? No worries. You can also use wireless garden cameras.
Note that by mentioning wireless garden camera, here I mean there is No wire needed for the installation as well as the wireless data transmission. So the Reolink Go goes a step further from the "wireless" to totally "wire-free", just as the Reolink Argus 2.
A cellular garden camera that runs on 3G or 4G data will work well in rural areas with NO WiFi signal at all. (See how it works here.) As for the data use, it'll vary according to the activities in your monitoring area. But generally, 1 GB a month would be perfectly adequate since all cellular garden security cameras only record motion at the best resolution of 1080p.
Or if you happen to require multiple garden cameras to cover the whole place, the WiFi problem is solved – a garden camera system, whether it is wired or wireless, can work without Internet. Just power on the NVR and the cameras, the garden CCTV camera will start to record and save on the NVR, and you can start monitoring via a TV or a monitor if you connect it to the NVR. (Here is why)
You may choose one from the above to better suit your situations. If you have more specific requirements for garden video camera or have other concerns about the CCTV for garden, please leave a comment below, we'll reply to you soon.