Farms and ranches are important properties that need protection. Farm security cameras/ systems are real winners in the battle against farm thieves or ranch burglars.
Here you'll know how to choose the best farm security cameras including long-range farm surveillance cameras and outdoor security cameras for remote locations without WiFi & power cords.
Please check out our comprehensive guide on Garden Camera Solutions if you are interested in learning more about them.
Key Features You Need to Consider when Choosing a Farm Security Camera
When choosing the best farm security cameras & systems for your farm ranch and other large properties in rural areas you have to be fully prepared. Figuring out the key features of farm security cameras can help you make a quick purchase.
1. Long range surveillance monitoring
A great farm security camera with a long monitoring distance can let you see things far away and gain more details from live feed or recorded pictures and videos. Farms can easily monitor their whole land with only a few long range security cameras.
Generally speaking a long range security camera can focus at least 75 feet away from its mounting point and still recognize a person or vehicle. You can choose farm security cameras with different detection range based on where you're using them.
To monitor stables or farm gates secutity cameras with detecting range of 20-50 feet will meet your need. To observe crops on farmland or stuff in the warehouse you can choose 50-100 feet long range security cameras. For farms and ranches large in size long range (100 feet or further) farm security cameras are recommended.
Long range farm security cameras should better come with high definition which is also important to see remote things.
Most farm security cameras on the market come with 1080p resolution which is fine but not enough. For sharp and clear pictures & videos you'd better invest in 4MP 5MP or higher definition farm security cameras.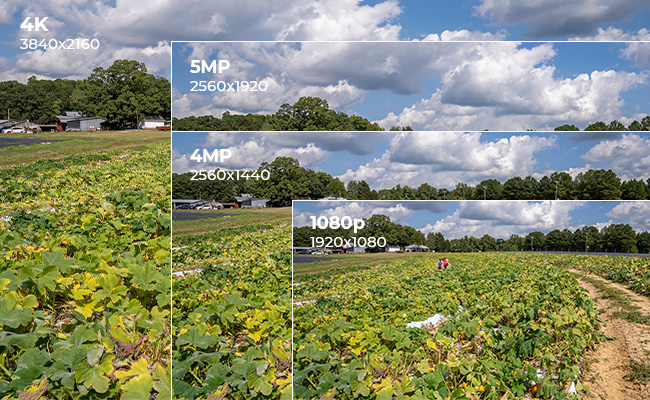 The higher definition the better. It's vital for you to recognize people or cars at a distance rather than just getting a blurred image.
2. Remote locations with 4G camera
If your farm or ranch is located in a rural area with limited infrastructure for example no Internet or power supply having a wireless farm security camera in place is essential to keep your assets secure.
A wireless farm security camera can work without WiFi or power supply by running on 4G LTE network and getting power from the battery. Due to these special features it's also called cellular security cameras.
You can put the 4G farm security camera anywhere without the limitation of troublesome wires. Installation work can be done in just a few minutes. Also you can remove the camera quite easily by unscrewing the screws.
Besides it can transmit data from faraway such as sending images and videos from a remote farm to your phone wherever you are.
3. Solar power
Solar-powered farm security cameras can be a good choice, especially if the farm is located in a remote area. 4G farm cameras with solar panel work even better.
Because the camera is 4G, video and pictures are transmitted via cellular data, and you don't have to worry about connecting a network cable to the camera. This solution is particularly suitable for use on remote farms because he installation is simple and maintenance costs are low.
Choosing a solar powered farm security camera can save you from frequent battery charging. Solar panels can be used to keep the batteries charged and farm security cameras can stay working for long periods of time if there is enough sunlight to shine on them.
Farms can be monitored even when you are not there. This can help deter criminals from targeting farms and give you peace of mind even when you're not on the farm.
3. Alerts and notification
Security cameras are a vital part of farm security, not just because they capture images and record videos but because they can alert you when something unusual happens. By receiving alerts and notifications from your camera, you can be quickly notified of any suspicious activity on your property, allowing you to take action to protect your farm.
In addition, alerts and notifications can also help you keep track of farm animals, equipment, and employees, ensuring that everyone remains safe and accounted for. With the right security camera system in place, you can have peace of mind knowing that your farm is always safe and secure.
Having a motion detection farm security camera can help reduce theft or vandalism on your property. Once triggered by unwanted activity the camera will send you alerts instantly via push notification or email. So you can check what's going on on your farm as soon as possible.
Reolink also offers advanced detecting technology. Their cameras can discern people and vehicles from other objects detect true threats and reduce false alarms.
What's more, you can even customize the voice alarm to better deter trespassers. This feature on the farm security camera is ideal for ranches with lots of animals walking around.
4. Night vision and infrared light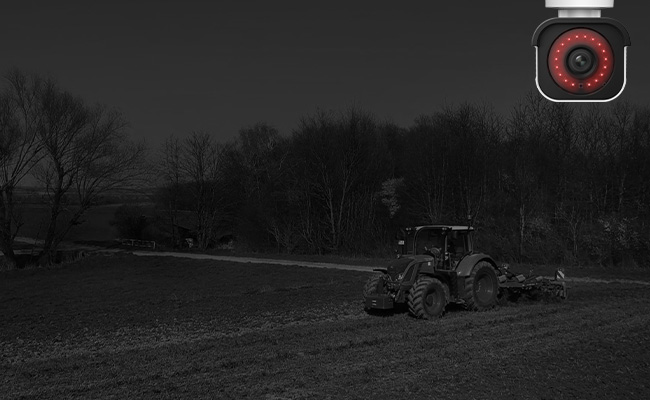 Darkess can be a cover for rural crimes. To protect your agricultural or livestock farms day and night you should go for long range night vision security cameras.
Most farm or ranch security cameras are equipped with IR LEDs that will emit light in the darkness. Even at night your camera can keep recording and offer you black and white images of the animals and plants. Anyone attempting to break in will also get caught.
But some may ask, "Will the infrared light from the camera disrupt the biological cycle of the plant or harm it?" .
Don't worry. Plants on your farm will only absorb the spectrum under 700 nm. IR light of your farm security cameras with night vision is typically above 700 nm so the infrared night vision security camera will not do harm to your plants.
5. Weatherproof cameras for outdoor use
If you want to install your farm surveillance cameras for outdoor use weatherproof security cameras with an IP65 or above rating are your best choice. Even on a rainy day these waterproof security cameras can perform very well.
TheIP ratingis an important factor that determines how weatherproof a product is. The IP code consists of two numerals. The first numeral refers to the protection against solid objects and is rated on a scale from 0 (no protection) to 6 (no ingress of dust).
The second numeral rates the enclosure's protection against liquids and uses a scale from 0 (no protection) to 9 (high-pressure hot water from different angles).
For daily use on a farm or ranch an IP65 or IP66 camera is solid enough to withstand sunlight or heavy rain. With a weatherproof farm security camera you can monitor the farm ranch or barn regardless of harsh weather conditions and get reliable protection year-round.
The Best Farm/Ranch Security Cameras/Systems
Based on the 5 key features mentioned above we've got you several top-rated farm security cameras and systems. You can choose whatever you prefer.
For large property, get a security system
A CCTV security camera system is the better choice for large properties like farms. With a farm, you will need more than one camera to cover the entire property, providing 24/7/365 protection. A CCTV camera system kit that includes multiple cameras will be more cost effective than purchasing individual cameras.
In addition, one NVR can be connected to all of the cameras and can record centrally. This allows you to monitor all farm activities from one location. No tying up your local network while doing 24/7 video surveillance. Plus, the video is recorded on the NVR or DVR's built-in HDD disk and does not consume memory on any of your devices.
Reolink RLK8-800B4
4K 8-Channel PoE Security System
4 pcs 4K Ultra HD Security Cameras; 2TB HDD 8-Channel NVR for 24/7 Recording; Person/Vehicle Detection; Plug & Play; 2 Network Solutions.
The security camera system RLK8-800B4 from the famous brand Reolink can be a good choice. It includes four 4K cameras 8-channel NVR (Network video recorder) and a 2TB built-in HDD enabling you to record day and night.
Also it can detect people and vehicles as they pass by and send you real-time alerts. Its 18pcs Infrared LEDs allow you to see 100 feet far away even at night. Put cameras of this surveillance system in different places to cover your whole land you can secure your farms & ranches from thieves
For remote locations, get a 4G camera
Wireless battery-powered 4G security cameras are a great option for farms that are remote and have no power or wifi connection. These cameras use a 4G data connection to send live video footage to your smartphone or other device, so you can keep an eye on your property even when you're not there.
Thanks to their battery power, these cameras can be placed anywhere on the farm without needing to be plugged into an outlet.
Unlike other wired and wireless security cameras using a dedicated Internet connection for remote viewing cellular security cameras operate over a 4G/5G cellular network making them appliable on your farm and other remote locations where Internet access and power cords are unavailable.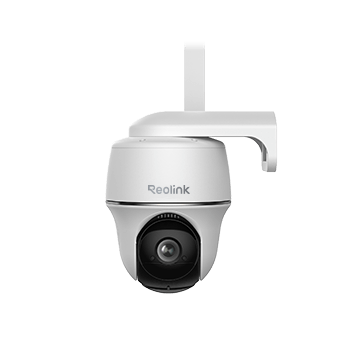 Reolink Go PT Plus
Wire-Free 4G LTE PT Security Camera
No WiFi or Power Connection Needed; Rechargeable Battery or Solar Powered; Person/Vehicle Detection, 355° Pan & 140° Tilt, 2K Super HD.
The Reolink Go PT Plus is a 100% wire-free cellular farm security camera that can be placed both outside and inside. It offers clear day and night images with its 2K 4MP Super HD& advanced night vision.
Additionally, it is powered by a rechargeable battery as well as a solar panel, so it can stand outdoors without any need for wiring. Setting it up is easy and there is no cost involved. You can access the live streams of your farm or ranch remotely via the App, even if you're not there.
For easy installation, get a PoE camera
Unlike the traditional wired farm security cameras the PoE security cameras are less troublesome for farms and ranches. You can install this kind of farm surveillance camera all by yourself with only one Ethernet cable. No more paying extra money to hire technicians!
A standalone PoE security camera can monitor a wide range of your farms. Such cameras usually come with a 4K high definition and long detecting range (up to 190 feet). Moreover the PTZ security camera can work the same as multiple fixed ranch security cameras which saves your budget.
Why You Need Farm Security Cameras
You need a security camera for your farm because, you may think your farm is safe but it's absolutely not. Whether you live on the farm or not you can't always keep an eye on your assets. And when you're away or asleep it's time for trespassers to act. The potential threats exist all the time.
As the 2022 Rural Crime Report points out half of the people in the rural community consider rural crimes as one of the biggest worries. As the cost of rural crimes dropped farm or ranch owners have to take various measures to protect their property and assets including tractors livestock fuel and many other things.
Farm security cameras are proved to be useful in reducing rural crimes. Modern surveillance systems can help catch criminals in action and also provide significant benefits in your everyday management.
The Advantage of Having Farm Security Cameras
The advantage of having farm security cameras is much more significant than how much they cost. Here are some of what farm security cameras can do for you:
Keep your farm safe. They can monitor your assets and property remotely all the time. Even if you're not there you'll know what happens.
Keep crucial evidence. Farm security cameras can record anyone who enters your property. If a crime happens you can keep the recorded videos as evidence and report them to the local police.
Observe the crops livestock and weather conditions. You can use the farm security cameras to see how your crops grow whether your livestock is safe and sound or whether there is extremely harsh weather.
The benefits of farm security cameras are more than that. Having these devices to keep an eye on your fields is always good for you to be fully prepared.
Keeping Your Farm Property Secure with These Farm Security Tips
There are a lot of measures you can take to protect your property and livestock. The following tips are some feasible and effective methods.
Build Solid Fences. One of the easiest ways is to build solid fences around your property. If possible you can build them high. Using electric fencing or barbed wire can add extra protection.
Lock You Assets. When you leave your tractor trailer or other vehicles on the farm make sure you never forget to remove the keys and store them in a safe place. Or you can park the vehicles in a lockable garage.
Use Motion-Activated Devices. Put motion-activated lights or alarm devices around your important equipment. Once someone sneaks in and tries to move the equipment these alarm devices can deter the criminal instantly.
Install Security Systems. Use a CCTV security camera system to monitor everything in the fields. With pictures and videos captured by the camera you'll always keep an eye on your property.
How to Install Farm Security Cameras & Systems
1. Choose your location
When you install farm security cameras remember to cover the below important locations of your plantations estates pasture pastures etc.
• Your farm entrances exits driveways
• The holding pens to monitor or track animal behavior & employee working operations
• Trouble areas such as machinery storage farmhouse fuel tanks and water supplies
2. PoE camera installation
When you install PoE wired farm security cameras just connect the cameras to your router via a Cat 5 or 6 cable. You can use an Ethernet extender to extend the connection distance between your cameras and the router.
3. Wireless camera installation
For wireless ranch or farm security cameras you just need to power them up and all is done. As long as the WiFi security cameras & systems are within WiFi range you can access the cameras wherever you like.
4. Battery camera installation
In terms of battery powered rural farm surveillance cameras you can make them work extremely easily by inserting the batteries into the cameras. You can also connect the cameras to the solar panel to get continuous electricity for your cameras.
FAQs
Are there farm security cameras without WiFi?
The 4G cameras farm camera without WiFi designed for rural areas. These farm security cameras run on 4G LTE or 5G network and transmit data from far away directly to your phone or laptop.
No Internet or power supply is needed. The farm security camera is battery/solar powered. You can set it up anywhere and put a solar panel around for it to work longer. Besides checking live streams of your farm or ranch remotely from your mobile application you can both save the data on an SD card or manually save it to the cloud as a backup.
More excellent features such as 2K super HD person/vehicle detection and night vision make the 4G farm security camera a great choice for farmers and ranch owners.
How to monitor a large farm property?
Install security cameras around the perimeter of the property.
Use motion-activated and solar-powered security cameras to reduce energy consumption and extend battery life.
Set up a security system that sends alerts to your phone or computer when movement is detected.
Install security lights in strategic locations to deter intruders.
Monitor the property regularly to ensure that it is secure.
Conclusion
Farm security camera systems could be costly but losses incurred by farm theft or vandalism can be much heavier. The fees you pay for farm security cameras or systems will undoubtedly be less than the financial and emotional aftermath that follows a farm burglary.
All in all farm security cameras are efficient tools to prevent farm or ranch theft and can also be used to monitor plants and animals. Now is the time to choose the best one for your farm! You are welcome to share this article with your friends or leave your opinion on the topic of farm safety in the comments below.