For many homeowners, the video doorbell is a great investment. It enables you to monitor vacant properties while you're away, provides security footage for the home (and any packages that might become the victim of porch pirates), and sometimes reduces insurance costs.
However, compared to the classic doorbell, a video doorbell carries a much higher risk of theft.
Fortunately, there are ways to prevent thieves from swiping your video doorbell.
This article explains why video doorbells are common targets and how to minimize your risk. By taking all the recommended precautions, you can improve your home's security and reduce the odds that you'll come home one day to find that your doorbell has been stolen.
Why Video Doorbells Are Common Targets
As video doorbells gain more popularity as an effective component of a home security system, some homeowners are concerned about the high price tag. theft
Attaching an expensive, novel technology to the outside of your house for all to see tends to increase the risk of losing that expensive, novel technology to theft.
Most video doorbells are easy to identify as they often do not match the color of the trim or siding upon which they are mounted.
Anyone walking near your house can see that you have a video doorbell, and if that person is so inclined, the doorbell is pretty easy to rip off of your house.
Granted, the thief will likely need a crowbar or a screwdriver, but it doesn't take long to remove the doorbell, and it isn't especially difficult. Once the thief has your doorbell, selling it is also fairly simple. This makes your video doorbell both enticing and an easy target.
Additionally, once your video doorbell is gone, the thief may decide to seize the day and burgle your house, so long as he's there anyway. Your first defense against home invasion doesn't do much good if it's stuffed in the home invader's pocket.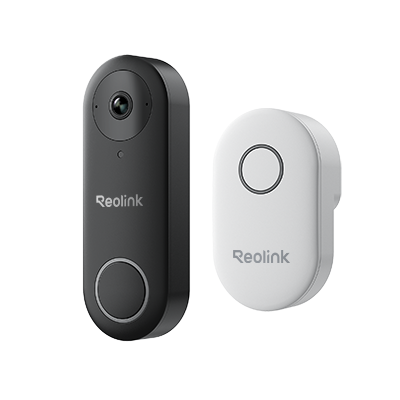 Reolink Video Doorbell (WiFi)
Smart 5MP Video Doorbell with Chime
5MP Super HD Day & Night, Person Detection, 2.4/5 GHz Dual-Band WiFi, 180° Diagonal Viewing Angle, Two-Way Audio, Rich Notification.
8 Tips to Protect Your Video Doorbell and Deter Potential Burglars
Despite the potential of losing your video doorbell to a motivated thief, doorbells provide homeowners with many security advantages that are worth preserving.
Here are some simple and effective ways to protect your video doorbell and maximize your home security.
1. Mount your doorbell wisely and securely
Resist any temptation to use any sort of temporary or light-duty mounting hardware.
Some people have used double-sided tape to mount their doorbells, and although this is effective for mounting, it is extremely ineffective for theft prevention.
You should be sure to use security screws and backplates, which often come with the doorbells, to mount your doorbell directly on the doorframe or outside the wall of your house.
There are many reported cases of thieves pulling the cameras down and walking away, but security screws prevent this.
At the very least, the thief will need a tool, and it will be much more challenging to remove the doorbell, which will potentially deter a spontaneous theft.
2. Use a protective cover or mounting plate
Supposing the thief is determined to steal your doorbell, he may return with a screwdriver to remove the security screws.
The best way to deter this is a protective cover that hides the screws from view and reduces someone's ability to tamper with the doorbell itself.
Burglars who are able to unscrew the video doorbell have better odds of either installing it on their own homes or selling it to someone else after a factory reset.
Supposing the thief brings a crowbar, the time investment required to steal the doorbell is still higher as the thief must first tear down the protective cover and then unscrew the doorbell.
This increased risk of being caught and damaging the doorbell may also act as a deterrent.
3. Use other security measures and advertise them
A video doorbell on its own can be a useful security tool, but a security system around the house is also useful.
Additionally, most security companies provide signs that you can put in front of your house to notify any potential thieves that you are protected. If you aren't interested in a security system, these signs can still be helpful.
Alternatively, signs stating that a dog, gun, grumpy old man, or other deterrent is protecting the home can also work. If a burglar believes there is a risk of harm involved in breaking into your house, the doorbell will probably be the only target. If you have also implemented the first two security measures, the thief may not bother with the doorbell either.
4. Monitor your notifications
If you receive a notification from your doorbell, check it right away. If a thief approaches your home and attempts to tamper with your doorbell but is unsuccessful, your doorbell may alert you.
You can then identify the potential burglar or return home before he returns with better tools. It's also beneficial, from a home security perspective, to have an idea of who comes and goes from your home when you aren't looking. You should receive a notification any time someone rings your doorbell.
5. Use a two-way talk feature
Another perk of the video doorbell is two-way audio. Many doorbells currently on the market have this capability, which allows you to speak directly to the person (or shout at a thief to get his crowbar off your doorbell, as the case may be).
Even if you're busy, be sure to monitor your notifications for potentially suspicious activity.
6. Secure your home Wi-Fi network
An oft-overlooked vulnerability of any smart device is its connection to your home network.
Many people neglect to change the default password of their smart devices, which makes it much easier for someone else to bypass the TLS and SSL encryption and to hack into the device.
The thief then has access to your personal data, which may include passwords, banking information, photographs, security footage and other videos, etc.
Once the person has accessed your device, it is then not very difficult for the experienced hacker to access your home network and thus the rest of your devices.
Be sure to change your video doorbell's username and password, as applicable, to improve network security. Avoid giving access to either your network or your doorbell to anyone outside your residence.
Especially if you have other smart devices, it's important to lock down your network. Anyone who can take down your home's Wi-Fi can disable your doorbell. If your doorbell is disabled, it's much easier to attempt theft.
Access to other devices also increases the risk that a thief will target those devices as well, and it may allow that thief to get an idea of what valuables are in your home without being physically present.
7. Backup your data
Even if you take all of these security measures, there is still a chance that your video doorbell will be stolen. In that case, you should focus on recovery. To improve your chances, always back up your camera's data.
If someone steals it and the video data remains only on your camera's SD card, or is locally stored, meaning that you won't be able to see who stole it or who may have come and gone from your house recently.
Many security professionals recommend cloud backups so that your camera automatically uploads its videos; however, this can be expensive for recurring monthly subscriptions.
If you prefer to not use the cloud, you can manually back up the data to an external hard drive. Unfortunately, this option is not compatible with many video doorbells. Generally speaking, implementing a cloud solution is the easiest way to go.
8. Consider a backup security camera
While a video doorbell can be useful for its connectivity and alert capabilities, installing a basic security camera as a backup to your doorbell can help you monitor your home even if your doorbell is damaged or stolen.
By placing the camera in a well-concealed place, you can keep an eye on your doorbell for extra peace of mind.
9. Camouflage your doorbell.
Consider placing your video doorbell in a somewhat less visible area than your doorframe. You can put it near plants or rocks to hide the wires, for example. If you want to hide the doorbell itself, consider placing it inside a birdhouse or mailbox. As long as there is a hole in the container that can be lined up with the camera lens, the doorbell will still function while securely hidden.
What Should You Do If Your Video Doorbell Is Stolen?
Following all 9 tips can help protect your video doorbell from burglars, but it does not eliminate all risks.
Here is how to best proceed if someone steals your video doorbell:
Report the theft to the police immediately. Do not enter your house (the thief may still be inside). Follow instructions from the police and cooperate with any investigation.
Take pictures of the damage, download video from the cloud, and monitor your area for suspicious individuals, especially any individual who shows up in your recorded doorbell footage.
You cannot track your doorbell because it does not have GPS capability, so the best way to track it down is to determine who might have taken it and report that to the police.
To reduce losses, consider checking to see whether your video doorbell manufacturer provides warranties.
Ring and Google Nest, for example, will replace your doorbell for free if you qualify. Generally, you would need to file a police report and take photos of the damage to your home where the doorbell was removed as soon as possible.
If you insured your doorbell, you should also contact your insurance company.
Always Take Preventative Measures
It's possible that even if you take every preventative measure, your video doorbell could still be stolen.
Still, you should take as many of these 9 measures as you can to reduce the odds of a theft at your home and to improve your peace of mind.
Even if you are unsuccessful, the actions you take before the theft can impact how easily you recover and limit the amount of damage done to your personal security and finances.
As a reminder, update your video doorbell's software often, and be sure that your backups are regular and functional.
Watch the footage frequently, and pay close attention to any notifications you receive from your doorbell.
Conclusion
Finally, be sure to lock down your Wi-Fi network so that only people you trust have access to your personal information.
Do you have a video doorbell? How do you protect it? Share your ideas or ask a question in the comments below.