How can you turn a wireless outdoor camera into a solar-powered security camera that works wirelessly? How to DIY solar-powered security cameras? Or to use a solar panel to power security camera, what factors need to be considered?
What You Need to DIY Solar-Powered Outdoor Security Cameras
• Solar panel(s)
• A solar charge controller
• A solar battery/battery pack
• DC converter/inverter
• WiFi security camera
To solar power security camera or DIY solar WiFi camera, in general, you are looking for these basic elements: an outdoor wireless IP camera, solar panels (or solar panel kit) to generate electricity, battery pack (rechargeable/car battery) for solar energy storage, a solar charger or solar regulator, DC converter/inventor, and cables to connect them together.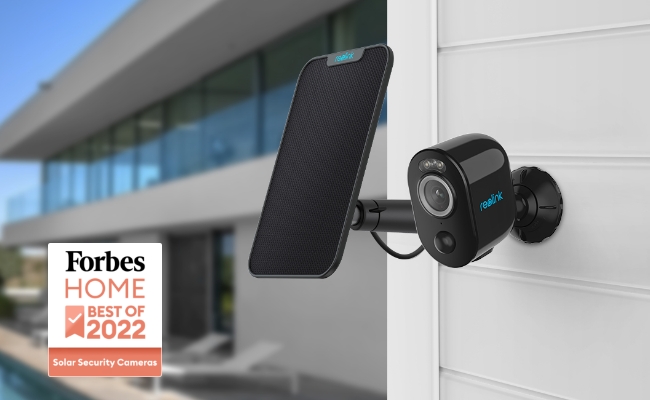 DIY Solar-Powered Wireless Security Camera: What Factors to Consider
There will be a bit learning curve for not-so-tech-savvy homeowners to a DIY solar-powered wireless security camera. But with a bit of guidance, it's easy to understand.
Factor 1. Power Supply Voltage of Solar Security Camera
It's really important that the power supply voltage of battery/solar power kit matches that of wireless security cameras.
If it's not supplied with the proper power voltage, the DIY solar security camera either won't work or even be burnt or fried.
General speaking, outdoor wireless IP security cameras run either 12V or 24V power. For example, a 12V wireless security camera can't be powered by a 24V battery or power source.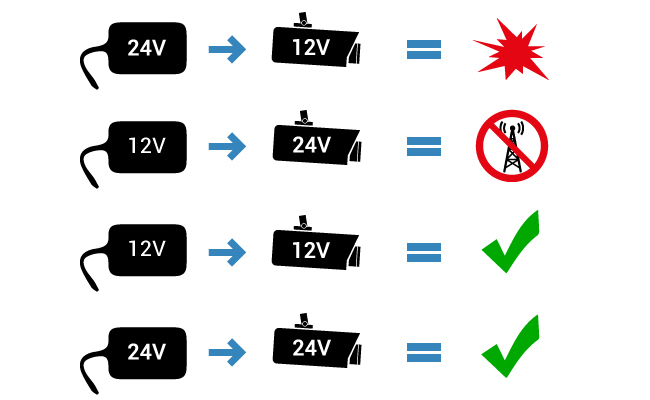 Besides, if you want to power an AC-powered WiFi outdoor camera with a DC solar battery, you need a device that will convert DC to AC, or vice verse.
A power inverter changes a certain DC input voltage into a completely different AC output voltage (either higher or lower).
Factor 2. Battery Backup for Solar-Powered Wireless Security Cameras
The off-grid electricity you are getting from solar panels has to adequate to sustain the surveillance cameras long enough when the sun is not shining or there are cloudy or rainy days.
The power consumption of CCTV or IP security cameras /systems varies, especially security cameras with features like IR night vision, pan/tilt, which could require more power.
Therefore, make sure your solar panels or solar power kits for security cameras are pumping out power at a fairly reasonable speed. Learn more about how to choose the solar panel for security cameras.
Meanwhile, make sure the solar batteries are capable of recharging fast and store enough power for continuously monitoring & recording.
If you are buying solar panel kit or solar power kit for the camera right off the shelf, for example, 12V solar panel kit with charge controller, it will cut down tons of troubles finding the right fit.
Factor 3. Impacts from Elements
Your solar-powered outdoor security cameras or battery placed out in the open will be inevitably exposed to elements, such as moisture, dust or lightning.
First of all, make sure you choose waterproof outdoor wireless security cameras, and protect the solar kits with solid housing or weatherproof box.
And be sure to keep your outdoor solar-powered IR security cameras clean and away from spider webs, bugs or other insects. Learn more about how to protect outdoor security cameras.
Factor 4. Installation of Solar Panel Camera
Placement of solar panel makes a difference when it comes to power generation. Try to face the solar panel to the equator where you can maximize exposure to the sunlight instead putting them in shade.
Past experience told us that it will get the best results by placing the solar panel facing to the equator and selecting an ideal tilt.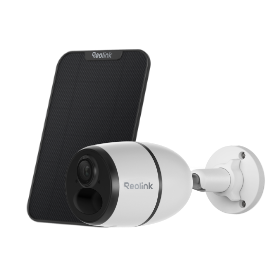 Before switching from AC power to solar power, make sure your outdoor wireless security cameras' WiFi connection is configured, which makes it easy to connect the solar-powered WiFi camera to the home network later on.
And it's important to fully charge your battery pack or rechargeable battery before switching to solar power.
Factor 5. Cost of DIY Solar-Powered Security Cameras
Even though getting electricity from sun to power your wireless IP/CCTV security camera is green and environmentally friendly. However, the price tag of solar-powered security system could put you off.
Solar-powered CCTV kits do not come cheap! The price tag for solar power panel kit for security camera, like quality solar panels and deep cycle battery/car batteries could be a few hundred bucks, ranging from $400 to $1k+, especially like solar-powered 3G/4G/LTE cellular security cameras, which will entail cellular service charges like $80 per month, or solar-powered CCTV kits.
How to Solar Power Outdoor Wireless Security Camera
There are many videos and articles detailing about how to use solar panels to power surveillance cameras and how to DIY solar-powered security cameras, for example, Jake Ludington offers detail illustration on his DIY solar-powered camera.
And another user DIY solar-powered security camera by using Reolink wireless security cameras, see more on this post. Of course, if you are hoping to score a solar off-the-shelf panel security cameras, just head over to this great buying guide.
Other Alternative to Solar-Powered Wireless Security Cameras
People who are looking for solar-powered CCTV cameras or solar-powered WiFi cameras are hoping to keep an eye on areas that power socket is not available or running power cables is impossible.
Luckily, battery wireless security cameras like Reolink Argus 3 Pro, which also comes with motion sensor & SD card, are proved to be very effective in keeping an eye on areas without easy access to power.
For example, users could use the Reolink Argus 3 Pro rechargeable battery-powered security cameras in places like detached garage, driveway, basement, carport, holiday home, RV, truck, pier, motorhome, ship, boat, farm, shed, range, job site, construction site, yacht, floating house or any places where power outlet is inaccessible.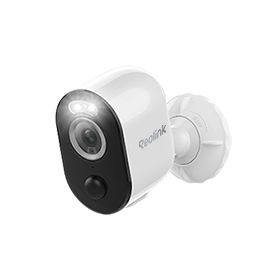 Reolink Argus 3 Pro
2K 100% Wire-Free Spotlight Camera
2K 4MP Super HD, Battery/Solar Powered, Person/Vehicle Detection, 5/2.4 GHz Dual-Band WiFi, Color Night Vision, Two-Way Audio.
Outdoor solar-powered cellular security cameras
with the rechargeable battery & smart motion detection, will also work for the backyard, driveway, remote areas, motorhome, RV, trailer, food truck, farm, shed, summer home, even in places where WiFi network is out of range.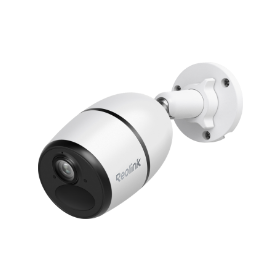 Reolink Go Plus
Smart Wireless 4G Battery Camera
Rechargeable Battery/Solar Powered, Person/Vehicle Detection, 2K 4MP Super HD, Two-Way Audio, High-Quality Night Vision, Live View Anytime.
Meanwhile, there are many camera solutions that are the plug-and-play type, easy to use and only cost you around $100, such as PoE outdoor security camera RLC-510A at $54.99.
Conclusion
The solar power as a power source alternative is getting a lot of attention these days, and rightfully so. Its ability to provide electricity to surveillance cameras at the place where running cable would be overly expensive or excessively complicated makes solar power a favorable solution.