Many of you might hear about IP security cameras slowing down your home network, but few of you have never factored in power consumption of your security cameras, CCTV cameras or security systems. So how much power do your analog CCTV cameras, PoE/wireless security cameras, DVR/NVR or security systems use? Do security cameras use a lot of electricity? Here we give you the answers.
When discussing the power consumption of a security camera/system, you may know the information below first:
| | |
| --- | --- |
| Reolink RLC-810A | Less than 12W |
| NVR/DVR | More Watts |
| Reduce Measures | Change camera settings, etc. |
| Recommended Camera | Reolink security cameras |
How Many Watts Do Your Security Cameras Use
Some video surveillance cameras provide power consumption specification, for example, less than 12W in Reolink RLC-810A PoE IP 4K HD security camera.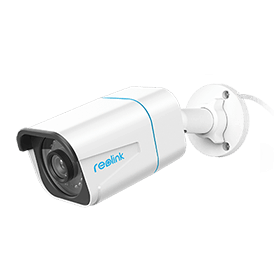 Reolink RLC-810A
4K PoE IP Camera with Person/Vehicle Detection
Smart Person/Vehicle Alerts; 4K UHD Day & Night; 100ft Night Vision; Time Lapse; IP66 Certified Weatherproof; Audio Recording.
Or plugging your surveillance device to a Kill A Watt, so that it reads the power consumption.
The power consumption of security cameras with different features such as IP cameras with IR illumination night vision and pan-tilt will be different from that of CCTV/IP security cameras without these functions, estimated at roughly 2-4 watts bump.
Besides, PoE (powered over Ethernet) security cameras might entail a PoE switch/injector which will add up a bit in power consumption. A piece of advice, choose PoE switch carefully by estimating the maximum power draw per device and the number of PoE cameras.
In general, security cameras, either CCTV analog cameras or PoE IP security cameras, are not energy-consuming as other gadgets like computers or bread toasters; they only need very little electricity to work.
Does DVR/NVR Use a Lot of Electricity
DVR/NVR tend to use a bit more than CCTV security camera or PoE security camera. For example, one of Hikvision DVRs uses 40 watts Maximum running on 100~240VAC, 6.3A or one of Dahua DVRs runs on DC12V/5A, using 60 watts.
24/7 monitoring with DVR/NVR, in particular, will demand more power consumption down the road.
Security camera systems, as a whole, are not energy hungry and they are not costly to run as much as you might think as one Redditor gives us a clue of rough cost of running home security system with a DVR/NVR.
However, they could be in the long run if you are not choosing one carefully or maintain them properly.
How to Reduce Cost Running CCTV/IP Home Security Cameras/Systems
Even though video surveillance cameras are not guzzling your electricity on a daily basis, while the type and number of security cameras, as well as the time of monitoring and their working temperatures, may contribute to the uptick on your electricity bill in the long run.
Therefore, it's important to take some proper measures to whittle down security cameras/systems' energy consumption, for example, buy reliable security cameras, quality wires, and cables, and tweak your cameras' settings to save powers by customizing motion detection.
And if you are thinking about going green, solar-powered security cameras like Reolink Argus 3 Pro and Reolink Go Plus are even better for reducing power consumption.
Conclusion
Even though a home security system only takes up a small portion of household energy consumption, taking a small step to green up your home security system will not only slash energy spending but also reduce carbon footprint in the long run.