So you want to put up security cameras in areas with no WiFi or Internet? The cellular security cameras can be your handy solution that don't require Internet and electric source. In this quick article, we'll break down everything you need to know about 3G/4G/5G cellular security cameras and help you gain an insightful idea of mobile security cameras.
Here are the things you need to notice before buying cellular security cameras:
| | |
| --- | --- |
| Where to Install | Construction sites, farms, etc. |
| Pros | Flexible location/easy installation |
| Cons | Battery life could be a problem |
| Recommended Camera | Reolink Go Plus/Go PT Plus |
What Are Cellular Security Cameras
The cellular security camera systems are a good replacement of the PoE cameras and traditional wireless security cameras requiring network for data transfer.
Instead of using a dedicated Internet connection, a cellular surveillance camera transmits video signals over a mobile network, making it the ideal security solution for locations without Internet and power source.
And the cellular security cameras work in a way similar to your cell phone: a cellular module is installed in the main control panel and it can send signals wirelessly to the monitoring stations.
Since the cellular based security cameras needs to run on the 3G/4G/5G network, they are also often referred to as 3G/4G LTE/5G mobile security cameras.
Note that, in order to transmit videos, a cellular data plan is required for a 3G/4G/5G security camera with sim card. And there are some common carriers offering such service for the battery/solar powered cellular security cameras, like Verizon, AT&T, T-Mobile, etc.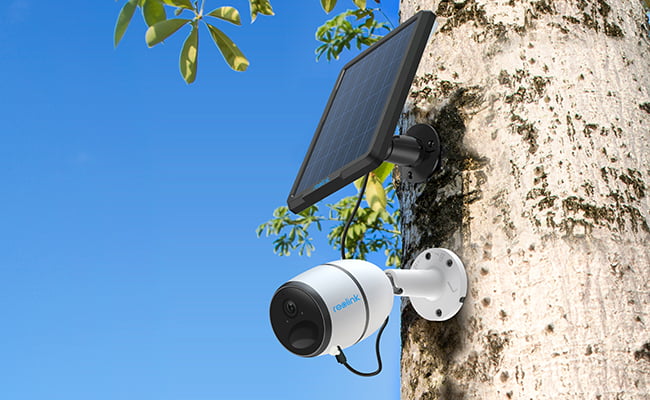 Where Can You Install a Cellular Security Camera
So is there any limitation for you to install a WiFi and cellular battery powered security camera?
To put it simply, as long as there is cellular service in your place (you can make phone calls and send texts), you should have no problem putting up a cellular security system with cameras.
And as the 3G/4G/5G mobile security cameras can work with no Internet, they are especially ideal for the areas where a strong Wi-Fi signal or hardwired Ethernet and an electrical power source are not available.
To sum up, the remote cellular security cameras are perfect for:
Construction sites
Barn, farms & ranches
Boats, docks & marina
Vacation home, cabins & sheds
RVs, campsites & food carts
Warehouses
Wildlife studies
Hotels & Airbnb rooms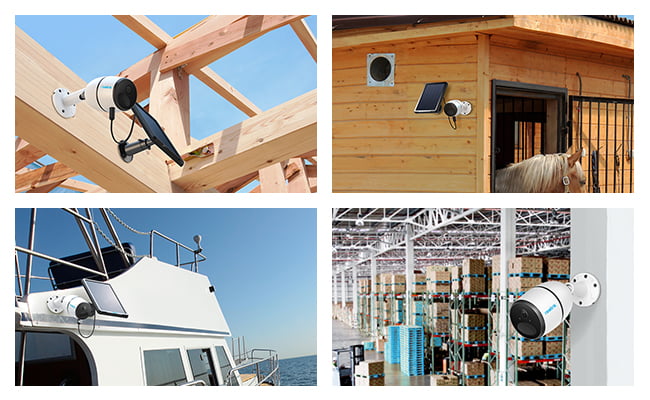 Let's talk about the pros and cons of cellular security cameras. Just as nothing is perfect and without any flaws, so are cellular home security cameras. Here are the pros and cons of cellular security camera systems so that you can have an objective and comprehensive view of them.
Pros of Cellular Security Cameras
Flexible Location
Since most cellular security cameras are powered by batteries and part of them are solar powered cellular security cameras, no electrical outlet is required.
And neither is the WiFi network needed for the cellular surveillance video cameras.
So you can basically place the 3G/4G LTE/5G security cameras anywhere you want to check in, then you can access the outdoor wire-free battery cellular cameras from your smart phone.
And when your security needs change, you can easily take down your cellular home security systems and reposition the battery/solar powered cellular security cameras to a new site without Internet.
One of the Reolink Go Plus users installed this wire-free cellular surveillance camera for his barn in a breeze (as shown below) - no messy cablings or drilling holes.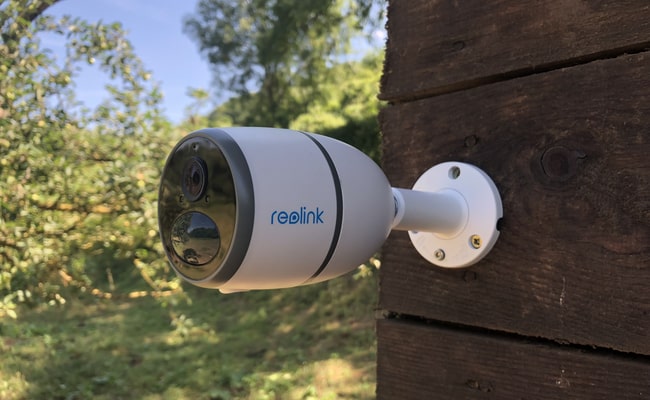 Safer and Securer
Compared with the security cameras relying on Internet to transfer data, security cameras that use cellular signals are much safer and it is hard for the intruders to hack a cellular security system.
But don't get me wrong – there are also some secure point-to-point (P2P) wireless camera systems.
For example, Reolink has the highest level of security protection for its surveillance cameras, including SL encryption, WPA2-AES encryption and SSL-TLS enabled to prevent exposure of users' privacy.
Besides, in case of an unexpected power failure, the battery/solar powered cellular enabled security cameras and systems are still good to work.
Easy Installation
Similar to the wire-free security cameras, 3G/4G LTE/5G cellular security cameras can be set up by yourself within a few minutes.
Simply power your indoor/outdoor cellular security cameras and insert a sim card into the camera.
After you download the camera seller's customized App on your phone, you can easily access the wireless cellular security cameras to figure out what's happening out there.
You can check this instructional video to see how easy the installation and setup can be.
Remote Viewing from Anywhere
Traditional wireless home surveillance systems without Internet will upset you if you want to watch live viewing videos remotely.
But cellular security systems won't!
As just noted above, the security cameras with cell service can allow you to steam live feed anywhere on your phone, even with no WiFi and power source.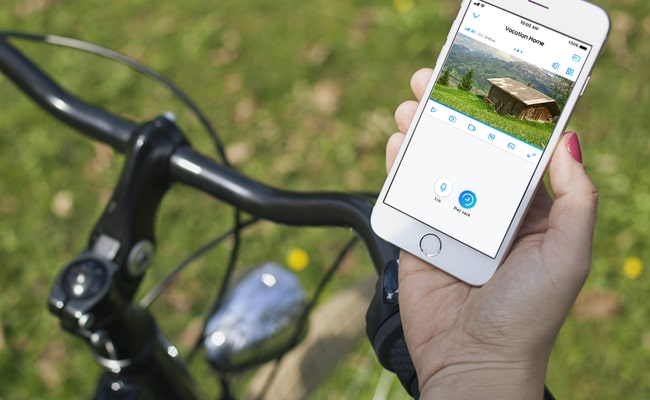 Cons of Cellular Security Cameras
Price of Cellular Home Security Systems Could Be High
The WiFi and battery powered cellular security camera cost is certainly one of your TOP concerns.
And here is the reality you have to face: the cellular security video cameras are relatively more expensive than the other types of camera models.
Not only is the cellular camera alone expensive due to the advanced technology, you also need to spend some money on the data plan for the cellular surveillance cameras.
The specific mobile data plan cost of cellular security systems will vary with different carriers and the data sizes you choose (from 1GB to above).
Note that live streaming and manual recordings can increase the data consumption, meaning you may need to pay more money for the data service of a 3G/4G/5G mobile security camera.
Key Takeaway: Though the price of 3g/4g LTE cellular security cameras is a bit high, you can also find some best and affordable options, like the battery & solar powered cellular security camera Reolink Go Plus.
And if you feel that the cellular surveillance cameras are not affordable, check out these cheap and high quality security cameras as your alternatives.
Quality of Cellular Surveillance Cameras Is Hard to Tell
Search WiFi and cellular battery powered security cameras in Amazon, and you would find a series of options there.
However, most of the cellular security systems for sale are from unknown brands.
What about cellular security camera and system reviews?
Few and arguable!
So you basically have nothing for reference and don't know if you should stake your money on certain WiFi battery powered cellular security camera brand you may have never heard of.
And some 3G/4G/5G mobile security cameras with sim card may work well in the first few months. After that, the cellular surveillance cameras may get weak AT&T or Verizon signals, failing to send photos to your phones.
Key Takeaway: To get the best cellular security systems, it is recommended to choose the reputable security camera brands that offer sound after-sales service. So you can get instant 1-to-1 technical support when you meet any problems.
Battery Life of 3G/4G LTE/5G Cellular Security Cameras Remains to Be a Problem
For the battery powered 3G/4G/5G mobile security cameras, you may concern that they could die out without your notice.
This guide about how to extend the battery life of wire-free security cameras can also provide some reference for the battery-powered cell phone wireless outdoor security cameras.
It is best that the 3G/4G/5G cellular security cameras powered by batteries can send you low battery notifications, so that you can keep informed of the battery consumption and replace/recharge batteries in time.
Key Takeaway: The rechargeable battery powered cellular security systems would save you the cost to replace batteries frequently.
And it is even better if your wireless cellular security camera has a solar-panel back up, from which the cellular home security systems can get non-stop power.

WAIT! Check out these Special Deals before you leave:
Right now, you can get EXCLUSIVE & BIG discounts on a wide range of Reolink security cameras & systems, wire-free & plugged-in, indoors & outdoors.
Is It Worthwhile to Buy a Cellular Security System
Now that you have learnt the pros and cons of cellular security cameras, it begs the following question:
Is it worthwhile to invest in a cellular security system now?
The simple answer is: it depends on whether you really need it.
More often than not, we are often asked by the users that: Is it possible to use a security camera without WiFi? Is there a home surveillance system that doesn't need the Internet?
If you happen to have the same security needs, the cellular surveillance cameras, without doubt, would be the best bang-of-your-buck.
And with the technology of cellular technology advancing, it would simply be a matter of time for the cellular home security systems to become affordable.
Best Cellular Security Camera for Your Options
As mentioned above, the options for 3G/4G/5G cellular wireless security cameras are still limited.
The good news is that some renowned security camera brands are now joining in the competition for cellular security cameras in succession.
Reolink, for example, has launched its first battery powered & solar powered cellular security camera combined with affordable price and decent quality.
Designed to meet your security needs in places with no WiFi and power source, this mobile security camera Reolink Go Plus provides an ideal security solution for your barns, farms, boats, campsites, construction sites, vacation home, remote cabins, etc.
Apart from the common features such as 100% wire-free, 2K 4MP super HD, IP65 weatherproof, two-way audio, Reolink Go Plus stands out among other competitors with clear night vision, which means more details can be captured even in total darkness.
Updated: Now the outdoor cellular security camera Reolink Go Plus is available in more countries and regions, including US, UK, Canada, German, Italy, France, etc. (click here to learn if it is open for sale in your location).
Watch the video below to check out the image quality of the cellular security system Reolink Go Plus.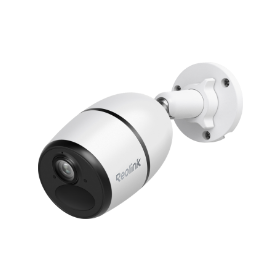 Reolink Go Plus
Smart Wireless 4G Battery Camera
Rechargeable Battery/Solar Powered, Person/Vehicle Detection, 2K 4MP Super HD, Two-Way Audio, High-Quality Night Vision, Live View Anytime.
Updated, Mar. 2022: Reolink has released a new cellular security camera with pan and tilt feature, Reolink Go PT Plus. Click the introduction video below to learn more about this wire-free 4G security camera.
Best Budget Alternatives: In case the cellular security cameras and systems are too costly for you, and you may only need to record videos onsite, Reolink Argus 3 Pro, is a budget-friendly option for you as a wire-free rechargeable battery-powered & solar powered outdoor security camera.
It comes with a smart PIR motion sensor and a built-in SD card slot. Even though you are unable to watch live viewing on your phone or receive instant alerts when there is no Internet, the motion detection events can be stored locally for your later check.
This video submitted by a Reolink Argus 3 Pro user will best prove how this camera braves harsh weather conditions.
Bump: Keep your camera away from thefts and vandalism! Read this post to learn how to protect your battery powered outdoor security cameras from them.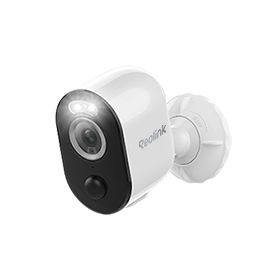 Reolink Argus 3 Pro
2K 100% Wire-Free Spotlight Camera
2K 4MP Super HD, Battery/Solar Powered, Person/Vehicle Detection, 5/2.4 GHz Dual-Band WiFi, Color Night Vision, Two-Way Audio.
FAQs about Cellular Security Cameras
To make you gain deep insights into the cellular security cameras, here we've rounded up some frequently asked questions about the wireless cellular security cameras for your reference.
Can Cellular Security Systems Work with WiFi
For most cellular home security cameras (including Reolink Go Plus), they cannot work with WiFi or your phone hotspot, as they are designed to operate in places where the Internet is not available in the first place.
If there is WiFi connection in your place, the battery & solar powered security camera Reolink Argus 3 Pro would be your best bet as a suitable and affordable option.
How Can You Maximize the Data Usage of Your Cellular Surveillance Cameras
Below are some practical ways to optimize the data usage of your cellular wireless security cameras:
Place your outdoor cellular surveillance systems in low-traffic areas to reduce unwanted motion-triggered videos.
Adjust the motion sensitivity of your 3g/4g LTE cellular security camera systems to avoid false alarms.
View the live feed or play back historic events of your battery/solar powered cellular security cameras in a lower resolution.
Install your cellular security systems within good cellular coverage.
Also read: How Much Data Does a Cellular Security System Require
I Have an iPhone 8 and Verizon for My Cell Service. If I get a Separate Cellular Plan with T-Mobile for the Cellular Camera Reolink Go Plus, Can I Still View the Camera from My Verizon iPhone
Absolutely yes!
You only need to purchase a data plan (SIM card) from the supported carriers of your cellular security system. And the providers of your phone won't impact your normal use of the cellular security camera.
Is There a Possibility for Two Wireless Cellular Security Cameras to Work with One Sim Card
One sim card can only work with ONE cellular-based security camera. And it's also possible for multiple cellular IP cameras to share a single 3G/4G connection. But you may consult the mobile service providers to see if they can provide any discounts for bulk purchases.
All Comments Are Welcome
Do you have any more questions about the cellular security camera or its alternatives? Let us know if you do and be sure to check out the important things about 3G/4G LTE/5G cellular security cameras above!