Black Friday Cyber Monday (BFCM) 2022 is right around the corner! Are you looking for security camera Black Friday and Cyber Monday deals and coupons?
This article discusses the latest deals and coupons for Reolink security cameras in 2022 on Black Friday and Cyber Monday. Moreover, we will discuss how to get security cameras Black Friday deals information early because cheap and high-quality products sell out quickly, and you have to be the first to know!
2022 Early Black Friday Deals of Reolink
This November is going to be a crazy month of BIG sales! Take a quick look at Reolink's major events and never miss the chance to save.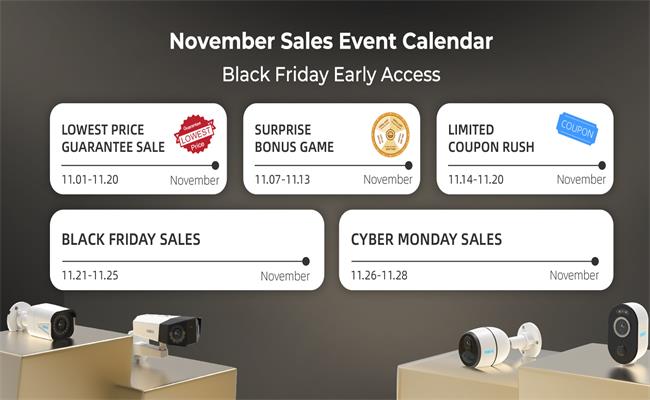 1. Get the best price of the year
From November 1st to November 20th, you can get up to 30% off the normal price for camera models that are on sale during this time. The 2K smart 150° dual-lens camera is also on sale! This is the best price of the year, so it's a great time to buy if you're in need of a new security system.
Get the best price of your desired cameras quickly here >>
2. Spin the lucky wheel
From November 7th to November 13th, you can get a chance to spin the lucky wheel and win some surprising prizes if you complete an order during this period.
Prizes on the Lucky Wheel include:
A free popular product
A free camera accessory
A 5% off site-wide coupon
A 10% off coupon for specific camera models
A free new trial product
3. Get your coupons
From November 14th to November 20th, you'll be able to get site-wide discounts, as well as product-specific discounts. To get the discounts, you'll simply need to click on the coupon button and then use the coupon code that's displayed.
Be aware that there are a limited number of coupons available, so make sure you act fast!
Note:

Please check if the camera you add to your order is one of the selected models participating in this event on that day.
The final right to interpret this promotion belongs to Reolink.
Black Friday and Cyber Monday Deals
With Black Friday and Cyber Monday right around the corner, you might be wondering what deals Reolink will be offering on their security cameras. Well, we can't give away all the details just yet, but we can tell you that there will be some great discounts during this period.
Be sure to stay tuned to our official website from November 25-28, 2022 and subscribe to Reolink emails for the latest updates. And don't forget to follow and refresh our flash-sale page during Black Friday and Cyber Monday. That way, you'll always be up-to-date on the latest discounts.
For Reolink flash-sale page, click here >>
Subscribe to Reolink emails, click here >>
The Must-Have Cameras for Black Friday 2022
Black Friday is the perfect time to invest in a new security camera. And with Reolink's great deals, you can afford to get exactly the model you want. But with so many choices on the market, it can be tough to know where to start. To help you out, we've put together a list of some of the best security cameras around.
Whether you're looking for a budget-friendly option or a top-of-the-line model, we've got you covered. So check out our list and find the perfect camera for your needs!
1. Best wireless outdoor security camera - Reolink E1 Outdoor
Introducing Reolink E1 Outdoor security camera! This smart camera features 5MP super HD, pan-tilt-zoom capability, person/vehicle detection, and dual-band WiFi. It can track a person/vehicle automatically and never miss a motion event.
Plus, it has two-way audio so you can talk to your family and pets from anywhere. The motion-activated spotlight embedded in this camera can not only deter intruders at night but also offer you color night vision.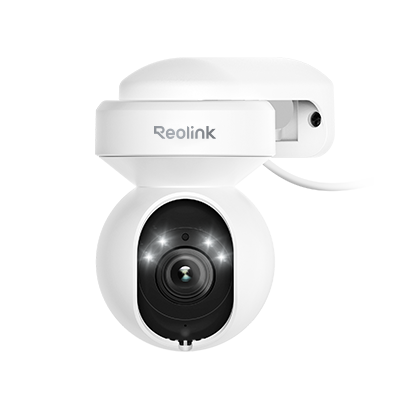 Reolink E1 Outdoor
Wireless PTZ WiFi Camera with Spotlights
5MP Super HD, Smart Person/Vehicle Alerts, 355° Pan & 50° Tilt & 3X Optical Zoom, Auto Tracking, Color Night Vision, Two-Way Audio.
2. Best battery-powered security camera - Argus 3 Pro
The Reolink Argus 3 Pro is a wire-free battery/solar powered camera that boasts 2K super HD, motion spotlight, person/vehicle detection, and color night vision. It supports both 5GHz and 2.4GHz WiFi for easy connection.
You can manage camera settings and view live videos at any time from your mobile phone. When any event is detected, you'll receive an instant push notification or email with real-time motion snapshots.
3. Best vandal-proof dome security camera - RLC-842A
The Reolink RLC-842A is a great choice for anyone looking for a durable outdoor security camera. It is IK10 vandal-proof and thus strong enough to withstand the elements.
Its 4K 8MP ultra high definition offers your marvelous visual experience with impressive clarity and sharpness. 5X optical zoom allows you to see details much closer. It also features smart detection, clear night vision, and time-laspe for fun.
4. Best security camera system kit with NVR - RLK8-811B4-A
RLK8-811B4-A is a 4K ultra HD 8-channel PoE security camera system that includes 4 IP cameras with 5X optical zoom, 2TB HDD 8-channel NVR for 24/7 recording, and more.
This system is perfect for home or small business surveillance, as it provides 24/7 protection with smart motion detection and audio recording. Furthermore, the RLK8-811B4-A features plug-and-play. You can power each camera directly to the NVR with only one Ethernet cable. No extra power cords or adapters are needed!
Get the Latest Black Friday and Cyber Monday Deals
Reolink will be offering amazing Black Friday and Cyber Monday deals on their security cameras! This is a great opportunity to get your hands on some high-quality, affordable cameras. Here are some ways you can stay up-to-date on the latest information about Reolink's Black Friday and Cyber Monday deals:
Sign up for Reolink's newsletter: This is an easy way to guaranteed that you'll receive the latest information about their Black Friday and Cyber Monday deals straight to your inbox. Just head to their website and scroll to the bottom of the page to find the sign-up form.

Check Reolink's website regularly: Their website is always a good place to start when you're looking for information about their products and deals. Make sure to bookmark it and check back often leading up to Black Friday and Cyber Monday. Go to Reolink homepage >>

Follow Reolink on social media: Facebook, Twitter, and Reddit are all great places to start. Reolink will likely be posting updates about their Black Friday and Cyber Monday deals on all of their platforms, so make sure you're following them to stay in the know. You can follow Reolink's Facebook, Twitter, and Reddit here.
Tips for Buying Security Cameras on Black Friday 2022
Whether you're looking for security cameras in the US, UK, Canada, France, Germany, Mexico, Australia and other countries for Black Friday and Cyber Monday sales and specials, doing enough homework before diving in is key to avoiding buyer's remorse.
Use these additional tips now to get the best Black Friday security cameras with minimal effort.
Find out which types of security cameras are right for your application. For example, if you want to use tracking or wildlife cameras for Black Friday sales, battery powered security cameras or cellular 4G security cameras will meet your needs. Also, NVR security camera kit is more suitable for working scenarios where there are large areas to be monitored, such as farms. The doorbell security camera is more suitable for your front door to keep your home safe.

Read the product information and customer reviews carefully. With so many security camera retailers and sellers like Arlo, Swann, Samsung, Security Camera Warehouse, Walmart, Night Owl, Best Buy, etc. offering security cameras on Black Friday Cyber Monday, it's important to refer to other users' opinions so you can get a great price and a quality sale.

Check shipping times and costs. To get a real holiday deal, pay attention to the shipping times for security cameras on sale on Black Friday and Cyber Monday, and check if free shipping is offered.

Choose a reputable brand. In addition to offering high-end products, well-known security camera brands like Reolink brand often have their own dedicated support team so they can handle increased Black Friday and Cyber Monday security camera deals and get back to you as soon as possible.

Leverage price comparison sites and apps. With price comparison tools like CamelCamelCamel, ShopSavvy and others, you can easily determine if you're getting the best price on Black Friday and Cyber Monday security camera sales.

Buy more, save more. Buying a bundle generally allows you to purchase products at the same low price as home. The first rule of security camera Black Friday Cyber Monday sales is: buy more and save more! If you don't actually need a lot of cameras, invite your friends who need cameras to join and share the bundle sale.
Faqs about Black Friday Security Camera Sales
Are the security cameras on sale on Black Friday or Cyber Monday low quality?
It's unlikely that promotional security cameras have quality issues in the security camera space because security cameras must meet strict quality standards before they can be sold.
And if sellers cheat you with Black Friday security camera sales, it will ruin their reputation and put a lot of pressure on their after-sales service, which is definitely not a win-win deal. So smart security camera sellers don't invite trouble in this way.
If you're worried that the much lower-priced Black Friday or Cyber Monday security cameras are old or poor-quality refurbished products, that worry is superfluous.
Do you get the "real" lowest price on security cameras during the Black Friday sale?
For those reputable security camera brands, the lowest Black Friday prices are real. This is because their regular customers and loyal consumers can easily see through such tricks. And, while reputable security camera brands will offer discounts throughout the year, such as Reolink, the security camera specials, and discounts on Black Friday and Cyber Monday are definitely among the biggest discounts.
Even so, a small percentage of security camera sellers may play this trick - lowering the price of security cameras on top of raising the price on Black Friday and Cyber Monday, which means you won't actually get as big of a discount as the seller advertises. You should learn to tell the difference.
Do Black Friday and Cyber Monday security cameras come with the same warranty?
Yes, even if you bought your security camera on Black Friday and Cyber Monday, you still have the same warranty policy as your usual camera. If a security camera seller refuses to offer a warranty on the pretext that Black Thursday and Friday security cameras are discounted products, exclude them from your purchase list and look for other reliable security camera brands instead.
Should you buy security cameras on the Black Friday sale from the official website?
It goes without saying that you can get lower-priced security cameras from Black Friday and Cyber Monday deals on the official websites of security camera brands. On top of the price, you can also be sure that the products you buy from the official website are of high quality and you can enjoy perfect after-sales service as well as professional technical support.
Conclusion
If you're considering buying a security camera, now is a great time to do it. Black Friday in 2022 is just around the corner, and Reolink will be offering some fantastic deals on their cameras. Reolink is a trust worth company and you can be sure that you're getting a quality product. Any question or unclear point about the Reolink black friday and cyber monday deal , please comment below. Thanks for reading and happy shopping!