Your home garage ranks the 4th among burglars' favorite entry points, so it's essential to make your garage more secure when you store your fancy cars, bikes and other valuables inside it.
In order to help you secure your home garage from break-ins, we have done a detailed research and finally summarized the below 7 easy and effective solutions to ensure your garage door and window security.
Secure Your Home Garage by Installing a Garage Security Camera or System
Garage security cameras are one of the best ways to protect your garage and your home from break-ins. 85% of police officials surveyed believe that home monitoring systems help deter burglary attempts. Burglars usually bypass your garage when it is protected by a security camera.
The research from Home Office Research Study and Annual Review of Law and Social Science said that CCTV security cameras were effective in car parks, and in reducing car thefts and other acquisitive crimes. That's the main reason why more and more people choose to install garage security cameras and systems to prevent thieves.
1. Install the Wireless DC-Powered Security Camera
Under the protection of a security camera, you can get instant push notifications if someone approaches your garage, so you can take actions immediately. A garage security system is your best aid to feeling safe.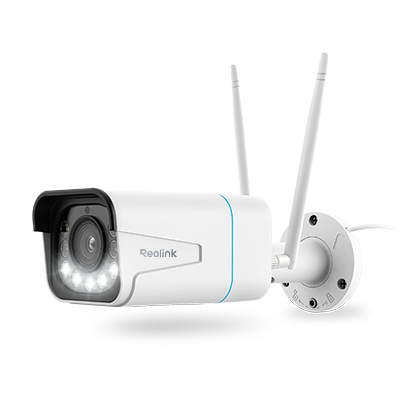 Reolink RLC-511WA
Wireless 5MP Security Camera with Spotlight
2.4/5 GHz Dual-Band WiFi, 5MP Super HD, Person/Vehicle Detection, 5X Optical Zoom, Two-Way Audio, Outdoor/Indoor Protection.
2. Install the 4G Battery Security Camera
In some cases, your detached or shared garage would have no power supply or Internet access. Thanks to advanced technology on security cameras, you can still get video surveillance under such a circumstance.
Battery-powered security cameras can help you protect your garage without electricity. This type of IP cameras will record motion detection videos to the SD card. You can play back the recorded videos to check the important events.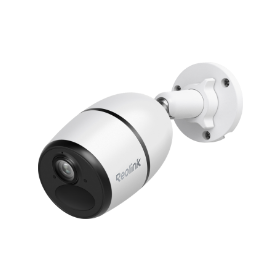 Reolink Go Plus
Smart Wireless 4G Battery Camera
Rechargeable Battery/Solar Powered, Person/Vehicle Detection, 2K 4MP Super HD, Two-Way Audio, High-Quality Night Vision, Live View Anytime.
Keep it in mind that your garage security is linked to your home security. If a burglar breaks into your garage, the rest of your house would have a much higher risk to be kicked in. Thus, it is essential to install a security camera to protect your garage, apartment or house from invasion.
Secure Your Garage Door from Garage or Parking Lot Thieves
Your garage door is one of the main targets for thieves. It only takes 6 seconds for a burglar to break into a garage. Check the 6-second garage break-in below.
Quite shocking, right? Don't be worried. You can take the following simple and workable tips to secure your garage door from invaders.
1. Lock Your Garage Entry Door to Prevent Garage Break-Ins
Always keep your garage door shut. It seems an obvious suggestion, but most of you may forget to lock your garage door when you are rushing to work in the morning. Statistics report that about 30% of burglars enter a property through an unlock door or window.
You can set up a daily push notification on your smartphone to remind you to close the garage door before you leave.
2. Install a Solid-Core Garage Door to Stop Garage Invasion
Sometimes it's inevitable that some contractors may use hollow-core garage door to maximize their interests. When you find out your garage door is hollow, replace it with a solid-core door with a deadbolt immediately.
You can choose the most secure garage doors in the below garage door comparison chart.
Door Types
Up and Over Garage Doors
Sectional Garage Doors
Side Hinged Garage Doors
Insulated Roller Garage Doors
Pros
1. Easy to open and close manually.

2. Inexpensive.
1. Quiet and smooth in operation 2. Can be used with an automatic opener
1. Simple mechanism

2. Easy to open and close manually
1. Spacing-saving

2. With good thermal quality

3. Easy to open and close manually

4. Secure in design

5. Can be used with an automatic opener
Cons
Take up more space internally and externally.
The horizontal tracks are required and the door takes up ceiling space in the garage.
1. Not suitable to use with an automatic opener

2. Less secure in design
1. The variety of decorative designs for roller doors is limited.

2. Very expensive
Editor's Note:

If you have a side door in your garage, remember to make it as secure as your main garage door.
Don't secure your garage door with zip tie. It is too dangerous and a violation of Federal Regulations.
Disable your garage door emergency release, or use a small plastic cable tie to secure the release.
3. Secure Your Garage Door Lock to Fortify Your Garage
Besides the standard lock of your garage door, you can install a padlock, and put it right up next to the garage door inside. You can also put a hasp on the outside of your garage. Now you've make your garage door extremely secure both outside and inside.
Secure Your Garage Windows to Prevent Your Garage from Invasions
Garage windows are an easy entry point for thieves. When you secure your home windows against intruders, don't forget add your garage windows in your window security plan. The below 3 ways are workable to secure your garage windows.
1. Lock Your Garage Windows
Just like your garage door, the first thing you should do is to lock your garage windows. Remember to lock all of your garage windows before you get to work or go on vacation. It's a small effort that can make a big difference.
After locking your windows, you can put up a sticker on your garage windows after installing video security cameras, stating that your bike or car garage has been protected by surveillance cameras. Just the fear of being shot is often enough to dissuade the burglars from targeting your garage.
2. Cover Your Garage Windows to Stop Prying Eyes
Covering your garage windows with curtains is the simplest and cheapest way to secure your garage windows. With coverings, burglars can't see any tools or high-value equipment in your garage directly. Thus, you have made your garage an unwelcomed target.
Don't underestimate this garage window security tip. Thieves love looking into your windows. If you leave your garage windows open, the awful larcenist can see what valuables are stored in your garage. If the items are appealing, they will take the risk to try every effort to access your garage and steal the valuable stuff, such as your new fancy bikes.
3. Install Garage Window Bars or Smash-Proof Glass to Prevent Garage Shed Break-Ins
Window bars have been proved to be one of the most workable ways in securing garage windows. Burglars cannot squeeze those bars to enter your garage or carport. When you install strong bars across your garage windows, burglars cannot get in even though they pry to open the window or break the glass.
Please note that thieves don't mind breaking your garage window glass to get in, even if it makes a little noise. So it's a big big must to take this method to make your garage window more secure.
Secure Your Garage Door Opener Remote to Protect Your Garage Against Break-Ins
To avoid giving burglars easy access to your garage, take the opener remote wherever you go. A handy way is to replace your big opener remote with a small keychain version (you can buy it at home centers or where you bought your opener remote). Remember to match your new remote to the brand and year of your current remote.
Don't leave your opener remote in your vehicle. If a thief breaks into your car or truck, he can steal your stuff inside the car or truck (and the vehicle itself). If the thief gets your opener remote, he has almost unlimited access to your garage and your home, and you could find that all of your values at home are all gone when you come back from work.
If you park your car in the front of your garage, don't tempt thieves by putting your valuables on display in your car. Make sure you've locked your car and keep everything valuable out of sight.
Keep Your Garage Keypad Secure to Prevent Your Garage from Burglars
If you install a keypad outside your garage, don't share the security code with anyone. If you need to share, make sure that the person is worth being trusted. When you input the security code, confirm that no one can see the numbers.
Change your security code as soon as possible as you feel the code has been revealed. You can also reset the security code on a regular base to avoid password to prevent certain numbers from being worn.
Use a Timer to Secure Your Storage Garage from Burglars
Leaving your garage door open is an invitation for thieves. Don't rely on your memory that your garage door is closed. A timer, which signals your garage door opener remote to close the garage door after a pre-set time, is helpful. You can set the time intervals before the garage door is closed. If you want your garage door to remain open, you can remove the control.
Light Up Your Home Garage to Prevent Garage from Burglars
Robbers and intruders prefer to sneak around in poorly-lit or dark areas. A well-lit garage can deter burglars and thieves.
Motion-sensing lights would be much effective in protecting your garage from larcenists. When a burglar approaches your garage, the motion detector lights will be activated at once, which can scare off those coward thieves. When you notice that the lights turn on suddenly, you can take precautions and keep burglars at bay.
You may not realize the amount of valuables stored in your garage until everything is gone. Some items in your garage could be expensive for you to replace. All of the tips are simple and workable ways to improve your garage security and protect your belongings.
Note: In the unfortunate event of a break-in at your garage, please review the following tips on how to handle this situation.
Conlusion
Home garage is a popular target for burglars, making it important to take steps to secure it. Installing a garage security camera or system is one of the most effective ways to prevent break-ins.
Now take several minutes to share your thoughts below on securing your garage from break-ins. Share this post with your family and friends so that your beloveds can learn these effective garage security solutions!