Still running errands outside when your kids have come back home from school? Busy working in the office and have to leave your children at home alone during summer and winter holidays? No worries. You can keep your child safe at home alone with the following 8 measures.
Almost 20,000 children die each year as a result of accidents in the home. And more than 3.5 million children go to the emergency department for home injuries, like falls, fire burns, poisoning, choking, etc., according to Safe Kids Worldwide. You would like to be home at all times, keeping your kids accompany, to protect them. But it is not feasible, especially for working parents. So here are some practical and useful safety tips for kids when home alone, so as to improve child security and create a happy time at home when you are away.
8 Child Safety Tips When Parents are Not Home
Home injuries are the leading cause of children aging 15 or younger, especially when they are left home alone. However most of those injuries are preventable if parents pay attention. The following are the 8 best safety rules for kids at home alone.
1. Make Sure Your Kids are Ready to Stay Home Alone
Recently, there are no rules about what age is acceptable to leave a child home alone. Specialists say it mainly depends on age and maturity. Generally, kids 10 years old or elder are ready to be left home alone. Be sure to make some practices about self-supervise before you are away. Hire a professional sitter to take care of your son or daughter if he (she) is too young to be home alone.
2. Install Home Security Cameras
Many kids have to be home alone after school until their parents get home from work. Installing a home security camera can let you see how your children are doing, and whether or not they are safe, with your own eyes and ears. This gives you more peace of mind when you are not with them.
A security camera setup that is connected to the web will allow you to check anything and anyone in it. Make sure you choose and buy a video surveillance system from a trust company, like Reolink, and a reliable site, including Walmart, Amazon, and Best Buy.
Note: For parents who have newborn babies, a baby monitor is also a good choice to know your baby is safe and sound.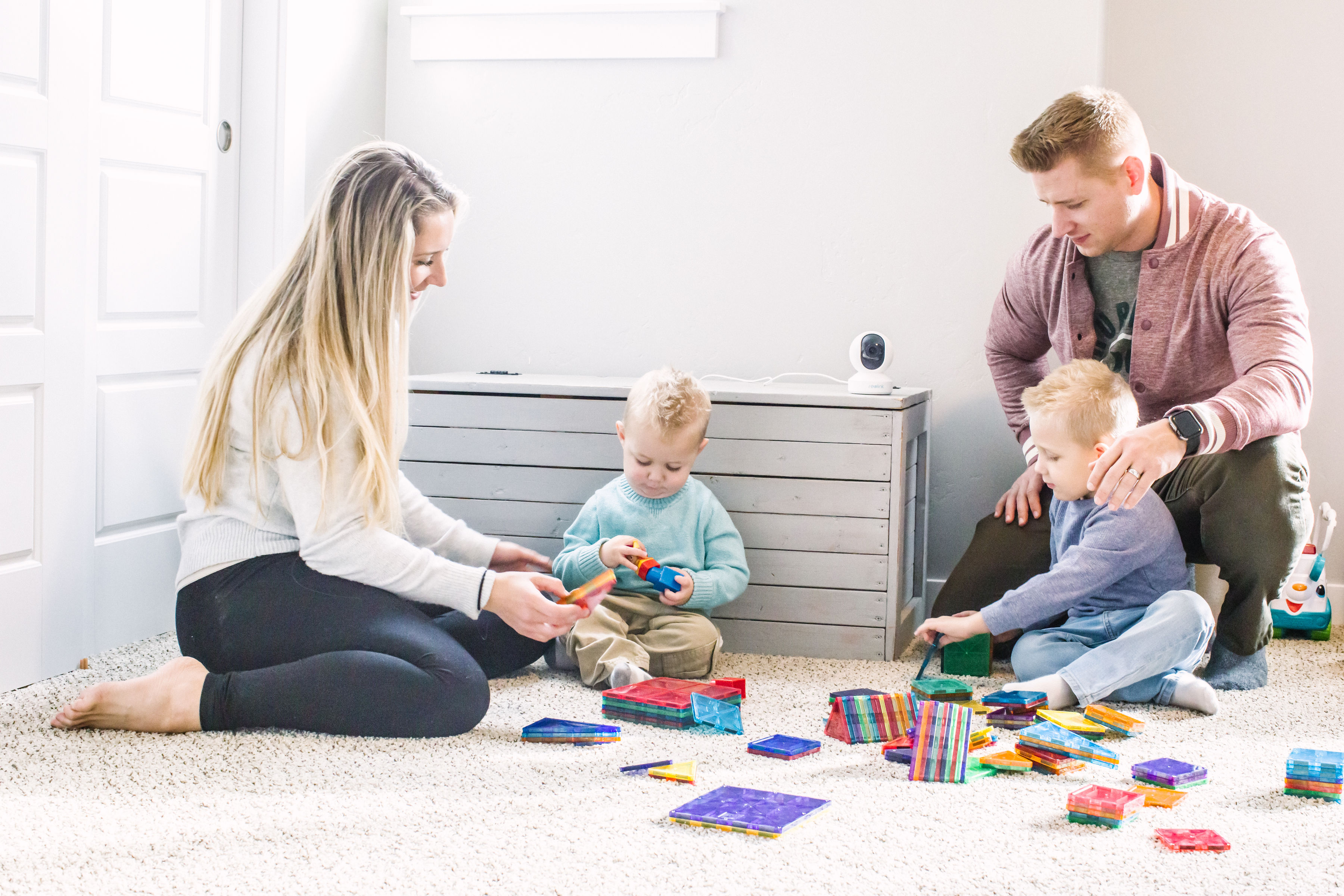 3. Set up a Smart Automation System
The nature of the child's mind is that it is very often forgetful. That means that your children might come in and forget to lock the door. They may open a window to shout to a friend and completely forget to close it. These things are easily remedied with a smart home automation system when you leave children at home alone. Go to how and why to make a smart home system for more if you are interested.
For example, a door that detects when someone has entered and automatically locks is a great security feature. Lights that come on automatically when your children are home will improve safety as well. When it comes to windows and other house components that you aren't able to automate, the system can notify you of an open window and you can call and tell your children to close it. In addition, you can also use the automation to control temperatures, to make the house comfortable when your children are home alone and to save money as well.
4. Prepare Child Home Safety Checklists
When you have to go out, leaving kids at home alone, you should make rules about what's acceptable when they have to be on their own. And also, you can make a checklist and prepare all things needed to ensure your children's security before you leave. The checklist can include:
Write down your cell phone numbers, and the family members' phone number. Or if necessary, also post the phone number of your neighbors who live nearby.
Post widely-used emergency numbers such as 911.
Put bandages and first-aid medicine box in a handy location. Consider letting your kids take the Red Cross child care training to learn first aid skill.
Install safety covers on all unused electrical outlets, and make electricity safety rules for kids.
5. Keep Medicals, Knives, and Other Dangerous Items Away from Children
Another child safety tips for parents is to put anything dangerous out of kids' reach. Pay special attention to boys, because they are naughtier than girls. The best way is to store all things having potential threats to kids' health in a certain room, and lock it. Those things can include chemicals, drugs, paints, unsafe toys, knives and more.
6. Teach Your Children Safety Factors & Observation
To keep your child safe when home alone, you also need to make sure that he (she) is educated about safety and observation. Practice what to do in an emergency, like, how to call 911 in an emergency, never open the door for a stranger, and don't leave the house without permission. Tell kids about fire safety. Ask them to get outside quickly and ask a neighbor to call the fire department, if they smell smoke or hear the fire alarm.
7. Ensure Your Children's Phone Can Be Tracked
Another thing you can do to keep your children safe is to give them a smartphone so that you can call and text them at any time. Moreover, make sure you can track their phone. If the worst happens, you can find out exactly where they are. But ask kids not to tell anyone they are home alone through the phone.
8. Pay Special Attention to Child Internet Safety
Internet safety is an important issue parents should not ignore. Pre-teens would like to play computer games, shop or chat online when they are at home. Internet safety tips for kids should include: talk with your kids about safe browsing and computer use, never give out personal information, like home address, phone number etc., and be cautious about social media. If your child is 6 years old or younger, it is best not to allow internet use when he (she) is home alone without proper supervision.
Your children are the most important people in your life and you just want them to be safe and healthy. I hope the 8 child care and safety tips would be helpful when you have to leave your kids home alone. And you can also visit some forums, like Raising Children, Mothering Forum to share and learn more child safety measures. Communicating with other moms and dads would give you more child raising secrets!