Are you considering purchasing a barn camera for horses and other livestock? Or do you want to watch live streams of your barn where there is no WiFi or Internet?
In this article, we'll introduce how barn cameras work and what to consider before buying a barn camera to watch your ponies and protect your assets. Of course, there are also solutions for you to view your barn even if it's in a remote area.
What Are Barn Cameras and How They Work?
A barn camera or camera system is used for video surveillance in your horse stables, barns, farms and other agricultural lands. It is designed to monitor your animals, valuable assets like trailers, and properties, giving you peace of mind when you're not there.
Barn cameras can be wired or wireless CCTV security cameras. Wired barn cameras need a local Internet or WiFi connection and get power through cables, so that footage can be sent to your phone or PC. And then you can check what's going on in your barn wherever you are.
Wireless barns cameras work in a more simple way. They use cellular data for communication and transmit data to your mobile phone remotely. Some wireless barn security cameras also use WiFi connection. One thing in common is that they all have a rechargeable battery for power supply and no cable is needed at all.
Barn cameras usually have high resolution and night vision capability. They record everything happening in the barn and watch the animals for farm owners day and night. With a barn camera, you won't miss anything, whether it's a theft happening or a horse foaling.
Solutions for Barn Camera No WiFi
It is possible to install barn security cameras without WiFi or Internet access, of course. In the case that your barn or farm does not have Internet access, or if long-range wireless barn cameras can't be used from your barn to your home, there are several options available to you.
1. Use a 4G Security Camera
One option is to use a cellular wireless security camera. These types of cameras use a SIM card to connect to a cellular network, much like a smartphone. This means that you can place the camera anywhere, even in remote locations where there is no WiFi or Internet access.
The 4G wireless barn cameras are exactly designed to work with no WiFi or power outlet. They operate on a 4G cellular network and allow for live viewing remotely from anywhere and anytime on your phone.
Reolink Go Plus is a 4G camera that offers live viewing remotely from anywhere and anytime on your phone. This wireless barn camera also features 2K 4MP super HD and starlight night vision, enabling you to miss no single detail even in total darkness. Additionally, the camera sends an alert message and gets notified with it when something happens. You can send the alert messages to your phone.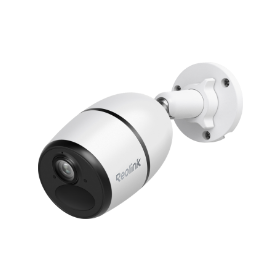 Reolink Go Plus
Smart Wireless 4G Battery Camera
Rechargeable Battery/Solar Powered, Person/Vehicle Detection, 2K 4MP Super HD, Two-Way Audio, High-Quality Night Vision, Live View Anytime.
Here is the video shared by a user of Reolink Go Plus. He use this barn camera to monitor his horses in the stable.

Barn Camera Reolink Go Plus Monitor Horses
2. Use a wired security camera kit
A wired security camera kit/system is also a great option for barn cameras without WiFi. Wired security cameras are connected directly to a DVR or NVR recording device using an Ethernet cable. This type of connection provides a more reliable video signal than Wi-Fi and is less likely to experience dropouts or interference.
However, it does require that you have a way to run the Ethernet cable from the camera to the recording device, which may not be possible in all cases. Regardless of which type of security camera you choose, you'll be able to keep an eye on your property - even if there's no Internet connectivity available.
Reolink RLK8-800B4 is a high-quality barn security system that can be used in a variety of ways to keep your barn safe. The system comes with 4 long-range wired cameras that are weatherproof and provide clear night vision up to 100ft. You can use the cameras for a variety of purposes, such as cattle calving, horse foaling, etc.
Reolink RLK8-800B4
4K 8-Channel PoE Security System
4 pcs 4K Ultra HD Security Cameras; 2TB HDD 8-Channel NVR for 24/7 Recording; Person/Vehicle Detection; Plug & Play; 2 Network Solutions.
3. Use a security camera with a SD Card
When you don't have WiFi in your barn, it means that you can't store the video of your horse or livestock to the cloud storage in real time. A security CCTV camera with a SD card is a great option, which means that you can at least store the video footage locally to the SD card in the camera. This way, when any intruders come into your barn, you can always play back the videos to figure out what's happening out there from the SD card.
Some CCTV security cameras do not come with a SD card by default. In order to store video footage, you will need to use a network video recorder (NVR). Alternatively, some cameras use cloud storage, which means your camera must be connected to the internet 24/7 to function properly.
If you are looking for a security camera with an SD card, then the Reolink RLC-510WA is a great option. This camera can be triggered by a person, vehicle, or other motions, and the motion events will be stored on the SD card. Additionally, the Reolink RLC-510WA has excellent night vision, making it perfect for use as a horse stall camera.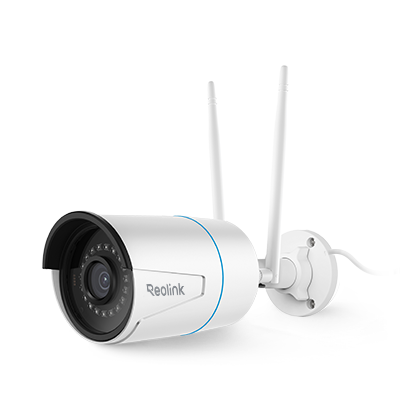 Reolink RLC-510WA
Smart 5MP Wireless Security Camera
Smart Person/Vehicle Detection; 5MP Super HD; 100ft Night Vision; Audio Recording; IP66 Certified Weatherproof; Up to 256GB SD Card Supported; Time Lapse.
4. Use a battery-powered security camera with solar panel
When you need a barn camera but don't have WiFi access, battery-powered cameras are a great option for you. These cameras come with a long-lasting battery that can typically last for months on a single charge. As a solar-powered security camera, These cameras use solar panels to recharge the batteries, which means that they can be placed almost anywhere - even in locations where there is no power source nearby.
Considering that you already don't have WiFi access for your barn, these battery-powered security cameras with solar panels will be a good choice as a barn caemra. Because since you are in a remote area, it will be difficult for you to power the camera, but such a camera can solve this problem for you.
Wireless Barn Cameras - Why You Need Them
Wireless barn cameras have many benefits that make them a great choice for anyone looking to improve the security of their property. Perhaps the most obvious advantage of wireless barn cameras is that they are very easy to install and set up. There is no need to run any messy and difficult-to-hide wiring, making wireless barn cameras the ideal choice for anyone who wants a quick and easy installation.
In addition, wireless barn cameras offer the benefit of being able to send push alerts to your phone. If WiFi connection is available in your barn, you can also choose a wireless WiFi barn camera to save your money on cellular data plan. This means that you can receive notifications immediately if there is any activity on your property, allowing you to take quick action if necessary.
So, wireless barn cameras can help you keep an eye on your horses, livestock, and all your property in the barn, even when you're not there in person. With so many benefits, it's easy to see why wireless barn cameras are becoming an increasingly popular choice for anyone looking to improve the security of their Barn or Farm.
Reolink Argus 3 Pro is a rechargeable battery-operated WiFi barn camera can be placed and repositioned anywhere you can reach.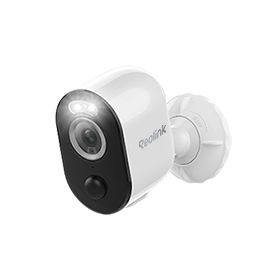 Reolink Argus 3 Pro
2K 100% Wire-Free Spotlight Camera
2K 4MP Super HD, Battery/Solar Powered, Person/Vehicle Detection, 5/2.4 GHz Dual-Band WiFi, Color Night Vision, Two-Way Audio.
Barn Cameras for Stable, Cattle & Livestock - The Benefits
If you're a horse owner who has ever experienced the anxiety of not being able to check on your animals during the middle of the night, you should consider investing in a barn camera. This device can help make taking care of horses and other animals on farms much easier. With a barn camera, you can do things like keep an eye on feed and water levels, monitor temperature and humidity levels, and watch for any signs of illness or injury.
1. Record the daily activities of animals
Many farmers won't be on the farm or barn all the time while they have other things to do. It's convenient to watch the animals remotely via a barn camera. The activities of your horses, sheep, chicken, or other livestock can be recorded. Some owners just love to watch what their animals are doing every day.
Besides recording daily activities, a barn camera with night vision can also show you clear images in pitch black. It offers you peace of mind after you make sure all the animals are fine from the camera.
2. Keep an eye on animals
Horse theives are more rampant than you expect. Statistics show an estimated 40,000 to 55,000 horses are taken from their lawful owners in the U.S. each year, and the number is continuing to rise.
Thus, barn cameras are increasingly important for barn owners to fight against animal thefts. They can show you what is happening in the barn far away and give your peace of mind at night.
Especially, when you invest in a new group of animals, you should take good care of them after they move into the barn. The barn camera can be a good helper for you to observe whether they like the environment or try to escape.
3. Take care of sick animals
Sometimes it's not easy to notice that your horses or lambs don't feel good because you're not with them all the time. With a barn camera, you can watch them on a daily basis. And if any of them gets irritable or seems to be uncomfortable, you will be the first to know and get there soon.
For those animals that are recovering from injuries, you can use the barn camera to observe them and see if they are getting better.
4. Relieve your anxiety in foaling/calving seasons
Barn cameras are particularly important if you have horses in foaling seasons or cattle in calving seasons. You can't estimate when will they give birth and whether there would be troubles. Many farmers would even feel anxious during this special period and live on the farm in case of an emergency.
Luckily, a barn camera can give you relief as well as good rest. By simply checking the camera remotely, you'll know whether you should head to the barn for horse foaling. More importantly, the precious moment of the birth of new life will be recorded.
How barn Cameras Protect Your Farm/Barn Property?
With so many valuable assets in the barn, a security camera is necessary to keep your barn safe.Once any intruder or trespasser tries to break into your barn, a smart barn camera can detect their motion and send real-time alerts to you. If you're nearby, you can get there quickly and catch them. If you're far away, you can save the footage as evidence and report it to the local police.
Barn cameras with two-way audio allow you to communicate with anyone near the camera. Once a stranger comes by, you can talk to him/her on your smartphone or ask the intruder to leave.
Moreover, a barn camera is helpful for you to find out whether there are other wild animals sneaking into your barn. Some farmers may find their grain or chicken missing but don't know why. Now with a security camera they'll know if a fox or wolf is around there and take measures in time to avoid further loss.
How to Choose the Best Barn Security Cameras
Here is a look at the required features of the best barn security cameras and systems, which intends to help you select the livestock cameras that serve you fine.
1.High definition
When choosing a barn or livestock camera, high resolution is an important feature to consider. A good barn camera should have high resolution (at least 1080p) to capture clear footage and provide as many details as possible.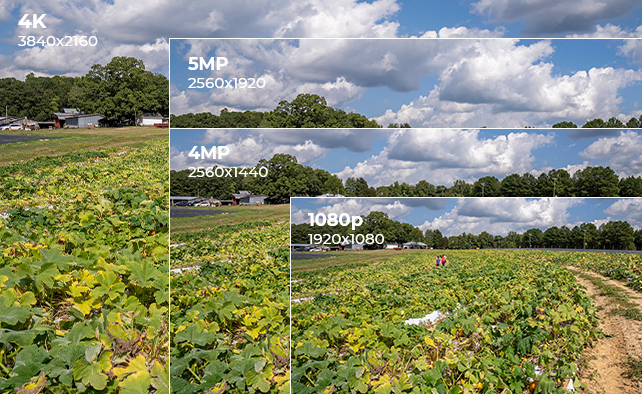 This can be essential when a theft happens. A clear picture of the criminals allows people to recognize their faces easily and help the police to catch them, while a blurry picture will only make you regret it.
1080p HD barn cameras can satisfy your basic needs. But if you want more details including vivid color, higher definition (4MP to 8MP) barn cameras can serve you better. Here is a comparison of photos in different resolutions.
2. Remote viewing on your phone/computer
One of the main reasons why you purchase barn cameras or systems perhaps is to grasp the barn's up-to-date situation while you are away, saving the trouble of physically visiting your barns, especially at night.
So a barn security camera should enable you to keep tabs on your barn, farm and livestock anytime and anywhere via your phone and computer.
For instance, the horse stall cameras should allow you to do chores at home while watching the horses foaling on your phone or computer.
Or you can even upload the video recorded by the farm and barn cameras for calving, lambing or foaling on social media to share your excitement with others.
3. Motion alerts & push notification
Instant notification is very important for barn owners because they will be alerted when anything unusual happens in the barn.
When any person or vehicle gets close to the barn, the barn security camera will be triggered and send a notification to your phone instantly. So that you can check what's going on there and take measures immediately.
Busy barn owners don't have to view live streams frequently to make sure everything is fine in the barn. With a smart security camera that send real-time alerts, they can do other thing or rest without worrying about their property all the time.
4. Clear night vision
It is essential that the barn security cameras you select can provide clear and sharp night vision so as to record the images even in the dark.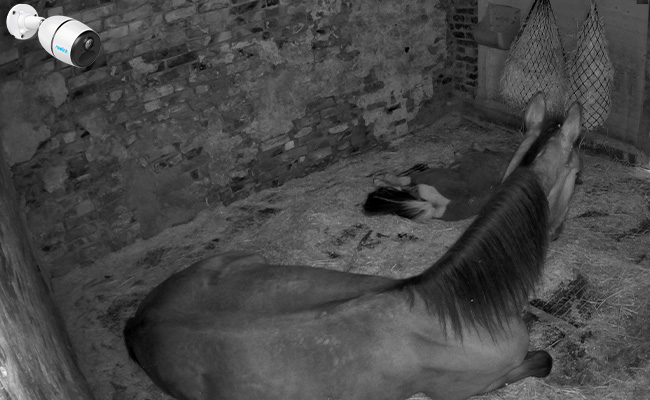 If any invasion occurs, the wireless barn cameras can send you instant alerts and you'll know what is exactly happening in your barn or farm via live view. The footage can also serve as a piece of helpful evidence to identify the criminals and lodge claims later.
In addition, the livestock cameras for barns and farms with clear night vision are conducive to your night check in case of any veterinary needs, like horse colic, lameness, general security and so on.
The calving barn cameras can also keep an eye on your pregnant goats. If the animals happen to give birth at night, you may observe the whole process via the professional barn camera systems.
5. Local recording ability
In case you need a calving barn camera to record onsite, security cameras with an SD card (slot) can be your best option.
If there is a WiFi network in your barn or farm, you can remotely access and playback the videos stored on the SD card. And the older videos will be automatically overwritten when the SD card storage is full.
Barn cameras without the Internet can also record motion detection videos locally. But you need to take out the SD card, say, once a month, to replay the videos on your computer.
6. Weather-resistant design
Besides installing barn security cameras inside your barn, like indoor calving barn cameras, you may also need to install barn/farm security cameras outdoors to monitor who is coming by and leaving your barns.
The outdoor barn camera systems should be at least IP65 or IP66 weather-resistant to endure the bad weather conditions, especially in places where the winter temperature can reach -30 degrees or even lower.
A weather-proof barn camera can keep working outdoors whether it's raning or snowing. And all its functions won't be impacted by the harsh weather.
7. Wireless feature
Compared with wired farm and barn cameras, the long range wireless barn cameras can be a better choice for you when it comes to flexibility and versatility.
You may change the long range wireless barn camera locations (within the WiFi range) based on your needs without having to run new cables or drill holes.
For example, you can move the horse barn security cameras and focus on the sick horses or reposition the calving barn camera systems towards the pregnant cows.
If you want a TRULY wireless barn camera system that requires no wires at all, the battery-powered security cameras (or solar-powered ones) for barns would top your options.
FAQs
Can barn security cameras work without a WiFi or Internet connection?
Yes, barn security cameras can work without a WiFi or Internet connection. There are several options available to you if your barn or farm does not have access to the Internet, or if the distance from your barn to your home exceeds the range of long-range wireless cameras.
What is a barn camera?
A barn camera is a type of surveillance camera that is specifically designed for use in barns. Barns are large, open spaces that can be difficult to monitor, making them prime targets for theft and vandalism. Barn cameras helps to deter criminals by providing a visual record of activity in the barn. In addition, barn cameras can be used to monitor the health and well-being of livestock. By keeping an eye on the barn, owners can quickly identify any problems or potential hazards. As a result, barn cameras play an important role in protecting both property and animals.
How the barn camera works?
Barn cameras are designed to help you keep an eye on your barn, horses, and other animals. Barn cameras work by recording videos or taking pictures of the monitored area, and barn cameras with motion sensors can detect intruders. With internet barn cameras, you can livestream the footage so that you can check on your animals in real time. barn cameras also allow you to record footage so that you can review it later. This can be helpful if you need to identify an intruder or if you want to see how your animals are interacting with each other. Barn cameras are a valuable tool for barn owners, and they can help you keep your barn safe and secure.
How to receive real-time alert from your barn camera?
In order to receive real-time alerts from your barn camera, you will need to have an internet connection. This can be done by connecting the camera to a Wi-Fi network or using a wired Ethernet connection. Once the camera is connected to the internet, you will be able to receive alerts and stream live video footage in real-time.
What is the best camera for a barn?
Based on your barn's requirements, you may require a different type of barn camera. Here are the barn camera models we summarize based on your particular needs.
Reolink Go Plus – best wireless 4g battery powered wireless barn camera.
RLK8-800B4 – best wired barn camera system kit.
Reolink Argus 3 Pro – best wireless rechargeable battery powered farm & barn camera with solar panel.
Reolink RLC-510WA – best WiFi barn camera with SD card and easy installation.
Conclusion
A lot of people share on social media how they use barn cameras to take care of horses, cattles, sheep, etc. It's glad to see that barn cameras are so useful for watching animals and protecting barn owners' properties.
It's time for you to share the story with a barn camera. Or, if you have any more questions about barn cameras, feel free to drop us a line in the comments below.