Looking for construction site security cameras or systems to prevent building site thefts and robbery? Hoping to find jobsite security camera systems to monitor the progress of jobs without having to physically go there?
Read on to find the best construction job site security cameras and systems to keep an eye on the construction job site, building materials and construction tools.
And learn what else contractors, developers, and homeowners could do to prevent construction site theft, vandalism, and property damage.
Jobsite Security: Common Problems & Quick Solutions
When it comes to the construction site remote video surveillance, there are several common problems that might limit your selection of construction site security cameras.
Problem 1: No Power on Construction Site or Jobsite or Building Site
It's true that some construction sites, job sites, homes or houses under construction don't always have power yet, or electricity and power are not readily available on the site.
Construction site cameras including battery-powered security cameras and solar powered security cameras, could be helpful to watch or prevent theft and stealing from the building sites without power supply.
Reolink Argus 3 Pro, for example, can serve as an ideal jobsite security camera in virtue of the built-in rechargeable battery and the optional Reolink solar panel. You can simply leave the camera there and watch the live feed remotely on your phone.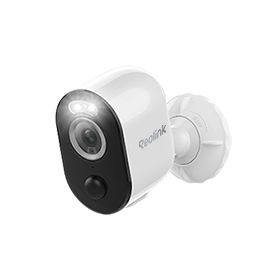 Reolink Argus 3 Pro
2K 100% Wire-Free Spotlight Camera
2K 4MP Super HD, Battery/Solar Powered, Person/Vehicle Detection, 5/2.4 GHz Dual-Band WiFi, Color Night Vision, Two-Way Audio.
Problem 2: No Internet or WiFi on the Construction Site
Well, Internet access or router is not always available on job sites, building site, or houses being built or remodeled.
However, it doesn't mean construction site surveillance cameras or systems won't work in such scenarios.
Mobile security cameras for construction sites running on cellular data networks, such as the 4G LTE security cameras are suitable for construction site remote video surveillance even without internet access.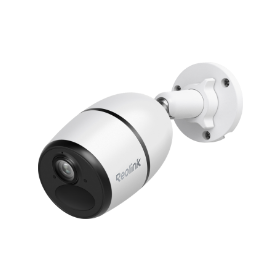 Reolink Go Plus
Smart Wireless 4G Battery Camera
Rechargeable Battery/Solar Powered, Person/Vehicle Detection, 2K 4MP Super HD, Two-Way Audio, High-Quality Night Vision, Live View Anytime.
Trail cams, hunting cameras, and game cameras are good alternatives of construction security systems.
If your new home, house or construction sites are close to residential areas or public areas, maybe you could connect the construction site security camera system to neighbor's WiFi or use personal hotspot.
Or if you are just hoping to keep weeks of video recordings and don't need remote access, the wireless jobsite security camera systems or the PoE outdoor construction site security systems like RLK8-800B4 would serve your purpose even without Internet.
Must-Have Features for Construction Site Security Cameras & Systems
Construction site security cameras are especially essential in areas that have higher risks of jobsite thefts, for example, Texas, North Carolina and Florida, according to the figures released by National Crime Information Center (NCIC).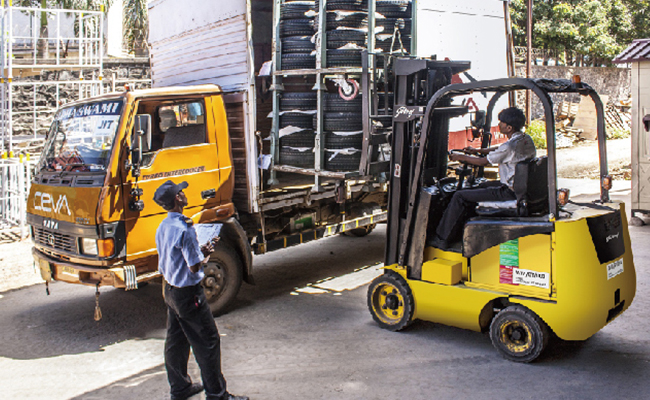 For those (developers, builders, and homeowners) who are looking for construction site security systems or job site surveillance cameras to keep tabs on the construction tools, building materials and equipment, it's important to check out these features.
Waterproof: A building site security system needs to be rugged and waterproof, so as to withstand all the elements and survive on a small construction site.
Portable: Portable security cameras for construction sites can be easily broken down and moved to the next jobsite when the construction project is complete.
HD video quality: Construction site surveillance cameras of good video quality (at least 1080p) and night vision help keep tabs on the jobsite day and night, especially at night when construction theft frequently takes place.
Minimal wires: As the messy cables on a jobsite can create headaches for the construction workers and subcontractors, it is best to choose wire-free security cameras for the jobsites.
Easy remote access: Thanks to the construction site security camera systems with smartphone app, you can monitor the job process and check on the building site anytime and anywhere from your mobile devices.
Other features of construction site surveillance cameras, like optical zoom can capture small and vivid details, like faces of the thieves and license plate number.
Here is an example of how the jobsite security camera with optical zoom Reolink RLC-511WA performs on a mountain weather station.
Best Construction Site Security Cameras & Jobsite Security Camera Systems
Construction site security systems go beyond theft and vandalism prevention.
More importantly, construction site cameras will increase transparency and oversight by recording subcontractors' activities and keeping track of building material delivery and placement.
Best 4G Mobile Security Camera for Construction Site – Reolink Go Plus
Reolink Go Plus is designed to work in places with limited or no WiFi network, commonly used as a construction site security camera in the jobsites where WiFi network is in short supply.
Reolink Go Plus runs on the 4G mobile network provided by network service network providers like AT&T (US), T-Mobile (US & Germany), EE Limited (UK), Vodafone (UK, Germany & Italy), O2 (UK & Germany), Three UK, Wind Tre (Italy). It's powered by a rechargeable battery and can be added to the Reolink solar panel for constant charging.
Features like 2K 4MP super HD, 2-way audio and clear night vision also make it a suitable construction site surveillance camera.
Below is a high-quality video shared by a real user.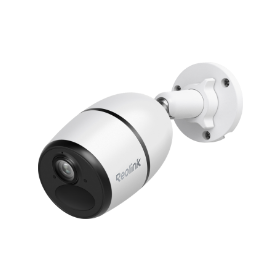 Reolink Go Plus
Smart Wireless 4G Battery Camera
Rechargeable Battery/Solar Powered, Person/Vehicle Detection, 2K 4MP Super HD, Two-Way Audio, High-Quality Night Vision, Live View Anytime.
Best Wireless Construction Site Security Camera – Reolink Argus 3 Pro
For those who are looking for a wireless construction site security camera to monitor job site equipment, building materials, copper, home remodeling project or building site where power or electricity is not available, Reolink Argus 3 Pro wireless jobsite security camera is an ideal solution.
It is powered by a long-running rechargeable battery and connects to the 2.4GHz /5GHz WiFi network. Plus, you could also use Reolink Solar Panel to keep this building site security camera constantly charged.
Truly wire-free, Reolink Argus 3 Pro battery-powered outdoor security camera for the construction site is also a portable job site camera that requires no wirings and it can be attached to the job site front door or entries to detect movements, mishandling or attempted thefts.
Its color night vision is particularly useful to identity thieves even at night.
Coupled with Reolink Argus 3 Pro skins and mounts, you could hide the jobsite surveillance camera from plain sight and avoid being stolen.
Watch the high-resolution video shared by a real user of Reolink Argus 3 Pro.
Best Construction Site Time Lapse Security Camera – Reolink RLC-511WA
Construction site time-lapse security cameras help property developers, engineers, and contractors to monitor, document and promote their projects.
RLC-511WA is also a popular wireless construction site security camera with rich features. The IP66 waterproof and rugged housing makes it ideal to fight against harsh weather conditions and external damage.
Featuring 5MP Super HD and 5X optical zoom, this wireless construction site surveillance camera delivers crystal clear images and you can also zoom in to obtain more details without scarifying the image quality.
Here is a construction site time-lapse video sample.
Best Construction Site Security Camera System – Relolink RLK8-800B4
If the construction site or job site has network coverage, you could use construction site security camera systems to record the whole construction progress but also view footage remotely on a mobile phone, computer or web browsers.
For example, the PoE construction site security system RLK8-800B4 with 4 units of 8MP ultra HD security cameras helps keep tabs on your construction site around the clock.
Even there is no Internet on the jobsite, this building site security system can also record videos locally to the NVR for your later check.
Here is a video shared by a user of the jobsite security camera system Reolink RLK8-800B4.
Tips on How to Protect & Maintain Construction Site Security Cameras & Systems
There is no doubt that construction site security cameras and systems can help reduce jobsite theft and vandalism, yet construction security cameras or systems are often exposed to dust, dirt, rain, bugs, or other elements.
Below are some useful tips to protect and maintain your construction jobsite security cameras.
Choose the weather-resistant and vandal-proof construction site security systems.
Use external camera housing, enclosure or box to keep the jobsite security camera clean and protect it from elements.
Purchase a weather-proof casing to cover or shade your construction site security camera.
Use UPS (Uninterruptible Power Supplies) units to ensure power supply for construction site security camera systems.
If the building site security systems are installed outdoors, it's important to know how to maintain outdoor surveillance systems.
Other Effective Measures to Enhance Jobsite Security
Besides construction site security cameras, there are also other proven effective measures to help avoid stealing and theft on building sites.
It's essential to lock up equipment after construction workers wrap up their work at the end of the day.
Have security guards on duty for extra protection.
Keep tools locked up so that they are not easy to remove.
Paint or engrave tools to identify and keep track of. So if they are taken, they are easier to recover.
Ask neighboring businesses to keep an eye out if there is any.
Install GPS system on heavy equipment.
Conclusion
The number of construction site thefts is on the rise especially job-site thefts of appliances, building materials, and copper.
Remotely monitoring ongoing commercial construction or home remodeling project via construction site security cameras can reduce legwork for developers, homeowners, or contractors because you don't have to travel far to get your hand dirty.
Jobsite security camera systems can also monitor project processes for safe practices and quality control, documenting accidents to support future construction improvements.
What's more, having watchful eyes on the construction projects via building site security systems helps resolve disputes or labor conflicts if you are in possession of relevant video evidence.
If you are a fan of TV show Royal Pain, an American medical drama in which Pages and Even were remodeling their house while the contractor was literally sleeping in their house and delaying the progress for weeks. Therefore, having construction site cameras could keep you updated.