You know a CCTV camera's line of sight is important, right?
I hope so.
Learning how far a security camera can see will help you better set up your home surveillance systems and leave no blind spots.
That's why I'm writing this post.
You're about to learn what determines a security cameras' range limit (including at night) and get some recommendations of the best long range outdoor security cameras for your security needs. So let's get started.
How Far Can a Security Camera See: What Are the Influence Factors
To cut to the chase, we'll first discuss some of the questions you concern about most, like:
How far of a range can retail security cameras see? What's the range, in meters, of CCTV cameras' line of sight? Or how much can security cameras see?
In fact, the CCTV camera range distance is mainly affected by the following factors.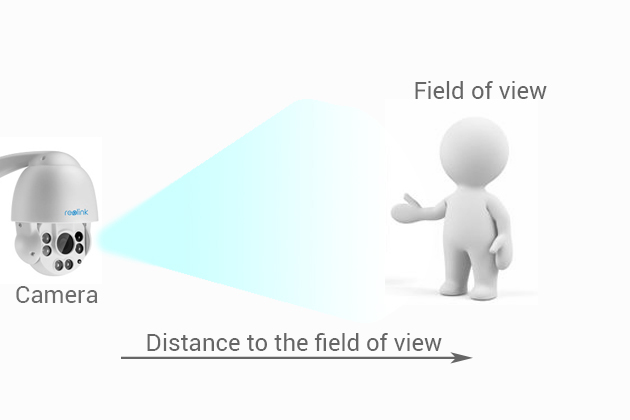 Factor 1: Focal Length
The focal length, or the size of security camera lenses, is the NO.1 factor determining how far security cameras can see.
It is measured in mm and can be classified into fixed focal length (found in fixed lens security cameras ) and variable focal length (available among vari-focal IP cameras ).
The smaller the focal length, the wide field of view your security camera can see. Likewise, a larger focal length makes for a narrower field of view of your surveillance cameras.
According to the experience of security camera installers, if you expect your security camera to see within 40 feet, a 4.0 fixed lens security camera is enough to do the trick.
The PTZ security cameras or zoom security cameras, on the other hand, are more suitable if the viewing area is far away (beyond 40 feet) from the location where cameras are installed.
Factor 2: Resolution
It would make no sense if your security cameras just see something but make out no details.
So, instead of asking how far a security camera can see (at night), it is wiser to focus on how far CCTV cameras can see clearly with visible details.
And that's where the resolution of your security cameras come into play. With the price of HD security cameras becoming much affordable, you can employ the 4MP, 5MP and even 4K security camera systems for video surveillance with vivid details.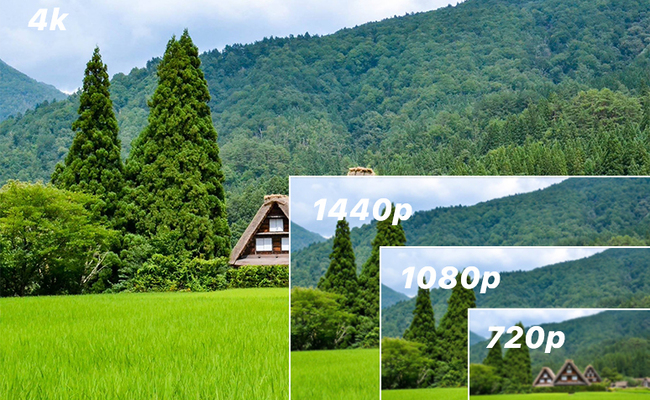 You Might Be Interested: Read this post to learn the differences between 4K, 4MP, 2MP and 720p security cameras.
Factor 3: Location
The location where you place your security cameras can also affect how far a surveillance camera can see.
How?
Let me explain further: for the wireless security cameras, bricks, concrete floors, walls and even outdoor large trees between the camera and the monitoring site can be weaken the signal strength, thus influencing how far your security cameras can see.
Factor 4: Quality
The camera quality also matters when it comes to determining how far of a range retail security cameras can see, as not all surveillance cameras are created equally well even they are tagged with the same field of view.
The top security camera brands with a large customer base, are far more reliable than those unknown camera sellers.
And you'll learn the lesson especially when you need technical support from the camera sellers. Renowned camera brands usually offer sound after-sales service which the little-known brands fail to do so.
Deeper Learning: Can security cameras see in the dark? And how far can a security camera see at night?
Well, the security cameras with night vision capability can absolutely see around in the dark (read this to learn how they work).
As for how far a CCTV security camera can see at night, on top of the factors listed above, it is also affected by the number and type of LEDs, lux rating, if the camera is featured with 3D-DNR function and infrared technology.
Normally, you can learn the IR distance of security cameras from product specifications.
For example, the battery-powered security camera Reolink Argus 3 Pro can see up to 33ft in the dark and the infrared security camera Reolink RLC-810A can see up to 100ft at night. (Some PTZ cameras like Reolink RLC-823A can even see up to 190ft in darkness.)
Below is a video shared by a user of Reolink RLC-810A.
What to Do If You Want to Monitor Places at a Distance
So, if you need to keep tabs on a site from a distance, below are some feasible tips to serve your purpose:
Choose the varifocal lens security cameras which can see a larger field of view. You can zoom in to identity visible details at a distance without degrading the image quality.
Higher resolution security cameras, like 5MP and 4K ones, can increase the odds to deliver usable images and videos from a distance.
If you intend to buy a wireless security camera, make sure there are few blocks between the camera and the monitoring site.
Go for the security cameras from reputable brands to avoid possible disputes and unnecessary trouble later.
Ensure that your security cameras can also see far enough with recognizable details at night.
Best Picks of Security Cameras that Can See Far with Vivid Details
With the above knowledge about how far security cameras can see, here we pick up 2 wide-angle security cameras that allow you to get high-quality images even from a distance.
1. Best Fixed Lens Security Camera for Key Entrances & Exits – Reolink Argus 3 Pro
Reolink Argus 3 Pro is one of the top-rated home security cameras and has been featured on a series of top-tier media, including Techhive, PC Mag, ZDNet, etc.
With 2K 4MP super HD and 122° wide viewing angle, this smart security camera is ideal for the key entrances & exits and allows you to see up to 33ft even in total darkness.
Below is a video shared by a user of Reolink Argus 3 Pro.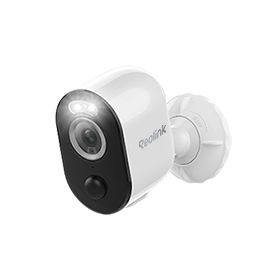 Reolink Argus 3 Pro
2K 100% Wire-Free Spotlight Camera
2K 4MP Super HD, Battery/Solar Powered, Person/Vehicle Detection, 5/2.4 GHz Dual-Band WiFi, Color Night Vision, Two-Way Audio.
2. Best PTZ Security Camera for Wide Coverage – Reolink RLC-823A
If you intend to monitor large areas with one single security camera, Reolink RLC-823A is definitely your best bet.
Boasting 360° pan, 90° tilt and 5X optical zoom, this PoE security camera enables a wide viewing angle (27° - 96°) and allows you to zoom for more details of far-away objects without losing the image quality.
Its performance at night also shines – with 4pcs of infrared LEDs and 2pcs spotlights, this outdoor security camera can see up to 190ft in low light conditions.
Below is a video shared by a user of Reolink RLC-823A.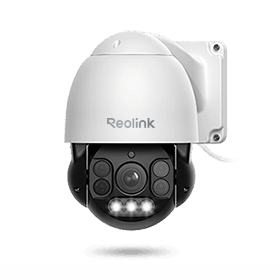 Reolink RLC-823A
Smart PTZ PoE Camera with Spotlights
4K 8MP Ultra HD, Person/Vehicle Detection, 5X Optical Zoom, Auto Tracking, Manual Pan & Tilt, Two-Way Audio, 190ft Night Vision, Live View.
If you have any more questions about how far a security camera can see (at night), leave your comments down in the comments and we'd like to hear from you.