Summary: One big challenge a security camera has is the blind spots, regardless of the quality or cost of it. Therefore we round up the best idea for how you can avoid blind spots in your security camera. Read on.
"I went tonight to case everything out my final time before attempting to lift. I noticed an isle that has no camera that could see. You can't even see a camera anywhere from that spot in the store. And cameras placed in other places cannot see this spot either. However, there are like 4 different signs on that one isle that say security cameras in use. So my question is, is it an attempt to scare me or can they really see me there."
Interesting! This question from a burglar can remind you to rethink the effectiveness of your security cameras, in home, office, supermarket and other places.
Why are there so many homes and stores still burglarized, even if they have security cameras installed? Part of this is due to security camera blind spots, which pose a serious risk to your property and safety. Blind spots can happen, particularly if you don't put enough forethought into the installation of your security cameras.
The good news is, you can avoid these security camera blind spots, in several ways. But in order to prevent blind spots, you first have to know where to find them.
How to Find Blind Spots in a Security Camera
A blind spot refers to any areas that aren't within the peripheral vision of your installed security camera. Since all cameras have limits to their range, no one, singular camera can monitor your entire property.
To get your camera's blind spots, you should, first of all, find out your camera's field of view (FOV). FOV is the viewing angle a camera can see.
Due to different lens your camera use, you will get different viewing angle. You may get 4 mm fixed lens, 6 mm or 8 mm fixed lens, or varifocal lens camera. Generally, a 4 mm fixed lens enables a viewing angle of 80°. Then the areas beyond the 80-degree field of view are blind spots, which your camera fails to cover.
The best way to find your blind spots is to put your camera into action with trial runs. Have one of your friends, family members, or trusted neighbors pose as a visitor and/or intruder. Tell this person to approach your property from various angles:
Your front door
Other entrances (back porch, garage door, etc.)
Have them go to each window of your house
While they do this, monitor your camera's feed. These days, security systems allow you to do that from the comfort of your mobile device. While we encourage you to do this, we also suggest you take a look at all of the avenues from which you can monitor your feed. What's visible on your TV monitor, for example, might not be visible on your iPhone.
How to Avoid Blind Spots on Security Cameras
One of the first steps you can take to avoid blind spots for your security cameras is to take photos of the areas you want to cover, from the exact locations where you anticipate installing your security cameras. This will help you to determine:
What lens you need for maximum coverage
How far away to place the camera
How wide the viewing area is
Experts in the field then use these images, as well as the building plan, to identify the ideal camera locations, as well as the best type of equipment. You can also use security camera lens calculator to determine what lens size you really need.
In an ideal situation, you'll have the ability to install a multi-camera setup. A security camera system enables you to use each camera to overlap with one another's viewing area, thus all but any blind spot.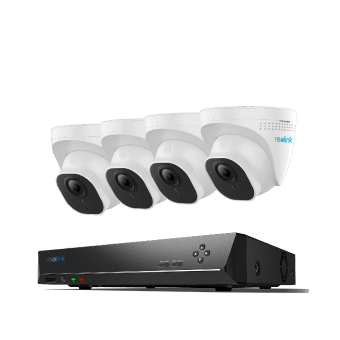 Reolink RLK-800D4
4K 8-Channel PoE Security System
4 pcs 4K Ultral HD Security Cameras; 2TB HDD 8-Channel NVR for 24/7 Recording; Plug & Play; 2 Network Solutions.
Tip 1: Firstly Focus on Location When It Comes to Eliminating Blind Spots
The integrity of your equipment plays a huge role in eliminating blind spots. However, one of the most important steps you can take to protect your property is to preplan and strategize the location of your cameras.
By working with a professional on deciding where to place home security cameras, you can greatly reduce the likelihood of both blind spots and damage caused by vandals or Mother Nature. In the end, you'll have greater peace of mind that your security cameras are doing their job of protecting your property and family.
Tip 2: Consider Changing to a Wide-Angle Security Camera
While the placement of the security camera plays an important role in minimizing the blind spots, you can also try to avoid them by choosing a wide angle security camera, which is better to be able to cover all areas.
1. A Panoramic Fisheye Security Camera
A 360-degree panoramic fisheye security camera is a perfect choice. Different from a fixed IP camera, a panoramic surveillance camera providing 360-degree surround view without blind spots. Recently Walmart and many other stores and supermarkets have taken this kind of panoramic camera to prevent shoplifting.
2. A PTZ Surveillance Camera
Panoramic security cameras are excellent to view every blind spot. But they are expensive on Amazon, Best Buy, eBay and other retail stores. If you have a tight budget, you can consider a PTZ (Pan/Tilt/Zoom) security camera, a one-of-the-kind panoramic fisheye camera alternative.
Reolink's RLC-823A PTZ camera can monitor a surprisingly large area with 360° pan & 90° tilt. Moreover, it can also keep track of the moving person or vehicle automatically. In this way, the camera will not only focus on one direction, leaving other areas uncovered. To view the live video feed and control the camera's direction, you can download Reolink app on your mobile devices. You can monitor wherever you want even if you are away, with PTZ control on your hand.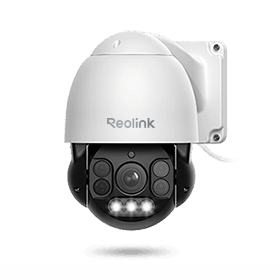 Reolink RLC-823A
Smart PTZ PoE Camera with Spotlights
4K 8MP Ultra HD, Person/Vehicle Detection, 5X Optical Zoom, Auto Tracking, Manual Pan & Tilt, Two-Way Audio, 190ft Night Vision, Live View.
Tip 3: Consider the External Factors at Play to Minimize Blind Spots of Your Camera
As mentioned earlier, you should take into account the impact the moving sun (and darkness) has on your security cameras' blind spots. This helps to avoid security camera blind spots both day and night.
But there are far more external factors to consider. For example, the swaying of a branch from a wind gust is enough to cause a blind spot. In the summer time, a tree full of leaves might block out the morning sun, but in the winter, that bare tree (and closer-to-the-horizon sun) can pose an entirely new challenge.
Make it a point to monitor these external factors at least each season, if not on a monthly basis.
Tip 4: Eliminate Blind Spots by Making Your Camera Free from Vandalism
The hand of Mother Nature isn't the only reason why your cameras might endure unexpected blind spots. If your camera is easily accessible by intruders, then that intruder can either damage the camera or obstruct its field of vision.
If your cameras are susceptible to vandals, you might want to invest in vandal-proof cameras, or rethink the location of your installations.