Long range (distance) outdoor security cameras (systems) let you see and record clear videos hundreds of feet away from their mounting point. To monitor a barn, a farm, a deep driveway, front and back yards, a large parking lot and recognize faces and license plates, you'll need long range wireless camera for both day and night.
The following information is what you may consider when buying long range security cameras:
| | |
| --- | --- |
| Camera Types | Long range security cameras |
| Features | High definition/night vision, etc. |
| Definition | 4MP/5MP/4K |
| Recommended Camera | Reolink Go Plus/Reolink RLC-823A |
What Makes a Good Long Range Security Camera Outdoor
To help you pick up a reliable long range wireless camera outdoor, you should consider at least the 4 points: HD, excellent night vision, optical zoom lens, and long range wireless.
A Long Range Security Camera Should Have High Definition
Some top security camera brands nowadays offer long range CCTV cameras with extra high definition like 1080p, 4MP, 5MP and even 4K, which outshine the old digital surveillance equipment and capture images and videos with great details even when monitoring a large outdoor area from a distance.
So what high definition should your long range video surveillance camera have? Can 1080p IP security cameras be enough for identification of license plate and people at a distance of 200 meters from the control room switch?
Calculate the PPF (pixels per foot) of your long range security camera, and you will know exactly how far your camera can see.
The calculation formula is: PPF=the camera's resolution height/the field of view.
This chart shows you the PPF of long range IP cameras in different HD quality, to help you choose cameras like "best CCTV IP HD long range surveillance camera to identify someone at the 1km distance".

And generally, a long range security camera needs at least 40 PPF in order to identify the facial expressions and plate number. Click here to learn more about the resolution influence on long distance object recognition.

Ready. Set. Save!
Big selection, big SAVING. Get your hands on Reolink security cameras & systems before the best prices slip away!
Long Range Outdoor Security Cameras Feature Excellent Night Vision
Daytime video quality alone is never enough for a good long range WiFi camera. For a certain person's face identification and the 24/7 video monitoring at night, especially in rural areas with no street lights, night vision is an indispensable security feature.
Night video quality decides how far you can see with your long range outdoor security camera in low light conditions, or even dark conditions.
Long range night vision security cameras usually have IR lights built-in to identify people and events at night. Usually, the more quantity and the higher quality IR lights your long range IP camera has, the clearer video and longer distance your camera will see in a poor light condition.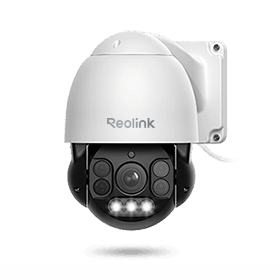 Reolink RLC-823A
Smart PTZ PoE Camera with Spotlights
4K 8MP Ultra HD, Person/Vehicle Detection, 5X Optical Zoom, Auto Tracking, Manual Pan & Tilt, Two-Way Audio, 190ft Night Vision, Live View.
Maybe I should clarify that IR is actually invisible. Some night security camera manufacturers put some visible red IR LEDs in cameras to purposely be visible as a deterrent. A night thief who sees the red LED lights is likely to skip the next house, which effectively stops a home break-in.
What's worth mentioning is that, most Reolink long range cameras have remarkable night vision, with long IR distance of 100ft or even up to 190 feet.
Reolink has posted many night captures by its customers on Twitter, and Reolink users have been uploading their recorded sharp night videos on YouTube. Below is one sample video captured by RLC-810A security camera.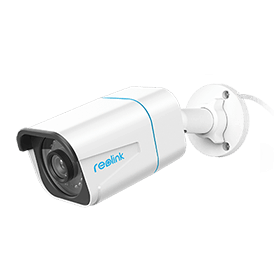 Reolink RLC-810A
4K PoE IP Camera with Person/Vehicle Detection
Smart Person/Vehicle Alerts; 4K UHD Day & Night; 100ft Night Vision; Time Lapse; IP66 Certified Weatherproof; Audio Recording.
Outdoor Security Cameras with Long Range Should Contain Optical Zoom Lens
The best long distance surveillance camera should be equipped with varifocal zoom lens, rather than fixed lens.
A varifocal lens security camera with a long range allows you to zoom in to view more details, and zoom out to see a wider area. And for the zoom lens, optical zoom is far more advanced than digital zoom, since the latter will destroy the video quality while the former won't.
Long distance night vision cameras with 4X optical zoom usually feature 2.8 mm – 12 mm zoom lens with a viewing angle of 36 – 100 degrees. (For example, RLC-511WA, a 5MP HD long range outdoor night vision security camera.
When you are choosing a long range security camera, you should first consider how large your outdoor area is. Generally 4X optical zoom security cameras work perfectly when monitoring your front/back yard, and your parking lot, with identifying license plates and the general information of people.
In addition to the optical zoom lens, the best long range IP cameras are also featured with endless pan and tilt to cover every single angle. So, no intruders would hide or escape without your notice.
Long Range Wireless Security Cameras Also Mean Long WiFi Range
Numerous users prefer wireless outdoor security IP cameras rather than wired ones. If you are one of them, your long range outdoor surveillance camera not only refers to how far the camera can see, but it also refers to "a long WiFi range".
2 most common complaints about long range outdoor wireless security cameras are low signal strength and poor connectivity.
So the best long range wireless surveillance camera outdoor would be dual-band wireless cameras. They usually allow a long range radio signal and video transmission over the air for as long as 250 feet. You can install this camera wherever you like in an outside open area as long as the WiFi signal range allows.
Hold Up: Check out this post to learn practical ways to deal with WiFi interference and boost WiFi signal.
If the long range WiFi camera still can't reach your monitoring places by any means, then you will need a 4G cellular security camera, which works as another perfect and easy solution to long-distance monitoring, without wires and WiFi network.
Best Outdoor Long Range Security Camera
Continue to read if you want a long range CCTV camera to cover the whole area of your large property like the area below, captured by Reolink RLC-810A.
Note: You don't have to get a dedicated long range surveillance camera to watch your property located miles away and labor your wits on how to run wires and boost the WiFi signals that far. Actually, a 4G LTE security camera can well handle these situations, such as a gate, rural house at distance. Click here to see how it works and the best budget pick for this kind of long range surveillance camera.
To find out a long range outdoor video security camera with all the advanced features is not an easy job. Lucky you, you've got 2 best picks here, both are easy to use and install, to suit your every security need.
Long Range Night Vision Security Camera: Reolink RLC-823A
Besides the features talked above for a good long range CCTV camera outdoor, like the 4K 8MP high definition, 5X optical zoom lens, an excellent night vision up to 190ft, RLC-823A is also a pan-tilt-zoom camera.
Best Pick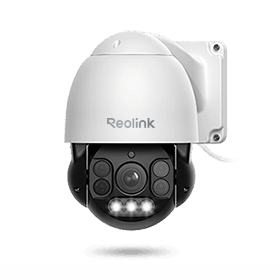 Best Long Range CCTV Camera
Featured in top tier tech media, including Vueville, Androidpit, Securitybros, etc., this camera is one of the most popular PTZ long range security camera on the market.
Check out the video sample of this security camera below.
"I have to install a long range CCTV camera which is almost 700 meter far from the DVR and monitor. Is it okay if I use a CAT5 UTP wire? Will I use a video balun? How about the power supply?"
"One camera needed for a gate located around 600 feet from the house, but I'd rather not try to bury 600' of Cat5."
You don't have to. In fact, you don't need to worry anything mentioned above if you choose the 4G long range wireless camera Reolink Go Plus.
Running on 4G LTE network and rechargeable battery power (solar powered optional), this kind of long range WiFi camera could be placed hundreds of miles away from your main house or the monitoring center, with no wires and power outlets limitation, offering you a real easy solution for long distance monitoring.
Best Pick 2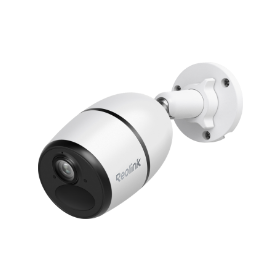 Best Long Range WiFi Camera
Recommended by top tie media like Engadget, PCWorld, Techradar, Stuff as "a solid 2K surveillance option for those who need eyes on remote locations ( TechHive Review )".
Learn more about the long range wireless camera with clear night vision:
To take the above top long range outdoor security cameras home right now, you can go to Reolink online store or buy from Amazon.