Long range security cameras let you see and record clear videos hundreds of feet away from their mounting point. To monitor a barn, a farm, a deep driveway, front and back yards, or a large parking lot and recognize faces or license plates, you'll need a quality long range security camera for both day and night.
This complete guide explains how to choose a good long range security camera. Also, two of the best long distance security cameras are included!
What Is A Long Range Security Camera
Long range security cameras are capable of seeing far away (at least 75ft) and recognizing a person or vehicle. They are often used to monitor long and narrow areas like a hallway and large properties such as farms, ranches, parking lots, etc.
The distance of long range security cameras varies a lot in the market, for it can be 100ft to 300ft and even further. For people who find it hard to install a camera near the monitoring place, a long distance security camera is exclusively helpful.
Most often, long range security cameras are divided into three types: cameras with a fixed lens, cameras with a varifocal lens, and PTZ cameras.
A fixed-lens long range camera stands still in the mounting place and offers a fixed angle of view. You can't adjust its focal length or zoom in/out. Generally speaking, fixed lens cameras may not see very far while they have a wide angle. Thus, a fixed-lens camera is great to monitor places like front yards, swimming pools, barns, front doors, etc.
A varifocal lens, on the contrary, allows you to adjust the angle of view. You can zoom in to see specific details with magnified images and zoom out to have a wide-angle overview. Varifocal-lens cameras make it easier for you to identify things at a long distance and they are often used to watch hallways, farms, and other outdoor areas.
PTZ cameras integrate functions to pan left and right, tilt up and down, and zoom in or out. They are one of the most powerful long range security cameras and can satisfy most people's needs. PTZ security cameras can see hundreds of feet away and are ideal options in wide and open areas such as ranches, parking lots, etc.
Here's a chart for you to quickly compare these three kinds of long range security cameras.
| / | Fixed Lens | Varifocal Lens | PTZ Cameras |
| --- | --- | --- | --- |
| Viewing Angle | Fixed, wide | Flexible | 360° seamless |
| Distance | Fixed, not very far | Flexible, far | Flexible, far |
| Scenarios | Front door/backyards/swimming pool | Hallways/farms/outdoor areas | Farms/ranches/parking lots/wide&open areas |
What Makes a Good Long Range Security Camera
There are so many long range cameras from various brands. To choose a reliable security camera for your property, you should consider more elements than long distance. Here are four of the most features you should consider before purchasing a long range security camera.
High definition/resolution
Some top security camera brands nowadays offer long distance security cameras with extra high definition like 4MP, 5MP and even 4K, which outshine the old digital surveillance equipment. These HD cameras can capture images and videos with vivid details even when monitoring a large outdoor area from a distance.
So what high definition should your long range surveillance camera have? Can 1080p IP security cameras be enough for the identification of license plates and people at a distance of 200 meters from the control room switch?
Calculate the PPF (pixels per foot) of your long range security camera, and you will know exactly how far your camera can see.
The calculation formula is: PPF = height pixels / the field of view.
Generally speaking, a long range security camera needs at least 40 PPF in order to identify a person's face or a car's plate number. The greater the PPF value, the clearer the image will be.
Here's a chart showing the PPF of long range security cameras in different resolutions for your reference.


Ready. Set. Save!
Big selection, big SAVING. Get your hands on Reolink security cameras & systems before the best prices slip away!
Excellent Night Vision
Daytime video quality alone is never enough for a good long range security camera. For human face identification and around-the-clock video monitoring, night vision is an indispensable feature, especially in rural areas with no streetlights.
Night vision quality decides how far you can see with your long range surveillance camera in low light or even dark conditions.
Most long range security cameras with night vision capability usually have built-in IR lights to help recognize people and events at night. Usually, the more quantity and the higher quality IR lights your long range security camera has, the clearer video and longer distance it will see in poor light conditions.
To enhance night vision quality, some security camera manufacturers add spotlights to their products. These spotlights are quite useful to illuminate the monitoring and help the camera capture clear and full-color images.
Other than built-in spotlights, a number of users will put a floodlight near their long range security cameras. Floodlight is even more powerful and brighter because they usually have higher lumens and can make the night as vivid as day.
It's worth mentioning that most Reolink long range cameras have remarkable night vision, with a long IR distance of 100ft or even up to 260 feet. Also, it has spotlight security cameras and standalone floodlights.
Optical Zoom
The best long distance surveillance camera should be equipped with a varifocal lens, rather than a fixed lens. A varifocal lens security camera with a long range allows you to zoom in to view more details, and zoom out to see a wider area.
When it comes to zoom, optical zoom is far more advanced than digital zoom. Optical zoom uses the camera lens to physically magnify images and gives more details. But digital zoom just crops and enlarges the image without adding anything. Thus, digital zoom may destroy the image/video quality while optical zoom won't.
When you are choosing a long range security camera, you should first consider how large your monitoring area is. Generally, 4X optical zoom security cameras work perfectly in your front/back yard and your parking lot, while identifying license plates and the general information of people.
In addition to the optical zoom lens, the best long range cameras are also featured with pan and tilt to cover every corner. In this way, no intruders would hide or escape without your notice.
Long WiFi range of wireless cameras
Quite a lot users prefer a long range wireless camera rather than a PoE one. If you are one of them, you should pay attention to the WiFi range of your long distance WiFi camera.
Long range wireless security cameras tend to receive complaints about low signal strength and poor connectivity.
To solve this problem, the best long range wireless surveillance cameras support dual-band WiFi for a stable network connection. You are free to switch between the 2.4GHz and 5GHz frequency bands and get the best data transmission rate.
Also, dual-band WiFi security cameras usually allow a long range radio signal and video transmission over the air for as long as 250 feet. You can install this camera wherever you like in an outside open area as long as the WiFi signal range covers.
Hold Up: Check out this post to learn practical ways to deal with WiFi interference and boost WiFi signal.
If the long range WiFi camera still can't reach your monitoring places by any means, you will need a 4G cellular security camera, which works as another perfect and easy solution to long-distance monitoring, without wires and WiFi network.
Best Long Range Security Cameras Recommendation
To find out a long range security camera with all the advanced features is not an easy job. After considering all aspects of long range, features, and price, we have selected the two best long distance security cameras for you.
Best long range night vision security camera - RLC-823A 16X
Reolink RLC-823A 16X has all the essential features of a quality long range security camera. It boasts 4K 8MP ultra high resolution to capture everything clearly and 16X optical zoom to magnify the object far away without destroying the image quality.
Reolink RLC-823A 16X
Smart 4K PTZ PoE Camera with 16X Zoom
4K 8MP Ultra HD; Person/Vehicle Detection; 16X Optical Zoom; Pan & Tilt; Two-Way Audio; 260ft IR Night Vision; Instant Alert; Live View; Power over Ethernet
This long range camera can pan 360° and tilt 90° to let you view everything around, giving your property seamless protection. It also has 7 IR LEDs to offer high quality night vision. You can see things within up to 260ft (80m) at night.
As a smart security camera, RLC-823A 16X offers accurate person/vehicle detection, real-time alerts to your mobile device, two-way audio, and many functions. With powerful features and an affordable price, this PTZ long distance camera can be a great choice for people to watch their large properties.
Best long range WiFi camera - RLC-523WA
If you are looking for a long range WiFi camera, you can't miss RLC-523WA. This camera is a star product from the reputable brand Reolink. It features 5MP super HD, 360° pan & 90° tilt, and 5X optical zoom.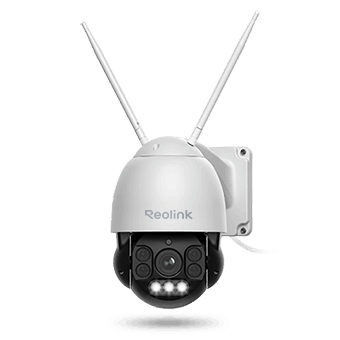 Reolink RLC-523WA
Smart 5MP PTZ WiFi Camera with Spotlight
Smart Person/Vehicle Detection; Pan, tilt, 5X Optical Zoom; Auto-Tracking; 5MP Super HD; 2.4/5 GHz Dual-Band WiFi; 190ft IR Night Vision; Up to 256GB SD Card Supported; Time Lapse.
There is something different with RLC-523WA. The pan-tilt-zoom function of this long range WiFi camera not only enables you to view from every angle, but also facilitates the camera to track the moving person or vehicle automatically, which leaves intruders nowhere to hide.
Besides, RLC-523WA can offer 190ft IR night vision with 4 IR LEDs and also color night vision with 3 spotlights. It also supports 2.4GHz and 5GHz (5.8GHz) frequencies to ensure better performance of the camera's networking.
Frequently Asked Questions about Long Range Security Cameras
What is the longest distance for a security camera?
A professional PTZ security camera can see things over 1,000 feet (almost 305m). However, most regular security cameras can only see in a range between 10 to 75 feet, which is enough to monitor home properties. Security cameras that can figure out a person 75ft away are regarded as long range/distance security cameras. Nowadays, more and more people looking for a long range camera to help recognize human faces or license plate numbers.
How far can a wireless security camera reach?
There is no exact figures. Normally, a wireless security cameras can reach around 150 feet while some devices can reach 350 to 500 feet. It depends on the wireless technology, the quality of the antenna, the interference in the area, and other elements.
How far can a security camera detect motion?
Generally, security cameras can detect motion in the range of 15 to 25 feet, which is shorter than they can see. Some of the best security cameras are able to detect motion from up to 50 feet away and allow you to adjust the motion sensitivity.
[ga-seo-faq-end]
Conclusion
Nowadays long range security cameras are very common in the market. With the upgrade of the camera lens, people can see 300ft or further away clearly. If you have a farm, a ranch, or a large property to protect, you can invest in a long range security camera from reputable brands.
If you have any questions or insights on long distance cameras, feel free to leave a comment below.