Fisheye security cameras are an innovative and effective solution for home or business surveillance. These cameras offer wide-angle coverage with a single lens, which makes them outshine traditional CCTV cameras with a limited field of view.
The images caught by a 180° or 360° fisheye camera are usually distorted, which is called the fisheye effect. To avoid image distortion, some fisheye cameras use advanced technology to flatten the images, so that users can get a better view as well as more details.
In this article, we'll give a thorough guide on fisheye cameras, including their pros & cons and installation tips. So keep reading on.
What Is a Panoramic Fisheye Camera
A panoramic fisheye camera is a type of IP surveillance camera that can provide a 180-degree or 360-degree field of view with ultra-wide angle lenses. Fisheye security cameras are commonly applied to monitor large areas and give users a comprehensive overview of their surroundings.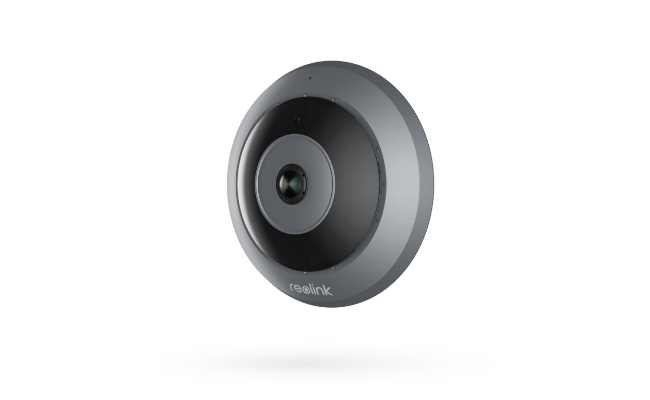 Along with the wide-angle coverage, it's quite easy to install and configure a fisheye security camera. With a discreet outlook and robust features, fisheye cameras offer not only a new breed of security camera systems, but also another cost-effective option for comprehensive security.
Due to their versatility, fisheye cameras can be found everywhere. Typically, they are used in airports, retail shops, banks, warehouses, office buildings, homes, and other places that require extensive surveillance.
How Panoramic Fisheye Security Cameras Work
The majority of fisheye security cameras use an ultra-wide angle lens while a few of them will utilize a combination of multiple image sensors. Therefore, there are two different ways for fisheye cameras to provide 180° or 360° panoramic views.
Panoramic security cameras with multiple sensors can capture footage from different angles and then stitch them into one single image. The result is an extremely wide-angle shot that covers an entire scene.
A single-lens fisheye camera usually has a very short focal length (no more than 2mm). This special kind of lens allows for a much wider field of view than standard lenses and can provide maximum visibility within the monitoring range.
Due to the short focal length, the fisheye effect will be so obvious that all the images are distorted. The degree of distortion depends on how close the object is to the frame center of the fisheye lens. The closer, the less distortion, and vice versa.
Since the fisheye effect may bother home or business owners, new technology has been adopted to help expand the fisheye view. In such a case, a 360° wide-angle but distorted image can be flattened into square images. Users can change the view mode flexibly for the best visual experience.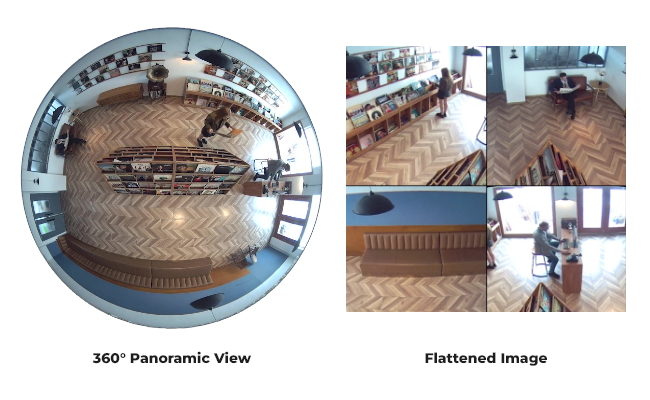 Pros & Cons of Panoramic Fisheye Security Cameras
Fisheye cameras are a great choice for many security applications. But before you add a fisheye camera to your home security system, you'd better understand its pros and cons.
Benefits of fisheye security cameras
1. Ultra-wide coverage
A panoramic fisheye security camera boasts 180-degree or 360-degree field of view. It can replace multiple traditional fixed-lens security cameras to cover wide areas without blind spots. The ultra-wide viewing angle makes fisheye cameras perfect in places where space is limited for several cameras.
2. Cost-effective
With one single panoramic fisheye camera to monitor a large area effectively, you don't need to pay more money purchasing or installing multiple IP cameras.
Better yet, using fisheye security cameras can also reduce your cost on accessories such as protective skins, wirings, power cables, etc., and save you installation time as well as follow-up maintenance.
3. Reliable performance
The lenses of Fisheye security cameras are usually encased in a transparent and solid shell while delivering a 360° panorama view. The shell gives additional protection for the lens and prevents external elements or attacks.
Some fisheye cameras have a seamless housing design even if they don't have a transparent cover. The special design ensures that the lens is mostly covered and protected from damage or dust accumulation, making them highly reliable.
Besides, the weather-proof housing makes fisheye security cameras ideal for both indoor and outdoor use. Fisheye cameras with night vision can watch your property 24/7.
Disadvantages of using a fisheye camera
1. Image distortion
One of the main disadvantages of using a fisheye security camera is image distortion, which is caused by its extremely wide field of view. Objects in certain areas may appear strangely elongated or curved in the photo. Generally speaking, distortions increase as the angle of view increases and become more obvious near the edges of an image.
Advanced fisheye security cameras offer various expand modes to fix this issue. Users can choose to flatten the distorted images and have a better view. The de-warping mechanism is a major breakthrough that makes fisheye cameras more applicable in daily life, even though this could increase costs.
2. Low resolution
Fisheye security cameras typically offer fewer megapixels than traditional bullet or dome security cameras. Since fisheye security cameras are designed to capture a rounded 360° view with a square image sensor, the actual megapixels will be less than the rated megapixels.
It means that you won't get 4MP images even if the fisheye camera has 2K resolution. Besides, the image quality will be further reduced when enlarging images or cropping them down to smaller sizes.
But don't be too worried. Even though a 2K fisheye camera can't produce 4-megapixels images in real case, it can sill offer you clear pictures and enough details.
3. Limited installation possibilities
Installing a fisheye security camera is easy, but where to install it can be limited. The lens of a fisheye camera is always fixed, which means it's difficult to change the viewing angle once you have installed the camera somewhere.
To make the most out of a fisheye camera, people usually put it in the center of the room to get a full 360° view, despite that the location always reveals the camera's presence. If you want the camera to be more discreet, you have to sacrifice part of its view while putting it in the corner.
Best Picks of 360-Degree Panoramic & Fisheye Security Cameras
When it comes to the best fisheye or panoramic security cameras, here are some of the greatest choices. All these products won't break the bank and boast fantastic features to keep your property secure.
6MP 360° panoramic fisheye security camera - Reolink FE-P/FE-W
As a renowned home security products provider, Reolink is always working to offer comprehensive security solutions for consumers in need. This time Reolink is going to release PoE and WiFi versions of fisheye security cameras: FE-P and FE-W.
Both of these two versions feature a 360° panoramic view and can cover every corner of the room. Also, they have 6MP super HD for you to check every detail from crystal-clear images and videos. With smart person detection and a built-in siren, Reolink fisheye cameras can deter intruders before they break in.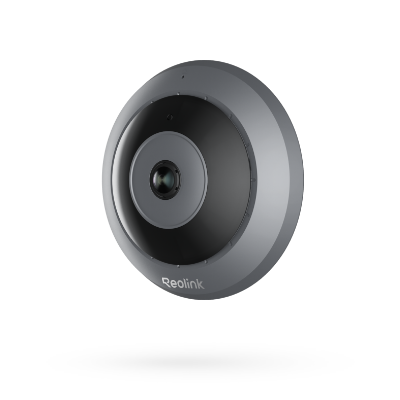 Reolink FE-W
6MP WiFi 360° Panoramic Indoor Fisheye Camera
6MP Super HD, 360° Panoramic View, 5/2.4 GHz Dual-Band WiFi, Multiple Display Modes, Smart Person Detection, Two-Way Audio, Clear Night Vision.
The best part is that one Reolink fisheye camera can equal four traditional security cameras, thus being the perfect option to watch your store, office, meeting room, warehouse, etc. Also, Reolink adopts the de-warping mechanism and allows you to check flattened and natural images on Reolink App/Client.
4K 360° outdoor PTZ security camera - RLC-823A
If you need a panoramic security camera for outdoor use, PTZ cameras are great choices as they can also provide a 360° view without image distortion at all.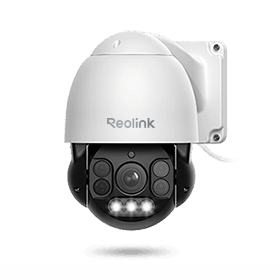 Reolink RLC-823A
Smart PTZ PoE Camera with Spotlights
4K 8MP Ultra HD, Person/Vehicle Detection, 5X Optical Zoom, Auto Tracking, Manual Pan & Tilt, Two-Way Audio, 190ft Night Vision, Live View.
As one of the best outdoor 360° PTZ security cameras, RLC-823A can rotate 360° horizontally and 90° vertically. It can monitor an unbelievably large area and offer you 4K 8MP ultra-clear images with no distortion. Better yet, it has 5X optical zoom for you to check details far away.
RLC-823A is quite useful to monitor wide and open areas like front yards and parking lots. With one 360° panoramic security camera, you won't miss anything happening around the house.
Top 4 Features to Consider When Buying A Fisheye Camera
Fisheye security cameras offer various features to help protect your property, and there are some key features you should consider if you're looking for a quality panoramic fisheye camera.
Field of view: Fisheye security cameras have a very wide field of view, typically between 180 and 360 degrees. 180° fisheye cameras are more suitable in places like hallways and crossroads while 360° security cameras are ideal in wide and open areas. So you should make a choice based on where you plan to install the fisheye camera.

Resolution: When buying a fisheye security camera, you need to make sure that it has enough megapixels available for crystal-clear images. As mentioned above, the actual megapixels of a fisheye camera are usually less than they're meant to be. A good rule of thumb is to select at least 5 megapixels so that your photos can be impressive and clear.

Dewarping: Fisheye cameras with de-warping technology can transform a distorted panoramic view into a flattened image. The de-warping process can be done with certain types of software or hardware. It's a critical component of using a fisheye camera, as it allows you to see normal images without any distortions and check more details.

Night vision: Look for cameras with infrared LEDs that offer high resolution images in low light conditions, so you can see clearly even in the dark. A fisheye security camera with night vision can give your round-the-clock protection and never lets you miss a thing.
Tips on the Installation of Fisheye Security Cameras
The panoramic fisheye security cameras, in virtue of the compact and non-intrusive design, are easy to blend into the surroundings and suitable for a seamless 360-degree panoramic monitoring setup.
To take full advantage of the fisheye CCTV cameras, check out the following installation tips below before you start off.
Avoid placing a 360 fisheye security camera in or near a corner, as the walls will hinder its panoramic view and thus the lens couldn't be made full use of.

If you plan to install a panoramic fisheye IP camera to the ceilings, make sure the camera is located in the center of the monitoring zone, otherwise, the images will be reshaped.

Keep the panoramic security cameras away from the air conditioner vents and electric entrance doors.

Make sure the fisheye CCTV cameras are not near the ceiling lamps or indicator light, which will interfere with the image signal and affect the camera's image quality.\

Stable the 180-degree or 360-degree fisheye security camera with expansion screws to prevent it from falling down over a long period of time.
Don't forget to check the weather-proof rating or water-resistant details. Some fisheye cameras can be installed indoors and outdoors while some of them can only be used inside the house.
FAQs
What are fisheye cameras used for?
Fisheye cameras are specialized cameras used to capture wide-angle images, typically with an up to 360° field of view. The panoramic fisheye security cameras are perfect solutions for people to monitor wide and large areas, such as airports, retail shops, banks, warehouses, office buildings, homes, and other places that require extensive surveillance.
How far can a fisheye camera see?
The distance that a fisheye security camera can see depends on various elements, including the specific model of the camera, its resolution, the lens, etc. Since fisheye cameras are designed to capture the wide-angle view, it means they are limited to detecting motions far away. Generally speaking, a fisheye security camera can recognize a person within 15 feet. Higher resolution can help the camera see things further and more clearly.
What is the benefit of a fisheye security camera?
Fisheye security cameras are an effective tool for protecting your property and they have a bunch of benefits. Fisheye cameras provide a 360° panoramic view to cover every corner and leave no blind spots. They are cost-effective security solutions since you don't have to buy several security cameras. Besides, fisheye security cameras look discreet and can work day and night.
Conclusion
Panoramic fisheye security cameras are one of the best options when it comes to monitoring a large space with just one camera. As people's needs increase, there are various fisheye security cameras on the market. You can choose a good one depending on your budget.
Leave a comment below if you have any thoughts about panoramic fisheye cameras.