That is for sure that you can still get security CCTV cameras working without internet or WiFi, or even power.For your farms, rural homes, off-grid cabins and other remote areas without an Internet connection or electricity, you can even try using cellular security cameras, which allow you to view live video feeds remotely from anywhere. In this article, you learn a step-by-step guide to setting up a CCTV camera without Internet or WiFi.
Check out the infographic below to see what functions the security camera can perform with or without Internet.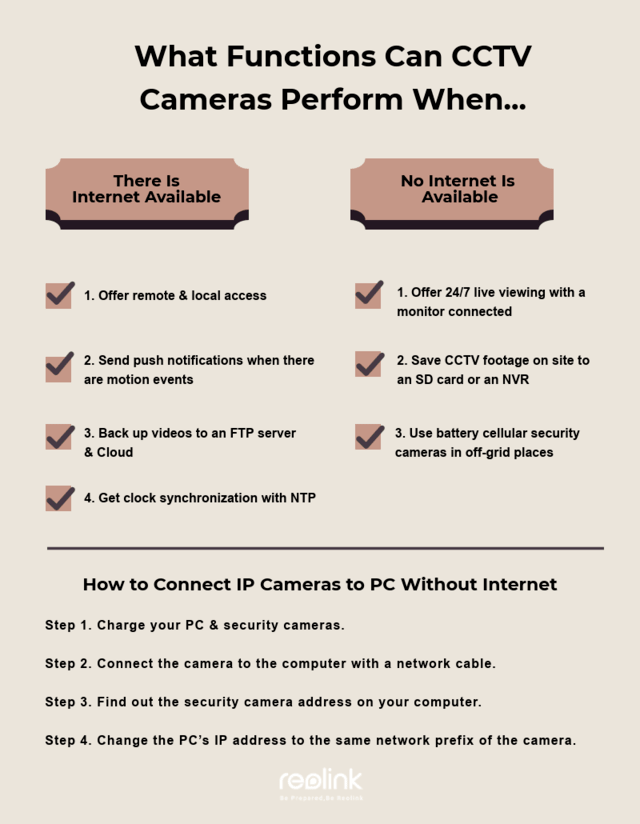 The following table provides key information on whether the security camera can work without the Internet.
| | |
| --- | --- |
| NVR Recording Time | 24/7 without Internet |
| Camera With SD Card | Only motion detection recording |
| Cellular Camera network | 4G |
| Connect To PC | Same IP address |
CCTV Security Cameras & Systems Without Internet: Top Functions & Setup Guide
Even your IP CCTV cameras are without Internet access, you can still get video surveillance in off-grid places like your remote farm, cabin, rural home, and other areas without Internet or WiFi connection.
You can get local recording even your security cameras have no Internet access.
If you opt for cellular security cameras, you can get remote access, motion detection function and other smart features.
If you connect your CCTV security camera & system to a monitor, you can get local live streaming.
1. Get Local Video Recording When Your CCTV Cameras Are Without Internet Access
If you install an NVR security camera system to monitor your farm, chalet, remote shed or any properties without Internet, you can save the video on the NVR/DVR. Thus you can get 24/7 video surveillance for your property without Internet access.
The security cameras and the NVR will communicate with each other with their proprietary Internet after powering them on.
If you install an IP security camera with an SD card, the motion events will be recorded to the SD card so you won't miss any important clips.
Note: security cameras with an SD card can only offer motion detection recording instead of 24/7 recording, when your remote IP surveillance cameras are without Internet.
2. How to Connect IP Cameras to PC or Mac Without Internet
As mentioned above, you can get a local live view when your surveillance cameras are without Internet.
You can follow the below step-by-step guide to connect your IP cameras to a monitor, like a PC or Mac without Internet.
Step 1. Make sure your security cameras are charged.
Step 2. Use a network cable to connect the camera to the computer.
Step 3. Find out the security camera address on your computer.
Step 4. Change your computer's IP address to the same network prefix of the camera.
Now your IP camera is connecting directly to your PC, and they are in the same little LAN. You can watch the live view of your IP camera and save the recordings with the security camera software on your computer.
3. Cellular Security Cameras — Security Cameras that Don't Need WiFi
Cellular security cameras like Reolink Go Plus enable you to get remote reviewing for your property even without WiFi or network connection and power supply.
Instead of using a dedicated Internet connection, such as connecting the camera to your home router, or relying on WiFi signal, this type of security cameras operates over 4G/3G cellular network.
If you want to view CCTV cameras on your mobile phones or computer without Internet, cellular security cameras are the best choices!
You can read this post to know more details about 4G cellular security cameras. This post is written by Jenny, Reolink's top editor, who always loves to share the latest home and business security information in the market.
CCTV Cameras with Internet - Functions You Can Get
When you connect your CCTV cameras & systems to the Internet, you can enjoy every fascinating feature you want.
Here we list 4 mind-blowing functions you can get when your CCTV cameras have Internet connection.
1. Get Remote & Local Access with All of Your Devices Anywhere
When your IP security cameras are with Internet access, you can get both local and remote live streaming wherever you are.
It would be one of the most awesome functions you like in your security cameras (systems). You can check if everything is right in/around your home when you are in your office or traveling.
You can view live streaming on your iPhone or Android smartphones, iPad, PC, etc. locally or remotely anytime you like with the security camera software.
Let's take Reolink software as an example. You can manage multiple security cameras simultaneously with just a single device. In simple words, you can check everything in and around your property with a glance at your smartphone or computer.
You can check this step-by-step guide to remotely access your security cameras within several minutes.
Bump: You can check some free IP security camera software you can use to access your security cameras here.
2. Receive App & Email Push Notifications When There Are Motion Events
When your CCTV IP security cameras have Internet connection, you will receive real-time alerts if there are motion events, including instant app push notifications, email alerts, etc.
Upon receiving the motion detection alerts, you can check what happened by accessing your security cameras via the app installed on your smartphones.
Usually, you will also get email snapshots or short video clips when there are dangers. So you can see who and what triggered the alerts and decide what to act.
If there is a burglar or a thief, you can keep the images as evidence. Police can help you catch the bad guy with clear images captured by your motion activated security cameras.
3. Get Data Backup & Storage on an FTP Server & Cloud
The File Transfer Protocol (FTP) server is used for transferring and storing data. With Internet, you can save and upload captured images & videos to an FTP server, so you won't miss anything important.
FTP server video storage is one of the easiest and most cost-saving ways to store your videos, when your CCTV surveillance cameras have Internet.
Keep it in mind that you need to keep the FTP server running when doing video recordings. You can follow the step-by-step guide to set up FTP video recording.
Some top security camera brands also offer Cloud storage services, which allow you to upload the CCTV footage and play back the recordings online via smartphones or laptops from anywhere.
4. Get Clock Synchronization with NTP When Your IP Cameras Have Internet Access
Network Time Protocol (NTP) is a networking protocol for clock synchronization, which is a nice way to provide clock accuracy in a network. Over time, the security camera's clock is prone to drift. Time synchronization is simple to implement through the Internet now.
If a criminal act happens, your security cameras that are synchronized with an NTP time server will have an auditable trail.
The video below captured by a Reolink RLC-520 security camera shows the whole process of a Labrador knocking down the fence. With the help of this video footage, the homeowner found some clues when and why the fence was knocked down. For enhanced security and durability, you'd better choose between aluminum and chain-link fences.
The correct timestamp displayed on the video streaming tells the exact time of an incident. You can simply know whether your security cameras are functioning with the timestamp.
You can enjoy all the functions of security cameras with Internet access. But it doesn't mean that you cannot use security cameras when your home or business has no Internet access. See what you can get from CCTV security cameras (systems) without the Internet.
CCTV Security Camera Recommendation (Works with/without internet)
If you want remote "no WiFi" security cameras or systems to monitor your properties, here are some good options.
All of the following surveillance cameras and systems can function well even without Internet or router.
1. Reolink Argus 3 Pro – Best-Value Battery-Powered WiFi Security Camera
This battery-powered security camera has a built-in SD card slot, which offers you a local storage option for motion detection recording.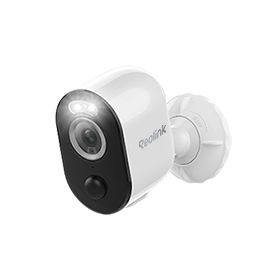 Reolink Argus 3 Pro
2K 100% Wire-Free Spotlight Camera
2K 4MP Super HD, Battery/Solar Powered, Person/Vehicle Detection, 5/2.4 GHz Dual-Band WiFi, Color Night Vision, Two-Way Audio.
You don't need to pay monthly fees for video storage, which is an extremely cost-saving way compared with the cloud-subscription security camera type.
Please note that you cannot get live streaming, app push notifications, or upload the videos to the cloud when there is no Internet access.
You can watch the below clear video of this outdoor WiFi security camera (shared by a customer).
Editor's Note:
If you are conducting the initial setup for Reolink battery-powered security cameras, make sure that such surveillance equipment is connected to WiFi.
If there are no routers or WiFi available, connect battery security cameras (including Argus 3 Pro and Reolink Go Plus) to the hotspot on your smartphone and finish the initial setup.
2. Reolink Go Plus - Security Camera That Doesn't Require Internet
Reolink Go Plus is one of the best security camera options for your home and business without Internet and power cords.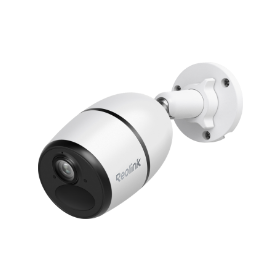 Reolink Go Plus
Smart Wireless 4G Battery Camera
Rechargeable Battery/Solar Powered, Person/Vehicle Detection, 2K 4MP Super HD, Two-Way Audio, High-Quality Night Vision, Live View Anytime.
You can set up remote viewing via your smartphones and check what's happening to your apartment even without Internet connection.
If there is anyone unwanted breaking into your home, you can shout at the person and scare him or her off with the two-way audio.
If you want a smart security camera that doesn't require Internet connection, this camera is undoubtedly the best choice.
A user has set up a Reolink Go Plus in his off-grid stable where Internet and power supply are not available. Check out the video below recorded by this security camera that doesn't need WiFi.
3. RLK8-810B4-A – Standalone Security System That Works with & Without Internet
RLK8-810B4-A is a PoE security camera system that is extremely simple to install. When your property has no Internet, and you still want 24/7 recording, this one is definitely your first choice!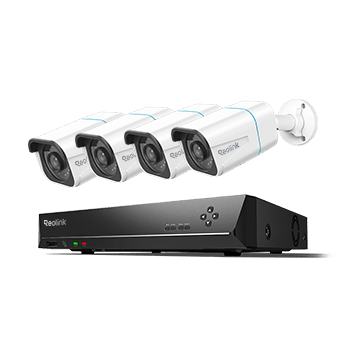 Reolink RLK8-810B4-A
Smart 4K 8-Channel PoE Security System
4 pcs 4K Ultral HD Security Cameras with Person/Vehicle Detection; 2TB HDD 8-Channel NVR for 24/7 Recording; Plug & Play.
The cameras and the recording NVR connect with each other via the proprietary network. By connecting the NVR to a monitor via a VGA or HDMI cable, you can get 24/7 video surveillance for your property even without Internet connection.
You can watch the below video captured by this versatile PoE security camera system (shared by a real user).
FAQs about "CCTV Cameras Without Internet"
You can check the detailed answers to the hottest questions on IP security cameras with/without Internet connection.
Q 1. Can Wireless IP Cameras Work Without Internet
Do you need Internet for WiFi cameras? Can CCTV run without Internet? Do all security cameras need WiFi?
A 1: Traditional wireless and PoE IP security cameras need to be connected to your home Internet, if you want to get remote live streaming, motion detection alerts and other smart functions.
Note that even without Internet, PoE/WiFi IP security cameras with SD cards can still record on site. So, you won't miss any important moments captured by the CCTV security cameras without WiFi.
Cellular-based security cameras, on the other hand, operate over 3G/4G/5G cellular network, enabling you to check remote areas where Internet access is unavailable.
Q 2. Can CCTV Security Cameras Work When There Is No Electricity
Do wireless security cameras need power?
A 2. PoE and traditional wireless security cameras will stop working when the power is out.
For those battery or solar-powered security cameras, they don't need to be connected to power outlets to function, so they can perform perfectly even power supply is unavailable.
If you need to monitor your remote farm, a cabin docked on the river, and other rural areas without electricity, battery or solar powered security cameras are undoubtedly the only choice.
Flora, Reolink's top editor, posted an article, illustrating all the details you'll need on "Do security cameras work when power is out". You'll get everything you want in this post.
Q 3. Can an NVR Work Without Internet Connection
Does an NVR (network video recorder) stop recording if I turn off the WiFi or Internet connection? Does NVR require Internet?
Your NVR will keep functioning perfectly even the Internet connection is cut, when it always connects with the cameras.
The NVR would work seamlessly with the security cameras even the Internet is unavailable. The NVR will assign the IP address to the cameras in the same package. So you can get local video recording after powering them on.
The NVR will pick up the data transmitted from the cameras and store the videos to the hard drive even without Internet connection.
If you have other questions or ideas on CCTV cameras with/without Internet connection, please leave them in the comment! We will feature your questions or insights in this Q&A list!