You can connect CCTV cameras and watch them anywhere remotely in two ways: connecting IP cameras over the Internet via an APP/Client, or setting up port forwarding. In this post, we'll show you what to do when you can't view security cameras remotely and practical tips to solve your problem.
You can also learn how to Find Your IP Camera Address & Set up Remote Viewing by checking out this video tutorial below.
Stream IP Cameras over Internet via Manufacturers' App/Client
Connecting security camera to phone is the TOP 1 and easiest and most convenient method for you to set up an IP camera for remote viewing through security camera App or Client.
Why?
The App and Client are totally designed for the security cameras by manufacturers, so unlike the third-party software, you don't need to be concerned about any compatibility issues when watching CCTV cameras from anywhere using Internet. On top of that, the security camera providers will also release new software versions regularly to unlock some improved features.
Thanks to the P2P technology, you are able to watch your CCTV cameras from anywhere using Internet in a breeze, like checking on your remote shed or cabin from the comfort of your home.In our test, we used Reolink RLC-810A security camera for the remote access setup via UID method.
Below are the 3 simple steps to configure an IP camera on Internet for remote viewing within less than 2 minutes.
Step 1: Download the Reolink App or Client to your phones or computers.
Step 2: Launch the app and enter a unique ID number (UID) to add the camera device.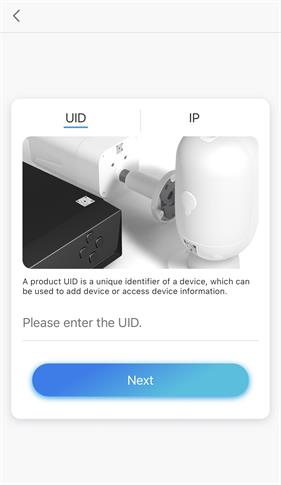 Step 3: Click the Reolink RLC-810A camera on the App or Client and you can view your IP camera over the Internet outside the home network.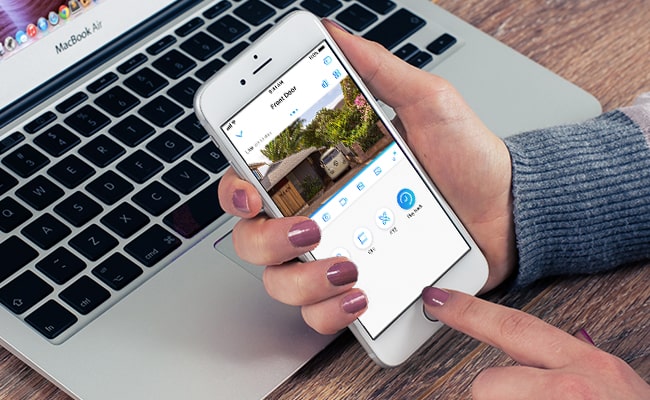 In fact, not only yourself, your family members can also stream your IP camera over Internet simultaneously. (Read this to learn how to access IP cameras on multiple devices at one time.)
For Reolink battery powered security cameras, 8 users can remotely view the IP cameras online via the cellphones at the same time. And 12 users can simultaneously watch the Reolink non-battery powered CCTV cameras from anywhere using Internet.
This is certainly the easiest way to stream your IP cameras over Internet, no matter you want to monitor your boats beside your house or view your vacant properties/barn/farm/business from your home.
Security risks associated with IP camera setup for remote viewing?
Fear NOT !
Although the P2P applications contain some safety vulnerabilities, security camera providers can take advantage of the encryption technology, such as SL encryption, WPA2-AES encryption and SSL-TLS enabled to prevent exposure of your privacy.
And Reolink is the one.
Since the security camera remote viewing free software is required if you want to set up your IP camera (e.g. Reolink, Amcrest, Swann, etc.) for remote access via the UID, it may not apply to you if your camera provider doesn't offer such IP camera remote viewing software.
Important Note: Broadly speaking, the camera software provided by the sellers can only allow you to watch CCTV cameras of the same brand from anywhere using Internet. It can't work with the security cameras of other brands.
Set up IP Cameras for Remote Viewing via Port Forwarding
So what is the alternative to the UID method for you to stream IP cameras over Internet?And how do you set up a security camera to see it remotely via a web browser?
Below is a step-by-step guide to help you set up your IP camera for remote viewing by port forwarding, which applies to the IP camera remote access via different WiFi connections of all security cameras brands as well as the NVR remote viewing.
Step 1: Find the IP Address of Your Security Camera
To watch your CCTV cameras from anywhere using Internet, the first thing is to find your camera IP address.
Typically the security camera software has a page that displays your network status, including the IP address of your security camera.
Taking Reolink RLC-820A for example, after launching Reolink Client on your computer and logging into the camera, you can click "Device Settings" and go to "Network" to find you camera IP address.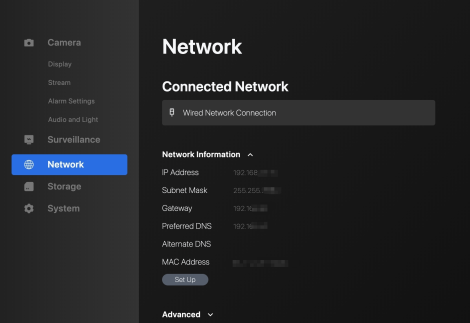 Or you can also refer to your router configuration software and look for a screen that shows the IP addresses of attached DHCP clients.
Step 2: Check the WAN/External IP Address of Your Router
You can visit here to get your current WAN IP address of your home network.
But here comes the question: your external IP address may keep changing because most ISPs allocate dynamic IP addresses to their customers.
If you want to save the trouble to check the WAN IP address of the router every time you access the IP cameras from Internet, or you can't find out the new WAN IP address when you are away, use the DDNS service to configure your IP camera on Internet for remote viewing.
The main benefit of DDNS is that it will allocate a host name to your camera so you don't have to remember your IP address, making it much easier for you to watch your CCTV cameras from anywhere using Internet.
Bonus: You may refer to the procedures about how to access your Reolink IP cameras from Internet remotely via DDNS.
Step 3: Check the Camera Port Numbers & Forward Ports to the Router
The port numbers are used when you need to set up an IP camera for remote viewing. Routers rely on ports to limit data which can access your IP camera and differentiate between multiple devices.
If you have two security cameras on your network and you want to view both IP cameras online remotely, remember to use different port numbers. (You may chage the port numbers based on your situations.)
After you have obtained the "HTTP port" and "RTMP port" from the camera device settings, the next step to configure security IP cameras for remote viewing is to log into the web interface of your router and set up the port forwarding rules (shown as below).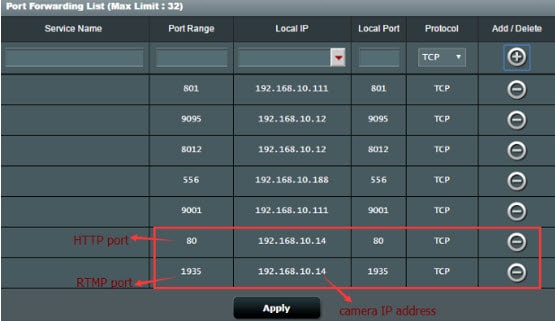 Step 4: Enter the URL Address
Now that you have obtained all the essential information, the final step to set up an IP camera for remote viewing is to open your web browser and enter the URL address, which consists of your WAN IP address and the port number.
For example, if your WAN IP address is 182.37.154.136, and the HTTP port is 8001, the URL address you enter on the web browser should be "http://182.37.154.136:8001". And then you can view your security IP cameras online free outside your home network.
Can't View Security Cameras Remotely - Troubleshooting Tips
Still can't view your IP camera outside your network? Or failed to remotely connect your IP camera to the Internet after trying out the procedures above?
There could be multiple factors responsible for the the issue of "can't view security cameras remotely", such as the incorrect username and password, weak network signals, out-of-date camera firmware versions, etc.
Now read the insider tips to troubleshoot the specific problems or refer to the infographics below for a quick glance.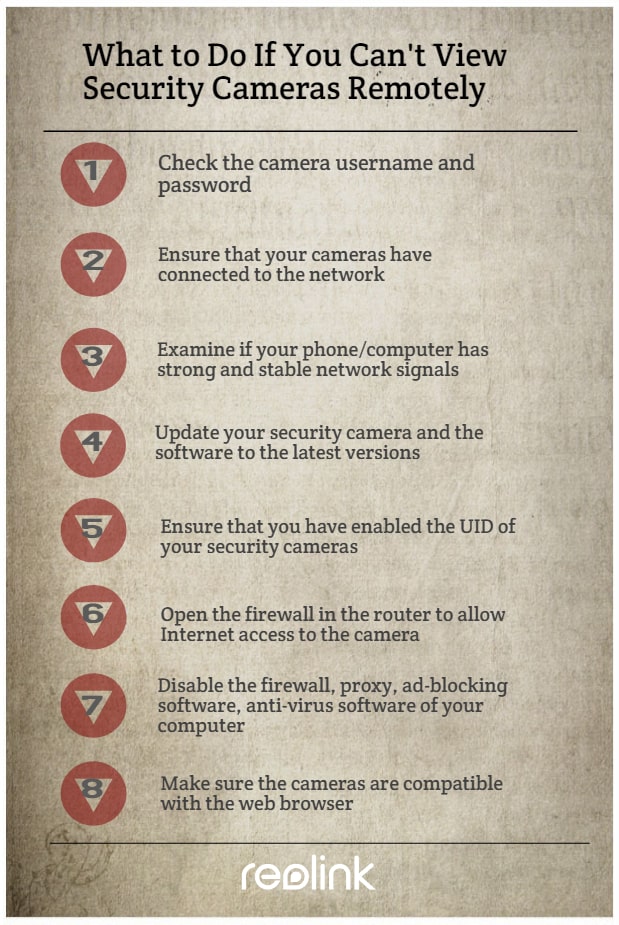 What to Do If You Can't Watch CCTV Cameras from Anywhere Using Internet on Android Phones or iPhones via UID Method
Make sure you have entered the right username and password.
Ensure that you have enabled the UID of your security cameras.
Check whether your cameras have connected to the network.
Ensure the firewall doesn't prevent the UDP port when you intend to access IP cameras online on android phones or computers via the UID method.
Check if your phones or computers have strong and stable network signals.
Update your security camera and the software to the latest versions.
What to Do If You Cannot Remotely View Security Cameras Using the Internet via Port Forwarding
Make sure your cameras are connected to the network.
Ensure all the ports of the network configuration are mapped to the Internet.
Open the firewall in the router to allow Internet access to the camera.
If your computer has a firewall, proxy, ad-blocking software, anti-virus software or the like, try to temporarily disable them and connect the Server again.
Check your Web Server Settings and ensure that your user account has permission to access the IP cameras.
Make sure the cameras are compatible with the web browser you are using for remote viewing.
No Internet? And You Want to View Security IP Cameras Remotely
"Can I view my IP cameras remotely without Internet in my barn?"
"I'm looking for a system to monitor a cabin in a remote area. There is no Internet available, I would like to remotely access the cameras on my phone when necessary."
Well, that depends on which type of security cameras you install.
For the wired IP cameras that connect to a broadband modem or router through Ethernet cables, and the wireless security cameras that use a WiFi router for data transmission, Internet is required if you want to setup these IP cameras for remote viewing.
BUT your hands are not tied even if you want to remotely access your IP cameras without Internet.
Thanks to the advanced technology in the security camera field, the cellular-based security cameras that operate on the 4G mobile data are designed to solve the "no Internet" dilemma.
So you can remotely access your security IP cameras on your smartphone via the UID method in areas with limited or no Internet, such as your barns, farms, sheds, cabins, vacation homes, campsites, hotels, etc.
Important Note: Though you can view the 4G security cameras remotely without Internet, make sure you place these cameras in cellular coverage so that they can receive good and stable signals for your remote access.
Below is the live streaming video when a user accesses Reolink Go Plus cellular 4G security camera remotely on his phone.
Note:
Now, you can also view 4K security IP cameras without internet remotely! Check here!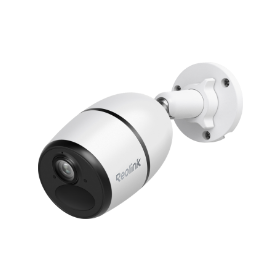 Reolink Go Plus
Smart Wireless 4G Battery Camera
Rechargeable Battery/Solar Powered, Person/Vehicle Detection, 2K 4MP Super HD, Two-Way Audio, High-Quality Night Vision, Live View Anytime.
FAQs
Will We Be Able to View the IP Cameras Online on Our Smartphone When We Go Abroad?
Definitely yes! By following the above procedures about how to set up an IP camera for remote viewing, you'll be able to view your IP cameras outside your network using Internet or different WiFi connections, even you are travelling abroad.
Can I Set up My IP Cameras for Remote Viewing without Using a DDNS Service?
If your Internet service provider offers you a static IP address, you can always remotely view your security camera using the Internet with the same IP address and the DDNS setup is not required.
Another easier way to stream your IP cameras over Internet without DDNS service is to buy security cameras for home that support P2P. You simply need to enter the camera UDI and password, and then you'll be able to view the IP cameras online outside your network from anywhere.
Is There Free Surveillance Software to Access my IP cameras from Another Computer Network?
Normally when you buy security cameras, the camera sellers would offer free software for you to set up the IP cameras for remote viewing (like Reolink App and Client ) via different WiFi networks.
Is It Possible to Manage Multiple Cameras with the Same App?
Yes, you can also watch multiple CCTV security cameras from anywhere using Internet with the same App or Client. For example, both Reolink App and Client allow for multi-screen live streaming (up to 16 screens for app and 36 screens for Client) on your phone and computer.
Conclusion
This guide illustrate how to set up remote viewing for your security camera. Remotely accessing to your camera models can be easy if you follow the right guidelines.
If you have more problems about setting up your IP camera for remote viewing or watching CCTV cameras from anywhere using Internet, feel free to leave your comment below and we would love to help.