Hunting for an outdoor hidden motion activated camera without false alarms from wind, sun, light and snow?
You have come to the right place! This post will help you find out the answers to the following questions:
What is the best outdoor motion activated spy camera for home?
What features to consider before purchasing an outdoor motion sensor security camera?
How to reduce false alarms of your motion detection security camera?
Where to buy and place the hidden outdoor motion sensitive camera?
Some of you may be interested in a dedicated camera motion sensor light for outdoors, or the wireless motion nature camera to catch animal movements outside. Read on to find the critical information you need for the best picks.

Ready. Set. Save!
Big selection, big SAVING. Get your hands on Reolink security cameras & systems before the best prices slip away!
If there are more you are interested to know about the hidden outdoor motion activated cameras, leave a comment down below and I'll get back to you soon and add it to the content.
Outdoor Motion Activated Cameras: 2 Major Types
A hidden motion activated camera is a small sized camera that records when it detects movement.
Technically, you will find two major types of outdoor motion sensor hidden cameras: software-based motion sensor cameras and PIR based ones.
And here is how a motion activated camera work respectively:
Software-based motion detection: The software based motion activated cameras detect motion by comparing pixel changes between successive frames. If a human or animal passes by, the different pixels will be counted and the software inside will trigger motion alerts.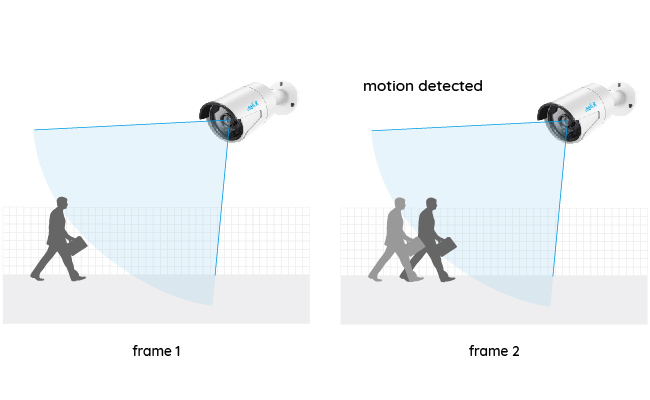 PIR sensor-based motion detection: The PIR motion activated hidden cameras can detect the infrared body heat. So when a warm body (like a burglar) passes by, the ambient infrared energy levels will change rapidly and set off the motion alerts.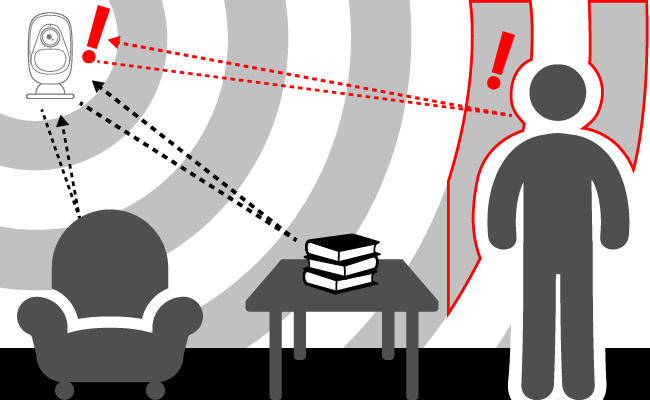 So you may ask: What's the farthest PIR distance of security camera?
It varies between PIR motion activated CCTV models.
The quality ones like Reolink Argus 2 can hit up to 30 feet long range even in 0 Lux conditions (in complete darkness), so that you can use it to watch your front door, backyard, driveway, garage, etc. day and night.
| | | |
| --- | --- | --- |
| Motion activated cameras | How does it work | Motion activated CCTV Types* |
| Software motion sensor cameras | Comparing images | PoE cameras, wireless cameras |
| PIR motion sensor cameras | Comparing temperatures | Battery operated wire-free cameras |
Further Reading About Outdoor Motion Activated Cameras
Here are some more tips you need to know to select the outdoor motion activated camera that suits you best.
PIR motion activated hidden cameras are mostly battery powered IP cameras, which will wake up and record in less than a second when motion is detected. So you'll know all that matters even when you are not there, like the package delivery, break-in or attempted break-ins.
And Reolink Argus 2 is the one with industry-leading PIR motion performance.
Reolink Argus 2
100% Wire-Free Starlight Camera
Rechargeable Battery & Solar Powered; Outdoor/Indoor Protection; 1080 Full HD; Starlight Night Vision; 2-Way Audio; Live View Anytime Anywhere.
Well, the software-based motion sensor cameras are mostly traditional IP cameras that you could normally see in the neighborhoods. Usually, these cameras enable continuous recording as well as motion detection mode with pre-recording (3-5 seconds) and video delay (as your schedule) to capture the whole event.
And Reolink RLC-410 is the best budget pick of this kind.
Reolink RLC-410
PoE Bullet IP Security Camera with Audio
5MP/4MP Super HD; Outdoor/Indoor Protection; 100ft Infrared Night Vision; Audio Recording; Mobile Remote Access & Control.
And it's worth noticing that the outdoor motion activated camera works without WiFi actually. By this I mean, the camera will still record and save motion events to the SD card (make sure you get one inserted in place) without WiFi network so you can take out the SD card and view the recordings on PC when needed.
A lot of features may occupy your mind in choosing a best outdoor hidden motion activated camera, like the mini body, WiFi connection, SD card supported, sound enabled, and most importantly, accurate alarms.
Feel confused or get lost in the endless choices?
Actually, there are motion sensor spy cameras to meet all your possible needs. Click here for a quick decision, and read on if you want to learn more details about every specific feature.
#1.Wireless Connection
Wires are a dead giveaway to your outdoor motion activated hidden camera, and the easiest fix would be getting a wireless camera in the first place. But remember that the wireless doesn't mean 100% wire free – you still need one cable for power.
If you are going for the wireless outdoor motion sensor hidden camera, here are some additional tips for you:
Make sure the WiFi is available in your installation place. (You may check it with your smartphone.)

Choose the dual-band Wi-Fi security cameras, if possible, to avoid signal loss and interference.

Remember to change the initial password to reduce the risk of being hacked.
#2. Battery Operated
Want to get rid of all the annoying wires, and hide the motion sensor camera wherever you want indoors and outdoors? The battery operated motion activated spy camera is what you need.
Just put in batteries, it will start working. Without wires restriction, you can place the motion activated hidden camera at any place and move it to spy on another spot freely if you want. It saves your time and camera installation fees.
Bump: As I put it before, battery powered outdoor motion sensor cameras, including the Reolink Argus 2, feature accurate PIR motion detection. Actually, this kind of hidden camera is born for motion detection – they will wake up and record once the motion event is detected to save battery life.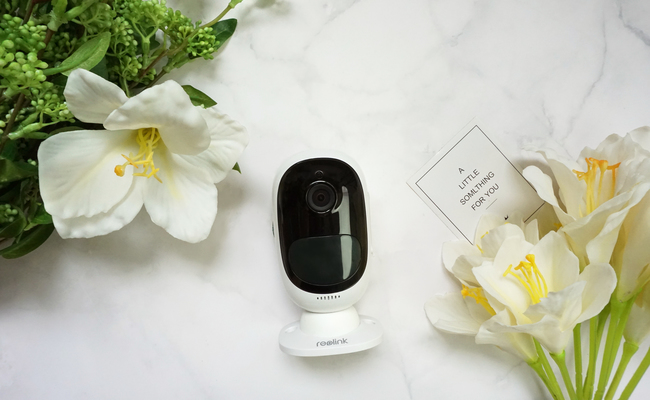 #3. SD Card Storage
Worried about the privacy issues of cloud storage? Or you simply don't want to pay the monthly fee for it? Either way, the outdoor motion activated hidden camera with SD card would well settle your needs. Plus, it's very handy and convenient.
But you may wonder how long a 16GB or 32GB SD card of the motion sensor camera can record.
That totally depends on your monitoring environment. Technically, a motion sensor camera with 32GB SD card can save up to 400 motion events for weeks even months recording, according to this formula.
However, there is NO need to worry about the recording space and you DON'T need to delete CCTV footage to clear the storage space – The old files will be overwritten automatically when the SD card is full.
Bonus Tips: It's advised to set the motion activated security camera with SD card to the motion detection mode. If you want to spy on things continuously or without Internet, get an NVR as the motion detection recorder to work with it, which offers you larger storage space.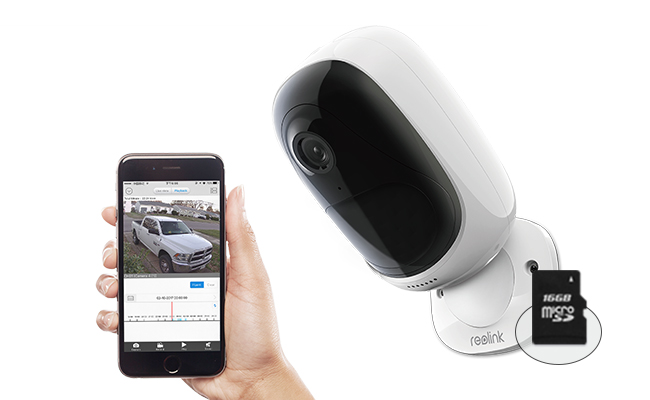 #4. Night Vision
Night vision is a must-have feature for outdoor motion activated hidden cameras.
Just think about the burglars, intruders, thieves and drunken man hanging around the street.
With the night vision enabled motion activated spy camera, you will be alerted by the siren instantly when dangers occur, get clear video evidence to hand to the police, and even warn the intruders verbally if your hidden camera is 2 way-audio enabled.
How to judge whether a motion sensor hidden camera have real & good night vision?
Starlight sensor is a good indicator to promise great clarity and details even in 0 Lux (completely dark) conditions. And if possible, choose a PIR sensor CCTV instead of the motion sensor camera with light in order to see the motion events clearly.
| | |
| --- | --- |
| Comparison | Resolution |
| PIR sensor camera | 1080p, 4MP, 4MP, even 4K |
| Motion sensor camera with light | 1080p at best |
Night vision video sample from motion sensor hidden camera Reolink Argus 2:
#5. Weatherproof
For outdoor motion activated hidden cameras, weatherproof is an important feature to consider if there is expected rain, snow or strong wind in your desired installation place.
A simple way to get rid of all your worries is to get the motion activated cameras with IP65 or IP66 ( What is IP66 ) weatherproof rating.
#6. Wildlife Friendly
So you are keen on wildlife, and want to catch the movement of hummingbirds? Or just want to figure out who secretly visited your house and left their footprint around?
In either case, an animal motion detector hidden camera definitely tops your list.
With the spy camera connected to your phone, you could just sit in your room and check animal clips anytime and even do a video live for your raccoon friends on Twitter.
For example, a late-night guest was caught messing up the plant by Argus 2:
No Internet available? Try the cellular motion activated camera.
This type of wireless motion nature outside camera can work with NO WiFi and No wires. Some of these CCTV, like Reolink Go, also offer an add-on solar panel to save your trouble of recharging the cameras.
Reolink Go
100% Wire-Free 3G/4G LTE Mobile Camera
No WiFi & Power Needed; Rechargeable Battery or Solar Powered; 1080p Full HD; Starlight Night Vision; 2-Way Audio; Live View Anytime Anywhere.
How to Reduce False Alarms of Outdoor Motion Sensor Cameras
The cameras constantly trigger motion alarms, with the slightest change in light, shadows, sunlight when a cloud moves over, etc...BUT REALLY STINK AT ACTUAL MOTION, LIKE A HUMAN WALKING BY!!!!
The last thing you want to get with motion activated hidden cameras is definitely the false alarms.
Well, the first and most effective step to reduce false alarms is to get a quality and reliable motion sensor CCTV, like the above listed ones. And here are some additional tips you may try to get more accurate alerts:
#1. PIR Outdoor Motion Activated Cameras
The installation makes a huge difference.
The motion detection will be more accurate if you put the motion detector hidden camera in the direction crossing the possible intruder instead of facing it, as the picture below shows.
That's because the PIR motion sensor will be much more sensitive to the objects when they are moving across the detection feild.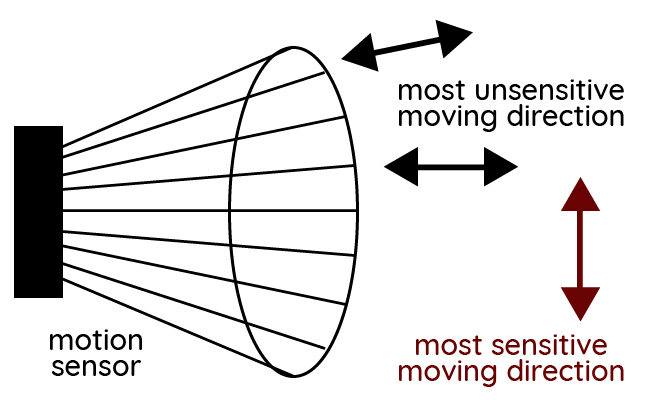 #2. Software-based Motion Activated Cameras
You may schedule the motion detection settings to reduce false alarms.
For example, you can define different motion sensitivity values for different periods of day to best match the light conditions. Also, you are free to choose the specific motion detection area to target certain places.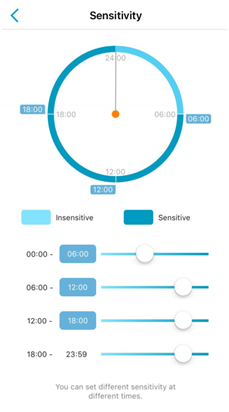 Where to Place Outdoor Motion Activated Spy Cameras
According to the report, about 60% of convicted burglars stated the presence of a security camera influenced their decision. So we highly suggest you to place the motion sensing surveillance cameras in plain sight.
And here are top 3 places you should consider to secure your home:
Front door (account for 34% break-ins)
Backyard (account for 22% break-ins)
Near the off-street windows (account for 23% break-ins)
Bonus: Also check other places to place IP cameras with motion detection.
If you are looking for the outdoor motion activated hidden cameras, and want to hide them without anyone's suspicions, you may try the following secret places:
Hide small motion sensor security cameras under eaves, ceiling or soffits.
Disguise the mini hidden outdoor surveillance cameras in the birdhouse.
Put software-based motion sensitive cameras behind glass window (PIR sensor will not work).
Disguise indoor mini hidden surveillance cameras within everyday objects, like the desk plant and book shelf.
Hide motion activated security cameras near trees and brushes.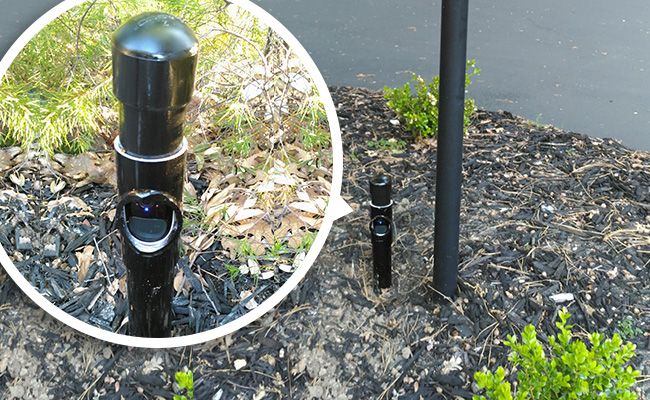 Bonus: Click to learn detailed steps to hide the indoor and outdoor motion detector camera.
What is the best CCTV camera that moves on activation?
If you want a quick decision, choose one from these best value/budget motion sensor small CCTV cameras, all are highly sensitive to motion movements to record what you want.
This motion sensor hidden camera works both indoors and outdoors (IP65 weatherproof).
With smart PIR motion sensor, Reolink Argus 2 will wake up within a second to record both video and sound. And the built-in PIR sensor greatly reduces false alarms triggered by wind, sun, lights, snow, etc., so you'll NEVER get it and only to watch the sun move across the plane of view.
Best Pick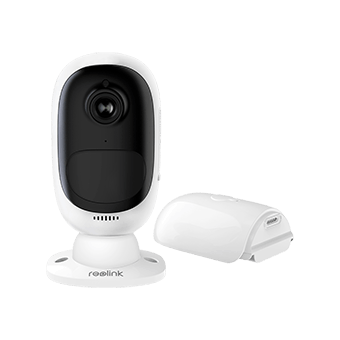 Reolink Argus 2
Wireless Motion Activated Security Camera
It is a truly wireless camera with NO wire at all to detect real PIR motion events.
Take a look
With camouflage skins and mini body, this spy motion activated camera is easy to hide. And compared with the outdoor motion sensor light camera, it has more security settings than at much more affordable price.
With built-in microphone and speaker, you can not only get the stream video through the motion sensor camera app, but also warn the intruders verbally if they are caught sneaking around in the act.
Featured in top media like TechRadar, PC Magazine, Digital Trends, MakeUseOf, ZDNet, Android Police, the hidden motion sensor camera Reolink Argus 2 is recommended by many tech experts:
Cute security cam braves the outdoors at a fair price. – CNET
Reolink Argus 2 is totally wireless. Just put it anywhere and forget about it. – TechRadar
Easy installation, quick motion alerts and sharp day and night video quality. – PCMag
Outdoor PoE Small Motion Sensor Camera: Reolink RLC-410
This outdoor hidden camera performs best among the software-based motion sensor CCTV cameras.
This motion sensing camera detects and records motion events at 1440p super HD resolution with audio at a very competitive price, making it the one of the Reolink hottest products. And it has a small white bullet body, only 7 inches long, and can be hidden under the eaves easily.
Best Pick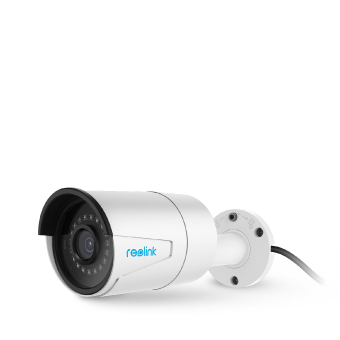 Reolink RLC-410
PoE Motion Activated Outdoor Camera
It is a plug-and-play PoE camera with advanced motion settings for accurate alerts. It supports motion sensitivity, motion zoom and detecting period adjustment and push alerts to phone.
Take a look
4MP video captured by Reolink RLC-410:
If you want a motion activated camera for indoor uses only, like watching your pets, and don't want it to be too obvious for visitors, then the black colored Reolink E1 Pro is your best choice.
Best Pick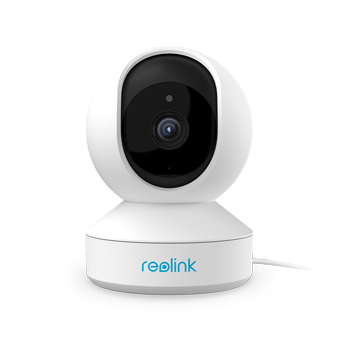 Reolink E1 Pro
Wireless Motion Activated Indoor Camera
This motion spy camera could be easily blind in with your home decorations, with pan and tilt functions for wider coverage.
Take a look
Where to Buy Outdoor Motion Sensor Security Cameras
You can buy the best outdoor motion detection cameras on Amazon, Ebay, or official security camera online store directly. With free shipping and online technical support, you will have no trouble getting the cameras and service in different regions of the word, including the US, UK, Australia, Canada, etc.