Theft is one of the biggest factors to negatively impact the success of a retail store. No matter how secure you think your store is, there is always a chance that theft can occur.
A retail store security system is an essential part of loss prevention, and security cameras for retail stores play a big role stepping up your security. If you are the owner of a retail establishment, here is a look at some of the powerful benefits of security cameras in retail stores and markets.
6 Benefits/Advantages of Installing Security Cameras (Systems) in Retail Shops
There are a few benefits of investing in CCTV cameras and IP cameras in retail stores and shopping malls to prevent shoplifting.
Top 1: Retail Video Surveillance Is Helpful to Loss Prevention
Without doubt, one of the top benefits of installing retail store security devices, likes security camera, is that it can help to prevent retail store losses. Theft and shrinkage of inventory are a primary concern for retail store owners. A security camera system will help to cut down on inventory shrinkage and the negative financial impact they will have on your business.
Putting a security camera in your grocery store and retail market is a great way for retail theft prevention. If those who intend on stealing from your store (specialty shops, supermarkets, drug stores, discounters, convenience stores and thrift shops) spot a security camera, they will be much less inclined to proceed with shoplifting. (Lots of stores have their own shoplifting policies.) In the event that a thief does proceed to steal any of your inventories, you will have footage of the thief. This footage will be monitored by your security staff, who will be able to take swift action in stopping the thief in his or her tracks. Additionally, if the thief is not caught on the scene, the footage can be used to identify the thief so that he can be prosecuted.
Top 2: Retail Security System Offers Constant Surveillance
With a security IP camera, you will have constant surveillance (24/7 surveillance) of your retail store, even when you aren't there. This means that your store will be monitored even after it is closed, and when you're miles away. Retail stores are often targeted by thieves after working hours, as thieves often assume that there will be less of a chance that they will be caught. With a night vision security camera in place, you will have constant surveillance of your store, even during the hours when the store isn't open. If criminal activity is detected, the authorities will be notified and they will be able to take action.
Top 3: Grocery Store Security Cameras Prevents Internal Theft
Internal theft is another major concern that can greatly impact the success of your retail store. Statistics show that employee theft makes up 35.8& of inventory shrink in 2015. Even if you do the most extensive background checks of your employees, and those checks do not show reveal any criminal activity, there is still a chance that your employees could steal from your establishment. The presence of video surveillance cameras will deter internal theft, preventing your employees from stealing from your store. Security cameras can also capture visual evidence of any staff members who may be stealing from your store.
Top 4: Retail Store Video Surveillance Improves Customer Service
A security camera will not only help to deter theft, but it can also help to improve customer service. Ensuring your customers are happy and have a pleasurable experience while shopping is another factor that plays a huge part in your success. With a security camera, you can keep an eye on your employees to ensure that they are delivering adequate service to your customers. Should you notice any inappropriate actions in regard to customer service, you can take appropriate action to educate or even terminate an employee. Additionally, should a customer complain about the service that he or she has received, you can use the footage that your security cameras have captured to assess the claim and prove that the complaint was warranted.
Top 5: Retail Stores with Security Camera Will Have Better Staffing
You can also use your security cameras to ensure your retail establishment is properly staffed. The footage that your cameras pick up will show the ebbs and flows in customer activity. By being able to pinpoint the times when customer volume is high, you will be able to schedule enough employees to ensure all needs are taken care of. Likewise, you will also be able to pinpoint times when customer volume is low, which means that you can decrease the amount of staff you have on, reducing the need to pay workers when their assistance isn't necessary.
Top 6: Security Cameras Also Help Improve the Layout of Your Store
Lastly, you can use your security cameras to improve the layout and design of your store. You can assess the footage to see the patterns that shoppers make when they are in your store and modify your floor plan accordingly.
Best Retail Store Security Cameras Recommended
A high quality retail store security camera and system plays a vital role in letting you enjoy the top 6 benefits of retail store video surveillance mentioned above. Here are several awesome security cameras and systems for retail stores, markets (like Walmart) and other department stores.
Reolink RLC-423
PoE Waterproof PTZ Security Camera
5-Megapixel Super HD; 360° Pan & 90° Tilt ; 4X Optical Zoom; 190ft Infrared Night Vision; Smart Motion Detection; Remote Live View & Control.
Reolink RLC-423 is a great choice for securing retail shops and grocery stores. The PTZ (360°pan, 90° tilt and 4X optical zoom) feature is awesome for monitoring every corner of your store, without leaving any "dead area". The super long night vision distance of up to 190ft makes it perfect for retail store surveillance day and night, on your iPhone and Android devices.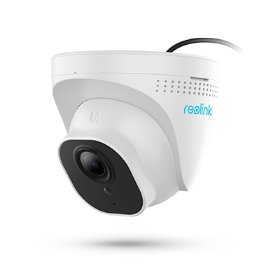 Reolink RLC-522
5MP PoE IP Camera with 3X Optical Zoom
Power over Ethernet; 3X Optical Zoom; 100ft Night Vision; IP66 Certified Weatherproof; Audio Recording; Real-Time Motion Alerts.
RLC-522 is also an awesome retail store video surveillance dome camera. Wide viewing angle, low profile design, etc. You'll always have great reasons to choose dome cameras (see reasons to use dome security cameras.) RLC-522 features a large viewing angle, and 3x optical zoom, making it hard to be damaged by thieves. What's more, it's completely plug-and-play, which is easy to install. Also compatible with iPhone, Android phone and other mobile devices.
Reolink RLK8-410B4
8-Channel PoE Security System
4 pcs 5MP/4MP Security Cameras; 2TB HDD 8-Channel NVR for 24/7 Reliable Recording; Plug & Play; 2 Network Solutions.
When you have several areas in your large retail store to monitor, a retail security system is a better option. RLK8-410B4 PoE security system for retail shops and markets is such one. Built-in 2TB HDD for 24/7 continuous video recording, and up to 8 cameras recording at the same time supported! RLK8-410B4 retail store security system has easy wiring, for DIY enthusiasts.
Here is a video sample, shared by a real Reolink user, capturing a thief in a café.
While shoplifting, a big problem especially in Thanksgiving and Christmas peak shopping season, accounts for the annual losses of retail stores (up to 39%), you can use retail store security cameras (systems) to keep your store protected!