Will your home be vandalized this year? Is it safe for your families and property? Securing home will be your top list. The home burglary and crime statistics of 2016 will help you understand what crime reports truly mean to you as a homeowner or a renter.
Burglary Statistics
The burglary statistics below may shock you.
88% of all burglaries are residential in nature.
77% of all crimes are property crimes.
38% of all robberies are committed with guns.
Identity theft is the fastest growing crime in the U.S., Canada, and UK.
3 out of 4 homes in the U.S. will be broken into within the next 20 years.
The Most Commonly Stolen Items and Values for Thieves
Thieves will take every chance to take anything that may be of value. Usually they look for small, expensive items that can easily be converted to cash and will not hinder their getaway.
The most popular targets for thieves in your home are:
#1. Cash
#2. Laptops, iPads, Smartphones
#3. Electronics
#4. Gold
#5. Jewelry
#6. Watches
#7. Medications
#8. Firearms/guns
#9. Tools
#10 Household goods
#11. Liquor
#12. Your Identity
#13. And cars, bikes, and other valuable things
2,500+ cars stolen per day — almost 2 cars a minute, and by the time you finish reading this post, 4 cars will have been stolen.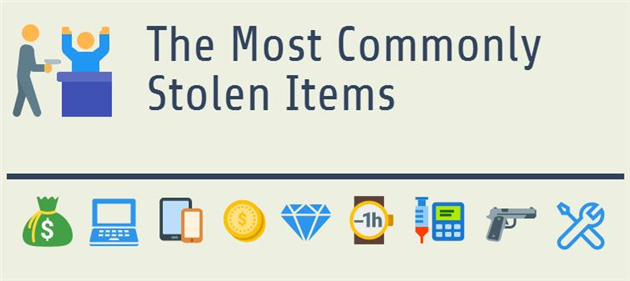 Home Burglary Statistics
Crime reports happen every day. According to the FBI, a home burglary occurs every 13 seconds in the U.S. By the time you finish reading this post, about 9 homes will have been burglarized somewhere.
Let's see the most common point of entry into a burglarized home.
34% of burglars enter through the front door.
23% of burglars gain entrance through a first-floor window.
22% of burglars break into a home through a back door.
9% of burglars enter a home through the garage.
4% of burglars get in a home through an unlocked entrance.
2% of burglars enter somewhere on the second floor.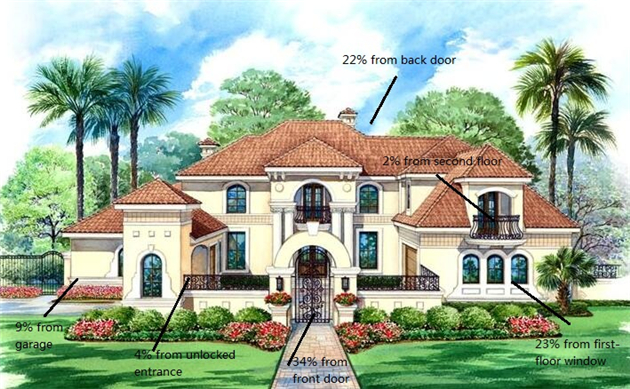 What Time of the Day Do Most Burglaries Occur?
According to FBI, 65% of home burglaries happen between 6am to 6pm while you are at work or at school. The most common hours for a burglary are between 10am – 3pm.
Home Security System Reports
More and more home owners tend to install a security system in their homes, but some are still not making the most use of the system.

95% of home security owners are satisfied with their security systems.
54% of home security system owners are unsure of how to operate their system.
Only 27% of home owners with security systems in U.S. arm their alarms only when they go to bed.
Homes without security systems are up to 300% more likely to be broken into.
Over the next five years residential automation and smart systems will increase by 64%.
Police usually only clear 13% of all reported burglaries due to lack of witnesses or physical evidence.
Insurance agencies can offer discounts up to 20% for auto insurance when a home security system is installed.
Home Security Consideration Factors
Here is the list of the top 5 influencing factors when most people buy a home security system.

#1. Protection services offered
#2. Equipment quality & warranties
#3. Best value (cost & quality)
#4. Installation & flexibility
#5. Customer service
Conclusion
In a nutshell, try every means to protect your home and family. Never be a victim. Below are the workable tips to make your home a less target for criminals.
Harden your valuable things.
Always lock doors and windows when no one is home.
Use a solid core or metal door at entrance points.
Install high quality security video cameras outside and inside your home.
Put up security signs in obvious places telling that your home is under 24/7 protected.
Consider an alarm system to install in your home.
Be a good neighbor and agree to watch each other's home.