Campus security is always a frequent topic of discussion with the presence of school violence. The campus safety statistics 2017 show that, there were 27,048 on-campus criminal incidents reported to police and security agencies.
To make yourself and your property safe on campus, these following practical campus safety tips for college students, including incoming freshmen and international students, will help eliminate potential on-campus safety threats.
College Campus Security Far More Challenging Than You Think
Before tapping on the campus safety tips, let's firstly look at the campus crime statistics and facts to be aware of the necessity to take precautions against campus security risks.
Property crimes are now the main sources of on-campus crimes, accounting for 95.5%.
Violent crimes take up a much smaller share and the arson occupies merely 0.4%.
Among the property crimes, larceny-thefts are the most common occurrences, followed by burglaries with about 8.9%.
Motor-vehicle thefts also take a smart portion of on-campus property crimes.
Aggravated assault makes up almost half of violent crimes while the rape and robbery are the next largest incidences, at 22% and 20.3% individually of violent crimes.
(From 2016 FBI Uniform Crime Report)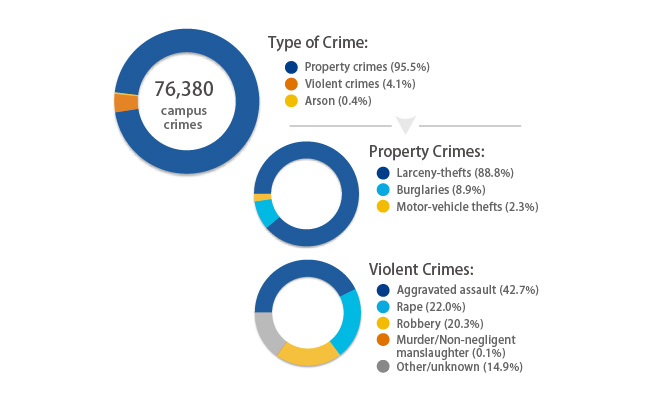 Top 12 Campus Safety Tips for College Students
Though the campus security risks remain to be prominent, here are some feasible campus safety tips for college students, including the incoming freshmen and international students that you can take to reduce the campus security threats.
1. Utilize Locks/Locking Devices/Security Systems
The No.1 campus safety tip for college students like you is to always lock up doors and windows when you are away.
Simple as it sounds, the shocking fact is that almost 40% college students don't lock their dorm doors when they leave.
In the event that locking up your doors is not enough to protect your valuables, you can purchase other locking devices such as a small safe or lock box for your laptop to ensure your computer security.
Or if your roommates and you have electrical devices and personal belongings worth thousands of dollars in your dorm, you may consider installing a portable battery powered security camera to ensure the dorm security after obtaining the consent of your dorm supervisor.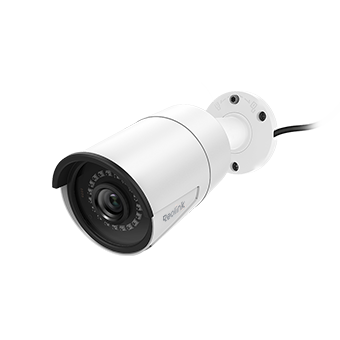 2. Take Advantage of Campus Safety Apps
During a campus safety and security survey, only 1 in 15 students from University Of New Mexico had heard of the LoboGuardian app, which can be used by students to signal a preferred contact when they don't make it to their destination at a set time, signifying a lack of utilization of campus safety resources.
Now many campuses support for the campus safety apps, like CampusSafe, EmergenSee, etc. You can use these apps to report minor incidents to campus police through texting forms or push the emergency button if you feel unsafe on campus, notifying campus police dispatch of your GPS location.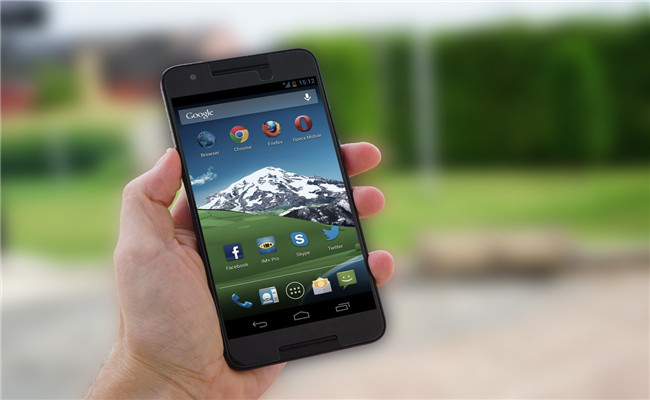 3. Know the Campus Security Programs Provided by Schools
Take full advantage of the campus security resources is a handy campus safety tip, especially for the college freshmen.
Now most schools provide a wide range of campus security programs (See the 2018 safest college campuses in America), such as campus escort services, the Blue light emergency phone stations, safety maps with suggested secure routes, etc.
The best way to learn about your campus security programs is resorting to your campus security officers. Should you ever find yourself in trouble, it will be much easier if you know these information.
4. Don't Let the Electronics Steal Your Attention to Your Surroundings
Most college students, perhaps including yourself, are often immersed in your smart phones or MP3 players while walking in the campus, not knowing what is going on around.
This, in fact, could be a dangerous signal – the determined robbers may have noticed your absence of mind and regard you as the next target.
The moment you find yourself becoming unaware of the surroundings, it is the time for you to turn the music down, put your phone away and stay vigilant to what's happening.
5. Be Familiar with the Campus Environment
This is one of the most useful campus safety tips for college incoming freshmen and international students, who might need some time to become accustomed to the new surroundings.
If such is also the case with you, spend some time with your friends walking around the campus to get familiar with campus landmarks and locate the emergency system areas, so that you can easily navigate your way around.
6. Avoid Walking Alone at Night
The Campus Climate Survey shows that 21% undergraduate women have been sexually assaulted since entering college and 90.6% of colleges reported 0 rapes on campus. On average, sexual assaults are more likely to occur at night.
One important campus safety tip for female college students is to avoid walking alone at night. You can go with a friend late at night and walk on the designated pathways and well-lit areas.
If there is no companion, you can download a campus safe app and hold your thumb down on the safe button in case of any emergencies.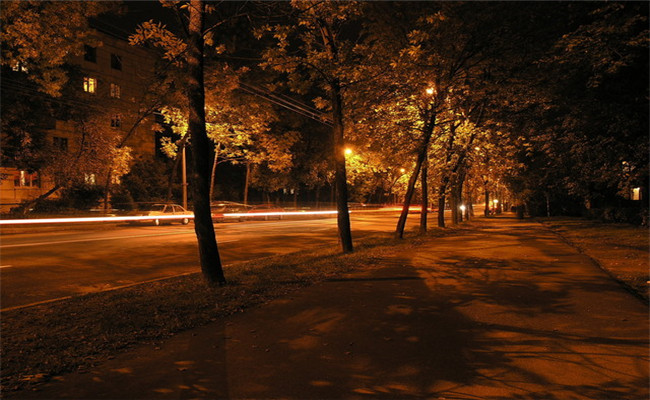 7. Be Careful Before Getting into a Car
For college students owning cars, this campus safety and security tip is especially useful and significant.
According to the National Crime Victimization Survey (NCVS), approximately 38,000 carjackings occur each year in the US and a weapon was used in 74% of carjacking occurrences.
So before you open the car door, look into the backseat to see if there is any uninvited. When it is dark at night, you can use a flashlight to illuminate under the car and the backseat.
Also, be wary of people asking for directions, handing out fliers, etc. If someone makes you feel uneasy, get in your car quickly and drive away.
8. Carry Defense Items with You
Having the defense items at hand is one of the most practical personal safety tips for college students. The pepper spray, a taser, a whistle or other non-lethal weapons are all useful campus security suppliers you can put in your bag when you are out.
Never underestimate the function of these small items. They may make a life-saving difference in harmful situations. For example, in case that you are stalked by someone, you can use a whistle to call for help and seize the opportunity to run away.
9. Don't Accept Substance from Strangers
Drug abuse is a conspicuous campus security issue on college campuses these days. One factor responsible for the high rates of drug abuse among you college students is that you are surrounded by other people experimenting with recreational and performance-enhancing drugs.
You should be aware that the powders, pills and liquids can be absolutely anything, in any concentration. Don't accept any substance from casual acquaintances or strangers, otherwise you may end up in addiction before you even realize it.
10. Protect Your Privacy on Social Media
While the social media are convenient tools to share your updates with friends and family, they also allow strangers to have easy access to your profiles and know your whereabouts and plans.
So this is an unignorable university campus safety tip to protect your privacy when you post something online. Do remember to disable location services and keep your posts concerning your personal information private in avoidance that they fall into the wrong hands.
11. Tell Your Friends Your Whereabouts
Before you go to some place on your own, tell your friends or family where you are going and the expected returning time. If you don't appear by a certain time, they can try all methods to reach you. This on-campus safety tip for colleges can be of great help especially when you are in a risky situation.
12. Follow Your Intuition
Sometimes your intuition can be more than accurate. When you notice someone' furtive manner in the dorm, don't be afraid to report it to the dorm security guard. This safety tip for living on campus could eliminate many potential incidents.
And when you feel uncomfortable in certain place, leave right away and go to an area with lights and people. Don't hesitate to call the police for help if something seems really abnormal.
What to Do If You Fall into the Victim of Campus Crimes
In the unfortunate case that you become a victim of campus crimes, it is important to know what to do and how to recover from the attack quickly. The following procedures below will help you deal with the undesired situation:
Stay calm and call the police. Don't panic in the event of an emergency. If possible, go to a safe place and call 911 or have someone call 911 for help.
Follow the instructions from the operator. 911 operators have received formal training to learn how to handle emergency events. So you can trust them and follow the instructions until police arrive.
Call your relatives or friends. Emotional support can be extremely important after you suffer from campus crimes. Having a companion with you will make you feel secure.
Take some time to recover. You can employ the free resources available to help you recover from the attack, such as your campus mental health services.
Top 5 Effective Campus Safety Tips for Schools
A safe campus requires the joint efforts of schools, campus security officers and students. If you are the school administrators, don't miss the following campus security safety tips for your college/university.
1. Install Campus Security Systems
Placing security camera systems for school seem to be a campus safety tip widely accepted by schools, with more than 9 in 10 campuses having installed security cameras.
In order to protect students and deter crimes, schools can install security cameras in at-risk areas, the poorly lit walking paths and locations where students and faculty might find themselves alone and defenseless.
Money-Saving Tip: Many reputable security camera sellers, like Reolink, will offer BIG Back to School promotions and discounts each September for school security cameras. Seize this golden opportunity to buy a bundle of security systems for your campus security. (more money-saving tips when buying security cameras here.)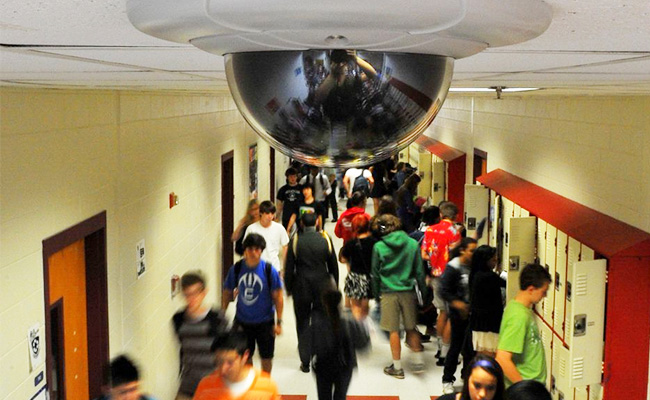 2. Provide Training for Campus Security Officers
Formal trainings can help campus security guards better understand their role as observer, protector and champion of students.
Besides, this college campus safety tip can also help schools win the trust of parents and students, as the security officers can be trained to know the needs and concerns of students, communicate more effectively and positively, and develop productive and professional relationships with students.
3. Offer Campus Security Training Courses for Students
Improving students' self-defense capability is also of great significance to ensure their safety on campus.
Schools can offer free campus security training courses of different types and styles to teach students the basic techniques, such as how to seek for help or run away in an emergent case.
4. Alert Students Responsively in an Emergency
Schools should utilize different methods, such as emails, texts, display signs or sirens to alert students responsively in the event of an emergency, which is also an effective campus fire safety tip.
And you can learn whether students need to opt in or out of notification programs and if parents are allowed to sign up for updates.
5. Provide Protection for Students Living Off-Campus
To ensure the safety of students who don't live on campus, one of the helpful off campus safety tips for schools is to have a separate department dedicated to helping students find safe and reliable off-campus housing.
And it is even better for you to provide legal services to help students with housing agreement.
Conclusion
The importance of campus safety and security can never be overemphasized. Follow the campus safety tips for college student above to guarantee your safety at schools and enjoy you valuable time on campus.
Do you have any other campus safety tips that prove to be useful in your experience? If so, don't hesitate to share your ideas with us in the comment box below!