With all kinds of people coming in and out the dorm at all hours, you'll need to take the dorm security seriously to save yourself a bundle of grief, loss, and pains.
Between 2010 and 2012, there were 33,883 robberies and burglaries in student residence across the nation - an average of over 11,000 per year, according to the Campus Safety and Security Data.
To avoid yourself becoming the dorm theft victims, it is important for you to be aware of the dorm crime facts, like the most common items stolen in dorms and the college lists with the most dorm room thefts, and learn how to improve the dorm security with effective measures.
Dorm Security Facts & Statistics You Should Know[Dorm Security Facts (Common Items Stolen in Dorms & Insecure College Lists)]]
As the dorm security issues are becoming quite conspicuous, here we have collected some useful information on college dorm crimes for you to gain more clues about how to enhance the college dorm security.
Common College Dorm Crimes
According to the dorm security data, there were a total of 62,787 burglaries, robberies and vehicle thefts across the US college dorms from 2012 to 2014.
And dorm burglaries are the TOP 1 college dorm security threat, accounting for 70% of the total crimes, while 15.4% were vehicle thefts and 7.6% were dorm robberies.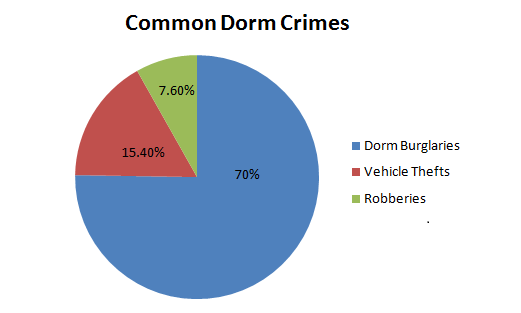 Top 5 Items Stolen in Dorm Rooms
Below is a list of the top five items that are being stolen in dorms, from which you can be more mindful of your valuables.
Electronics: With all electronics getting much smaller, it is a lot easier for even a casual thief to make a good haul effortlessly. The dorm room laptop security is most college students' headaches and it should be – as campus police studies have shown that it takes a good laptop thief merely about 7 seconds to rip off your laptop.
Cash, Credit Cards and Debit Cards: Maybe you are accustomed to laying your petty cash and credit cards around on your table. Before you can remember to place them to where they should be, they might have been taken away by the passersby of the dorm.
Bicycles: The bicycles, especially those without locks are most vulnerable to dorm room theft. The burglars can convert them as their own or resell your bicycle to make a fortune.
Textbooks: With the average textbook costing around $150 each, it's no surprise that it would be a hot commodity. In addition, once that book is gone so are all the notes you may have kept in it.
Jewelry/Clothing: If you have some shiny and expensive jewelries or clothes, someone else probably wants them as well. Once they are spotted by the burglars, chances are high that they will become the next targets.
Insecure College List with the Most Dorm Thefts
Based on the dorm security statistics, these following ten colleges are listed among the most insecure ones with most college dorm crimes from 2012 to 2014.
| | |
| --- | --- |
| 1 | University of California-Los Angeles |
| 2 | Ohio State University |
| 3 | Benedict College |
| 4 | Arizona State University |
| 5 | Florida State University |
| 6 | University of Alabama-Tuscaloosa |
| 7 | South Carolina State University |
| 8 | State University of New York-Stony Brook |
| 9 | University of Washington |
| 10 | State University of New York-Buffalo |
Top 12 Useful Tips to Improve Dorm Security
When it comes to the dorm security, prevention is always better than the cure. The following dorm security tips can act as your best guidance to assure your college dorm safety and free you from dorm thefts.
1. Install Dorm Room Security Camera & Systems
A dorm room security camera is a good way to ensure the dorm security if you have reached an agreement with your roommate on using this dorm security device and your college also doesn't oppose it.
With the dorm room security system, you can keep track of who goes in and out of the dorm on your smart phone, whether you are attending lectures or working on your dissertations in the library. The dorm security cameras with motion detection can send you real-time alerts once it detects any person entering your dorm and start video recording.
In view of the dorm environment, it may be difficult to drill holes and run wires. So a wire free dorm room security camera can be your best option and save you the trouble of complex installation procedures.
Reolink Argus® 2, for example, can release you from the ugly cables and installation limits. You can place it anywhere in your dorm room and even take it away with you. Its two-way audio function can also enable you to speak to the uninvited and scare him away.
2. Add Dorm Security Locking Devices
The dorm security locking devices are also among the most useful college dorm security products, like the dorm security lock boxes, dorm security safes, lockers, locking cabinets for dorm rooms, etc.
No dorm security solution is impenetrable, but the idea is to add what is called "layers of protection", which is just the function of dorm room security devices. Thieves want to work fast without being noticed. So the more layers you add, the greater the chances of them being noticed and caught.
3. Lock Dorm Room Doors and Windows
The dorm windows and door, as the only entrances to your dorm room, are key to assuring your dorm security.
However, it is shocking and absurd that almost 40% students don't lock their dorm doors when they leave.
To ensure your dorm security, it does make sense to remind yourself and your roommates to lock the dorm room doors and windows when you are away or asleep, even if you are running to the restroom for a minute.
4. Watch Out for the Dorm Fire Safety
Dorm fires are one of the most common dorm security risks that you should pay attention to.
If you and your roommates have hairdryers, curling irons or straighteners in dorms, remember to unplug them when they're not in use and never leave them unattended.
College dorm rooms usually have fire escape plans in case of emergencies. Make sure you are familiar with the fastest exits from various points in your dorms. Also, get to know where the nearest emergency phone is located and save all emergency numbers in your phone.
5. Install Door/Window Alarms
Besides the dorm security products like dorm security cameras and systems, the burglar alarms are also good options available for you to guarantee the dorm security. (Check the comparison between security cameras and burglar alarms.)
As affordable and practical dorm room security items, the door and window alarms will send a loud and unmistakable sound after door opening and window vibration, which helps deter intruders and possibly notifies your neighbors.
6. Insure Your Personal Valuables
In case you suffer from the dorm room thefts, insurance can help you recover the value of stolen or destroyed items and cost much less than replacing them yourself.
If you are living in an on-campus residence, your parents can put you on their existing homeowners policy for no additional cost. Or if you live in an apartment off-campus, a renters policy costing $15 to $30 a month will be necessary.
Insurance premiums vary based on the amount of coverage needed. You may take at look at the College Student Insurance for detailed information.
7. Check Out the Dorm Guest Policy
To ensure the dorm security, college dorm rooms often have a series of building rules for you to follow, like the guest policy, which specifies your responsibility when you bring someone to your dorm.
Look into the guest policy for your dormitory and see what kind of dorm security procedures they have in place. It is not advised to let anyone into your apartment, especially you don't know them personally.
If you think someone in the dorm is up to no good, draw attention to them and alert the resident assistant in time.
8. Keep an Inventory of All Your Items
In the unfortunate case that you become a victim of dorm theft, having a list of electronics' serial numbers can increase the odds of getting them back, as it will give the police a specific description about what to look for in recovered stolen goods.
Besides serial numbers, you can use pictures and any identifying marks to record your belongings so that you can identify them if they are fetched.
9. Put Away Your Valuables
Never place your valuables sitting out in view of the hallway or windows before you leave the dorm or apartment. It is best to hide your expensive belongings in the low-profile sites and never broadcast about them.
For example, to ensure the dorm room laptop/computer security, you'd better put them in the locking safes or the closets that are more secure.
10. Never Lend out Your Keys
When you lend out your key to someone, you're basically exposing all of your valuables to potential risks since the key can be easily duplicated, lost, or even stolen.
11. Don't Post Your Schedules on Social Media
If you are leaving your dorm for a period of time, do not broadcast your plan around or post it on the social media sites.
This may serve as a signal for those with bad intentions that your dorm room will be empty and they will take advantage of this great opportunity to break into your dorm room.
12. Develop Friendship in Your Dorm
When people know you, they look out for you. Making friends with your roommates and neighbors is conductive to ensuring the security of your dorm room and belongs when you are away.
Besides the above dorm security tips, more precautions can be taken to protect your belongings in dorms and assure the college dorm security. So how do you keep your valuables safe in your dorm room? Please share your deeds with us so we can add more dorm security ideas here to help more college students like you!