So there is no power but good WiFi coverage for the monitoring location?
Then a solar powered wireless security camera should be the best option. – Actually, it works even without WiFi as long as you select the right model.
Today, we'll introduce two solar powered wireless security camera solutions to cover all your security needs.
If you want a simple solar powered WiFi security camera to monitor your remote bee hive box, construction site, RV, farm, boat, barn, campsite, storage shed or anywhere off-grid, read on to get started!
Solar Powered Wireless Security Camera: 2 Solutions to Cover All Needs
To set up a solar powered wireless security camera, you may shop a small solar powered WiFi security camera directly, which is the best option if you want an easy installation.
Or you may buy an additional solar panel to work with the camera. If you already have a non-solar powered WiFi security camera in place or want 24/7 continuous recording, this DIY solar powered wireless security camera solution is the way to go.
Let's just dive right into the details about how to get the wireless security camera work.
Solution 1: Solar Powered WiFi Security Camera Bundle
The best part of this solar powered wireless security camera is its simple installation, saving your trouble of burying the cables and doing the math to shop the right sized solar panel.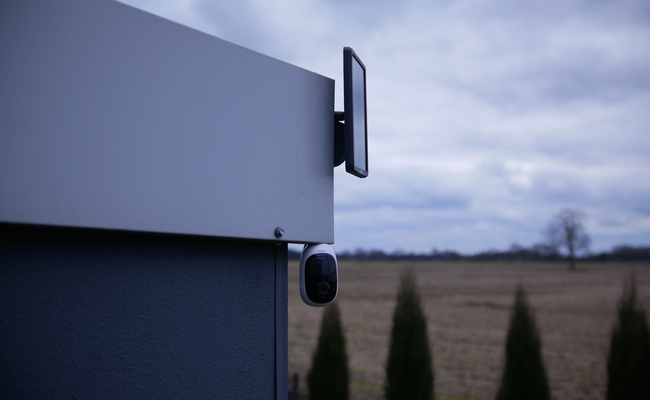 To set up this solar powered wireless security camera system, basically all you need to do is to insert the batteries and connect the camera to the solar panel with the USB cable.
And then, after you hook up the solar powered wireless security camera to the WiFi network, you may receive instant alerts, access the live view anytime anywhere to keep an eye on things. Some higher level ones even allow you to hear and talk back with the two-way audio function.
Well, mind that this mini camera is designed for motion detection, meaning this solar powered surveillance camera with movement sensor will (only) record the motion events like animal or people passing by.
Best Pick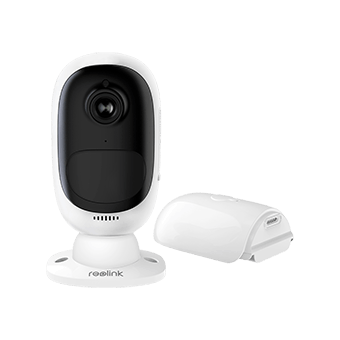 Reolink Argus 2
Simple Solar Powered WiFi Security Camera
"Reolink Argus 2 is truly wireless, allowing you to set up a security camera even where there's no power source. The solar upgrade kit means you'll never need to charge it, either." - Reviewed by
MUO (8/10), a top-tier tech media
Take a look
Editor's Note: The solar panel usually needs a separate purchase at the cost of about $30. Don't forget to add it to cart if you decide to get the solar powered wireless security camera bundle.
Security camera with no electric or Internet… Suggestions?
Got you covered.
The solar powered wireless security camera that runs on 4G/3G LTE data is the best answer.
Unlike the common solar powered wireless security cameras, the 4G cameras send data over a mobile network by using a data plan provided by AT&T. T-Mobile, Vodafone, and other carriers.
So you can still check on your property even though there is no Internet or power source.
Reolink Go
100% Wire-Free 3G/4G LTE Mobile Camera
No WiFi & Power Needed; Rechargeable Battery or Solar Powered; 1080p Full HD; Starlight Night Vision; 2-Way Audio; Live View Anytime Anywhere.
Solution 2: Solar Power the Traditional Wireless Security Cameras
With the ready-made solar powered wireless security camera available, why bother doing the DIY work which may take a lot of time and money to finish the project.
Well, sometimes you've got the spare IP camera in place or you just prefer 24/7 recording instead of motion detection.
If that is what in your mind. Follow up and learn the essentials to set up your own solar powered wireless security camera.
What You Need:
Solar panel(s)
A solar charge controller
A solar battery/battery pack
DC converter/inverter
WiFi security camera
Editor's Note: The key for this solar powered wireless security camera project is that you need to get a solar panel capable of recharging your batteries fast enough to collect more power during daylight hours than you actually consume.
So do the math and find out the proper sized solar panel for your wireless security camera.
The solar panel also works in windy or rainy days, which may surprise you, but certainly it was not as effective.
DIY Solar Powered WiFi Security Camera in Steps:
After you get all the components, it's pretty straight forward to set up the solar powered wireless security camera. And a quality and functional WiFi camera will make the process much easier and more effective.
Here we take the Reolink RLC-410W as an example to show you how to finish the installation, as the Reolink user has successfully done to capture the backyard buck.
Step 1. Choose a location for the various electronic components that are safe from rain, snow, or any other potentially damaging weather.
Step 2. Connect all the components mentioned above together. Remember that the solar panel cable needs to reach the battery pack, so plan the installation spot carefully.
Step 3. If you don't have a sun-facing view with a convenient mounting surface that is near the security camera location, you may mount the solar panel on the roof for the most sunlight.
Check this post for more tips and tricks to build your own solar powered wireless security camera.
Reolink RLC-410W
Dual-Band Wireless Security Camera with Audio
5MP/4MP Super HD, Outdoor/Indoor Protection, Dual-Band WiFi 2.4 GHz and 5 GHz, Audio Recording, and SD Card Storage.
Solar Powered Wireless Security Camera: Top Things to Consider
So how to pick the best outdoor solar powered wireless security camera?
Here is a checklist for you.
Wireless Security Cameras with Sufficient Solar Power Storage
The first thing you will care about the solar powered things might be the exact time the stored solar power could hold, especially during cloudy days – what if there are weeks of pouring rain in your region?
Actually, that depends on many factors including the temperature, weather, seasons, location, shading, etc. No one could give you an exact answer to this. Perhaps your camera could only survive for several days with solar power, while others in Arizona, where the sun is always shining, will have no problem with the same solar powered wireless security camera for months.
The best solution is to get a wireless IP camera and a solar panel bundle, which allows you to replace or charge the internal batteries in emergencies.
Solar Powered Security Cameras with Stable WiFi Connection
The wireless solar powered camera allows you to place it practically anywhere, like the remote construction sites, outdoors and gardens, mine sites, farms, carparks, etc.
Wherever it is, remember to make sure your solar powered wireless IP camera is within the WiFi range.
Reolink wireless cameras, for example, could receive WiFi signals 210-240 feet away if there are no obstacles in the open area, and 60 feet indoors with 2 walls in between.
If you are not so sure about whether the signal is strong enough for the outdoor solar powered wireless security camera to work, you may test it with your smartphone or just contact the camera support team for suggestions.
WiFi Solar Powered Outdoor Cameras with Waterproof Rating
Wherever you plan to place the solar powered wireless security camera, remember that you expose it not only to the sun, but also to the rain, snow and other adverse weather conditions at the same time.
So make sure that the solar panel and security camera are weather-resistant with IP65 (and above) rating, and the USB cable ports are well protected.
However, if there is expected heavy snow in your area, you'd better use the solar power as a plan B since the snow covering in the panel will block the sunlight and greatly reduce the charging efficiency.
Editor's note: Remember to check the panel's operation temperature also, since the solar panel would generally be hard to charge at temperatures below freezing.
Solar Powered Outdoor IP Cameras with Vandal-Proof Design
The safety issue will come as a big problem when everyone of you, as a cautious homeowner, thinks of the WIRE-FREE solar powered surveillance cameras.
What if the burglars steal the camera or its solar panel?
To secure your solar powered wireless security cameras from vandalism or being taken straight away, most security cameras – whether solar or battery powered – are equipped with a security mount to help you fix the camera stably.
Another trick for securing your solar powered wireless security camera is to mount it out of the burglars' reach, such as the roof top and the eaves.
Or you can easily hide the solar powered WiFi camera with the camouflaged skin. Place the hidden solar camera near the bushes or other plants, it will hardly be noticed.
For more creative ideas to prevent your security camera being tempered with, you may take 2 minutes to read this.
Wireless Solar Powered Security Cameras with Speaker/HD Images & More
More than just record and reply, the wireless solar powered security camera could be smarter with the following bonus features, covering your every need for video monitoring:
WiFi solar powered home cameras with HD Images & night vision. In order to see the plate number and identify people's face clearly day and night, you will need a security camera with 1080p (or above) resolution and IR night vision.
Outdoor wireless solar powered security cameras with speaker. The added built-in speaker enables you to not only hear what's going on out there but also talk back, like giving your orders and warnings. While the audio quality differs greatly among models, you'd better test it yourself or ask for the audio demo before purchase.
Wireless solar powered IP cameras with remote viewing. Want to check on things whenever you are free? Do consider the remote viewing function. And the top level solar cameras will offer remote live view on smartphones, PCs and web browsers.
WiFi solar powered surveillance cameras with movement sensor. You'll come across either the software-based cameras or the PIR sensor-based ones on the market. To get more accurate motion alerts, choose the latter one which can tell the temperature differences when intruders approach.
Solar powered wireless security camera with wide angle. In order to cover the whole monitoring area of the construction sites, farms and mines, it's advised to choose the one with wide viewing angle or set up a solar powered camera system with DVR/NVR.
Solar powered WiFi surveillance system with H.264 video compression. (What is H.264?) When considering a solar wireless camera system, bandwidth and storage consumption matters a lot. In that case, the H.264 solar IP camera would be your best choice which is more network-friendly.
Top 3 Tips to Get Most Use of Outdoor Solar WiFi Cameras
Although the solar power input depends on many factors and it is uncontrollable to an extent, there are still some tricks you could use to make the most of your solar powered wireless security cameras at home and business.
Choose a place that could get the most sunlight during the day, like the roof, wall, fence, etc. For example, you can install a security camera in your aluminum or chain-link fence.
Mount the solar panel facing true south (in the northern hemisphere) or true north (in the southern hemisphere) to get optimal sun exposure.
Clean the solar panel regularly to make sure the dust and debris would not affect the solar power collecting.
What's your choice of solar powered wireless security cameras? Share your thoughts with us in the comment area. Any ideas are welcome.