If you own or run a gym, health club or fitness center that has a continuous flow of members, then you most likely have gym security cameras and systems in place or are in need of them.
Our post today aims to highlight what makes a best gym camera, where to position the gym security systems or security cameras for health clubs and fitness centers and how to improve your gym security.
In case you are just a gym regular, you may look through the contents below and jump to the part you are interested in, like the legality of hidden gym cams and tips to protect your valuables in gyms, health club or fitness centers.
Do Gym Owners Have a Right to Install Hidden Gym Cameras
The legality of hidden gym cameras will depend on the video recording laws by state and the locations to install security cameras in gyms, health clubs and fitness centers.
Generally speaking, placing the gym hidden cameras where the gym consumers can have a "reasonable expectation of privacy" can be a complete invasion of privacy, such as the gym changing rooms, bath rooms, etc.
In the public areas, like a weight room, or a cardio room, hidden cams at gyms are normally allowable to record videos and deter crimes.
Note that the audio recording laws are a bit different from the laws governing gym security cameras and security systems for health clubs and fitness centers. Two-party consent is required if the gym cameras with audio recording is located in a private place.
What Makes a Best Gym Security Camera (Best Picks Included)
The properly-placed gym security cameras and systems not only serve as the powerful deterrent to crimes, but also help leave a good impression on your potential members and win the trust of your regulars.
Here we have compiled some features that make a best gym surveillance camera.
1. Gym Security Cameras with High Resolution
The higher resolution your gym security cameras have, the greater details and better clarity you will end up with.
And this is especially important if your gym suffers from thefts and vandals quite often, or you have ever been involved in slip-and-fall lawsuits.
With high resolution gym security cameras and systems, no single details will slip through your eyes and the recorded stunning images and videos can be the evidence you can resort to when necessary.
Editor's Pick: 5MP/4MP High Definition Gym Camera – Reolink RLC -511W
Thanks to the advanced pixel technology and WDR, Reolink RLC-511W delivers sharp and balanced-processing images without image distortion. You are also able to get clear images even in backlight situation with the backlight compensation of this gym camera.
Reolink RLC-511W
5MP Dual-Band WiFi 4X Optical Zoom Camera
5-Megapixel Super HD; Outdoor/Indoor Protection; Dual-Band WiFi 2.4 GHz and 5 GHz; 4X Optical Zoom; Built-in Micro SD Card Slot.
2. Gym Cameras Hooked Up to Phones
If you are running a 24 hour gym or health club, it is basically impractical for you to stay at your gym all day round.
The gym security cameras that can hooked up to phones make it possible for you to keep tabs on your gym from afar, so that you can enjoy peace of mind when you are out picking up your kids or away for a week-long vacation. (Read what you should know about gym cameras linked to phones.)
Editor's Pick: Best Gym Camera Linked to Phones – Reolink RLC-410
This gym security camera or security camera for health clubs and fitness centers, Reolink RLC-410, features the easiest remote access. Just download the free user-friendly Reolink App or Client and your gym security is at your fingertips.
Relying on the 1440p high resolution of the gym camera, you will get crisp pictures of your gym like you are physically there. You are also free to adjust the gym camera settings, such as disarming the motion detection via your phone when you don't need it.
Reolink RLC-410
PoE Bullet IP Security Camera with Audio
5MP/4MP Super HD; Outdoor/Indoor Protection; 100ft Infrared Night Vision; Audio Recording; Mobile Remote Access & Control.
3. Weatherproof & Vandal-proof Gym Security Cameras
Now many gyms are equipped with outdoor facilities like tennis courts, basketball courts, a playground, soccer fields, or a swimming pool for their members.
If that's the case with your gym, health club or fitness center, then you will be in need of weatherproof and vandal-proof gym security cameras and systems to survive the elements and possible vandals.
Editor's Pick: IP 66 Vandal-proof Gym Security Camera – Reolink RLC-522
Being rated as IP 66 certified, Reolink RLC-522 can brave all the harsh weather conditions and withstand up to impact from 10kg objects as one of the best gym cameras.
In addition to its tough and durable aluminum alloy casing, it should definitely top the best waterproof and indoor/outdoor gym security cameras. (Check the guide to IP 66 security cameras and vandalproof security cameras.)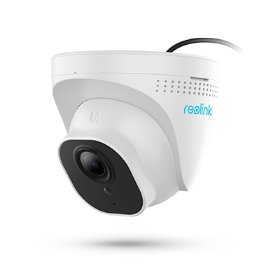 Reolink RLC-522
5MP PoE IP Camera with 3X Optical Zoom
Power over Ethernet; 3X Optical Zoom; 100ft Night Vision; IP66 Certified Weatherproof; Audio Recording; Real-Time Motion Alerts.
4. Gym Security Cameras with an NVR
Worried that your gym cameras don't have enough storage space for 24/7 recording?
A handy gym video storage solution is to install a gym security system with multiple gym security cameras and an NVR. Then you can save the record videos for weeks or even months and play them back when it is needed.
Editor's Pick: Best 24 Hour Gym Security System – Reolink RLK8-410B4
In virtue of the pre-installed 2TB HDD and up to 4TB external HDD, Reolink RLK8-410B4 is one of the best 24-hour gym security systems with sufficient storage space.
Besides, this plug-and-go gym security system eliminates all the troublesome installation process, saving you the money to hire professional installers.
Note: There are also other features you may expect from your gym security cameras and gym monitoring systems. Leave your comment below to tell us your needs and we'll offer more options catering to your gym security needs.
Reolink RLK8-410B4
8-Channel PoE Security System
4 pcs 5MP/4MP Security Cameras; 2TB HDD 8-Channel NVR for 24/7 Reliable Recording; Plug & Play; 2 Network Solutions.
Tips to Keep in Mind About Gym Security Camera Placement
Before installing CCTV cameras in gyms, health clubs or fitness centers, you should first have a clear clue of where you can place the gym security systems and where you cannot.
1. Non-Workout Areas Also Require Gym Security Systems
Do you have a parking lot, bar or restaurant in your gym, health club or fitness center?
If yes, don't forget to protect these places with gym security systems as well.
Installing gym security cameras in the non-workout areas cannot only enhance the overall gym safety, but also contribute to your gym image, making your customers feel safer and assured.
For example, the Gold's Gym beefs up its security with gym monitoring systems in the parking lots and has won the trust of numerous consumers.
Pro Tips: Learn how to choose bar security cameras and restaurant security cameras if you need.
2. Keep Gym Cameras Away from Private Places
As noted above, you have total freedom to install gym security cameras and systems in public places.
But IN NO CASE should you put gym hidden cameras in the locker rooms, tanning rooms, or rest rooms, otherwise you may face lawsuits over hidden camera use in gym private places. (Read the news about a woman suing Planet Fitness over hidden cameras in gym's tanning rooms).
Though it is banned to place a hidden gym cam inside the locker rooms, you can put one at the entrance or doorway of the locker room where thefts occur frequently.
What Else Can You Do to Improve Gym Security
Besides placing security cameras and systems in gyms, health clubs or fitness centers, you can also take other security measures to improve your gym security.
Install gym management/access control systems. You may place the gym entry systems such as gym card scanning system/gym membership card system to deter non-members from entering your 24 hour gym, health club or fitness center.
Provide keyless electronic locks. The keyless locks eliminate the need to carry a key while attending a fitness class, providing a worry-free experience for your members.
Formulate gym safety rules and regulations. Make sure there are effective gym security procedures in place. When your members first come to your gym, state clearly to them in the written contract what gym safety rules they need to obey.
Well train your employees. Providing professional training to your gym staff can make them stay alert and respond proactively in case of any emergencies.
As a gym owner, you must have other successful experience about maximizing the gym security. Now don't hesitate to share with us below.
Bonus Tips to Protect Your Valuables in Gyms (For Gym Regulars)
With no gym security cameras and systems installed in the locker room of gyms, health clubs and fitness centers, potential thieves can easily slip into the room dressed in workout wear without being caught.
Below are some useful tips for you to protect your valuables in gyms even there are gym monitoring systems in place.
Take only what you need to the gyms, health clubs and fitness centers. If the parking lots are monitored with the gym security systems, you may leave your wallet and cell phone in the car.
Use a money belt to keep your valuables on your person.
Bring a high quality combination lock to secure your property.
Choose the lockers that are within plain sight, so they are less likely to be tampered with.
So how do your protect your belongings when you work out in gyms, health clubs and fitness centers? Share your experience in the comments box below.