In the realm of security systems, the installation cost of CCTV surveillance cameras is a variable that hinges on several factors. The number of cameras, their types, and the strategic placement play pivotal roles in determining the overall expense.
This article aims to provide a comprehensive overview of security camera installation costs, offering insights into the diverse pricing structures influenced by these key factors.
Average Cost for CCTV IP Security Camera Installation
The home video surveillance security camera installation cost depends on the number of cameras, the quality of central monitoring and processing, preparation and special requirements, the labor rate, etc.
Get an overall impression of the professional typical security camera installation cost in the chart below.
From the above chart, you can see that the average cost to install residential and business security surveillance cameras is $1,511.
How Much Does It Cost to Install a Security Camera?
In order to help you get more information on the CCTV IP camera installation or fitting cost, here are some details about surveillance security camera and system installation prices.
Typically, the 3-4 CCTV outdoor security camera system full setup and installation costs around $1,000, including security camera installation labor cost, while 8 security camera system installation fees may cost $3000-$4000.

The price to install 2 outdoor and indoor security cameras with an LCD monitor is about $450.

The average security camera NVR or DVR installation cost is $168.

The installation fees, or security camera system installation service of 4 hours with licensed electricians are between $260 and $340.

The security camera installation cost in schools: the cost of a standard resolution security camera for school application ranges from $500 to $1000. Most schools would require multiple security cameras for adequate security. A full security system with multiple cameras would cost $20,000 to $30,000.

Some installation companies may also charge you one-time activation fees after installing CCTV cameras at your home. Generally speaking, the average activation fees range from $25 to around $100. It is best to ask the companies whether there are activation fees in advanced.
Also note that if you are installing a burglar alarm system with Analog cameras, PIR sensors, door & window sensors, the burglar alarm system installation cost would be much higher than IP camera models.
The camera types will affect the final CCTV camera installation prices and costs. You can check the below table to check the cost of security camera fitting and installation.
| Security Camera Type | Main Features | Installation Cost |
| --- | --- | --- |
| Fake Security Cameras | The cameras record nothing but just give the appearance of video surveillance. | $10 — $15 |
| Box Security Cameras | A standalone security camera type with a box shape, typically used outside the house | $20 — $100 |
| Dome Security Cameras | For ceiling mounting | $80 — $100 |
| Bullet Security Cameras | Small-size footprint cameras | $100 |
| Hidden Security Cameras | Typically very small and hard to be detected | $100-$150 |
The security camera installation cost also varies among countries due to the different labor costs. You can check the below CCTV IP camera fitting prices based on the country you live.
Security Camera Installation Cost in US, Australia, UK, Canada, India, etc.
How much will it cost to install and maintain security cameras in schools, at home (or for business) in India, Australia, Canada, UK, US, etc.?
Check how much the security camera installation cost is in your country.
The average security camera installation cost in Auckland, Los Angeles and the rest of the US is about $775 (4 camera video surveillance system). You can view estimated security camera installation prices in your city in the US on Howmuch.

In Melbourne, Sydney, Canberra, Brisbane, Perth Australia, installing a 2 camera system or pack with NVR would cost about $550 (installed by licensed installers). If you want to add more cameras in the future, the security camera installation cost may cost $200-$300, depending on the number of cameras you would like to add.

The security camera installation cost in the UK ranges from about $150-$1200 (it depends on the number of cameras and whether you would like to add NVR or DVR). 8 camera installation fees tend to be about $500.

4 channel professional surveillance system installation fees would cost about $1500 in Toronto Canada. If you want to add 4 more cameras, the price would double.

The security camera installation cost in Bangalore Indian: Installing 2 dome cameras with the wiring in your 100-200 square feet property with standalone DVR or NVR would cost Rs. 10,000.
Security camera & system installation charge is totally uncertain. The labor rate is always volatile. And the security camera installation fees are influenced by your specific needs and the structure of your property, the complexity of running or installing your security camera wires.
A professional and high-quality DIY security camera system price typically ranges from $400 to $1,000. And standalone or all-in-one DIY surveillance cameras sometimes only cost about $100. In some cases, the CCTV camera installation cost may be higher than the security camera prices.
If you are interested in security camera price, you can read this post to get more details.
CCTV Home Security Camera Installation Costs Are Free — For DIY Security Cameras & Systems
The cost of DIY security camera installation is ZERO since you can install this type of CCTV IP security cameras by yourself.
3 main types of DIY security camera installation
There are 3 main types of DIY security cameras & systems offering the easiest installation: battery-powered security cameras, WiFi security cameras and PoE wired security cameras.
Battery-powered security cameras: You can install a battery-operated security camera simply by inserting the batteries into the camera and place it almost everywhere you like.
Take a look at the below video to see how simple it is to install a battery-powered security camera.
Wireless security cameras: You can install the camera by powering it with the power cable. Make sure the camera is within the WiFi range so that it can function perfectly.
PoE security cameras: You can only use a Cat 5 or 6 PoE cable to connect the camera to your router to realize both data and power transmission.
WiFi & PoE IP camera connection diagram: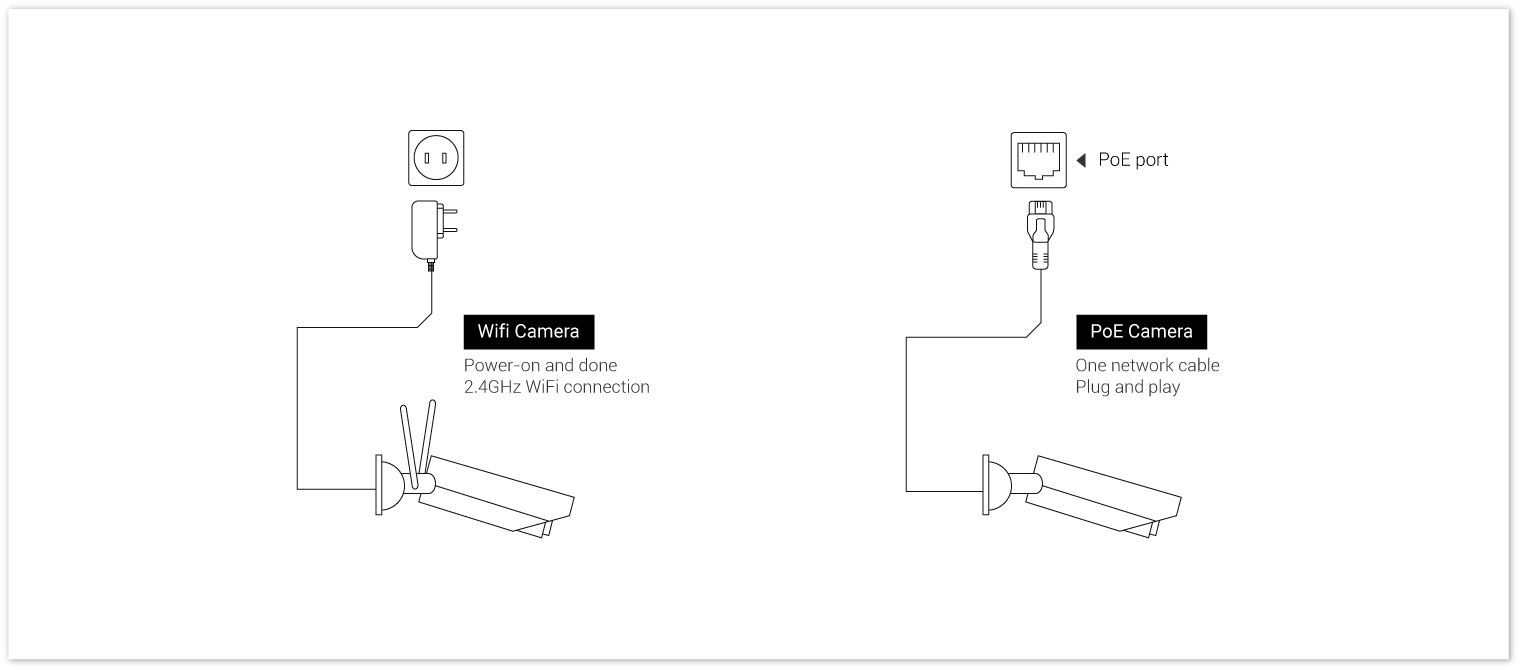 Compared to surveillance cameras that need professional installers, DIY security cameras cost you nothing but only several minutes.
This plug-in-and-go security camera type is becoming the most popular home security IP camera type, since almost everyone can install the cameras within several minutes.
Even your grandmother can install DIY security cameras without any difficulty. Another benefit of DIY security camera type is that you can remove and reinstall them easily.
Bonus: Click here to learn how to install home security camera systems on your own in a breeze.
Recommendation of DIY installation for security camera
When it comes to DIY security cameras, Reolink leads the way. VueVille, a top-tier media, rated Reolink security camera system as the " Best DIY Home Security Camera System ".
DIY security cameras like Reolink Argus 3 Pro feature in their simple and easy setup. You don't have to be tech-savvy when installing DIY security cameras. Plug in and go, and all is done. You don't need to pay extra CCTV installation cost, which saves your great budget.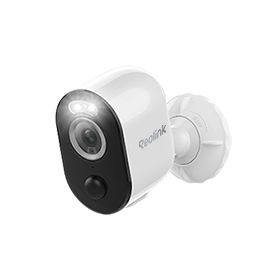 Reolink Argus 3 Pro
2K 100% Wire-Free Spotlight Camera
2K 4MP Super HD, Battery/Solar Powered, Person/Vehicle Detection, 5/2.4 GHz Dual-Band WiFi, Color Night Vision, Two-Way Audio.
This DIY wire-free security camera comes with a rechargeable battery, so you don't need to buy replacement batteries on a daily basis. You can also connect this camera to the solar panel to get a continuous power supply.
Conclusion
If you want to hire professional security camera installation companies to fit your security cameras, check the average home security camera and system installation cost below. If you have any questions on security camera installation cost, please leave them in the comment below!