When securing your property, every detail is essential. To meet the diverse needs of many different users, almost all security camera manufacturers focus on providing users with both essential and niche functions. Night vision is essential for good security, but color night vision is a better and more useful feature.
As more people demand constant monitoring to keep their homes and businesses safe, many different types of night vision security cameras have emerged. Reolink, as a responsible and proactive security camera manufacturer, plans to introduce its brand new ColorX technology to the market to offer consumers high-quality color night vision.
What is ColorX Technology for Reolink Cameras?
ColorX is Reolink's latest color night vision technology designed for the newly launched product line of the same name. The cameras in this series feature F1.0 super aperture and a highly sensitive 1/1.8" image sensor to illuminate areas of interest in the dark. ColorX cameras can capture complete, accurate color images even in low light and do not require you to turn on any lights.
During the night, ColorX technology allows infrared and visible light to reach the image sensor of the security cameras. This feature improves the effectiveness of a 24/7 security system as it allows for improved color night vision in low light conditions, even when there is no electric light. Here are some important hardware components that contribute to the ColorX night vision.
Large Lens Aperture
A camera's lens aperture is the opening part of a lens through which light passes and controls the amount of light that passes through the lens. It is calculated by dividing focal length by the diameter of the lens aperture, and the size is indicated by F-numbers, including F1.0, F1.4, F2, and F2.8. Lower F-numbers represent the larger apertures and increased exposure while higher F-numbers represent smaller apertures and lower exposure.
Normally, a darker environment means the camera's aperture needs to increase in size to adequately capture video. A larger aperture allows more light to pass through the lens to the image sensor. Brighter light will typically require a smaller aperture to achieve optimal exposure. The lens aperture of the Reolink ColorX camera during the night is F1.0, over four times the F2.0 lens aperture of common security cameras.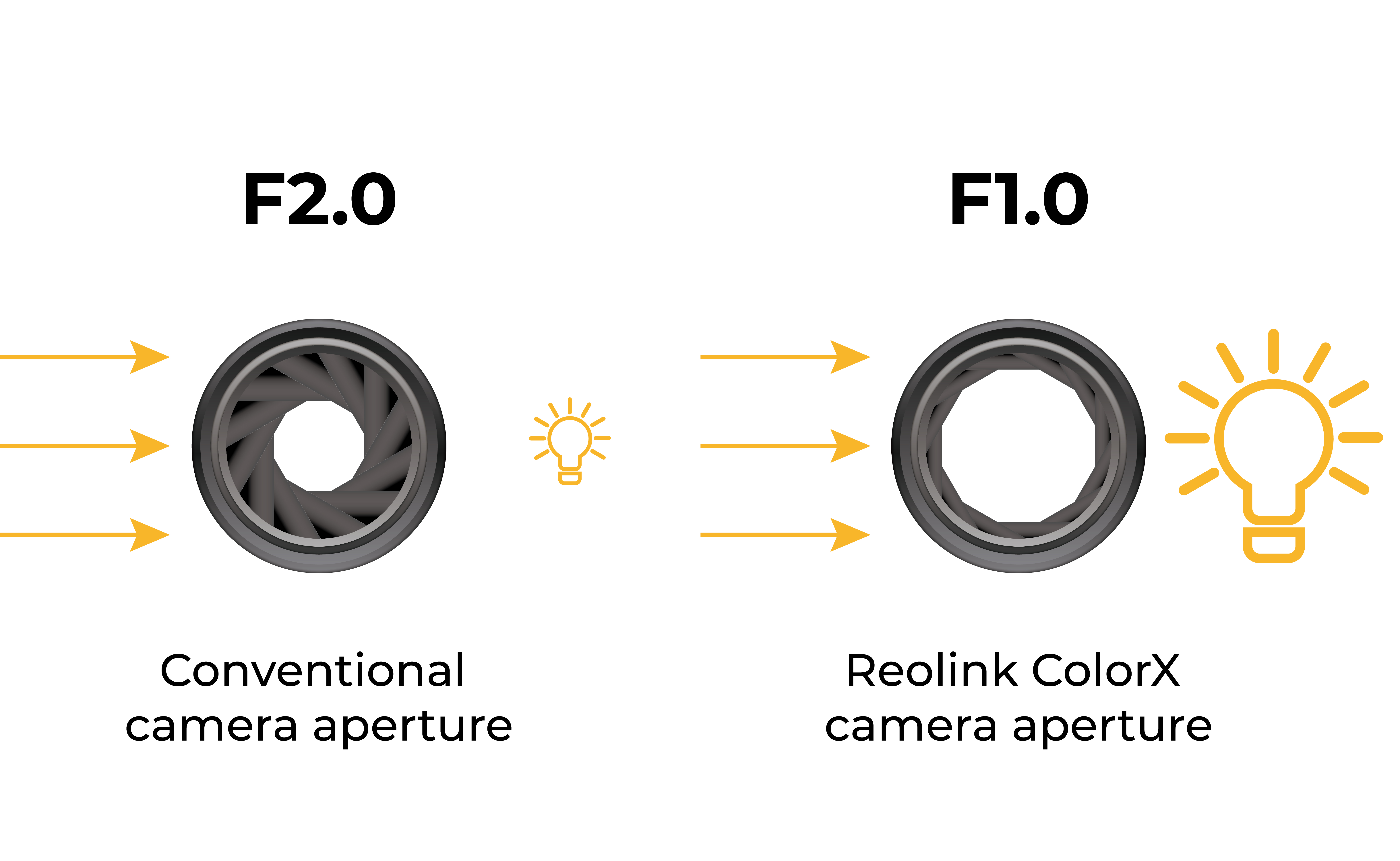 Sensitive Image Sensor
An image sensor is the eye of your IP security cameras. A security camera image sensor ultimately determines what your security camera lens can capture and then converts the data into an electronic signal. Millions of light-sensitive patches make up these sensors to ensure that the footage collected is detailed and clear. A large sensor can collect more information than a small one, which means the video is typically much better.
ISO, the setting that determines light sensitivity in cameras, can be increased to raise light exposure. The number indicates the sensitivity of image sensors. Reolink cameras with ColorX technology use 1/1.8", an ISO that is 115% higher than the more typical 1/3" sensors found in other cameras.
Lower LUX Level
LUX stands for lumens per square meter. One LUX is the amount of light cast by one candle in a one-meter space. All IP camera manufacturers use LUX levels to determine a camera's low-light performance and ability to see in various degrees of darkness.
Most security cameras operate at a LUX CCTV rating of 1.0 or less. Some ratings are as low as 0.003 LUX. A lower LUX level indicates that the camera can capture more at night than one that has a higher LUX level. ColorX Reolink cameras are 0.0005 LUX, indicating that these cameras are highly effective at night.
Automatic ISP
To deliver true full color footage at night, one of the most important and complicated parts of the working process of ColorX technology is capturing light before transforming it into high-quality images.
ISP, the abbreviation for Image Signal Processing, is chip-level image processing technology which converts an image captured by security cameras into digital form. This process typically includes noise reduction, exposure adjustments, automatically focusing and balancing contrast, HDR correction, and image sharpening. For cameras, smartphones and other electronic devices, ISP is an important technology that directly affects image quality.
For Reolink security cameras with ColorX technology, the image sensors they use are semiconductor sensors that allow light to be converted to electrical signals. These image sensors, processing devices of the ISP technology, include features such as timing logic, exposure control, analog-to-digital conversion, shuttering, white balance, gain adjustment, and initial image processing algorithms. In low light conditions, image signal processing allows cameras with the upgraded sensors of ColorX technology to preserve colors of objects.
How does ColorX Technology Work
ColorX technology is primarily driven by two powerful components, the lens and the advanced image sensor. Reolink ColorX cameras can collect more light with a lot more precision than other night-vision cameras. The amount of light let in depends on how the size of the aperture of a lens is changed, and aperture changes cause the sensor to receive four times as much light when compared to a typical camera.
Once light has entered the camera lens, ColorX cameras use a top-notch, cutting-edge image sensor. The sensors in these true full-color Reolink cameras are far more adept at precisely converting light into a digital signal than those in comparable IP cameras. To maximize the capabilities of the sensors, ColorX technology makes use of a clever ISP technology.
In a word, the large lens aperture, high sensitive image sensor along with the powerful ISP technology allow the ColorX camera to capture more stunning full-color nighttime images.
Features of the Reolink ColorX Security Cameras
With their complex working processes, the ColorX cameras are designed specifically for applications where high-quality color footage is required regardless of lighting conditions.
True Full-Color Night Vision
The F1.0 aperture and the powerful image sensor make it possible for ColorX security cameras to capture colorful footage even at night. Even in super dim environments, these cameras can capture all details of the areas you want to monitor and display full-color details of the scene.
Resolution
The first thing you need in a high-quality security camera, night-vision enabled or not, is high definition. Also, high resolution is an essential component of a high-quality security camera; both high definition and high resolution contribute to clear, detailed camera footage that can be easily deciphered in the event of an incident. Reolink's ColorX series of security cameras have a resolution of 2K 4MP to facilitate excellent image capture.
Smart Motion Detection
Just like other Reolink security cameras, ColorX cameras have an AI-based algorithm that can intelligently detect people, vehicles and pets and send real-time push notifications or emails with event snapshots to your smartphone or other devices. So, you can always keep an eye on the key areas you want to monitor and be aware of what's happening there.
Dual Warning
The 3000K warm light adds an extra layer of protection to your home or business. As soon as the camera detects motion, the warm light will shine brightly and the siren will sound simultaneously to deter intruders before a crime actually happens, which offers a dual warning system and additional protection. Futhermore, the light and siren can also be manually activated.
NVR Compatibility
Reolink ColorX cameras can work with Reolink NVR. As PoE security cameras, only Ethernet cables are needed to provide network and power to devices. To extend their storage capacities, you can connect these cameras to an NVR to store your 24/7 continuous recording and colorful night footage.
ColorX Technology vs Spotlight Color Night Vision vs Black-and-White Night Vision
To meet the needs of users wanting to capture footage of their properties at night, Reolink has launched different security cameras with various capabilities, from infrared black-and-white night vision to normal color night vision and advanced true full-color night vision. To make the differences between these options clearer, here is a table to compare the three types of devices.
For better comparison, we've chosen three different products as examples: Reolink RLC-410W, RLC-811A and CX410.
| Product | RLC-410W | RLC-811A | CX410 |
| --- | --- | --- | --- |
| Type of night vision | Infrared night vision | Normal spotlight color night vision | ColorX true full color night vision |
| Image sensor | 1/3" | 1/2.8" | 1/1.8" |
| Aperture | F2.0 | Max. F1.6 | F1.0 |
| Extra light equipment | Infrared light | Normal spotlight | 3000K warm light |
| Resolution | 2K 4MP | 4K 8MP | 2K 4MP |
Applications of ColorX Technology Cameras
The special color night vision features make ColorX cameras useful in many different situations. Here are some typical scenarios where users have found our ColorX cameras useful.
Residential
Whether you own or rent your home, ColorX cameras are a great addition. Some places, like staircases and balconies inside residential buildings such as flats, multi-level homes, and apartments usually aren't very lit at night, which can be dangerous.
If accidents or severe incidents were to occur in these areas, traditional CCTV cameras may struggle to capture the details of the situation. Cameras equipped with ColorX technology, however, are the best option when it comes to surveillance in low light conditions because they illuminate the area. This not only allows the cameras to capture better video but also makes the space safer for residents.
Small business
With ColorX technology, small business owners can increase the security and reliability of their security cameras in areas prone to theft and other crimes. Small coffee shops, warehouses, dark hallways, garbage areas, and other locations will benefit from color night vision. The dual warning system  that these cameras provide may help to deter thieves or internal misconduct, making both customers and staff feel safer when working.
Office and building entrances
ColorX cameras can also be placed at the entrances of offices or buildings. When the sun goes down and everybody inside the building leaves work, the placement of full true color night vision cameras can monitor what's going on at night and will record all the evidence if an illegal break-in happens.
Streets and parks
ColorX cameras can also be used for outdoor security. Strategically placed ColorX cameras can provide a discreet security solution while bringing light into darker areas where people may feel uncomfortable in the dark, such as sidewalks, play areas, streets, and parks. Its 3000K warm supplement light can bring soft light to these areas but won't disturb people passing by.
Available ColorX Devices
Although Reolink has currently released only one new product, the CX410, for this ColorX series, we are planning more security cameras with full color night vision. This list will be updated as more products are developed.
With the cutting-edge ColorX technology, Reolink has launched the advanced true full-color night vision security camera, Reolink CX410. Providing true full-color night vision of 2K 4MP resolution at night, this newly listed product can offer you 24/7 colorful security solutions, even in dimly lit spaces. Just like other smart IP cameras, CX410 can detect and distinguish between people, vehicles, or pets.
This camera's 3000K warm light and siren will be activated automatically, if you have the correct settings enabled, to warn intruders and alert you simultaneously. The goal is to avert a crime before it happens. Its brightness can increase gradually when turned on, helping to reduce potential light pollution and disturbance to your neighbors.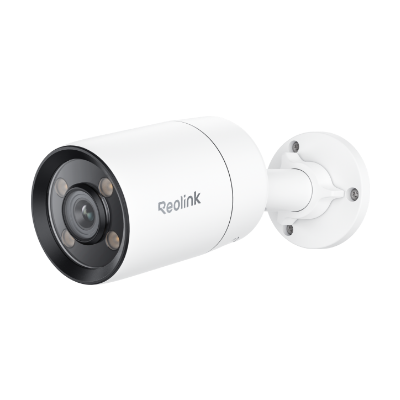 Reolink CX410
2K PoE ColorX Night Vision Camera
2K 4MP; F1.0 Super Aperture; ColorX True Full Color Night Vision; 3000K Adjustable Warm Light; Advanced 1/1.8'' Sensor; 2-Way Audio.
As a PoE device, the CX410 is easy to install and start using. This smart IP camera supports 24/7 continuous recording, scheduled recording, and motion-triggered recording. All videos can be stored to a micro-SD card, Reolink NVR, or FTP server. You can filter and play back the saved videos to find important information or to relive your happy moments with your loved ones.
FAQs
What is the value of ColorX Technology for security cameras?
The value of ColorX technology is providing users with full true-color night vision. Thanks to the larger aperture of the lens and the sensor's higher light sensitivity, the ColorX cameras can capture more color details in dimly lit environments to detect possible dangers or threats.
Can ColorX cameras work in total darkness?
The answer is yes. ColorX series cameras feature F1.0 super aperture and a much more sensitive sensor, so they can capture true color images even in low-lit conditions, without having to turn on the lights, which can offer you a new and improved night vision experience.
What is the difference between night vision camera and traditional camera?
Normal cameras require light to form an image, while night vision cameras can capture images in complete darkness using infrared light, spotlight or updated features like larger lens aperture, more sensitive image senor.
What's the price of ColorX Technology security cameras?
The price of the brand new ColorX security camera, the Reolink CX410, is currently $94.99. Compared to usual infrared night vision PoE security cameras, the price is slightly higher, but when compared to other cameras with true full-color night vision, the price is reasonably competitive.
Conclusion
ColorX is a high-end technology on the security camera market that enables security cameras to capture full color footage at night when there is only minimal natural light, like lights from the stars and moon. The lens aperture, updated image sensor, and 3000K warm supplement light make this possible. ColorX cameras can be used for different dimly lit situations due to their special features, like true full-color night vision, high resolution, and smart motion detection.
Are you looking forward to experiencing the ColorX security cameras? Do you need a security camera to capture full-color footage at night? What ColorX product would you like to see next? Leave your opinions and any questions for us in the comment section! We would love to hear from you.