Many people are thinking about using their computer, laptop, or Mac to view and record their IP/CCTV camera and record their IP/CCTV security cameras to their PC, laptop, Mac or a spare computer instead of to a dedicated network video recorder (NVR)/digital video recorder (DVR).
The question always pops up: should I record IP cameras to my computer or laptop or a dedicated NVR/DVR? What are the differences between recording video footage to a PC and recording to an NVR/DVR ?
To understand the differences between recording IP/CCTV cameras directly to an NVR/DVR and recording to Window PC/laptop/Mac, it's important to understand how NVR and computer work to record and store footage.
How to Record/Store Video Footage from IP cameras to an NVR
Network video recorders (NVR) are equipped with different processors, embedded operating systems, and built-in hard drive disks to receive data, convert data to a file, and store data on the hard drive.
To record videos from IP cameras to an NVR (PoE NVR or wireless NVR), users need to connect IP cameras to the IP camera recorder via Ethernet cables or wirelessly for video data transmission.
To record videos from IP security cameras to an NVR, users could configure, set up and schedule continuous recording, motion recording or manual recordings via NVR's embedded operating system on a monitor.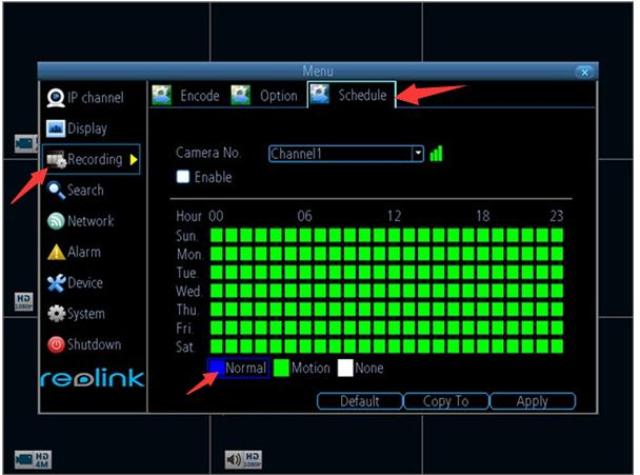 How to Record IP Security Cameras Video Footage to PC/Computer/Laptop
To record videos from IP security cameras directly to your computer, PC, laptop, tablets or Mac, users need to download video management software to the computer and configure to enable recording IP security cameras to PC hard drive disk.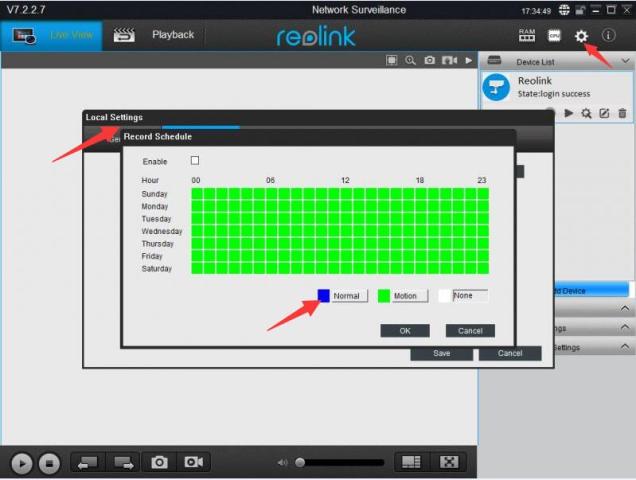 PC vs NVR for Security Camera Video Recording & Footage Storage
Both computer/PC/laptop and NVR work to record and store surveillance footage. There are still some differences between recording videos on a PC and NVR/DVR.
Setup & Configuration
When you record videos directly from IP cameras to the NVR, all you need to do is connect your IP cameras to your IP camera recorder via CAT 5/6 cable or wirelessly. You don't need a computer or download video surveillance software (VMS) to a computer.
If you want to view your NVR on a monitor or a TV, you do need to set up a wizard and set up an account to view live feeds on a monitor.
To record videos to a computer/PC/Mac/laptop, you do need to have a computer in place and download VMS and configure the software to record and store surveillance video or recorded footage on your computer or an extra hard drive, such as Reolink desktop Client, Blue Iris, and Milestone.
Compatibility
Many NVRs are typically proprietary and not expandable, which means many NVRs couldn't support recording IP security cameras of different brands or work nicely with security cameras made by different manufacturers.
Compatible NVRs are capable of recording and managing multiple security cameras of different brands, such as Hikvision NVR.
It also rings true with video management software running on your computer/PC. 3rd-party compatible video management software or surveillance software is able to work with a variety of IP security camera brands and record to your PC, such as Blue Iris, Milestone, Synology or QNAP.
Storage Capacity
NVRs storage capacity is expandable and it could records up to weeks' long footage depending on different models, for example, Reolink 2TB PoE NVR supports up to 8 cameras and could support weeks' long surveillance footage. (See how long 2TB HDD can record )
Many NVRs can also be expanded to 4TB via external HDD to save more IP camera video recordings.
One flip side of using an NVR as IP camera recorder to store IP camera recordings and footage is that the number of cameras it supports is limited, for example, 8-channel or 16-channel NVRs only support 8 or 16 cameras.
Computer storage capacity varies, so does the number of the camera (license). But recording continuously on the computer to computer hard drive will surely and quickly fill up your PC's hard drive space, which could slow down your computer and put a huge burden on your computer CPU gradually.
Remote Playback
Many NVRs supports live streaming and viewing recorded videos stored on its HDD remotely via video surveillance software, mobile app or web interface/web browsers (IE/FireFox/Google Chrome).
In such sense, users could play back or review old recordings/footage saved to your IP camera recorder remotely, for example, when you are in the office viewing footage of your home.
While if you record your IP cameras/CCTV cameras to your PC (Window computer)/Mac/laptop, the footage stored on your computer can't be accessed remotely via web browsers, smartphone apps or desktop software unless you are connecting your computer to a NAS or Cloud Server, FTP for instance.
Cost
NVRs, in general costs a bit more, at least $200, especially an NVR with 3TB HDD like Reolink NVR, while using a PC or spare computer for camera footage storage surely cut total cost of initial setup.
Of course, some software does require payment for licenses or require an upfront payment to access or add cameras.
Which One to Go, PC or NVR
As with most things in life, it depends on what you want:
If you want no more than 2 or 3 IP camera channels running 24/7, or happen to have a spare computer lying around, go with a PC-based video storage, especially if your budget is tight and you do want to record 24/7.

If you want 4 cameras or more, a dedicated NVR works better. Especially as it avoids having to buy a separate PoE switch. Do take regular backups though as most consumer NVRs will not support RAID disk mirroring.

A hybrid approach is to use a dedicated NVR and then configure it to save the camera streams to a computer or cloud server as well.