It's inevitable that you might grapple with IP camera storage problems if you are in the market for home security cameras. Say, how to record IP camera motion events? Where can I store the IP security camera footage?
Or Is there a security camera that saves the footage on a host with FTP? Can I use my computer to store surveillance videos or footage? Are there any IP cameras with free cloud storage? Is there any security camera with local storage?
Or you may say I am looking for a security camera that can store up to a few days of data or need security camera off-site recording to a cloud or server.
If you are dealing with these questions, then you have come to the right place.
Generally speaking, there are 6 IP camera storage options available for you to save the security camera footage: SD cards, cloud, NVRs/DVRs, FTP, NAS and personal computers.
How to save security camera footage comes down to what you are looking for.
That being said , it's still very important to weigh on differences and conveniences of each security camera recorder to narrow down growing pool of models available and find the best match.
Option 1. IP Camera SD Card Storage
People will be opting for IP camera SD card storage when they are just looking for security cameras that save motion-triggered footage or don't want to subscribe to cloud service. For example, many users on Reddit said
"I want to store IP camera footage locally instead of uploading to a cloud or getting a DVR/NVR." "I intend to keep and save security camera footage but don't want to subscribe to a cloud service for storage. "
Or people who are looking for CCTV security cameras that will be used in a location where internet access is limited but still want to store motion-based footage. For example, one Reddit user explained that
"I have a rural property and only have power at the house and barn. Best option would be a motion activated cam outside that I could attach to a tree. Wifi at my house is only available very close to the house and we are on satellite internet, so no real broadband for cloud solutions."
The obvious benefit of IP camera SD card storage is that it's relatively safe and inaccessible by others. And the IP cameras with SD card local storage is extraordinarily popular with homeowners for surveillance on the front door, backyard or any place that doesn't require constant 24/7 recording.
Wonder how to access the files in SD cards on IP cameras directly? Quite easy, indeed.
Taking Reolink Argus 3 Pro, a battery IP camera with SD card storage, for example, you can simply launch Reolink App/Client on your phone or computer, and click "Playback" button to enter the playback page, where you can choose your camera and date to search for recorded videos.
Below is a video sample shared by a user of Reolink Argus 3 Pro.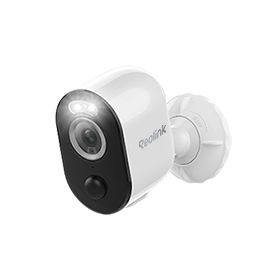 Reolink Argus 3 Pro
2K 100% Wire-Free Spotlight Camera
2K 4MP Super HD, Battery/Solar Powered, Person/Vehicle Detection, 5/2.4 GHz Dual-Band WiFi, Color Night Vision, Two-Way Audio.
Option 2. IP Camera Storage to NVRs/DVRs
Standalone NVRs and DVRs, as offsite IP camera storage solutions, are increasingly popular and widely used among home security system, small businesses, workshops, etc.
If you are looking for a security system that can record video constantly and be able to save weeks of security camera footage, standalone NVRs/DVRs with a built-in hard drive are what you need. For example, users on Reddit expressed their needs, saying
"No need for motion activation but constant recording. And must have ability to review footage without needing to pause or stop recording" "I need 30-day non-stop recording and want to record and save more than 3 cameras' footages to a hard drive"
NVRs/DVRs are not just for security camera storage, they are also embedded with the operating system to multi-task including managing multiple cameras simultaneously. Some NVRs can even support up to 8 IP cameras, such as Reolink NVR.
Reolink RLN8-410
8-Channel PoE Security NVR
2TB Built-in HDD, Work with All Reolink 5MP/4MP Cameras for 24/7 Video Recording, Monitoring, and Management; Plug and Play.
NVRs can also be accessed remotely from a Smartphone, tablet or personal computer.
One piece of advice after buying NVRs/DVRs as your IP camera storage solution would be keeping them safe from burglars or thieves as well as backing them up regularly to FTP server if needed.
Option 3. IP Camera FTP Storage
FTP server is a great IP camera storage option for those who have a reservation for cloud storage but don't want local network drive or built-in memory card. For example, many homeowners expressed their thoughts on Reddit, saying
"I don't want to go down the road of paying for monthly memberships to an IP camera cloud storage option for recording. I am looking for FTP or some other generic protocol method that is NOT a subscription based 'cloud' solution."
Or
"I would like to save the security camera footage on a host with FTP instead of storing the footage on a local network drive that could just be taken. or I have a FTP server and want to manage the footage or videos on FTP server, configuring security cameras to upload event-based recordings or snapshot or recorded images and videos to a FTP server."
FTP server is, without any doubt, a good IP camera storage solution. Many security cameras, like the ones sold by Reolink, do support IP camera FTP storage, for both motion-based footage and constant video recordings.

Update: Here is a detailed guide on how to upload video footage to an FTP server in a flash. Don't forget to check it out!
Option 4. IP Camera Cloud Storage
IP security camera cloud storage is gaining popularity among users who are looking for an alternative to NVR/DVR, SD card, and NAS, as it is relatively convenient and safer. You can also view the IP camera online video storage from anywhere on your mobile devices.
Note that an Internet connection is required for the IP camera online cloud storage. Now most IP camera cloud storage is FREE for the basic plans and you'll need to pay a varied monthly subscription fee for long-term contracts.
There are also growing numbers of video surveillance cameras and IP cameras with cloud storage available on the market, including Reolink, who recently launched free cloud beta testing for its security cameras.
Option 5. IP Camera PC Storage
Of course, you can always turn your personal computer into an IP camera storage unit by configuring storage path to your computer; however, massive data storage could slow your computer down and eat up storage space rapidly.
If you are looking for recording motion-triggered videos from IP cameras, your personal computer could be configured to store them and you are able to play back these recorded videos on your computer.
And you can transfer those recordings from your computer to hard drive, pen drive, USB and etc accordingly.
Option 6. IP Camera NAS Storage
NAS storage for IP camera recordings also comes as a handy option if you want to record security cameras from different brands.
Basically all 3rd party-compatible IP cameras can record to NAS, such as the traditional wireless security cameras and the PoE IP cameras.
Since IP camera NAS storage usually only include 2-3 IP channel license, it is more recommended that you choose DVRs/NVRs for IP camera storage if you need more than 3 channels.
If you want to learn about how to record IP cameras to NAS, you may refer to this step-by-step guide on setting up Reolink IP cameras NAS recording.
The Tradeoff
There's no right answer here about which IP camera storage solutions to choose. It's really a matter of preference and there are plenty of models out there to suit either taste.
Understanding each security camera storage option will help you narrow down the growing pool of models available today and it will help you understand the features that matter to you most.