Auto-tracking security cameras are designed to automatically detect and track moving targets. These cameras can identify moving targets using image recognition and some may even recognize people, vehicles, and faces.
Auto-tracking security cameras are beneficial for security purposes as they provide a quick and effective way to monitor moving targets. By tracking the movement of potential intruders, these cameras can help to deter burglaries and protect homes.
Benefits of using an auto-tracking security camera system
1. Fewer cameras are needed to cover a larger area
Auto-tracking cameras have endless pan and more zoom capability than regular stationary cameras. These features allow a single auto-tracking camera to replace multiple fixed cameras easily.
The endless pan allows the auto-tracking camera to cover much wider areas. The powerful optical zoom provides clearer picture quality of faraway objects, making it less likely to miss details.
2. It saves time
Rather than trying to piece footage from multiple fixed cameras to understand an event, auto-tracking cameras provide one seamless, high-quality feed. This way, you can better understand what's happening without wasting time on irrelevant footage.
3. It can be programmed
Auto-tracking cameras can be personalized to track and record certain types of events and areas you are interested in.
To give you an idea, you can set the camera to ignore certain movements like leaves or debris blowing in the wind and focus on specific areas, such as driveways or gates. You can even specify the object size to be recorded or ignored.
4. They provide a higher level of security
Compared to fixed cameras that only record motion in their field of view, auto-tracking cameras also monitor intruders' movement over distances to provide longer recordings and more information on them.
5. Auto-tracking systems do not need to be constantly monitored
The cameras follow a subject around, and once it is out of range, it returns to its default position. Hence, you don't have to manually pan/tilt the camera.
How the traditional PTZ auto-tracking camera works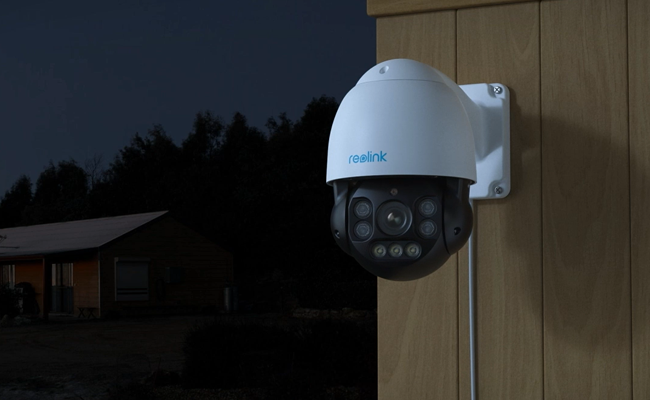 PTZ cameras rely on motion tracking technology which allows them to trail their subjects. Some have autofocus and auto-tracking features that allow them to focus on and follow a moving object automatically. PTZ cameras usually have motors that enable movement and may or may not require a controller to work.
Here's how it works; when the camera detects a moving object, the motorized lens will begin to pan and tilt in order to keep the object in frame. The camera will also zoom in or out as needed to maintain a clear view. The camera will continue to track its subject until it is out of range.
The entire process can be automatic, meaning that you don't have to do anything once motion tracking is enabled. On the other hand, the camera movement can be controlled by a nearby operator.
How the AI zoom tracking security camera works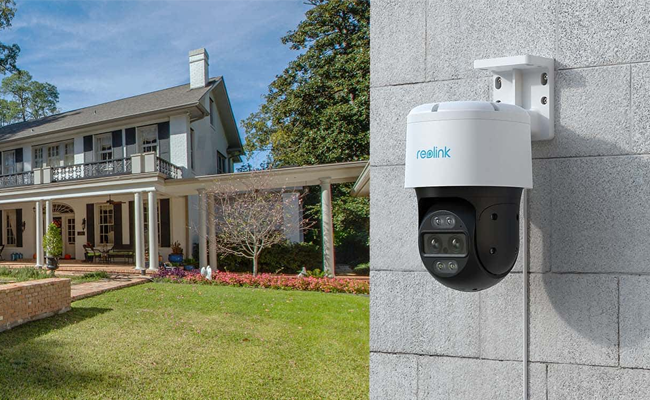 While the traditional PTZ cameras come with a single lens for optical zoom, the hybrid auto-tracking ones have two lenses and digital zoom.These days dual-lens cameras are becoming more popular as they can satisfy our needs for both wide-angle images and clear details with it's AI zoom tracking feature.
The way how a dual-lens security tracks an object is more complex than traditional PTZ cameras. Here's how a AI zoom & tracking security camera works, taking Reolink TrackMix as an example:
Such a dual-lens security camera comes with two different lenses: one wide-angle lens used for big pictures and another telephoto lens with digital zoom used for close-up images.
The camera can pan and tilt to always keep the moving object in the range of its wide-angle lens. At the same time, its telephoto lens will automatically zoom in and out and show enlarged images of the object. The benefit of having two lenses is that you can enjoy both the panoramic and zoomed views.
Because of the different purposes of these two lenses, the tracking modes of the camera can be divided into three kinds:
1. Digital Tracking:
If a moving target walks into the range of the wide-angle lens, the telephoto lens will automatically track the target to show detailed images. If the target is out of the range of the wide-angle lens, the camera doesn't pan or tilt and there is no more tracking.
2. Digital Tracking First:
If a moving target walks into the range of the wide-angle lens, the telephoto lens automatically tracks the target. If the target is about to reach the edge of the wide-angle lens, the camera will pan and tilt to keep the target in the frame of the wide-angle lens.
3. PT Tracking First:
If a moving target walks into the range of the wide-angle lens, the telephoto lens automatically tracks the target. If the target is about to reach the edge of the telephoto lens, the camera will pan and tilt to keep the target in frame.
Hybrid security cameras like Reolink TrackMix are a perfect way to stay on top of things, whether you're monitoring a parking lot or a busy street. They track targets automatically and will never let you miss the image of the target.
Common places to use auto-tracking cameras
Churches: Big church buildings can benefit from using auto-tracking cameras. By having a camera trained on the altar, for example, they can ensure that everyone in the congregation has a clear view of the service. Additionally, auto-tracking cameras can provide a live feed of the service to those unable to attend in person.

Classrooms: Teachers in school classrooms can use auto-tracking cameras to keep an eye on students and ensure they are all paying attention in class. Auto-tracking cameras can be used to record lectures or class presentations for later review.

Yards: Yards and personal properties are the most common places you'd find these tracking cameras. Their features make them effective in spotting trespassers and other suspicious individuals in the area and improve any property's security/surveillance system.
Factors to consider when purchasing an auto-tracking security camera system
When it comes to home security, there are a lot of different factors to consider. One important decision is whether to go with a traditional security camera system or an auto-tracking system. Both have advantages and disadvantages, so it's important to know what you're looking for before making a purchase. Here are some of the top features to look for in an auto-tracking security camera system:
Motion tracking: One of the main advantages of an auto-tracking system is that it will follow any movement within its field of view. This ensures that you won't miss anything important captured by the camera

Ease of use: The best auto-tracking systems are user-friendly and easy to set up. They should also be compatible with various devices so you can access your footage from anywhere.

Battery life: A good auto-tracking security camera system should have a long battery life, so you don't have to worry about recharging it often.

Storage: Make sure to choose a system with enough storage capacity to save all the footage you need. Some systems come with cloud storage, which can be helpful if you want to be able to access your footage from anywhere.
AI technology in auto-tracking security cameras
Integrating artificial intelligence into auto-tracking cameras has greatly improved these cameras' capabilities. AI-based auto-tracking cameras can potentially detect and track suspicious individuals or vehicles within their field of view. Besides, these cameras require no operators.
These AI-enabled cameras can not only detect and track moving objects, but they are also capable of identifying and classifying them. This allows the camera to distinguish between different types of objects and object sizes, making them less likely to be distracted by unimportant events.
As a result, AI-based security cameras can provide a more comprehensive view of potential threats, allowing the cameras to focus on potential threats and ignore background noise.
Best auto-tracking security camera recommendations
If you're looking for an auto-tracking security camera, below are a few cameras we highly recommend.
Reolink TrackMix
Reolink's upcoming TrackMix is also another great option. What sets this camera apart from the RLC-823A is its dual-lens which gives a mixed view of its subject – one zoomed in and another overall view, both in 4k.
If you are interested in the TrackMix, you might have to wait. It isn't scheduled to hit the markets until September this year.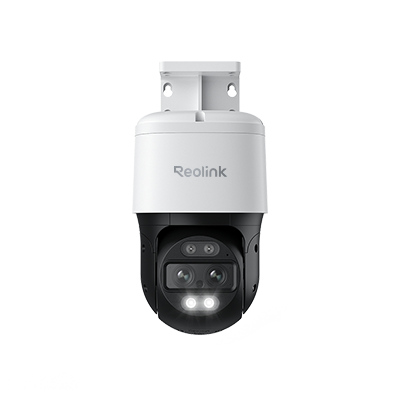 Reolink TrackMix PoE
4K Dual-Lens PTZ Camera with Dual Tracking
4K 8MP Ultra HD, Wide & Telephoto Lenses, Pan & Tilt, Auto-Tracking, Person/Vehicle Detection, Power over Ethernet, Two-Way Audio.
It's also easy to set up these auto-tracking cameras with both your phone and computer. Follow the steps below and you can quickly customize their tracking modes.
Reolink RLC-823A
The Reolink RLC-823A is a great choice for its advanced motion tracking capabilities. This camera automatically tracks moving objects and has a 5x zoom function. Moreover, its intelligent detection system allows it to differentiate between people/vehicle and random objects properly.
Whenever the RLC-823A detects suspicious individuals, it sets off an alarm system consisting of a siren and a flashing spotlight.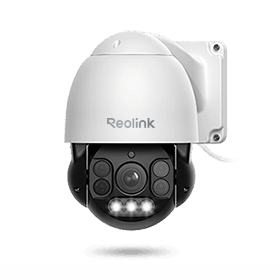 Reolink RLC-823A
Smart PTZ PoE Camera with Spotlights
4K 8MP Ultra HD, Person/Vehicle Detection, 5X Optical Zoom, Auto Tracking, Manual Pan & Tilt, Two-Way Audio, 190ft Night Vision, Live View.
PTC500S PTZ Optics
Experts tout this product as one of the best to use in the classroom. The PTC500S PTZ Optics is truly an impressive camera, made even more so by its three AI-assisted tracking modes, ensuring the subject in the area is always kept in view.
Like the TrackMix, it has a dual-lens design and a wide pan and tilt range. However, its advanced features make it one of the pricier ones on the market at more than $2000.
While we see great potential for dual camera technology in auto tracking cameras, this product is not the best value for money, considering the price.
SV3C SD10W-5MP Super-HD Auto Track PTZ Security Camera
This is another great pick of auto-tracking cameras. Like the RLC-823A, this camera's strengths are its intelligence tracking feature and crisp, clear display. Zooming in doesn't seem to have any display on the resolution quality.
The SV3C SD10W also has floodlights that alert owners when suspicious activity occurs.
We do not see POE (Power over Ethernet, which means you can power and transfer data simultaneously using only a network cable) as an advanced camera feature on this camera.
However, it has only 5MP rather than 4K resolution, which is disappointing.
Considering the product's auto-tracking function and other parameters, it only rates in the medium range.
Tips on installing and using an auto-tracking security camera properly
Here are some tips to help you get the most out of your auto-tracking security camera system:
Place the camera in the best vantage possible to get an unobstructed coverage of its surroundings.

Mount the camera properly and high enough, so it doesn't get knocked over or damaged

Configure the tracking settings as needed. You want the cameras to be able to track moving objects but not so sensitive that they're easily distracted by irrelevant events.

Test the system regularly. Keep an eye on the footage to ensure everything is working as it should be. If you notice any problems, make sure to address them right away.
FAQs
What is an auto-tracking camera?
An auto-tracking camera is a camera that can automatically adjust its position and focus to keep a moving object in frame. This type of camera is often used in security and surveillance applications, as it can help to track and monitor potential threats.
In addition, these cameras have automatic zoom ability to provide clearer footage of whatever it is tracking.
Can security cameras track movement?
Not all cameras can track moving objects. Those that can are called auto-tracking cameras. Such cameras are enabled by motion detection technology and motorised parts that allow the camera to track an object as it moves.
It is quite difficult for these cameras to track stationary objects. However, there are more advanced cameras that use facial recognition or other methods to sidestep this problem. But for the most part, if you're looking for a camera to do some object tracking, you'll need to make sure that the camera you choose has motion sensors.
How much do auto-tracking cameras cost?
The prices of these cameras greatly depend on their features, brand, extra accessories, etc.
You can get a basic auto-tracking camera for around $50. To get ones with facial recognition, you might need to budget in the range of $400 for those. For the more advanced products, you may have to shell out a couple of thousand for one.
What is intelligent tracking on a camera?
Intelligence tracking in cameras is a step further from the regular auto-tracking cameras. These cameras use AI algorithms to track, identify, and detect people and vehicles.
Security system cameras with intelligence tracking also alert their owners' devices on certain cues. These could be when someone enters the house, or a suspicious stranger has been spotted in the vicinity.
Conclusion
Everyone wants to keep their home/business as safe as possible. Although security cameras with regular motion sensors can be useful, it is worth upgrading to auto-tracking cameras if you can afford it.
Plus, you really don't need to break the bank for a good auto-tracking camera. Whatever your budget, we are sure you will find something right for your needs.