When you set up a security camera, you need to decide where you want the CCTV footage to be stored. The most common options are an SD card, DVR/NVR, FTP server or Cloud. Once you have chosen where to store the footage, you can easily watch it back on a mobile, computer or TV.
To view the footage, simply open the app or program where it is stored and choose the video you want to watch. You can then fast forward and rewind to see the details you are interested in. Watching CCTV footage is a great way to improve your home security and keep an eye on your property when you are away.
When explain how to view security camera footage on mobile phones, PC & TV, here is the information:
| | |
| --- | --- |
| Recommended Player | App offered by the seller |
| Devices | Mobile phones/PCs/TV/monitor |
| Cameras | Reolink security cameras/systems |
| Reasons & Fixes | If no recorded footage |
Which App Is Best for Watching CCTV Footage on iPhone/Android Phones
To start off, an intuitive and user-friendly security camera viewer is what you'll need to view CCTV footage online.
Though there are now multiple 3-party paid apps for you to see CCTV footage online, the security camera player offered by the sellers would be the best to watch CCTV footage with no fees charged and more advanced features.
So before you set off to view the CCTV footage on mobile phones, PC or laptop, download the free and customized security camera software from the seller's official website to get prepared.
When using the official application that comes with the security camera, you can delete CCTV footage very easily, whether you are using a computer client or a mobile application for Android or iOS.

Ready. Set. Save!
Big selection, big SAVING. Get your hands on Reolink security cameras & systems before the best prices slip away!
How to View Recorded CCTV Footage on Mobile Phones & PCs
Once you have downloaded the camera app and Client, the procedure to view recorded CCTV footage on mobile Phones, PCs or laptops is easy.
How to Watch CCTV Camera Footage Stored in SD Cards & DVRs/NVRs
Step 1: Launch the security camera software on your mobile, PC or laptop and log into your camera device. Click the "Playback" button to watch CCTV footage online. (Taking the battery camera Reolink Argus 3 Pro as the example.)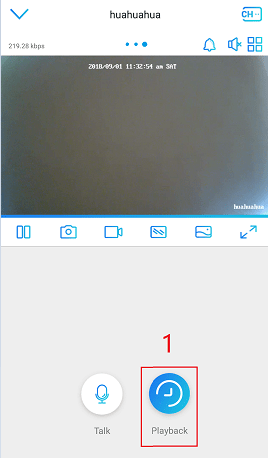 For the NVR security camera systems, you'll need to select a specific camera channel to view recorded CCTV footage on mobile phone and PC by clicking the camera icon.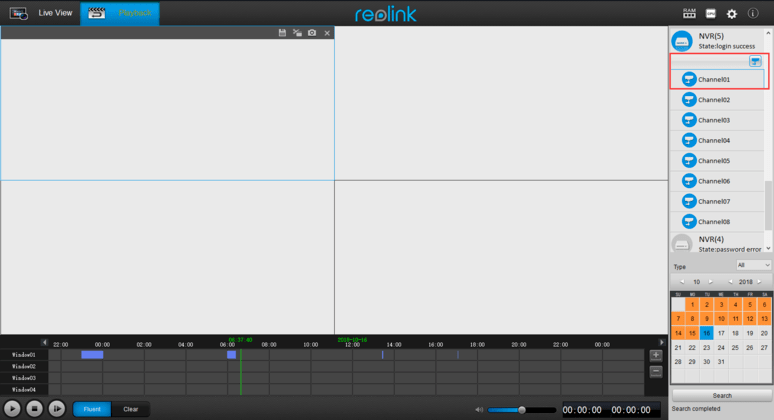 Step 2: Choose the specific date on which you want to view the record CCTV footage on mobile phones, PCs or laptops.
Remember to choose "All" under the "Type" menu on Reolink Client, so that you won't miss any important recorded files.
Note that the date with camera recordings will be black on Reolink App and orange on Reolink Client, so that you can easily locate the CCTV footage.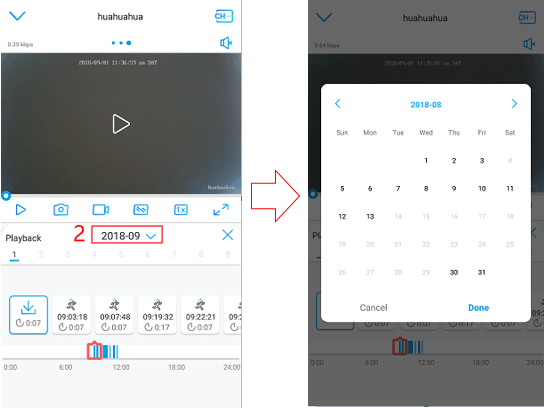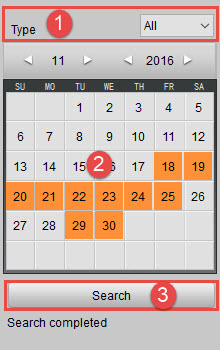 Step 3: After you choose a specific date, the recorded CCTV footage on that day will display as shown below.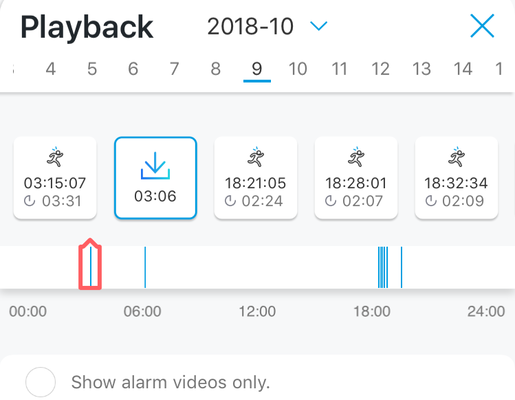 Step 4: Click a specific time zone to watch the CCTV security camera footage on phones and computers during that period.
Step 5: You can also drag the icon to control the playing progress and change the resolution (fluent/clear) based on your needs.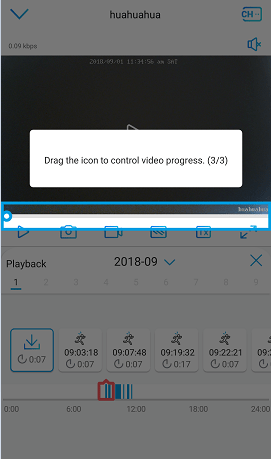 How to View Recorded CCTV Camera Footage Saved in an FTP Server and Cloud
After you set up the security camera recordings to the Cloud or an FTP server, it would be an effortless task for you to view the recorded CCTV footage on the FTP or Cloud.
Step 1: Log into your FTP server or Cloud account at the Cloud service website.
Step 2: Choose the device and the date on which you want to watch the CCTV footage.
Step 3: Click a specific video clip to see the CCTV security camera footage.
For the Reolink Cloud storage, you can also log in your Cloud account in Reolink App (iOS & Android) to view CCTV footage.
How to View Recorded CCTV Footage on a TV & Monitor
Before viewing CCTV footage on a TV or monitor, make sure you connect your security cameras to a TV in the right way.
Here we use Reolink PoE security camera systems as the instance, you may follow the step-by-step instructions to check CCTV camera footage on your TV or monitor.
Step 1: Double click the camera device you want to view into full screen.
Step 2: Click the playback button to enter the menu.
Step 3: Select the "Channel", "Video Type" and "Start/End Time" you want to playback.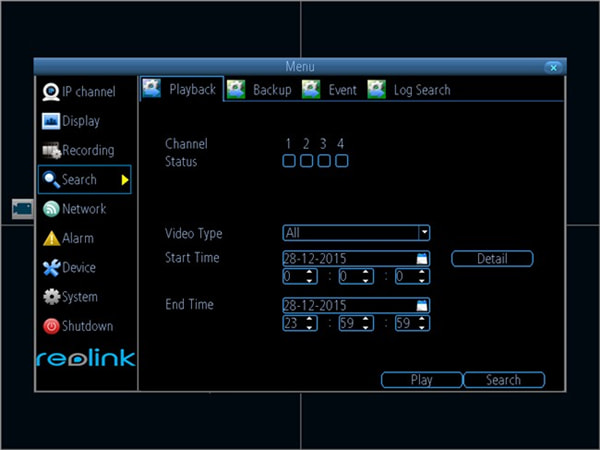 Step 4: Click the "Play" button and then you can watch the CCTV footage on your TV & monitor.
This video below shows you the detailed steps about how to install and set up the NVR security system Reolink RLK8-800B4.
Reolink RLK8-800B4
4K 8-Channel PoE Security System
4 pcs 4K Ultra HD Security Cameras; 2TB HDD 8-Channel NVR for 24/7 Recording; Person/Vehicle Detection; Plug & Play; 2 Network Solutions.
No Recorded CCTV Footage to View? Here Are the Possible Reasons & Fixes
"Try to view recorded CCTV footage, and I just get the message "no files". Tried recording manually but no luck either."
There could be multiple reasons why you failed to watch CCTV security camera footage on mobile, PC and laptops. Below we've collected some & corresponding solutions for your reference:
List of Reasons Responsible for No Recorded CCTV Security Camera Footage to View
You entered an incorrect time frame.
You selected the wrong camera for the time period you want to view recorded CCTV footage.
There had actually been no motion detection videos in that time period.
Your phone or computer failed to connect the network or the cloud server.
The SD card or the HDD is not detected or recognized by the security camera.
The SD card or the HDD is damaged.
…
Practical Tips to Solve the CCTV Footage Playback Error
Make sure your mobile phone, computer or laptop connect the network well when you view the recorded CCTV footage online.
Examine you have selected the right security camera, time period and video types.
Check if you are able to detect the SD card or the HDD in the menu. If it is detected but showing 0 capacity or 0 free space, try to format the SD card or HDD.
Try a new SD card or HDD to see if you can see the CCTV footage online.
Make sure you've downloaded the latest version of security camera software to watch the CCTV camera footage.
Editor's Tip: Read this expert guide to learn more fixes to solve the CCTV security camera video playback error.
FAQs Related to Viewing Record CCTV Security Camera Footage
When visiting the CCTV forums online, we've met some hot questions about viewing recorded CCTV footage asked by many users.
In case you might have the same or similar puzzles, here we'd like to shed light on the FAQs and you're welcomed to add your problems or questions down in the comment.
#1. Can I Request CCTV Footage of Someone Else?
This is one of the hottest questions discussed in forums, and some people also ask, "can I request CCTV footage from a supermarket or from a neighbor?"
In a nutshell, you cannot request CCTV camera footage of someone else, as it would infringe on others' rights protected under the Data Protection Act and the Human Rights Act.
But if needed, you have the right to request CCTV footage of yourself from someone else, like a supermarket, a shop or a neighbor.
You can write a request CCTV footage letter to the owner of CCTV security cameras with some helpful information to easily identify you, such as the time period you appear on the camera.
Well, though technically you can request to view CCTV footage of yourself, it would be much more complicated in the practice for you to get the videos. (Read the news to gain more detailed information.)
#2. Who Can View CCTV Footage?
This question is quite similar to and also relevant to the one above.
As you can expect, the CCTV security camera owners can legally view the CCTV footage without any doubt. Also, they can share the camera access to their friends or family number whom they trust.
But NOT in the following cases:
other people can be seen in the camera footage.
they're not able to edit out people to protect their identity.
a criminal crime is captured in the video and sharing the footage would hinder the investigation.
On top of that, as just mentioned above, you can also request to view CCTV security camera footage if you are captured in the videos.
Another scenario is that, the police can demand viewing CCTV footage when a criminal crime is involved.
#3. How Long Is CCTV Footage Kept?
For the small business security cameras and systems, the CCTV footage is normally kept for 30 or 60 days.
When it comes to the home security cameras, the retention has more to do the CCTV camera's storage space, the recording mode and also the owner's preference.
In the event that the SD card or HDD storage is full, the older files will be automatically overwritten by the newer ones.
If your CCTV footage are erased without your conscious, click here to learn the quick methods to recover deleted CCTV videos.