Looking for a dog security camera or dog security system to monitor your dogs while you are at work? Hoping to find an interactive pet monitor camera or dog treat camera with treat dispenser to watch over your dog? Or need recommendation on a home security camera to keep an eye on your dog sitter?
Read on to learn how to choose a best dog security camera to monitor your dogs and find out other dog camera alternatives like dog webcam, pet cameras with treat dispenser.
Check out our new article on how to choose the right pet camera for your dog, cat, or other pet.
Access Your Monitoring Needs
There are many reasons why dog owners want to keep an eye on their puppies when they are away. Some hope to check out their dogs during the day and want to know what their dogs are doing alone at home. Others want to keep an eye on their new pups or newly-adopted puppy while at work.
Some want to make sure their dogs are not making things messy like chewing things or damaging things while they are at work. Others are just worried about their dog or worried their dogs go missing when being outside the house.
Whatever possible reasons drive dog owners to get a dog security camera or system, it's really important to consider these helpful features.
Dog or Puppy Security Camera & Monitor - What Features to Look For
Dog cameras, such as dog security camera, dog video cameras, dog collar cameras, dog webcam, wifi dog camera, interactive pet monitor are helpful to get rid of unnecessary concerns or worries about your dogs or dog sitter when you are not around.
We list out some nice features that dog owners could look into when choosing dog security cameras to monitor dogs or other pets indoor or outdoor.
Audio or Two-Way Audio
Remote Viewing on Phone
Decent Night Vision
Motion Detection
Pan, Zoom, Tilt Feature
Depending on your specific needs, an indoor or outdoor 2-way pet or dog security camera packed with HD camera, decent night vision and pan-tilt function allows you not only to keep an eye on your puppy, cat or other pets but also help you to verbally reassure your lonely pet at the same time via your Smartphone.
Best Dog Security Cameras & Systems to Watch Your Dog While at Work
Reolink Go – An Awesome Dog Camera
If you have your dogs or other pets in locations that your home WiFi can't cover or there is no power outlet nearby, then you could take a look at the Reolink Go, a wire-free battery-powered security camera that roams free even in places with no WiFi and power.
Thanks to its 4G connectivity and rechargeable battery, this cellular security camera could be in places that WiFi network is not in the range. It's a whole lot more versatile than many trails, boasting 2-way audio, starlight night vision, live streaming via apps, and motion alerts.
For pet owners who are searching for a hassle-free solution to keep an eye on your pets while being away, Reolink Go could just meet your needs.
Reolink Go
100% Wire-Free 3G/4G LTE Mobile Camera
No WiFi & Power Needed; Rechargeable Battery or Solar Powered; 1080p Full HD; Starlight Night Vision; 2-Way Audio; Live View Anytime Anywhere.
If your dog or cat is not going to daycare but stay at home while you are away for work, having an indoor interactive dog video camera like Reolink E1 Zoom comes in extremely handy.
Key features:
1920p HD quality with 3x optical zoom
Night vision up to 40 feet
Talk & listen capability
Remote view on iOS & Android phone and computers
Pan-tilt function
Motion alerts to app & live streaming
Dual-band WiFi
Reolink E1 Zoom is a great & wireless home pet camera for those who are looking for an easy-to-set-up dog monitor camera that they could remotely view easily on their phone, talk to the dog while at work, pan or tilt on the app to watch over their puppy at home.
It connects to your home WiFi network and all you need is a power outlet to get it up and running. You could either leave it on the table, bookshelf, window and any flat surface or screw it into the wall.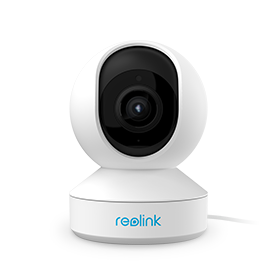 Reolink E1 Zoom
PTZ Wireless Smart Home Camera
Smart, Powerful and Affordable All-Round Home Protection. 355° Pan and 50° Tilt; 5MP Super HD, 3X Optical Zoom, Two-Way Audio, 2.4/5 GHz WiFi, with Google Assistant Integration.
Reolink Argus 2 - The Best Outdoor Dog Security Camera
For those who are looking for outdoor pet cameras to watch or track dogs while you are away at work, Reolink Argus 2 will make a perfect cut.
Key features:
1080p HD video
Talk & listen 2-way audio
33 feet starlight night vision
Mobile viewing (iOS & Android)
Motion alerts to app & live streaming
Outdoor use (support solar charging)
It's weatherproof and suitable for outdoor use. You could keep an eye on your dog, cat, bird, or other animals and stream live video feeds right on your Smartphone at just $129.99. Not just for monitoring your dogs, it also makes a great front door camera to keep an eye on your package, mailbox or parked car.
Reolink Argus 2
100% Wire-Free Starlight Camera
Rechargeable Battery & Solar Powered; Outdoor/Indoor Protection; 1080 Full HD; Starlight Night Vision; 2-Way Audio; Live View Anytime Anywhere.
RLC-410: Best Home CCTV/IP Security Cameras to Watch Dogs & Puppy
To watch/listen to your dogs at home while you are at work, home security cameras like Reolink RLC-410 is a great outdoor dog monitor camera.
Key features:
4MP/5MP HD quality
Night vision
Audio with mic
Remote view on iOS & Android phone, Mac, and Windows
Motion alerts to app & live streaming
IP66 waterproof
You could always check in on an app on your phone/PC/laptop, take pics, record, schedule and set motion zone. This pet video camera with audio will do what you need to monitor your dogs, cat, horse, shed, farm, birds, or other pets that you want to watch over.
Reolink RLC-410
PoE Bullet IP Security Camera with Audio
5MP/4MP Super HD; Outdoor/Indoor Protection; 100ft Infrared Night Vision; Audio Recording; Mobile Remote Access & Control.
Dog Monitoring System & Home Surveillance Systems - RLK8-410B4
Home security cameras or CCTV systems like PoE camera system, WiFi security camera system will not only help watch your dogs but also watch your house in and out, for example, RLK-410B4, one of most popular 4 camera system Reolink PoE camera system.
If there is no network or Internet access in where you want to monitor, the CCTV camera system will do the trick as it connects on its own frequency and won't require the network to be up and running.
Learn more about wireless security cameras work without internet access.
Alternatives to Dog Security Camera
Cameras like pet cam with video and audio, pet chat devices with pet phone app, dog Skype camera, pet sitter camera, nanny cam, petcam for the dog, home puppy cam could also keep an eye on your dog, such as Furbo, Petzi.
Alternatively, dog webcam could also be used to keep an eye on your puppy and cats. (Learn more about how to turn your iPhone & Android phone into a dog camera)
Or you could use GoPro camera to keep track of the dogs by attaching to their neck/back.
Conclusion
Dogs, cats or other pets could do something unexpected, hilarious, funny or crazy things when their owners are not around.
Pet cameras help many pet owners watch over their furry friends during the day and comfort them while you are away from home. If you are using pet cameras with 2-way audio or talking ability, make sure to train your pets to get used to it.