It may be difficult to get your car back if it is stolen, but there are ways to reduce your losses. Here are the top 10 ways to help you find your stolen car, as well as answers to the hottest "Car Is Stolen" questions. Feel free to add your own suggestions below, leave a comment if you have other ideas.
Table of Contents:
1. Confirm If it's Indeed Stolen
2 .Top 10 Ways to Find It
3. FAQs
The following table provides critical information about what you should do when your car is stolen.
| | |
| --- | --- |
| Effective Measures | Top 10 ways |
| Surveillance | Security cameras |
| Track Devices | GPS  LoJack or OnStar |
| First Step | Contact the police |
Check If Your Car Is Stolen Before You Head to Find Your Stolen Car
"My car was stolen, now what?"
Well, the first thing is to check if your lost car is indeed stolen before you have ants in your pants. Follow the below tips to do a stolen car check.
Check the parking lot carefully. Public parking lots would be one of best places to start looking for a stolen vehicle. Maybe you just forget the exact place of your car. You can download a "Find Stolen Car" app to your iPhone or Android smartphone to find your car, if you don't remember where you've parked your car. You can check more apps.
Check with towing companies before reporting your car is stolen.
Track your car by VIN number. The VIN check contains all history report, including accidents and service records. You can check if a car is stolen by license plate and VIN.
If your car is indeed stolen, don't waste any time! Skip to the next part right away.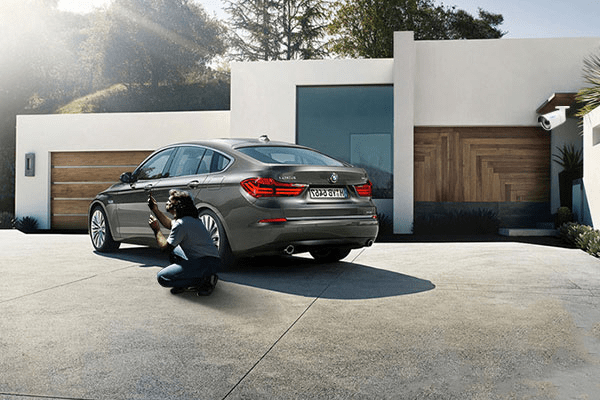 Top 10 Effective Ways You Can Do to Find Your Stolen Car
We've included every possible way here to help you track your stolen car with step-by-step guides. And the infographic below also covers the alarming car theft statistics in 2020 as well as the quick tips about how to find your stolen vehicles.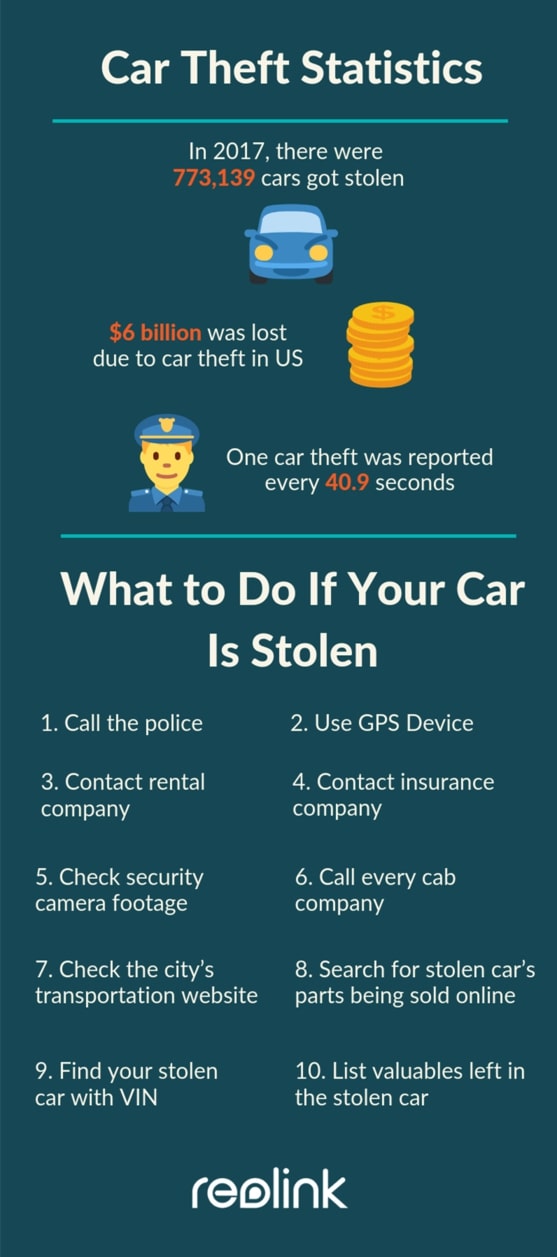 If you have other effective ways to find a lost or missing car, share with us in the comment below, we will include your ideas in this post.
Way 1. File a "Car Stolen" Report to the Police
If your car is stolen, especially with your child or baby, dog inside, call the police at once.
When you file a police report, make sure you can provide enough information about your missing car, typically including:
The license plate (the police may help you find your stolen car with it)
The VIN
Your identification
Your car's brand, model & color
The location where you last saw your car
The tracking device (if you have), such as LoJack or OnStar
Keep a copy of the file since you'll need it for the insurance claim.
The more details you provide, the higher chances that the police can help you retrieve your missing car.
Note: If your car is stolen and impounded by the police (the police may impound your stolen car when checking for the traffic violations), you should take your ID card, driving license and other document that can prove the car belongs to you. You can get your stolen car back fast.
Way 2. Contact Your Insurance Company When Your Car Is Stolen
Also contact your insurance company when your car gets stolen. If your car is stolen while running comprehensive insurance, you can get the "car stolen" insurance payout from the insurance company.
If you recover your stolen car after getting the insurance claim, call your insurance company. Please note that the recovered car now belongs to the insurance company. If you want, you can buy the recovered car back from the company staff.
You can check the hottest question to the "Car Stolen" insurance in Part 3.
Way 3. Inform Your Leasing Company If Your Rented Car Is Stolen
If your stolen car is rented, contact the leasing company after you find the vehicle is missing. Inform them that you've already reported the stolen car to the police and ask for the car's identification numbers and tag.
Also, remember to request an incident form from the rental company and review the contract terms about the liability insurance you have chosen. If you have bought full coverage from the car leasing company, you will be covered if the car is stolen, supposing that you were complying with the contract at the time of the theft.
Way 4. Use GPS Device to Locate Your Stolen Car
If you've installed a GPS tracking system, like OnStar, LoJack, etc. to your vehicle, the company of the tracker can help you determine the location of your stolen car, and even shut it down.
No matter where your car got stolen, such as the dealership, driveway, garage, valet parking, or a mechanic shop, you can trace your stolen vehicle with the GPS quickly.
Way 5. Use Security Camera Systems to Find Your Stolen Car
When your car is stolen, you should check the security camera footage at once. Security camera video recordings are one of the best ways to find your stolen car and vehicle.
1. Check the security camera footage of your garage & your home. By checking the video recordings, you can see the car thief's clear images, and his general escape route. With these evidences, the likelihood of finding your stolen car will significantly increase.
You can watch the video below to see how the Reolink RLC-410 security camera stops a car theft. (If you haven't installed a security camera for your car and home, it's time to add one.)
2. Check your community's security camera footage (if permitted). If your car is stolen in your community, such as the public driveway, security camera systems will record the trace of your stolen car.
A stolen Chevrolet Silverado car owner got his car back by checking a primary school's security camera systems.
Way 6. Call Every Cab Company When Your Car Is Stolen
Cab drivers can help trace your stolen cars, trucks and vehicles. Whatever the situation is, calling all the cab companies in the area where your stolen car is left running or parking is definitely a good option to find your stolen car.
Taxi drivers seriously outnumber police, thus increasing the chances of finding your missing car. Besides, you should give enough reward, such as $100, to the taxi driver who finds your stolen car.
The reward is an incentive to encourage more people to join your stolen vehicle search team, which increases the possibility of recovering your stolen car.
Way 7. Check the City's Transportation Website for Parking Violation When Your Car Was Stolen
You can track down your stolen car online via checking the parking violation. When your car was stolen, the car thief would park your car somewhere and then abandoned it.
The car was ticketed and put into the parking violation database, which is available online apparently.
You can follow the below steps to do a "stolen car" lookup online.
Step 1. Log into your city's transportation website.
Step 2. Use your license plate to check whether your vehicle is in the database.
Step 3. Check the area where the violation takes place.
Step 4. Contact the police. They will search for your missing car and then release it to you if they find it.
Way 8. Check for Your Stolen Car's Parts Being Sold Online When Your Car Has Been Stolen
You can find your stolen car online if the car thief sells your car on the Internet. If your car has been parted out, finding who is selling those parts could lead you to recover your wheeled baby.
You can use an automated checking system, such as Craigslist checker, to track down your stolen car parts stolen from your apartment complex or any areas.
If you can identify parts from your stolen car, make sure that you contact the police before arranging any meeting with the seller. Car thieves are dangerous guys. Accompanied by the police, you can get your stolen car back more safely and smoothly.
Way 9. Find Your Stolen Car with VIN (Vehicle Identification Number) If Your Car Is Stolen
When your car is stolen, you can locate and find your stolen vehicle with the VIN number.
A vehicle identification number (VIN) is a unique code used by vehicle industry to identify individual motor vehicles, towed vehicles, motorcycles, scooters, mopeds, etc. You can track a stolen car online with the vehicle identification number.
How to Find & Locate Your Stolen Car with VIN: Step-by-Step Guide
VIN not only helps you check if your car is stolen but also plays an important role on locating and finding your stolen car.
Step 1. Go to AutoCheck, and purchase a vehicle history report. The cost of the report will be between $30 and $40.
Step 2. Enter your vehicle identification number and credit card details on the vehicle history report search screen.
You will see a chronological history of the places where your car was registered, titled and serviced.
The last known registration or service should be the most recent location of your stolen vehicle. Thus you can narrow down the search range when your car is stolen, and get your car back fast.
Step 3. Contact the Police. They will help you trace down your stolen vehicle with the information you provide.
Way 10. Keep a Record of Your Belongings When Your Car Is Stolen
As noted above, if your car is stolen, the insurance company might compensate for your loss including your personal belongings left in the stolen vehicle based on your insurance policy.
So instead of immersing yourself in the sadness when you find your car is stolen, keep a record of your valuables in the stolen vehicle while your memory is fresh. Also, prepared the receipt of the items you're going to include in the insurance claim to recover your loss.
Besides the above effective ways to look for your stolen car, you can get detailed answers below to the hottest "Car Is Stolen" questions, including stolen car insurance, chances of finding stolen vehicles, etc.
"Car Is Stolen" Hottest Questions You May Ask
We make a list of "Car Is Stolen" questions so that you can get all the information you need about tracking and finding your stolen vehicles.
1. Are Stolen Cars Covered by Insurance?
If you have comprehensive insurance for your car, you can get compensation from the insurance company. You need to purchase both collision and comprehensive coverage so that you can get compensation if your car is stolen, vandalized or damaged.
2. How Long Does It Take for the Insurance Company to Pay out on Your Stolen Car?
If you've had the comprehensive insurance for your car, you should file a "car stolen" insurance claim at once. The insurance company will investigate the case before paying out for your loss.
Car insurance companies typically have a waiting period of 30 days, before they will pay a stolen car claim, as it gives time to see if the car would be recovered.
If your car is recovered but comes back damaged, the car insurance company will determine whether the car can be repaired or is a total loss. If your vehicle is considered as a total loss, you'll get the actual cash value of your car from the company.
If your stolen car reappears after your insurance settlement, your insurance company will retain the ownership of the vehicle. The vehicle would be sold for salvage or at an auction.
You can buy your stolen car back if the laws and the insurance company's guidelines allow.
3. What Are the Percentage of Stolen Cars Are Covered?
According to Progressive Insurance's report, the US average rate for car theft recovery is 46%, but the rate varies greatly among states. For example, the stolen car recovery rate in Washington was 71%, in Utah was 63%, but only 28% in Alabama.
All in all, the chance of finding a stolen car is quite high. So Keep optimistic if your car is stolen.
4. How Long Does It Take for Police to Find a Stolen Car?
It depends on the region where your car was stolen and whether you could offer additional useful clues like security camera footage for the police to find missing cars.
For example, a shirtless guy was caught on Reolink security camera RLC-410 punching the car window at the middle of the night, and thanks to the surveillance footage, the police managed to catch the guy soon.
.
5. If My Car Is Stolen, Does Matter Where I Live?
Yes, it definitely matters. If your car is stolen or lost in the below areas, you should use the above ways to find and track your stolen vehicle at once.
US (America)
Chicago, Los Angeles, NYC, Houston, Livingston, Las Vegas, Detroit, Philadelphia, Miami, Omaha, New Orleans, Orlando, Tulsa, Denver
UK
Birmingham, Berwick, Bristol, Edinburgh, London, Nottingham
Australia
Melbourne, Brisbane, Victoria, Newcastle, Perth, Picton, Toowoomba, Townsville, Dandenong, Queensland
Toronto, Calgary Canada
Germany
NZ
Malaysia
Dublin Ireland
South Africa
Mexico
Philippines
Delhi India
Kuwait
Dubai
Portland
6. What Car Is Stolen Most?
In America, Thailand, and Malaysia, the most frequently stolen vehicles are Honda Accord and Civic cars, Toyota Camry cars and Proton cars respectively. If your car is one of these models, there is a higher possibility of your car being stolen.
Top 10 most frequently stolen vehicles:
| | | | | |
| --- | --- | --- | --- | --- |
| Honda Accord | Honda Civic | Ford Pickup (Full size) | Chevrolet Pickup (Full size) | Toyota Camry |
| Dodge Pickup (Full size) | Toyota Corolla | Nissan Altima | Dodge Caravan | Chevrolet Impala |
If you car is one of the above brands, you should pay extra attention to secure your vehicle from car theft. You can try the effective ways in this post to prevent car theft. These useful ways are summarized by Reolink's chief editor Yolanda, who always shares useful safety tips with her fans.
7. What Happens When Your Car Is Stolen and Recovered?
If your stolen is recovered, you should tell the police to cancel the stolen vehicle alarm. Don't use the vehicle or apply for the plates until you are sure that the alarm has been canceled.
If your stolen vehicle is damaged, contact your car insurance company. Don't apply for the plates/registration until you've solved the issue with the company.
If you get your stolen car back but lose the plate, bring your copy of form MV-78B to the DMV (Department of Motor Vehicles) office and apply for a new license plate.
8. What Happens If My Car Is Stolen and I Still Owe on It?
If your financed car is stolen, you'll have to continue paying for the installments while you lodge claims against the insurance company. And in case your stolen car can not be recovered, you need to pay off the remaining amount with your insurance payout.
Note that it would be a bad idea to withhold your payments as it will harm your credibility and make it hard for you to get a car loan at the best rat e in the future.
Bottom Line
There is one thing you should know that no matter what kind of your car is, and wherever you live (unless you live in the North Pole), your car is at the risk of being stolen by rampant vehicle thieves.
Don't take it for granted that my car is safe in my yard, my car won't get stolen because it is very cheap. Those car thieves will steal your car as long as he has the opportunity.
If your car gets stolen (hope it never happens to your car), remember to use the above top 5 ways to find your stolen car! Share this post with your family and friends so that more people can read these effective ways to find stolen vehicles. If you have any questions or any ideas, leave them in the comment below!