A shocking fact:
Nearly 77% of burglary victims don't have a single porch security camera to protect their front door, one of the intruders' favorite entry points, during the first break-in.
To keep thieves from stealing your packages or even taking your house as their next target, it is best to reinforce all the entrances and set up a qualified CCTV camera for porch and front door.
Read on to learn how to choose the best front porch security cameras for your home and keep burglars from breaking into your house through the porch and side alleys.
Contents:
Buying Porch Security Cameras: Factors to Consider
Speaking of porch security cameras, features like sharp image quality, continuous recording capability and instant alerts may pop up in your mind.
Don't know which feature is worth your investment?
That's where we come in – check out the essential features of front porch CCTV cameras as follows.
#1. Image Quality Matters the Most for Porch Security Cameras
By installing a security camera for porch, you are monitoring not only the porch area, but also the front yard, patio and fences as well.
Without outstanding image quality, your CCTV camera may not capture the facial features of the intruders and as a result, you won't be able to identify the burglars even if with the video footage.
So, to make sure that the front porch security cameras that you are looking for do record clear videos, examine the following specifications in the product page below making a purchase.
Resolution: Generally speaking, security camera with 1080p, 4MP, 5MP or even 4K resolution are considered as megapixel security cameras.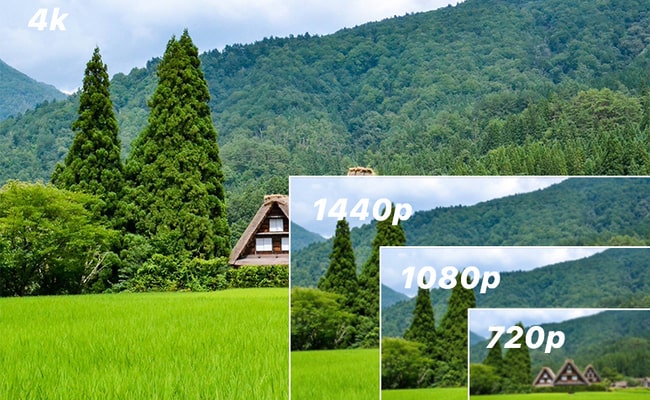 With such CCTV cameras set up at your porch or back alley, it is more likely that the intruders would be identified soon after they committed a crime.
And here is a great example.
A porch pirate opened a storm door and stole a package from the front porch in less than 20 seconds. However, she didn't realize that she was caught on a 5MP security camera, Reolink RLC-410. And soon enough, the thief was identified since her facial features were captured by the CCTV camera.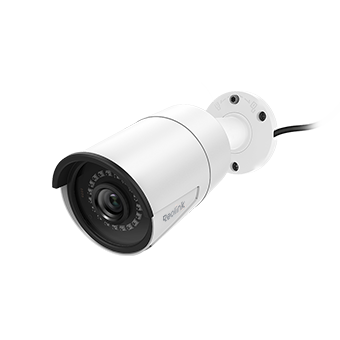 Reolink RLC-410
PoE Bullet IP Security Camera with Audio
5MP/4MP Super HD; Outdoor/Indoor Protection; 100ft Infrared Night Vision; Audio Recording; Mobile Remote Access & Control.
So, when you are in the market for front porch home security cameras, select one with 1080p or higher resolution as your first choice.
Night vision: Around 35% of the burglars choose to break in your house during your sleeping hours. To secure your home from burglaries at night, choose porch IP security cameras with excellent night vision.
Here are some factors that indicate good night time performance:
• Multiple infrared LED lights
• Longer IR range
• Qualified IR cut filter
• Wide dynamic range/WDR (balances light for improved images and videos, usually found in color night vision security cameras)
• 3D DNR (reduce image noise in both static and moving images)
Angle of view: The wider the viewing angle is, the bigger the surveillance area your security camera for porch can cover.
Put simply: if you want to monitor your front porch and yard with only one surveillance camera, it is best to choose one with a wider angle of view.
#2. Take a Look at the Water-Resistance & Working Temperature
Though you may install porch security cameras under shelters, they are still exposed to the elements to some extent.
To ensure stable performance of your porch cameras in different weather conditions, examine the working environment specifications including temperature, humidity, water-resistance and so on, especially when you live in extremely hot or cold areas.
While the first two factors are shown in detailed figures, such as, -10℃ to 55℃, 10% to 90%, the water-resistance of a security camera is represented by IP ratings.
If you plan to install side alley security cameras in the open air, it is recommended to choose one with IP65 or even higher ratings.
Add-on Tip: Click here to learn more expert ways to protect your outdoor CCTV cameras like a pro.
#3. A Less Conspicuous Porch Security Camera Can Be a Better Option
Another vital factor to consider is the size of a front porch security camera.
In this case, turret surveillance cameras may top your choices since they are less conspicuous and fit your décor better.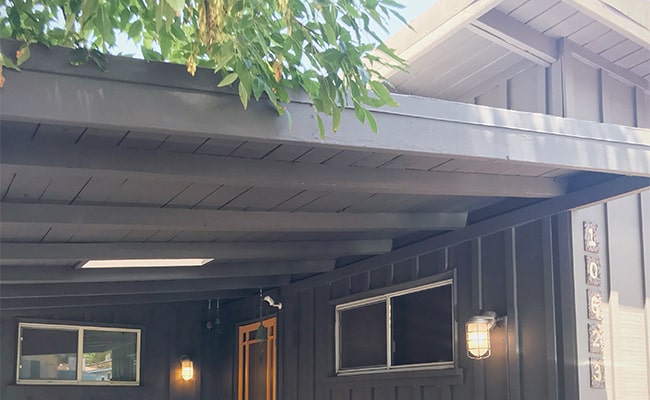 If you prefer prominent ones to scare off the potential burglars, use bullet-shape or PTZ security cameras instead.
Best Front Porch Security Cameras: Top 2 Picks (with Videos & Reviews)
Learning what key features to look for is solely half the battle.
Selecting the best porch security cameras for your home can be a time-sponge task still – simply because there are so many to choose from.
And here's a shortcut for you:
We have rounded up 2 honest-to-goodness options for your reference.
Best Value Porch Security Camera – Reolink Argus 2
If you are looking for a small porch security camera that captures all suspicious motions at your front door, Reolink Argus 2 is an ideal option.
Featuring with 1080p resolution and starlight night vision, this best seller captures everything in great details both day and night. Once the unwelcomed visitors intend to break in your house through the porch, it will wake up in less than 1 second, capture real-time images and send you alert notifications.
Tech Spec:
| | |
| --- | --- |
| Resolution | 1080p |
| Power Supply | Rechargeable battery, solar panel or 5V/2A power adaptor |
| Data Transmission | 2.4 GHz WiFi |
| Night Vision | Up to 33 feet starlight night vision |
| Audio | 2-way speaker & microphone |
| Field of View | 130° |
| Smart Home Compatibility | Works with Google Assistant |
| Alerts | Customized voice-recordable alerts, emails & push |
| Storage Options | SD card (not included) & Cloud |
| Weather Resistance | IP65 weatherproof |
| Operating Temperature | -10° to 55°C (14° to 131°F) |
| Media Reviews | "The versatile Reolink Argus 2 is a weatherproof indoor/outdoor security camera that doesn't require any wires and is powered by a rechargeable battery pack. —PCMag.com" |
Check out the video sample captured by this wireless porch security camera below.
Video Transcription
A mailman carries a 100 lbs package from his car to the receiver's porch all the way just like taking a feather. How strong he is!
Hold Up: If you prefer an outdoor porch security camera with pan and tilt feature, take a look at the latest Reolink Argus PT.
Versatile Porch Surveillance Camera – Reolink RLC-520
Supposed that you prefer front porch security cameras that operate on the reliable power supply and stable network connection, PoE IP cameras like Reolink RLC-520 may fit your needs.
Sporting 5MP super HD resolution and up to 100 feet night vision, this outdoor security camera can record vivid images and videos, ensuring that no burglars would slip through without being captured.
Also, RLC-520 comes with plug and play configuration, allowing you to set it up on your own in a breeze, easy enough even for beginners.
Tech Spec:
| | |
| --- | --- |
| Resolution | 5MP |
| Power Supply | DC12V & PoE |
| Data Transmission | Ethernet cable |
| Night Vision | Up to 100 feet |
| Audio | Built-in microphone |
| Field of View | Horizontal: 80°, Vertical: 58° |
| Alerts | Emails & app push notifications |
| Storage Options | SD card (not included) & FTP server |
| Weather Resistance | IP66 |
| Operating Temperature | -10° to 55°C (14° to 131°F) |
Check out the excellent video quality delivered by this outdoor porch security camera below.
Video Transcription
An exciting labrador heard that there was a passing dog outside the fence. He was eager to join the dog outside and pushed the fences to the ground.
FAQs on Porch Security Cameras (Solutions Included)
Below are some of the hottest questions on front porch security cameras asked by many homeowners.
Just in case you encounter the same issues, we have also offered practical solutions correspondingly.
Q1. Will Porch Light Blind Front Porch Security Cameras
The answer is yes.
If a front porch security camera is placed too close to a bright porch light, it may show washed-out or white images without any details.
Moreover, the porch light produces heat so that it also may trigger false alarms (click here to learn how to solve).
To ensure their night time performance, you'd better place surveillance cameras away from the porch light or bright windows.
Read More: Check out this post to where the ideal porch security camera placement locates.
Q2. How to Get Rid of IR Reflection of Back Alley Security Cameras
To avoid IR reflection, it is best to turn your back alley security cameras away from the closet wall and point them to the middle of the alley.
Also check if there are any objects like glass windows next to the surveillance cameras that may reflect the infrared light. If yes, relocate security cameras or remove the objects away from the alleys.
Besides, you may choose security cameras with a wide dynamic range and backlight compensation technology to obtain optimal images around the clock.
Q3. Can You Install Security Camera on Back Porch of a Condo
Generally speaking, you need to ask the condo board for approval before setting up a back porch security camera.
If the board refuses your application, it is better to negotiate with the board and ask them to install one instead.
We have also written a post on if it is legal to set up CCTV cameras around your condo and you may click here to learn more.
Any Comment Is Welcome
Are you looking for a front porch security camera for your home or small business as well? What are the features that you care about the most when selecting ones? Leave your ideas in the comment section and we would love to hear!