Does a security camera need Internet?
That's what we've discussed in our prior post.
And the short answer is: NOT necessarily.
For the Internet security cameras that rely on the WiFi network (wireless Internet security cameras) or Ethernet cables (wired Internet security cameras) for video signal transmission, they can still record videos onsite without Internet connection.
But note that Internet access is required when you need to access these security cameras remotely, receive instant alerts and upload videos to FTP server or Cloud.
If you want a security camera that doesn't require Internet, the cellular security cameras would be the best bet, which operate independently on the 3G/4G mobile network.
Today, you'll get all our inside details on the security cameras with or without Internet, including, but not limited to the best Internet security cameras for home, how to set up Internet security cameras, and more you wish to know.
Contents:
Best Internet Security Cameras of 2019
We tested multiple Internet security cameras for sale and here picked up two best options based on their performance, features and affordability.
These recommended Internet home security cameras below can direct to your mobile phones when motion is detected, and allow for easy security camera streaming over Internet from anywhere.
1. Best Overall Wireless Internet Home Security Camera System – Reolink Argus® 2
Let's start by letting the wireless Internet security camera Reolink Argus® 2 speak for itself: one out-standing highlight is the 100% wire-free design that underscores its easy installation.
With the 1080p full HD and color night vision, this security camera with Internet access can deliver clear and sharp live viewing no matter where you are.
What we like:
No power source required: battery powered & solar powered
1080p high resolution & starlight night vision
Portable, flexible and easy to use
IP65 weatherproof, ideal to be placed indoors and outdoors
Two-way audio allows you to listen in and talk back interactively
Multiple alert options: push notifications, email & siren
What the wireless Internet security camera reviews say:
| | | |
| --- | --- | --- |
| Site | Comment | Score |
| Techhive | "The Argus 2 improves on the original Argus in all the right ways." | 4.5/5 |
| Lifehacker | "A reasonable price for a camera that can record at the quality the Argus 2 delivers." | 5/5 |
| PC Mag | "Easy installation, sharp day and night video quality, and local recording make the Reolink Argus 2 a solid choice for a wireless indoor/outdoor home surveillance camera." | 4/5 |
Below is a video shared by a real user of the Internet based security camera Reolink Argus® 2.
2. Best Value Indoor & Outdoor Internet Security Camera – Reolink RLC-410
With its industry-leading performance and budget-friendly price, this Internet security camera with audio Reolink RLC-410 is the best bet for your home, suitable for both indoor and outdoor surveillance.
What we like:
4MP/5MP high quality images and videos
Power over Ethernet – easy to install
Built-in microphone for audio recording
IP66 waterproof for indoor and outdoor monitoring
Intelligent motion alarms: push notifications & emails
Easy local and remote access on phones & PC
What the Internet security camera reviews say:
| | | |
| --- | --- | --- |
| Site | Comment | Score |
| Techhive | "This indoor/outdoor cam can be used independently or as part of a more comprehensive surveillance system, and it provides exceptional image quality and features for the price." | 4/5 |
| Your Home Security Watch | "A decent outdoor camera, with many quality features that often can't be found in cameras that are priced this low." | 5/5 |
| The Gadgeteer | "The ReoLink RLC-410 is a well-made, sturdy camera with lots of capability and features if you want to use them." | n/a |
Watch the video below captured by this Internet connected security camera Reolink RLC-410.
Top Rated Security Camera That Doesn't Require Internet – Reolink Go
"Is there a security camera that works without Internet? I want to put a security camera in another place where there is no internet connection and monitor it from my home?"
Actually, the remote security cameras with no Internet are needed in many scenarios, such as your barns, farms, boats, vacation home, construction sites, shed, cabins, etc.
Reolink Go, is one of the top rated security cameras that don't require Internet. With a separate mobile service plan, this security camera can work perfectly without Internet or WiFi, allowing to remotely view live feed anywhere and anytime.
What we like:
1080p Full HD & starlight night vision
Work without Internet or WiFi
Built-in microphone & speaker for 2-way talk
IP65 weatherproof for outdoor monitoring
Support SD card recording and Cloud storage
Smart motion alerts (push notifications, emails & siren)
Below is a video captured by the remote security camera Reolink Go (shared by Jens on his Youtube channel).
How to Set up Internet Security Cameras
"I'm trying to set up my Internet security cameras so I can view them from the Internet. What do I need to do?"
"Hi, we have a wireless Internet security camera that allows us to view our property. Does anyone have any step by step instructions on how to set up the camera on a webpage or something through the internet so I am able to view the camera when i am not at home? thanks."
Indeed, connecting security cameras to Internet is not that cumbersome as you think, even if you are a tech layman. (The picture below best demonstrates how the Internet security cameras work.)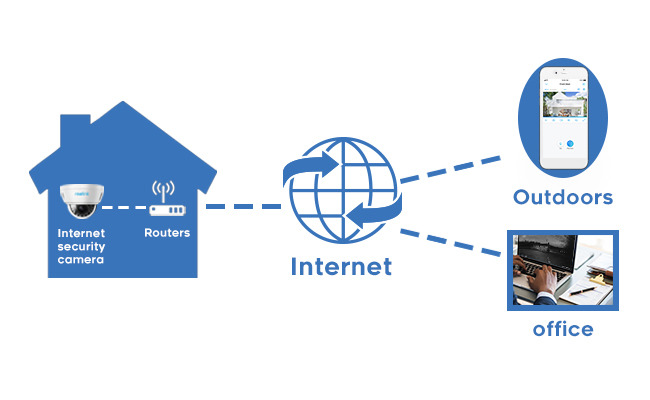 If the Internet security cameras for your home support P2P technology, the process can be much easier with the camera seller's customized software.
Taking the Internet enabled security camera Reolink RLC-410 for example, below are the step-by-step guide about how to set up the Internet security cameras.
Step 1: Make sure your Internet accessible home security camera is powered on.
Step 2: Download the customized Internet security camera software (Reolink App or Client) on your phone or computer.
Step 3: Launch the app or Client, and then enter the UID and password of your wired or wireless Internet security camera.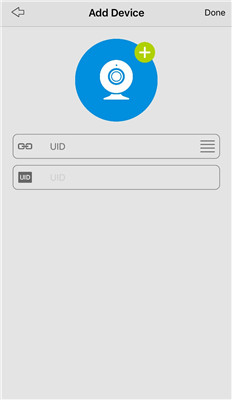 Step 4: Now you can watch the security camera streaming over Internet.
In case your Internet security camera systems don't support P2P, or you want to access security cameras over Internet on a web browser, watch the video below or see our guide on how to set up Internet security camera for remote viewing via port forwarding.
Video Transcription:
Below are the simple steps to set up an Internet security camera via Port forwarding.
Step 1: Find the IP address of your Internet connected security camera.
Step 2: Get the WAN/external IP address of your router here.
Step 3: Check the port number of your Internet based security camera and forward ports to the router.
Step 4: Enter the URL address on the web browser in the format of WAN IP Address: HTTP port.
More You Want to Know About Internet Security Cameras (Bandwidth Usage, Security Levels, etc.)
Below we've collected some hot questions concerning Internet security cameras. Hopefully, these would help clear up some of your confusion about Internet security camera monitoring.
1. How Much Internet Does a Security Camera Use? What's the Internet Speed Needed for Security Cameras?
Many of you may worry that the Internet security cameras for home will eat up too much bandwidth and affect the home network speed.
Never mind!
The security cameras with Internet access won't consume the bandwidth of your home network unless you access the cameras for live viewing or the cameras send you alerts when motion is detected.
And you can also adopt some effective tips here to reduce the bandwidth usage of your indoor and outdoor Internet security cameras.
2. Are Wired & Wireless Internet Security Cameras Secure When You Stream Live Feed Online?
You must have read related reports about the flaw in some Internet security cameras that allow unauthorized users to access the live feed.
But not all the Internet security cameras for home are unsecure.
It is more about which brand of security cameras with Internet access you choose. (Do remember to avoid these unsecure IP camera Internet security cameras.)
Some top-rated Internet based security camera brands, like Reolink, secures its IP cameras by enabling multi-level security settings, including SSL encryption, WPA2-AES encryption, and SSL-TLS enabled to prevent prying eyes.
So you can set your mind at rest while accessing the Internet home security camera systems on your phones or computers.
3. If I Turn off the Internet, Will My Wireless Internet Security Cameras Still Work?
As I have mentioned at the beginning of this post, your wireless security cameras with no Internet can not send you instant alerts or stream live feed remotely.
But they are still able to record motion detection events onboard if they come with a micro SD card (slot).
In case you need a security camera that doesn't require Internet, go for the 4G security cameras for remote surveillance.
For any more problems about the Internet security cameras, such as the Internet security camera installation, please let me know down below in the comments!