If you're like a lot of people in the UK, you enjoy spending time in your garden. Perhaps you grow your vegetables or simply like to relax and take in the natural beauty around you.
As a nature enthusiast, you may also be curious about the critters who visit your garden. One way to keep track is by installing a wildlife camera. This guide will help you choose the best wildlife camera for observing wildlife visitations to your yard.
What is a Wildlife Camera, and Why it Can be Used in Your Garden?
A wildlife camera, also known as a cellular trail camera, is often used by hunters, wildlife enthusiasts, and researchers to capture footage of animals in their natural habitat.
Wildlife cameras can be placed in your gardens to keep account of animals that come around. They might even help you catch a clue of the cause of your occasionally missing vegetables.
These cameras often have features ideal for garden photography, such as high-quality lenses and sensors, fast shutter speeds, low-light performance, and weather resistance.
In addition, you can use wildlife cameras with close-up lenses and the ability to do time-lapse to document the growth of plants and flowers over time. By recording images and videos of wildlife in the garden, you can learn more about your local natural ecosystem.
List of wildlife camera brands and prices in the UK
If you're ready to start spying on what your furry and feathery garden visitors are up to when you aren't around, we've got you covered. Below is a table of trail cams we've curated for use in your garden, as well as their key features and prices.
| Type | Camera brand | Model name | Key features | Price |
| --- | --- | --- | --- | --- |
| Trail camera | Crenova | Crenova 32MP 4K Trail Camera | 32MP picture, 4k video, IP66, 10 – 12 months standby. | £94.99 |
| Birdcam | Technaxx | Birdcam TX-165 | 1080p video, birdhouse and feeder to attract birds, IP65, 6 months standby. | £94.96 |
| Wireless security camera | Reolink | Go PT Plus | 1080p full HD, Pan & Tilt, Solar/Battery powered, Two-way audio, 4G connectivity. | £239.99 |
| PoE security camera | Reolink | RLC-510A | Power over Ethernet, 5MP Video resolution, Audio recording, Smart person/vehicle detection. | £48.75 |
| Trail camera | Bushnell | Trophy Cam HD Max | 8MP picture resolution, 1080p Video resolution, No-glow LEDs, 60ft detection range. | £200 |
| Trail camera | Moultrie | M-880i Gen2 | 8MP picture resolution, Low-glow LEDs, 50ft detection range, 8 months standby. | £130 |
| Trail camera | Spypoint | LINK-MICRO-LTE | 10MP resolution, battery-powered, 80ft detection range, LTE cellular network. | £180 |
Factors to consider when choosing a wildlife camera for your garden
Keep in mind that these cameras come with various features, so you'll want to choose one that matches your needs. Here are a few things you need to understand when picking a camera.
1. Remote Access Connectivity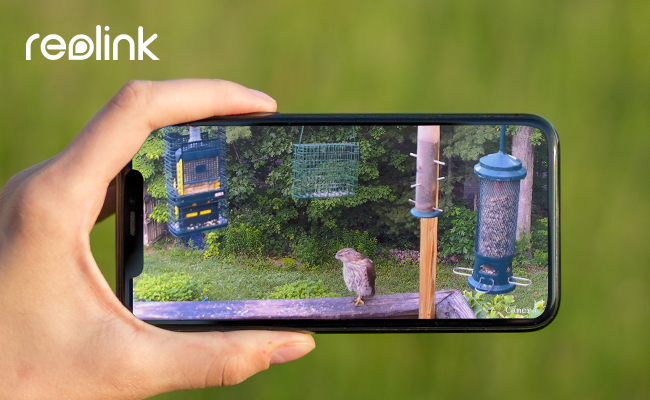 This is what allows you to access the captured footage on your phone or computer. It could be via 3G, 4G, or WiFi.
WiFi provides a steadier signal than cellular data, which means you can rely on the camera to stay connected even in areas with weak cell service.
In addition, WiFi uses less battery power, allowing the camera can stay on for extended periods.
2. Trigger time
Trigger time is the amount of time it takes for the camera to take a photo after detecting movement. For garden trail cameras, trigger time can mean the difference between getting an image of an animal or missing the shot entirely.
A camera with a shorter trigger time will be more likely to capture an animal in the act, while a camera with a longer trigger time may miss the shot.
Garden wildlife cameras typically have trigger times ranging between 0.1 and 1 second, with shorter and longer times suitable for fast-moving and slow-moving animals, respectively.
3. Weather Resistance
This is usually measured as an ingress protection (IP) rating, written as "IP," followed by two digits, as in IP68. The first digit indicates how dust-resistant the camera is increasingly on a scale of 1 to 6. The second digit shows how waterproof the camera is on a scale of 1 to 9.
Generally, a trail cam with at least an IP55 IP rating would be right for your garden, no matter what the weather is like in your part of the UK.
4. Resolution
This refers to how clear the pictures or videos taken on the camera will be. Usually, quality wildlife cameras would have resolutions ranging from 2 to 10MP (megapixels), while picture resolution will likely be between 12 to 24MP.
You may also see descriptions like 720p, 1080p, and 4K on these cameras. 720p and 1080p are HD options and refer to 1MP and 2MP, respectively, while 4K translates to approximately 8MP.
The higher the megapixels, the clearer the video/picture appears.
5. Infrared Light
When it's dark, wildlife cams use infrared LEDs for lighting, which can come in two types.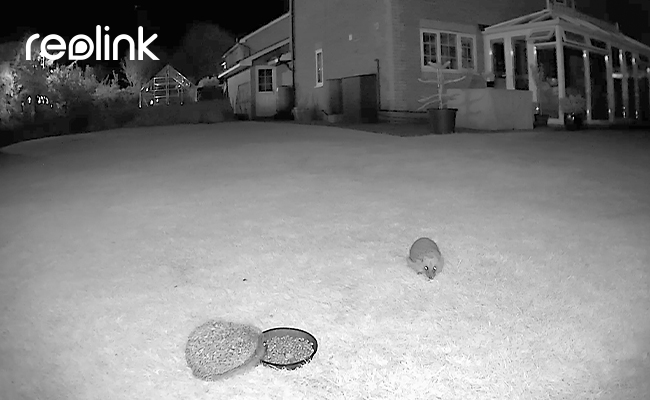 Low-glow LEDs are common in cheaper wildlife cams and give off a barely visible red light when capturing footage. The light is easily noticeable and can scare off animals.
No-glow LED cameras emit an almost invisible light that is less likely to be noticeable to animals.
6. SD Card Capacity
Always remember to check the SD card capacity of a camera before making a choice. Higher-resolution pictures and videos in particular, take more memory space. So, ensure the SD card capacity is big enough, especially if you will be storing the files for a long time.
Camera Options You Can Choose For Your Garden
You aren't just restricted to trail cameras for your garden; there are other valid options you can explore. Let's take a look at some of them below.
1. Trail camera
A trail camera can be an excellent tool for taking pictures and videos of wildlife in your garden. Here are some reasons why:
- They are usually battery-powered, often with AA alkaline dry cell batteries, which are readily available and cheap.
- The cameras are small and compact; they can be easily hidden and won't take up too much space in your garden.
- They are designed to be resistant to damage from the weather.
- Infrared LEDs enable them to capture footage even in the dark.
Overall, a trail camera is the best option for recording wildlife visits to your garden.
2. Wireless security camera with pan & tilt
While security cameras are mainly used to monitor activity around a home or business, they also work great in a garden as a wildlife monitor.
The pan and tilt feature on a security camera is valuable as it allows you to direct the camera's focus across an area for a broader view. Some are battery-powered, making them suitable for gardens without nearby electrical outlets.
Installing the security camera is easy, and any high enough vantage point will do. Like the trail cameras, these also have night vision capabilities, allowing them to capture footage in low-light conditions.
Finally, many security cameras now offer cloud storage and remote viewing capabilities, making it easy to review footage from anywhere.
As a result, security cameras are an increasingly popular option for homeowners who want to watch their gardens.
3. PoE security camera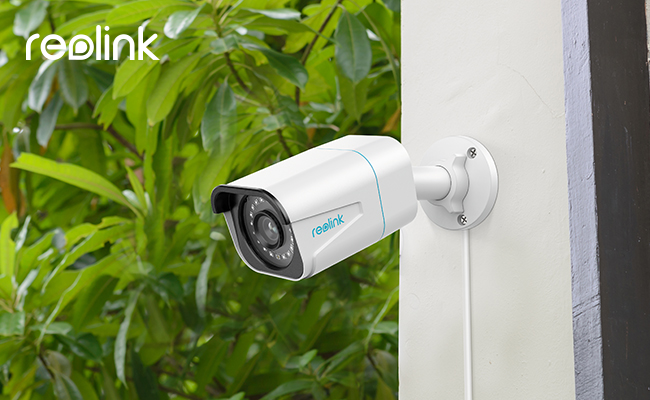 Power over Ethernet (PoE) cameras are pretty unique ones. Their technology allows the camera to draw power from special Ethernet network cables rather than batteries or a power connection.
As long as there is network connectivity, the camera is always powered. You can even live-stream the footage on your computer or YouTube channel.
The only drawback is that POE cameras are a little more expensive than regular wireless security cameras, and they require more installation work. However, they are always worth the investment.
What Can You See With a Garden Wildlife Camera?
Animals, mostly. You get to see the coming and goings of your local wildlife in your garden; birds, foxes, and, if you are lucky, deer. You would also get a glimpse of the elusive nocturnal wildlife, including owls, hedgehogs, and badgers.
If you are a bird watcher, one tip for attracting birds is to put a bird feeder in the camera's view.
Placing a wildlife camera in your garden is a good security measure since its features also work for surveillance. A visible camera could serve as a deterrent to burglars and trespassers.
How to Set Up a Wildlife Camera in Your Garden
When setting up a wildlife camera in your garden, you first have to decide whether you want it visible or not.
If you want to hide the camera, there are a few options for installation. One is to hide the camera in a birdhouse and place it among other such structures in the garden. You could also install the camera inside a tree hollow or behind a false rock panel. You just have to ensure that the entire garden is visible from wherever the camera is placed.
If you plan to make the camera visible, your camera installation options are more flexible. These include fences, lampposts, and anywhere else with a clear view of the garden.
Setting up a wildlife camera is quite easy and can be done in a few simple steps.
First, power up the camera. After picking a suitable spot, insert the SD card and AA batteries into the camera and turn it on. If it is a rechargeable wireless security camera with its rechargeable battery, fully charge the battery, load the battery, and turn on the camera.

Next, you'll need to configure and sync the camera on your phone with the app.

Once the configuration is complete, you'll be able to check the feed on your phone to make sure that everything is working correctly.

Finally, you'll need to check the camera's battery life and replace or recharge it every few months.
By following these simple steps, you'll be able to set up a wildlife camera in your garden in no time.
Conclusion
Using wildlife cameras can be a great way to help you understand and appreciate the value of nature in your garden. You just have to ensure you pick the right one.
In this post, we've outlined what we believe are the key factors to think about when purchasing a wildlife camera and shared our top picks for the best models on the market right now. We hope you find it helpful!
Trail cameras are becoming increasingly popular, as they offer a convenient way to check on wildlife activity without having to physically be present in the area. Reolink's KEEN Ranger PT is a recently released trail camera that offers 4G network connection and PT function. I hope you will find it to be a valuable addition to your trail camera arsenal. Thanks for reading!
Have you tried using a wildlife camera in your garden? If so, please share your tips and experience in the comments below.