Mini security cameras can be divided into 2 types: mini home & business security cameras and micro spy hidden cameras.
Mini security cameras are much smaller than those of traditional old-fashioned CCTV security cameras. This type of small security cameras is equipped with the necessary surveillance features, including motion detection, remote access, two-way audio, night vision, etc.
Mini hidden spy cameras are typically as small as a pinhole or keychain, and they are often too small to be spotted easily. Most hidden spy cameras in the market can only provide you basic functions, such as video and sound recording, while some advanced spy cameras would offer motion detection, sound-activated function, etc. The resolution is also lower compared with security cameras.
No matter what you want to buy, mini security cameras or miniaturized spy cameras, there are some important points you need to know, such as where to install your mini security cameras, what common mistakes you need to avoid, and the laws on small spy security cameras.
Now get what you are looking for directly! (If you have any questions, please leave them in the comment!)
Reolink Argus 2
100% Wire-Free Starlight Camera
Rechargeable Battery & Solar Powered; Outdoor/Indoor Protection; 1080 Full HD; Starlight Night Vision; 2-Way Audio; Live View Anytime Anywhere.
#1. Mini Security Cameras for Your Home & Business — All Questions Got Cleared
You will learn all the important points about mini WiFi and wired security camera systems, including where to use your small security cameras, top features and best picks of mini security cameras and more!
1. Where to Use Your Mini Security Cameras
2. Best Small Security Camera Top 7 Features
3. Top 4 Common Purchase Mistakes to Avoid
4. Mini Security IP Camera Recommendations
5. How to Install Mini Security IP Cameras
1. Wired & Wireless Mini Security Cameras Application
You can use your small security cameras for your home and business for many purposes. Here are some epitomes of mini security camera application.
Baby monitor. You can put a mini security camera recorder in your baby's room, in the living room, den, etc. so that you can monitor your children when you are in the kitchen or at work. For example, when you are doing laundry in the garage, you can see your baby waking up through your phone and get back to your angel at once. You can sing the lullaby for your angel without going to her or his room.
Nanny cam. A mini wireless nanny security camera is a wonderful addition when your children are in the nursery or when you have a babysitter present. Please note that there are strict laws on the audio recording. You cannot record audio without the permission of your nanny.
Pet monitor. You can check up on your dog or cat with your wireless or wired mini cameras with your mobile phones, when you are at work or away. You can say "Hi" to your pet and have fun with him wherever you are, so you can check every move of your adorable pets.
Home security. You can install a mini wireless or wired outdoor security camera for your front porch or attic to monitor who and what is approaching your property. For example, you can monitor your house once the hurricane hits you and evacuate in time.
Those huge bullet or dome security cameras are quite unsightly and could make your guests uncomfortable. With the small and discreet IP security cameras, your guest will not feel invasive when visiting your home.
When you are traveling, you can watch your home or your apartment via your smartphones wherever you are. You can get the motion alerts when something different happens, so you can respond to any emergency in real time.
Senior safety. You can easily monitor your elderly who lives alone in the countryside with your mobile devices. If your elderly mother or grandmother falls down, you can inform your elder's caregiver at once (or call 911).
Business security. You can buy small security cameras for your office to monitor your employees to improve the efficiency. It's also a useful method to prevent external and internal business theft.
If you suspect there is inner theft amidst your office, you can put an undetectable WiFi mini security camera on your office desk to catch the potential thefts.
Car monitoring. Car break-ins and hit-and-run events are quite common nowadays. You can install a small car security camera to catch the car thieves. You can also install a small security camera for your front door to monitor your driveway to prevent those awful car invaders.
Undoubtedly, mini video security cameras play an important role in a wide range of application. However, getting the best small video security cameras for your home or business would be quite overwhelming. Below is a handy mini security camera buying guide to help you select the best mini security cameras easily.
2. How to Buy Best Mini CCTV Security Cameras for Your Home & Business
When buying your mini video IP security cameras, there are top 7 features you need to consider.
Feature 1. Buy Wired or WiFi Small Security Cameras for Outdoors with Weatherproof Design
When you need to put a mini exterior security camera for your front door, backyard, attic or other outside areas, pick the one with at least IP65 weatherproof rating so that this camera can withstand the rain and shine.
Feature 2. Pick Mini Security Cameras with IR Night Vision for Your Home
Very-small security cameras with infrared night vision can offer you extremely clear images when in utter darkness.
Here are 3 key components that determine an excellent mini IR night vision home security camera.
• Infrared sensors. The more IR LEDs, the better your small security camera monitors will see in the dark.
• Image quality. The better the definition, the clearer images/videos you will get. Buy mini high definition night vision security cameras with at least 1080p resolution.
• Field of view. The more areas your mini security cameras can see, the higher chances you have of catching the burglars.
See the "Interview with the deer" night vision video of RLC-410 mini bullet security video camera.
Feature 3. Purchase Small Security Cameras with Two-Way Audio for Outdoors & Indoors
The bi-directional communication function enables you to talk to your family, sing a lullaby to your baby and have fun with your pets with the built-in mic and speaker. You can even shout at the intruders before they break into your home.
Feature 4. Choose Wired or Wireless Small Security Cameras with Smartphone App for Your Home
Mini security cameras with smartphone app enable you to check on your sleeping baby when you are at work or cooking in the kitchen with your iPhone or Android smartphones. You can monitor whether your children is addicted to watching TV. Thus you can stop them if your children have been watching TV for a long time.
Feature 5. Get Wired or Wireless Mini Security Camera Systems with Recording NVR or DVR
Wireless or wired small security cameras with DVR or NVR offer you 24/7 recording and surveillance. You can play back the recorded videos to see what happened during your absence.
For example, you can set up your wireless mini security cameras to record in a certain period of time, like from 9 am to 18 pm. If you want 24/7 surveillance, just choose all of the time periods. With 24/7 recording, you can review what has happened to your property during your absence.
Feature 6. Take Motion-Activated Mini Security Cameras
You can receive app push notifications, email alerts, etc. when your small security cameras detect the motion events.
For example, a mini GSM security camera with PIR motion detection can detect changes in the amount of infrared radiation impinging upon it. Thus you can get much more accurate alarms.
Feature 7. Select Small Security Cameras with SD Card for Your Home
Micro mini security cameras with memory card offer you motion recording. You can play back the recorded videos to check who and what triggered the alerts and decide what to respond.
Now you've been known the essential features when buying the best mini security cameras. However, there are some common mistakes you need to avoid before your purchase.
3. Buy Small Security Cameras for Your Home — Top 4 Common Mistakes to Avoid
If you want to buy the best small hidden security cameras for your house or office, it's really essential to avoid the below top 4 mistakes.
Going cheap. Indeed, you can find a mini security camera that only costs about $30. But those extremely cheap mini security cameras are often much more difficult to set up, and often come with inferior software. The lifespan of those extremely cheap small security cameras sometimes is only a month. You can buy some high-quality mini security cameras with much more favorable prices here>>
No night vision. Sometimes you may forget to check this feature. Some mini security cameras for sale only support daytime recording. However, night vision is indispensable for your small security cameras. You can record clear footage with the night vision function when in the night time.
The subscription fees. Some manufacturers sell cheaper mini security cameras but force you to pay monthly subscription fees for other features, such as cloud storage. Always count the subscription fees in when evaluating how expensive your mini security cameras are.
There are some reputable security camera companies, such as Reolink, which offer you all of the advanced features without any fees. You can store the videos in the SD card or the NVR without monthly fees.
The risk of being hacked. Always pay high attention to the security level of your mini security cameras. Some top security camera brands, secure mini IP security cameras with multi-level security features. The major enabled security settings of Reolink IP cameras and systems are SSL encryption, WPA2-AES encryption, and SSL-TLS enabled, which can keep those prying eyes at bay.
In order to save your time in searching for the best mini security cameras for your home, you can try the below top picks of small security cameras.
4. Mini Security Cameras Best Picks — With the Easiest Installation & Setup
You can consider the below top picks when buying mini outdoor and indoor security cameras.
1. Reolink Argus 2 Battery Powered Outdoor Mini CCTV Security Camera for Your Home
If you need a mini wireless outdoor security nanny camera, you can take Reolink Argus® 2 as your first pick. It's only as big as your palm, which is extremely cute and small.
Reolink Argus 2
100% Wire-Free Starlight Camera
Rechargeable Battery & Solar Powered; Outdoor/Indoor Protection; 1080 Full HD; Starlight Night Vision; 2-Way Audio; Live View Anytime Anywhere.
You can also check the video captured by Reolink Argus 2small hidden security camera.
Reolink Go
 mini security camera is small in size but powerful in features, performance and value. You can place this mini wire-free security camera wherever you like. Unlike other small security cameras needing network connection to get remote viewing, this tiny security camera, operating over 3G/4G cellular network, offers you remote access even without WiFi connection and power supply!
Reolink Go
100% Wire-Free 3G/4G LTE Mobile Camera
No WiFi & Power Needed; Rechargeable Battery or Solar Powered; 1080p Full HD; Starlight Night Vision; 2-Way Audio; Live View Anytime Anywhere.
If you are interested in the Reolink Go small security camera, view the below video to get more smart features of it.
2. Reolink E1 Pro Wireless Mini Indoor Security Camera for Your Home
This 4MP wireless small security camera can help you cover wide areas of your room inside with the flexible pan & tilt.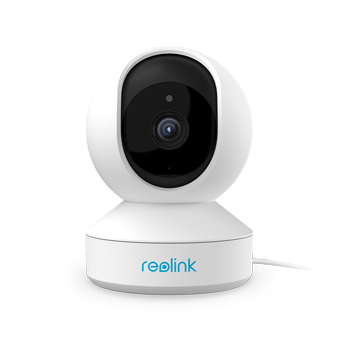 Reolink E1 Pro
Wireless Pan-Tilt Smart Home Camera
Smart, Powerful and Affordable All-Round Home Protection. 355° Pan and 50° Tilt; 4MP Super HD, Two-Way Audio, 2.4/5 GHz WiFi, with Google Assistant Integration.
You can take a look at the Reolink E1 Pro introduction video to see this camera's overall features.
If you want to buy the above mini security cameras, or mini bullet and dome security cameras in the US, Australia, Pakistan, NZ, South Africa, UK, India, Oklahoma City, Fresno CA, Fargo ND, etc. you can go to security camera official online store to get the product details.
You can also check the best small portable security cameras, including wireless tiny hidden nanny security cameras, fake mini security cameras (signs), Bluetooth mini security cameras, on Amazon, Walmart, BestBuy, eBay, Costco, etc.
After you've purchased your favorite mini security cameras, the next step is to install the cameras properly.
5. How to Install Your Mini Security IP Cameras
There are 3 popular kinds of mini security IP cameras with the easiest installation and setup.
Battery powered security cameras. This type of security cameras offers you the easiest installation process. You can install the battery operated mini security camera simply by inserting the batteries into the camera, and follow the manual or quick start guide to set up the camera.
Small traditional wireless security cameras. You can simply install the WiFi security cameras by plugging it into the outlet. Take Reolink traditional wireless security cameras as an example. The camera will connect to your home WiFi automatically, so you can access the camera after powering it on.
If you need to mount this camera to the wall or the attic, you need to use the screws to make the camera stick to the wall. Usually, you can find the mounting hole template that comes with your camera to help you drill a suitable hole to install the camera.
Remember to make sure that your small wireless security cameras are within your home router WiFi range. If the distance between your mini WiFi security cameras and your home router is too long, you can use a WiFi range extender to boost the WiFi signal so that your small wireless security cameras can connect to the network even in a long distance.
Mini PoE security cameras. Small PoE security camera type enables you to use a Cat 5 or 6 cable to connect your PoE security cameras to your home router for both power and data transmission.
Just like the traditional small WiFi security cameras, you need several screws to mount the PoE mini bullet or dome security cameras to the wall. You can use the PoE switch to expand the reach of an NVR system or your home network router to get the long-distance connection.
WiFi & PoE IP camera connection diagram: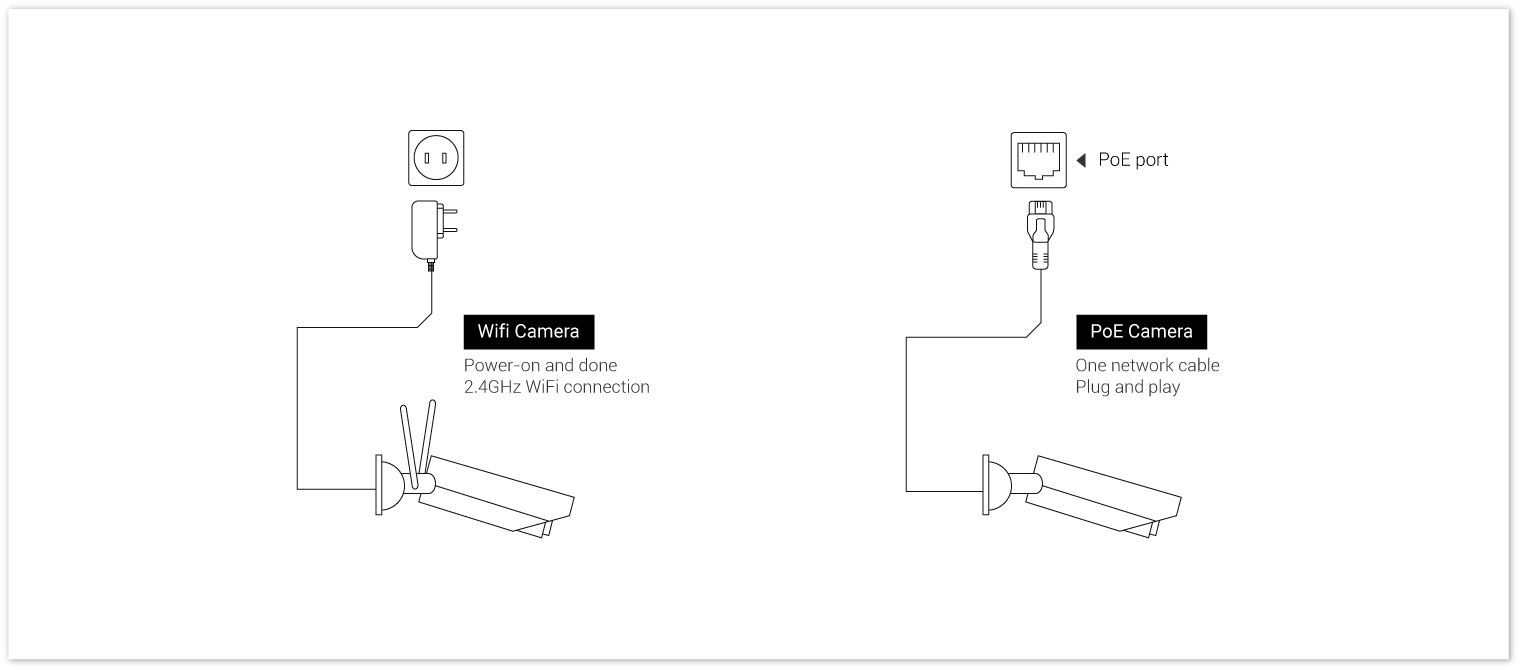 You can check the above details to get what you need in terms of mini security cameras. If you wanna know more, or have any questions, please leave them in the comment! We can work them out together.
#2. Mini Spy Hidden Security Cameras — All Details You'll Need
You are gonna learn the basic legislation of mini covert surveillance cameras, and the important points when buying mini spy cameras.
1. Mini Spy Surveillance Camera Legislation
2. Micro Spy Hidden Camera Important Notes
3. Buy Mini Hidden Spy Surveillance Cameras
1. Know Mini Spy Surveillance Camera Legislation
Laws have strict legislation on privacy. Under no circumstances should you use your mini spy security cameras to do illegal spying or surveillance.
In the United States, mini hidden cameras used as nanny cams are legal when the cameras are sold without audio recording. Nanny cams are legal in all 50 states of US, but it's illegal in 13 states to do the audio recording without the permission of the nanny or caregiver being recorded.
In the United Kingdom, the use of hidden cameras is generally allowed. The video footage should only be used for a legitimate security reason. It's not allowed to release the video footage to third parties except when there is a legal necessity.
General Surveillance Restrictions
Security cameras are not allowed in the below areas:
Restrooms
Other people's homes
Dressing rooms
Locker rooms
Other areas that related to personal privacy
General Audio Recording Restrictions
Federal law requires that one person must know about the video recording taking place. And laws require that people cannot gather audio from:
Eavesdropping
Remote recording
Other illegal audio recording methods
You can check the below Q&A to get the details about the laws on mini spy hidden security cameras. You are invited to add more Q&A so that other readers can read your unique ideas on mini spy hidden surveillance cameras!
" I want a wireless mini spy camera to monitor the nanny."
— You cannot monitor your nanny without notifying your nanny there are security cameras in your room.
" I want small/tiny videos cameras for spying."
— Spying with mini hidden security cameras on other people is a serious violation of privacy protection laws.
" I want a mini wireless spy camera for bathrooms."
— Video surveillance in any private areas, including bathrooms, dressing rooms, and other areas related to personal privacy is NOT allowed.
2. Mini Spy Hidden Surveillance Cameras — Top 3 Considerations
When you are about to buy mini spy cameras to monitor your nanny or maid, there are some important things you need to bear in mind.
Check the mini spy hidden surveillance cameras' resolution. Those micro spy cameras usually have 3 popular kinds of resolutions: 320x240, 640x480, 720x480 resolution. Buy tiny spy hidden cameras with 720x480 resolution if you want much clearer images.
Choose battery-powered or plug-in mini spy cameras. If you want to buy the most covert mini spy cameras, buy the battery powered type. However, the battery-powered small spy security cameras can only offer you extremely short-period video recording (usually only several hours), or motion recording. If you want longer video recording, plug-in mini hidden security cameras are a better option.
Know your budget and spend wisely. Fortunately, modern miniaturized spy surveillance IP cameras come in all shapes and sizes, and can fit just about any budgets. You just need a spy camera that will do everything you want, while not making you spend too much. You can check the security camera manufacturers' Christmas deals to buy mini spy cameras with much more favorable prices.
3. How to Buy Your Small Spy Hidden Surveillance Cameras for Your Home
If you need to choose the best mini spy camera brand among multiple brands, you can check the customers' reviews to see how other customers rated the cameras or brand. You can also check the company's after-sales services and product warranty. Reputable security camera companies will typically provide a 2-year warranty.
If you don't know which mini spy hidden camera brand to go for, you can Google the mini spy hidden camera reviews to get professional review articles written by the authorized editors from top-tier media. You can check the best spy camera that suits you most.
If you have any insights or questions, leave them in the comment below!