Wireless indoor security cameras offer a wire-free and versatile solution for monitoring the interior of your home. Gone are the days of complex wiring installations and restricted surveillance options. With wireless indoor security cameras, homeowners can now effortlessly keep a watchful eye on their premises. This article will explore the basics of wireless indoor security cameras, enlist the top picks and tell you how to install the device properly.
Understanding Wireless Indoor Security Camera
Wireless indoor security cameras are surveillance devices designed for monitoring the interior of buildings. They connect to WiFi networks, allow remote access to live video feeds and recorded footage through apps or web interfaces, and are often powered by batteries or adapters. Some advanced models even have the solar power option.
Best Wireless Indoor Security Cameras Top 3 Picks
For your convenience, you've picked out three wireless indoor camera models which stand out among others. Check them out.
1. Reolink Argus 3 Ultra: Battery/Solar Powered Wireless Indoor & Outdoor Security Camera
Reolink Argus 3 Ultra WiFi indoor & outdoor security camera features its 100% wire-free, offers stunning 4K 8MP videos & exceptional color night vision, and provides an SD card slot for motion detection recording. You can place this camera anywhere, even on your property, without power cords and a WiFi connection.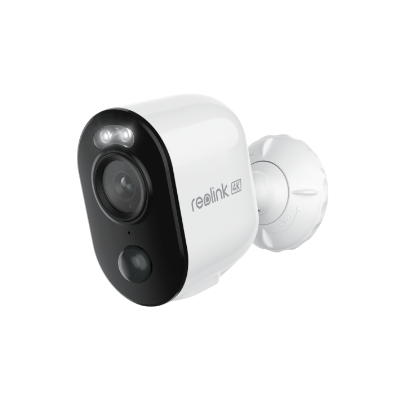 Reolink Argus 3 Ultra
4K 8MP Standalone Wire-Free Camera
4K 8MP; Smart Detection; 5/2.4GHz Dual-Band WiFi; Battery/Solar Powered; Color Night Vision; Alerts Without Subscription.
This wireless indoor security camera uses a rechargeable battery and can be connected to a solar panel for a non-stop power supply. Reolink Argus 3 Ultra can work standalone without connecting to a central hub (such as the base). These smart and outstanding features make Reolink Argus 3 Ultra one of the top-rated wireless security cameras for indoor and outdoor use.
2. Reolink E1 Pro: Dual-Band WiFi Indoor CCTV Home Security Camera
Reolink E1 Pro WiFi indoor surveillance camera is small but big in features, performance, and value. It captures 1440p Super HD images that are much clearer and sharper than their 1080p counterparts.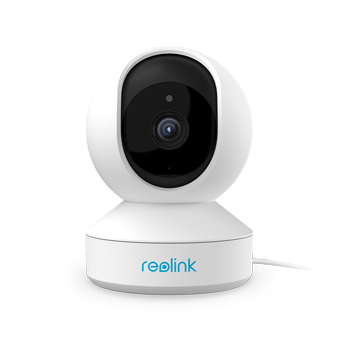 Reolink E1 Pro
Wireless Pan-Tilt Smart Home Camera
Smart, Powerful and Affordable All-Round Home Protection. 355° Pan and 50° Tilt; 4MP Super HD, Two-Way Audio, 2.4/5 GHz WiFi, with Google Assistant Integration.
This wireless home indoor security camera comes with a micro SD card slot offering you local storage without paying monthly fees for cloud storage. With the powerful pan-tilt function, you can open the app or the client and use the on-screen button to tilt the camera up and down, left to right.
You can watch the video sample below captured by Reolink E1 Pro (shared by a customer).
3. Reolink RLC-511WA: Dual-Band Wireless Indoor & Outdoor Security Camera with Smart Detection
Reolink RLC-511WA wireless indoor & outdoor CCTV surveillance camera combines almost every smart feature in a single IP camera. You can get crystal-clear images and videos with its exceptional 5MP resolution. As a dual-band WiFi outdoor and indoor security camera, you can switch between 2.4GHz and 5GHz based on the WiFi speed.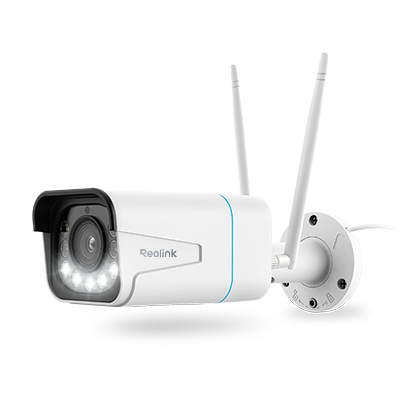 Reolink RLC-511WA
Wireless 5MP Security Camera with Spotlight
2.4/5 GHz Dual-Band WiFi, 5MP Super HD, Person/Vehicle Detection, 5X Optical Zoom, Two-Way Audio, Outdoor/Indoor Protection.
This wireless indoor & outdoor surveillance IP camera works well with Reolink NVR, enabling continuous recording and 24/7 surveillance. If you prefer an all-in-one wireless indoor security camera system, you can add an NVR to this camera. With embedded AI algorithms, this device can automatically detect persons, vehicles, and even pets. If any danger or threat happens, it will send real-time alerts to your smartphone via the Reolink app.
How to Install Your Wireless Indoor Security Cameras
The installation process of wireless indoor security cameras is much easier than outdoor mounting.
How to Install a Battery-Powered Wireless Indoor Camera
You can install this type of battery-powered security camera by inserting the batteries into them. There is no installation. You can set it up by following the quick start guide or user manual to get the necessary settings done, such as motion detection, scheduled recording, etc.
You can place this camera anywhere in your baby's room, kitchen, garage, etc. With the wire-free feature, you don't need to worry about the messy wires ruining your perfect décor.
You can look at the video below to see how easily installing a battery-operated wireless indoor security camera can be.
How to Install Traditional Plug-In Wireless Indoor Camera
Traditional plug-in wireless indoor cameras get power from power adapters, and you need to connect this adapter to the electricity outlet inside your home. You can install this wireless indoor security camera by plugging them in. If you need to mount the camera to the wall, you'll need several screws to make it stick.
Please avoid installing the camera where your children can reach it. If your children touch the outlet, they risk getting electric shocks.
Some advanced traditional wireless security cameras can automatically connect to your home router after powering them on, freeing you from messy settings to access the camera. Check the video below to see how to install and set up a plug-in wireless indoor camera.
Benefits of Using Wireless Indoor Camera
Wireless indoor security cameras stand out among their counterparts for their unparalleled benefits. Here are some of them.
Easy Installation
The most significant advantage of wireless indoor security cameras is their ease of installation. They can be quickly installed and set up without complex wiring, making them suitable for renters and homeowners. For homeowners, this ease of installation also reduces the disruption to the existing home aesthetics.
Flexible Placement
The wireless design of these indoor cameras allows users to place them in various locations. Users can put them in their baby's room or living room or even mount them on the wall. This flexibility optimizes the device's coverage without being limited by the cable length.
Remote Monitoring and Smart Features
Most wireless indoor cameras allow users to access live feeds and recorded footage remotely using their smartphone or computer, which means users can realize real-time surveillance from anywhere. Furthermore, many models also offer smart features like motion detection, two-way communication, and color night vision, which can make daily surveillance more effective.
Expandability and DIY-Friendly
Users can easily add more cameras to their surveillance setup since wireless indoor cameras require less installation and wiring. Many models are designed for simple do-it-yourself installation and help users save installation costs.
Other Considerations of Wireless Indoor Camera
When choosing wireless indoor security cameras, understanding other vital considerations is crucial to ensure consistent and reliable surveillance.
Power Source
Wireless indoor cameras are designed to be cord-free, providing flexibility in placement and minimizing visual clutter. Here are some typical power sources for wireless indoor security cameras:
Battery-Powered Cameras: Many wireless indoor security cameras operate on battery power. These cameras are incredibly versatile and allow users to place them virtually anywhere without being limited by the availability of power outlets. Battery life varies among models, with some cameras lasting a few months on a single charge.

Rechargeable Batteries: Some cameras have rechargeable batteries and offer a sustainable, eco-friendly power solution. These batteries can be easily removed and recharged so your camera can remain operational without frequent replacements.

Solar-Powered Cameras: For an even more environmentally friendly option, solar-powered wireless indoor security cameras harness energy from sunlight to keep the cameras charged. These cameras are particularly suitable for areas with ample sunlight exposure and simultaneously reduce the reliance on batteries.

USB Power Adapters: While they may not be entirely cord-free, some wireless indoor security cameras can be powered using USB adapters. These adapters can be plugged into standard power outlets, offering a continuous and reliable power supply.
WiFi Range
WiFi range refers to the distance the wireless camera can establish a stable connection with your home or office network. The WiFi range of indoor cameras is affected by several factors, such as hardware, the quality of the router, and the presence of obstacles like walls or other electronic devices.
The WiFi range of security cameras can vary from model to model. Some advanced models offer coverage of up to 100 feet or more, while others can only cover a shorter distance. To optimize the WiFi connection of your wireless indoor camera, you can position your router in a central location within your home or workplace, or you can use WiFi extenders or mesh networks to boost the signal.
Radio Frequency
Radio frequency (RF) technology allows WiFi indoor cameras to transmit data wirelessly on the airwaves. It forms the foundation of communication between the camera and connected devices, such as smartphones, tablets, or computers. The most common WiFi frequencies for indoor security cameras are 2.4 GHz and 5 GHz.
Cameras operating on the 2.4 GHz frequency band have a more extended range and better wall-penetration capabilities, while security cameras using the 5 GHz frequency band offer faster data transfer rates and less interference compared to 2.4 GHz. To give users more options, some manufacturers have launched dual-band models, which means that they can operate on both 2.4 GHz and 5 GHz frequencies, providing flexibility to optimize their performance based on the specific requirements of distinct indoor spaces.
FAQs
Do wireless indoor security cameras need to be plugged in?
Not all wireless indoor security cameras must be plugged into a power outlet. If your indoor cameras are battery or solar-powered, they don't need to be plugged in. However, some models get power from the USB adapter, so they must be plugged into a power outlet.
How is a wireless indoor camera powered?
Some familiar power sources for wireless indoor security cameras include rechargeable batteries, solar power, and USB power adapters.
What are the best indoor cameras to monitor older people?
When considering indoor cameras to monitor elderly individuals, it's essential to prioritize features that promote their safety, well-being, and comfort. The best one may have the following functionalities: clear video quality, two-way communication, motion detection, remote access, and real-time notifications.
Conclusion
Wireless indoor security cameras offer unparalleled flexibility and scalability for security solution finders. Their wireless nature, easy installation, and integration with smart home systems provide a convenient and effective means of monitoring distinct indoor spaces. Installing wireless indoor security cameras requires no extra wiring work and can be done within a few minutes.
Other factors must be considered when choosing a wireless indoor security camera, such as the power source, WiFi range, and radio frequency. Do you use wireless indoor security cameras inside your home? How do you like them? Please share this article with your friends, and tell us about your thoughts in the comment section below!