You've been thinking of getting a home security system to protect your home, your loved ones and your valuables. However, you have heard that a home security system can be expensive, not only to install, but to maintain. You start to weigh the value: are home security cameras (systems) worth it?
While yes, you need to consider many important factors before you buy a security system, including the average cost of a home security system, the installation and maintenance cost, which may cost a large sum of money. The truth is, a home security system is a worthwhile investment.
Are Monitored Home Security Systems Worth the Cost
A monitored home security system is worth your time and investment. Here are 3 reasons why: 1. home security cameras (systems) are effective; 2. burglaries happen all the time; and 3. the average cost of a home security system is not that high.
Verdict 1: Home Security Cameras (Systems) are Effective
Should you get a home security system? The very first reason you consider is its effectiveness, not to mention its cost.
No doubt, a video surveillance camera system does deter criminals. Thieves caught on security cameras the majority of homes that fall victim to a break-in are not protected by a home security system.
A high-quality home security camera system is one of the easiest ways to deter criminals from breaking into a home. The mere presence of a security sign that indicates your home is protected by a camera can keep home burglars at bay. And, even in the event that a criminal still does decide to break into your home, the system will be activated.
Security Camera Systems
Stay Protected with Security Camera Systems; 24/7 Video Recording and Monitoring; 2 Network Solutions – with or without network.
Either sensors that are connected to the system will sound, which will scare intruders and prevent them from moving forward with stealing anything from your home. Additionally, both you and the service that monitors the home security system will be immediately alerted about the intrusion, including the type of intrusion that has occurred. Once you and the monitoring service have been alerted of a break-in, the incident can be responded to quickly, which will reduce the chances of having any of your personal possessions stolen.
If you add a surveillance camera to your security system, you will double your protection. The camera will capture footage of the intruder, which can be used to help identify him or her.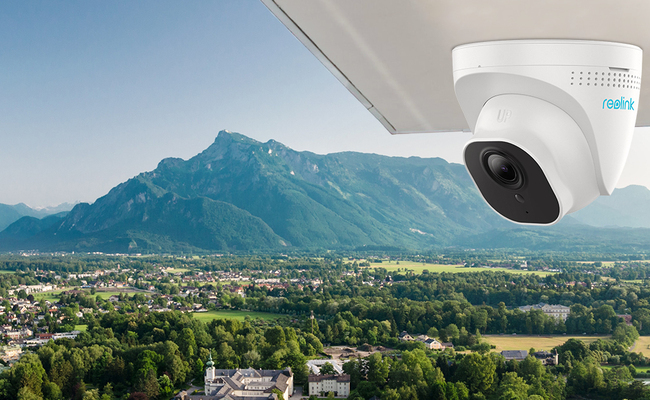 Verdict 2: Home Break-ins Occurs Frequently
Did you know that a home burglary occur once every 13 seconds in the US? These break-ins usually occur through a forcible entry into a home, through a door, a window or any other entry into a home. Even those homes that have strong locking mechanisms are at risk of these break-ins.
Verdict 3: The Average Cost of Home Security System Is Not That High
Part of the reason you hesitate to get a home security system is due to your budget. Now let's  make a rough estimate of how much you'll spend for a security camera (system).
FAQs about the cost of security cameras
How Much is a New Security Camera (System)
To start with a new home security camera (system), you'll spend an amount of money ranging from $100 to $1000 (or even more). And this cost is usually only the equipment cost, which is pretty much especially for those people with a tight budget.
But that doesn't mean you can't find a high-quality home security system with a favorable price. There are still many choices for security cameras under $100 (no monthly cost), an expert working in home security industry for 10 years says. Most of these cameras come from trust-worthy brands and manufacturers, with 30 day money back guarantee and 2-year limited warranty.
How Much do Security Systems Cost Per Month
Some home security monitoring devices usually has a monthly fee of $30 or more. Then it'll cost you $360 for a year, and $1080 for three years. Many users asked in forums, like Reddit, that if home security systems worth it if they have to agree to long-term or short-term contracts.
What about the Cost of Home Security System Installation
You may fall into the misunderstanding that a home security system can cost a pretty penny to install. That is true if you hire a professional security system installation company to do it.
Truth is, many home security cameras and systems in the market these days are DIY types, which makes it pretty easy to install by yourself, without additional installation cost. Our advice is choosing your DIY security camera system in US, Canada, Australia, South Africa and other countries all over the world.
And as for home security system maintenance, we've got you 8 tips to protect your security camera system like a pro.
Reolink Suggestion: It's Worthwhile to Get Home Security Systems
It is true that a home security system can be a significant expense, especially when initially installing it. The equipment and the skill it takes to ensure it is properly installed will run you a few hundred dollars or more (unless you buy a DIY type from top security camera brands, which you can install by yourself).
While the high costs that are associated with a home security system may be difficult to justify, the expense is certainly worth your while if you want to ensure the security of your home, your valuables and your loved ones.
When trying to validate this cost, consider the following:
How much it will cost to replace the items that may be stolen, should a break-in occur.
How much it will cost to repair any damage that may occur in the event of a break-in.
The cost of medical bills, should someone be injured during an intrusion.
Add to these monetary costs the mental anguish that you and your loved ones can suffer from as a result of a break-in, which you can't put a price on, and the expense of a home security system is certainly justifiable.
Other factors regarding cost that you should take into consideration include the following:
The equipment sold by a security service typically comes with a lifetime warranty, which means that should anything happen to any of the components of the system, replacement will be covered.
A home security system can help to reduce your homeowner's insurance. Because the system will reduce the risk that your home will be broken into, which will reduce the chances that your insurance provider will have to pay out, you could be rewarded with lower premiums.
You will have greater peace of mind knowing that your home, your valuables, and most importantly, your loved ones are protected when you have a security system monitoring your home.
Millions of homes are invaded every year. While the cost of installing and maintaining a home security system may make you question proceeding with the installation (BTW, you may need the top 4 tips to save money when buying a security camera system ), the proven effectiveness of deterring break-ins, coupled with the amount of money the system could save you in the long run (not to mention the peace of mind it will provide,) is certainly worth the expense.