When we mention 5G security cameras, you might think of the 5.8 GHz (5GHz) wireless security cameras or the 5G cellular based IP cameras, both of which can actually be referred to as 5G cameras.
So should you choose 5GHz security cameras or 2.4GHz security cameras? When will the mobile 5G cellular security cameras arrive? We've covered the questions you may ask (and answers) and all else you should know about 5G CCTV cameras in today's post.
5 GHz Wireless Security Cameras: An Increasingly Popular Security Solution
5 GHz security cameras are the IP cameras that send streaming video/audio signals wirelessly via the 5 GHz WiFi band or frequency with 802.11 n/ac* standard.
As the 5 GHz wireless camera systems suffer less interference and more routers now support 5 GHz band, the 5 GHz security cameras, as well as dual band (2.4GHz & 5GHz) security cameras, are now the popular options for both home and business security.
2.4 GHz security cameras vs. 5 GHz security cameras, which one to choose? Check out their differences and learn what to look for in this expert guide.
Your 5 GHz wireless security camera can't connect to the WiFi? Employ the top 8 useful tips to troubleshoot the problems.
*802.11n means the device will always operate on 2.4 GHz and some on 5 GHz band, and 802.11ac indicates the device will only operate on 5 GHz.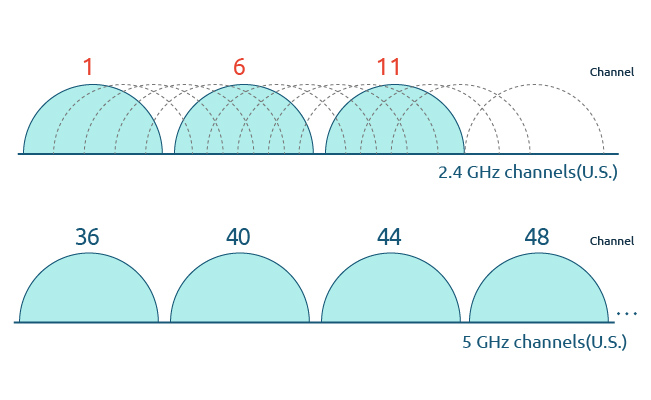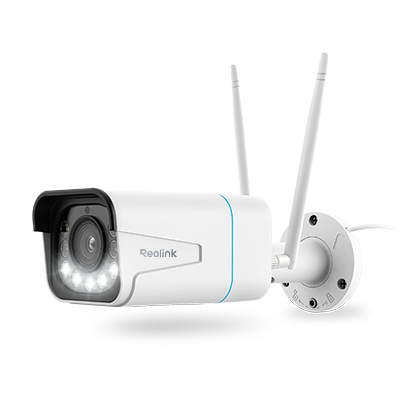 Reolink RLC-511WA
Wireless 5MP Security Camera with Spotlight
2.4/5 GHz Dual-Band WiFi, 5MP Super HD, Person/Vehicle Detection, 5X Optical Zoom, Two-Way Audio, Outdoor/Indoor Protection.
Here is a video sample recorded by Reolink's 5 GHz wireless security camera, RLC-511WA.
5G Cellular Security Cameras: A New & Irreversible Trend Coming Soon
So now we'll walk through the other type of 5G security cameras - 5G cellular CCTV cameras with SIM card. What are they? How can you benefit from the cellular-based 5G IP cameras and what about their future prospects?
What Are Cellular 5G Security Cameras
First off, let's address the problem of " what is 5G ".
Shorthand for the 5th generation wireless systems, 5G is a new mobile Internet connectivity that offers faster speed, greater capacity and more reliable connections than ever before.
And the mobile 5G security cameras are the wireless cameras that include a cellular transmitter and operate on the carrier 5G network for video signal transmission.
Similar to 3G/4G cellular security cameras, 5G cellular security cameras also require a mobile service plan to work. And their reliability can be affected by the network conditions.
Despite that fact that 5G network is still in its infancy, many countries and carriers have joined the fierce competition for the dominance in 5G. Without any doubt, the IP cameras over 5G will also be the next new trend with the proliferation of 5G soon.
What Do Mobile 5G Security Cameras Mean for You
Based on the 5G cellular network with faster speed and lower latency, 5G security cameras can bring the following unparalleled benefits to you:
Require no WiFi connection & power. Operating on the millimeter wave 5G, mobile 5G security cameras can provide a reliable security solution for areas without WiFi connection and power source, such as your barns, farms, construction sites, vacation homes, campsites, RVs, boats, etc.
Faster download and upload speeds. 5G is expected to offer mobile Internet speeds of more than 10 gigabits per second, which is up to 1000 times of 4G network.
This means that you can basically upload your cellular 5G security camera footage to the cloud or download the high-resolution recorded videos within few seconds.
Smooth streaming with little latency. Relying on the faster network speed, 5G wireless security cameras can greatly reduce the latency, or digital response times. So you can watch the smooth live viewing of 5G outdoor & indoor security cameras with almost no lagging time.
Display higher resolution videos. While 3G network fail to support the 1080p Full HD video transmission, 5G cellular security cameras are qualified to stream such high resolution videos while retaining the image quality and details.
Longer standby time and less power consumption. As with 4G security cameras, 5G security systems will be also powered by batteries to roam free.
Thanks to the fast speed and little latency, 5G CCTV camera systems can work in a most efficient way ever, thus consuming less battery power and lasting longer time in standby mode.
Higher-quality two-way communication. For the 5G security cameras with built-in microphone and speaker, you can also expect to get an enjoyable two-way communication experience with your loved ones.
How Carriers of 5G Mobile Security Cameras Are Reacting
The cellular 5G security cameras will always be a fancy dream without the data plan by carriers.
So let's see how the cellular carriers of 5G video cameras are preparing for the irreversible 5G trend.
Taking three of the top US cellular carriers, AT&T, Verizon and T-Mobile for example, all of them have rolled out plans in response to the 5G race.
AT&T: Promised to launch 5G network service in 12 cities by the end of 2018, AT&T is also deploying 5G as a fixed service intended to replace your home Internet connection. (Read this post to learn more about AT&T security cameras.)
Verizon: It will roll out fixed 5G to Sacramento, California and four additional markets in late 2018. But no plans for mobile 5G are announced till now.
T-Mobile: 5G would be deployed in 30 major cities including New York, Dallas, Los Angeles and Las Vegas in 2018. But it will not launch 5G service until 5G smart phones are introduced in 2019.
Besides the above carriers, some giant companies, like Samsung, Intel, Qualcomm, Nokia, Huawei, Ericsson and ZTE, are also devoted to developing and testing 5G network technology, which in turn, would pave the way for the cellular 5G security cameras.
For example, at the past 2018 Winter Olympics, South Korea displayed 5G service for the visitors in collaboration with Samsung and Intel.
And this signifies, soon you might also be able to experience the 5G mobile technology on your Samsung Galaxy S9/S9+, Galaxy S8, Galaxy Note8, Huawei Mate 10 Pro, Huawei Mate 9, ZTE Axon 7, ZTE Axon M, etc.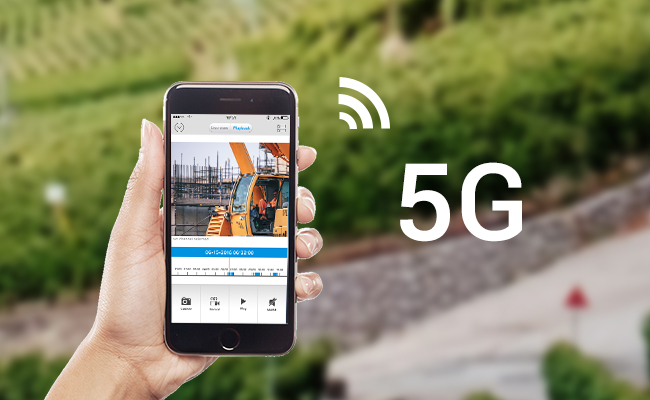 Will 4G/3G/2G Security Cameras Disappear
Even the 5G security cameras dominate the market in the near future, 4G LTE security cameras will continue to exist as back-ups in areas without 5G coverage. And carriers will also develop 4G LTE network on a parallel track.
But things might be different for 3G/2G security cameras.
As mentioned above, high resolution (like 1080p Full HD) videos are currently not supported by 3G security cameras, not to mention 2G cameras.
And the older 3G/2G network technology will also not be compatible with 5G service, so it would simply be a matter of time for the 3G/2G cameras to withdraw from the security camera field.
5G Cellular Security Camera Future Prospects
The 5G cellular security cameras will usher in its spring after a wide-spread roll out of 5G cellphone technology in 2020.
While waiting for the arrival of mobile 5G monitoring security cameras in excitement, be prepared for the higher price of 5G security cameras as well.
As the 5G network equipment can be expensive to install, the cost for network operators will inevitably increase, which in the end will lead to a higher price of the 5G cellular data plan you need to buy for your 5G security cameras.
And many challenges for the 5G wireless IP cameras still lie ahead.
For example, carriers and other related parties need to define a global 5G standard before it becomes the mainstream. And whether 5G security cameras can operate on the high speed 5G network as expected also remained to be tested.
Despite of all the difficulties, both carriers and security camera providers are quite confident about the prospects of 5G cellular security cameras. And they may just come to a neighborhood near you in the near future.
Be Prepared for 5G Security Camera World
Though the mobile 5G security cameras will not be available in the next one or two years, some security camera providers, like Reolink, promise to launch 5G cellular security cameras once 5G mobile Internet becomes a reality.
As a leading innovator in security camera solution, Reolink unveiled its first 4G LTE security camera Reolink Go Plus in 2021 and received high appraisals from its users.
In virtue of the mature technology and successful experience in 4G cameras, Reolink is also expected to take the lead in the 5G security camera world.
Take a Glance of Reolink Go Plus:
Flexible powering options. Reolink Go Plus is packed with a rechargeable battery and you can also buy the add-on Reolink solar panel to provide non-stop power for the camera. It is totally wire-free, cost effective and environmentally-friendly.
Night vision. In virtue of the 2K 4MP high resolution and 6 IR LEDs, Reolink Go Plus can capture clear and sharp images both day and night with visible details.
Customized Alerts. Besides the intelligent alerts (push notifications, emails and siren) by default, you can also record your own alert message to be notified upon motion detection.
Record motion detection videos onsite. Coming with an SD card slot, Reolink Go Plus allows you to record the motion detection events onboard, free from the prying eyes.
IP65 Weatherproof. It is ideal to be placed anywhere indoors & outdoors and can brave the extreme cold or heat.
Mind that even after the proliferation of 5G, Reolink Go Plus 4G security camera can also be installed in places that are not covered by the new 5G cellular network.
Video Transcription
Want to keep tabs on your barns, farms or vacation home remotely without WiFi or Internet? The 4G security camera Reolink Go Plus can help monitor your horses, cows, or rabbits from anywhere on your mobile phone.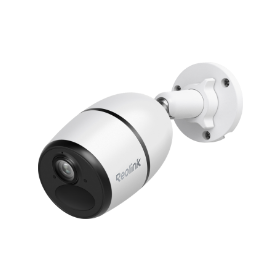 Reolink Go Plus
Smart Wireless 4G Battery Camera
Rechargeable Battery/Solar Powered, Person/Vehicle Detection, 2K 4MP Super HD, Two-Way Audio, High-Quality Night Vision, Live View Anytime.
Still have any problem about 5G security cameras? Or you've got some ideas you want to discuss with us? Please don't hesitate to tell us your thoughts in the comment box! All questions, thoughts and opinions are welcomed!