Want a security camera to monitor your home or business without power supply or without drilling? Well, battery powered security cameras are your best choice!
But wait, my dear readers. If you want a security camera to look after every corner of your house without electricity, the security camera that is battery-powered is not enough. Battery operated security cameras with pan and tilt are your unique choice!
What is pan and tilt function? What do you need to pay attention to when you buy battery powered pan tilt security cameras? Any good recommendations for battery operated security cameras with pan and tilt?
Eager to find the answers? Then wait for no time to keep reading!
If you are looking for a battery powered/operated wireless security camera (system), you are not gonna miss this useful battery powered security cameras buying guide.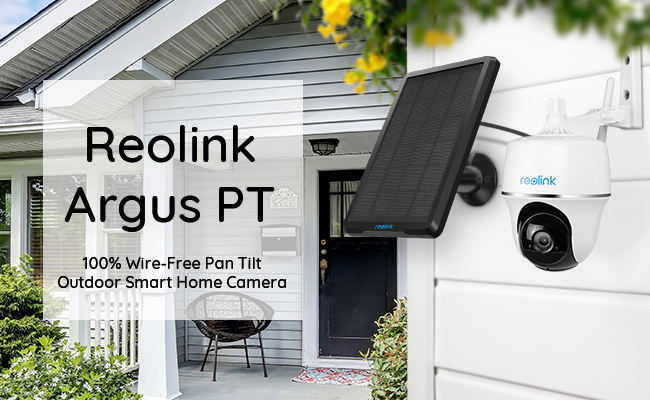 #1. What Exactly Pan/Tilt Function of Battery Powered Security Cameras Is
You may have heard of "PTZ" this term a hundred times. But what exactly is it? What are the benefits of battery powered security cameras with pan and tilt?
Pan — It means that the camera can rotate horizontally, just like a person turning his/her head from left to right.
Tilt — It means that the camera can move vertically (up and down). It is similar to a person raising or lowering his/her head to look up or down.
Zoom — a zoom lens means is the one that maintains focus when the focal length changes. Usually, security cameras have 2 types of zoom lenses: optical zoom and digital zoom. (You can see the detailed comparison of security cameras optical zoom and digital zoom here).
One of the biggest benefits of battery operated/powered pan tilt IP surveillance cameras is that this type of security cameras can provide large field of view and cover more areas of your home/business. You can simply look around your property simply by controlling the pan/tilt button via security camera app installed on your smartphones.
What You Need to Focus when Buying Battery Powered WiFi Security Cameras with Pan/Tilt
When you Google best wireless (WiFi) battery powered outdoor/indoor security cameras, there are some important elements you need to know.
1. Get a Wide-Angle Battery Powered Wireless Security Cameras with Pan Tilt Function
Battery powered WiFi pan tilt security cameras with wide angle can cover more areas of your home/business, and reduce blind spots. A battery operated/powered CCTV wireless security camera with 360-degree pan enables you to look almost everywhere inside/outside your home. The tilt function, with large degrees, can let you view your property up and down.
The wider the viewing angle, the more horizontal viewing area will be covered.
2. Buy a Battery Powered Pan/Tilt Wireless IP Camera with Long Battery Life
Indeed, when you are about to buy battery powered security cameras, one of your biggest concerns would be the battery life. No one wants to replace the batteries frequently.
Thanks to the advanced technology, some battery operated security cameras can support several months! Take Reolink Keen™ as an example. Reolink Keen™ battery powered security camera can support up to 180 days in standby mode. That's extremely exceptional in the market now!
It's definitely a must to learn some useful ways to extend the battery life of your battery powered/operated home security cameras with pan and tilt.
Best Battery Powered Security Cameras with Pan Tilt
In the market, there are only a few battery powered security cameras with pan tilt function. Here is a suitable one for you.
Argus PT is one of the first battery powered outdoor security camera with pan tilt function. It can rotate 355° horizontally and 140° vertically. So you can check your property in all directions, up and down, left and right.
With smooth and fast pan tilt function, you can monitor wide-range areas with just a single camera, which can save your budget on buying multiple fixed security cameras for monitor your property.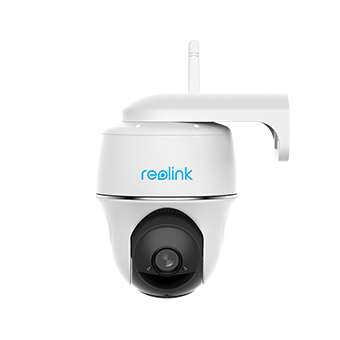 Argus PT
100% Wire-Free PT Camera
Rechargeable Battery & Solar Powered; 355° Pan & 140° Tilt; IP65 Certified Weatherproof; 1080 Full HD; Starlight Night Vision; 2-Way Audio; 105° Wide Viewing Angle.
Tech Spec:
| | |
| --- | --- |
| Resolution | 1080p |
| Power Supply | Rechargeable battery, solar panel or 5V/2A power adaptor |
| Data Transmission | 2.4 GHz WiFi |
| Night Vision | Up to 33 feet starlight night vision |
| Audio | 2-way speaker & microphone |
| Field of View | 105° |
| Pan & Tilt | Horizontal: 355°, Vertical: 140° |
| Smart Home Compatibility | Works with Google Assistant |
| Alerts | Customized voice-recordable alerts, emails & push |
| Storage Options | SD card (not included) & Cloud |
| Weather Resistance | IP65 weatherproof |
| Operating Temperature | -10°C to 55°C (14° to 131°F) |
Check out the video sample below to see the night time performance of this outdoor battery-powered surveillance camera with pan and tilt.
Choosing a suitable battery powered video security camera with pan and tilt function from hundreds of security cameras is undoubtedly overwhelmed. However, it will save you a lot of hazards and time if you follow the above useful buying guide.