When looking for 4K PoE cameras for your home and business, you may feel uncertain that:
Will these 4K PoE security cameras fit my home or business?
Will I pay for unnecessary features?
Actually, you are not alone.
With the 4 essential steps on how to buy the best 8MP PoE IP cameras, you are sure to make some good deals!
Skip to:
Types of 4K PoE Cameras That Meet Your Various Needs
4K PoE cameras mainly come in 3 shapes: bullet, dome and PTZ. You may take their types into account before you make up your mind which 8MP(4K) PoE IP cameras to buy.
4K Bullet PoE Security Cameras
4K PoE bullet security cameras, a mostly seen type of 4K security cameras, are conspicuous due to their protruding design.
Supposed that you want noticeable cameras to scare off intruders or unwelcomed visitors, you may set up 4K PoE bullet CCTV cameras at the front door or other heavy foot traffic areas.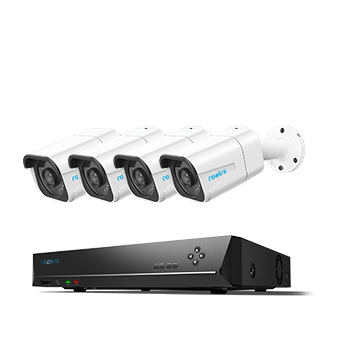 Reolink RLK-800B4
4K 8-Channel PoE Security System
4 pcs 4K Ultral HD Security Cameras; 2TB HDD 8-Channel NVR for 24/7 Recording; Plug & Play; 2 Network Solutions.
4K PoE Dome Cameras
Generally speaking, dome-styled 4K PoE cameras are more preferable security options for indoor use. This type of cameras is smaller in size and can be mounted on ceilings, which makes them less detectable at interior environment.

4K PoE PTZ Cameras
If you are planning to monitor large open areas like parking lots or shopping mall entrances, you may choose 4K PoE PTZ IP cameras. With endless pan & tilt and zoom-in feature, this type of cameras is capable to capture ultra HD images with great details.
Why Should You Choose 4K PoE Cameras
4K PoE cameras catch more attention nowadays than ever before. So, what are the benefits that you can expect from 8MP PoE cameras?
#1. 4K PoE Security Cameras Provide Crisp Images
8MP Ultra HD PoE cameras deliver about twice crisper images than 1440p cameras, 4 times clearer videos than 1080p cameras and 8 times sharper footage than 720p ones. (You may click here to learn more differences among 4K, 1440P, 1080P and 720P security cameras.)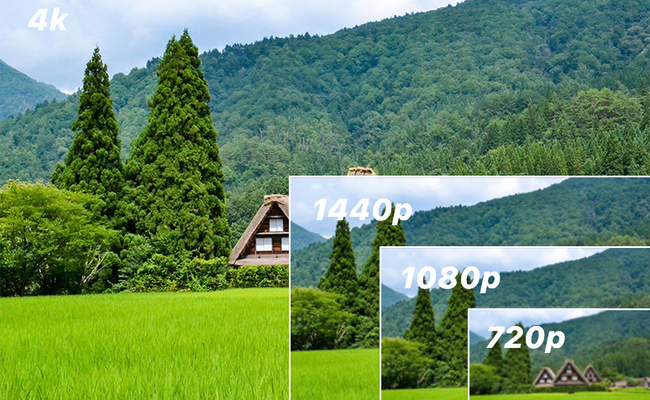 With 8MP PoE cameras, you are more likely to recognize human faces and license plate numbers effortlessly when any suspect motions are detected.
Here is a video sample captured with a 4K/8MP security system, Reolink RLK8-800B4, showing an epic police chase in front of the user's house.
#2. 4K PoE Cameras Allow Easy Zoom-in for More Details
Thanks to the 4K image quality, you are able to conduct digital zooming-in of 8MP PoE IP camera images as you wish. All details are represented vividly and they will be clearer than 1080P images even after 2x digital zooming-in.
#3. 4K Ultra HD PoE Cameras Are the Next Trend
Some of you may concern that 4K PoE cameras are not commonly applied yet. But, actually, they are gaining reputation with extra HD images, easy installation and other desired features.
In addition, 4K digital cameras, 4K TVs and other 4K items spring up rapidly in electrical consuming markets. 4K PoE security cameras, without doubt, are future-proof surveillance options.
#4. 4K PoE Cameras Offer Simple PoE Configuration
4K PoE security cameras require only one Ethernet network cable to receive power and transmit data. It will save you from massive hole-drilling and complicated cable-routing.
#5. 4K PoE IP Cameras Work with Existing NVRs/Systems
As long as you are using 4K-compatible systems or NVRs, you are able to add 4K home PoE security cameras to these devices freely as you wish. This helps save your budget to purchase a whole set of 4K PoE camera systems.
#6. 4K PoE security cameras Save Storage Space and Bandwidth
Compared to H.264 PoE cameras, 4K PoE cameras apply advanced H.265 codec and encode videos at the lowest possible bitrate while retaining video quality.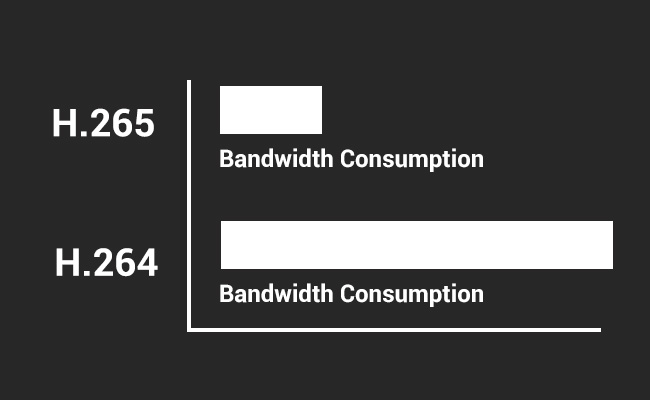 Therefore, you won't meet obstacles like slowing down network speed and soon-to-be-full storage space.
How to Buy and Install the Best 4K PoE Cameras
When you are planning to buy a 4K PoE camera, you may go to local retail stores or online stores to search for cameras that meet your need. In fact, there is more you can do. Here are 4 steps for you to purchase and set up the best 4K PoE security cameras.
Step 1. Make Researches on 4K PoE Cameras
Supposed that you have no any basic understanding of 4K ultra HD PoE cameras, you may get confused by the features, types and brands showing in front of you.
To buy the best 4k PoE security cameras for your home or business, firstly you need to set up a budget range that you can accept. Then you may search top security camera brands that are within budget range.
By doing so, you will know more about the prices of 4K PoE IP cameras and won't waste your time on too expensive or less-qualified products.
Moreover, you can look for giveaways or other discount activities to save your money. Security camera sellers are prone to offer 4K PoE security camera discounts on holidays like Halloween, black Friday and Christmas.
If you want to save your budget, have a look at their websites or social media to find some favorable discounts. Remember to compare the price of 4K PoE cameras between local retail stores and online shops to make the best deals.
Step 2. Choose 4K PoE CCTV Camera Features that You Need
In order to avoid wasting your money on unwanted features, you need to consider your desired 4K PoE camera features in advance.
For example, if you are looking for 4K outdoor PoE IP cameras, you are supposed to focus not only on the water resistance capability and operating temperature range, but also their vandal-proof capability and night vision.
What's more, you can examine the building materials of outdoor 4K PoE cameras. These materials are meant to be long-lasting since they will be exposed to sun, rain and all kinds of bad weather conditions.
Step 3. Buy 4K PoE Cameras from Reliable & Reputable Brands
Now you may have picked out some good 4K PoE cameras and you may continue to narrow the choices down from reliable security camera brands.
Here are the two factors that you may consider:
#1. Check if there are any sound after-sales services. Some top-rated security camera brands, like Reolink, would list customer benefits, including money back guarantee, free shipping, warranty and support policies, in their official sites.
So you may go to 4K PoE camera websites and learn more about these benefits.
#2. Read 4K PoE camera reviews. Users reviews in security camera forums and professional media reviews are two major feedback sources that are worth your attention.
Besides, you are able to examine the image and video results as well by having a look at footage samples of 4K IP PoE cameras, which is the most direct and effortless way.
Step 4. Install & Configure 4K PoE IP Cameras
With packages delivered to you, you may start to install and configure 4K PoE cameras now!
Most 4K PoE security cameras feature plug & play and many brands will give you all the installation accessories in their packages. So you may follow the installation procedures and do it yourself without paying additional set-up fees!
Note that you need to run the cables for 4K IP PoE cameras within a certain range. If you run a PoE camera with too long cables, power supply and data transmission will become unstable.
To install cameras at front doors or other outdoor sites, you also need to handle the cables properly to avoid exposing them to the air. One good solution is to add a junction box to hide the cables in like this Reolink user does.
Cost-Effective Alternatives of 4K PoE Cameras
4K PoE security cameras are new and trending security options, but you may hesitate to make a purchase now because of their less availability and higher price.
However, with the development of security camera industry, there is no doubt that 8MP PoE cameras will become the mainstream in near future.
Meanwhile, more and more security brands state that they are also planning to launch 4K PoE IP cameras soon.
This implies that the corresponding markets will expand and become more mature as well. At that time, these cameras will be more affordable with advanced 4K technology.
If you don't have much to invest in 8MP PoE cameras now, you may look for affordable PoE IP cameras in 4MP or 5MP, which are competent to monitor your home and business perfectly.
Hot Questions of 4K PoE Cameras
Some of you may have other questions on 4K PoE IP cameras and we have collected and answered the hottest ones below.
If you have more questions or ideas, please feel free to share in the comment below with us!
Shall I Use 4K PoE Cameras 30fps for My Home and Business?
To begin with, FPS or frame rate stands for frame per second, referring to the frequency (rate) at which 4K PoE camera records. Typical frame rates include 15fps, 30fps and 60fps.
15fps is enough for average usage, while 30fps and 60fps are designed for places with heavy foot traffic or of high security demand like banks.
Most top-rated security camera manufacturers also adopt 15fps in their 4K PoE cameras. Therefore, you may feel free to apply 8MP PoE security cameras with 15fps for your home or business.
Can 4K PoE Security Cameras Work with NVRs?
Of course yes if the NVRs are 4K-compatible. If you want to run 4K PoE cameras on NVRs from other brands, you need to pay extra attention to the compatibility issues. Check if both cameras and NVRs can work together before you connect them together.
In order to ensure the best performance and results, you are suggested to run 4K PoE CCTV cameras on NVRs that are from the same brand.
Can I View 4K PoE Cameras RTSP Stream on Third-Party Websites/Software?
4K PoE IP cameras apply H.265 codec while some of the third-party live viewing websites or software only support H.264 video format. It requires your additional efforts and advancing network to set up and stream.
At present, most reputable security camera brands offer official and free desktop software and APPs for users to watch live view of 4K PoE cameras. In this way, you are able to apply the officially launched software to view the cameras painlessly.