Wired vs wireless security cameras, which one is better?
Here we'll walk you through the pros and cons of both wired and wireless security cameras and systems, and help you pick the most suitable one within several minutes!
You can also check the frequently asked questions on wired and wireless alarm security cameras.
You're Gonna Read:

Ready. Set. Save!
Big selection, big SAVING. Get your hands on Reolink security cameras & systems before the best prices slip away!
We've also summarized the details about "Wired vs Wireless Security Cameras" in the infographic below. If you think it is helpful, feel free to share it with your family and friends or on social media!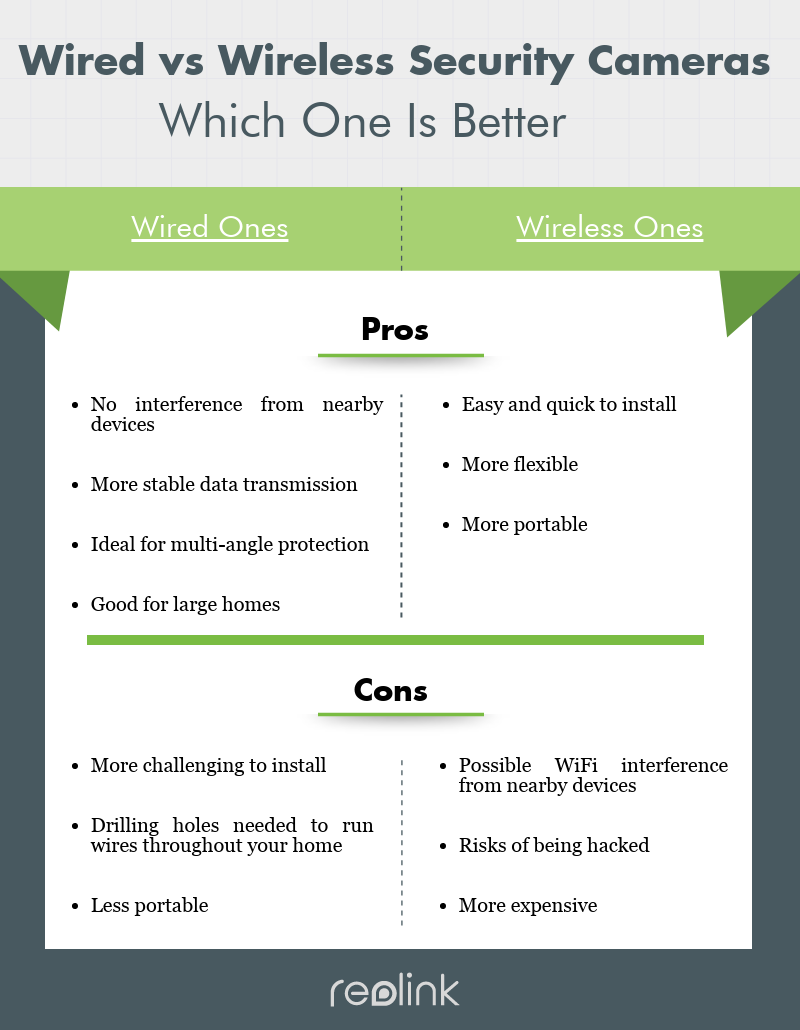 Part 1. Understand Wired CCTV Security Cameras
Wired security cameras, such as PoE IP cameras and hard-wired analog cameras, need wires to realize video transmission and power supply.
Wired PoE IP security cameras typically use Cat 5 or Cat 6 Ethernet wires to communicate with your home network router or NVR. In other words, you can just use an Ethernet cable to connect to your router or NVR for both data and power transmission.
If you wanna dig further into Cat 5 or 6 security cameras, you can read this blog written by Olivia, an experienced tech editor of Reolink.
Traditional hard-wired analog security cameras need 2 cables, one for power and one coaxial cable connecting to the DVR for data transmission.
While wired PoE security cameras can work standalone, analog surveillance cameras need to connect with the DVR. The images of PoE security cameras are much clearer than that of analog type.
You can get more details about wired security cameras in this post (written by Jenny, Reolink's top editor, who has 10-year experience in wired security camera field).
You've got the 2 main types of wired security cameras. Let's view the positives and negatives of wired CCTV security IP cameras.
Wired security camera pros:
No interference from nearby devices
More stable data transmission
Ideal for several zones of protection, good for large homes
Hard-wired CCTV security camera cons:
More challenging to install
Drilling holes needed to run wires throughout your home
Less portable
Part 2. Introduction to Wireless (WiFi) Security Cameras
Wireless security cameras are typically divided into 2 types: battery or solar-powered wire-free security cameras and plugged-in wireless security cameras.
The video transmission of both security camera types is totally wireless. The biggest difference between them is the way in getting the power supply.
Battery or solar-powered wireless security cameras are powered by batteries or solar panels, which makes them zero wire. This type of security camera is the most portable and easy-to-install home smart security cameras.
Plugged-in wireless security cameras need to be plugged in to get power. The communication between the camera and your home router is also through the wireless signal.
Just like wired surveillance security cameras, wireless residential and business security cameras have their strengths and drawbacks.
Wireless security camera advantages:
Easy and quick to install.
More flexible
More portable
WiFi security camera disadvantages:
Possible WiFi interference from nearby devices
Risks of being hacked
More expensive
Now you are equipped with basic knowledge of the pros and cons of both wired and wireless security cameras, please read on to view the comparison of the 2 kinds of surveillance security cameras.
Part 3. Wired or Wireless CCTV Security Cameras: Which One to Choose
You can buy suitable wired or wireless security cameras based on your specific needs. We compared the 2 types of security cameras on the below 4 aspects:
1. Buy Wireless Security Cameras for Easy Installation and Flexibility
Wireless surveillance alarm security cameras take less time to install and require less drilling or wiring work compared with traditional hardwired security cameras.
When it comes to wiring work, battery-powered wire-free security cameras should top your list.
You don't need to do any drilling or wiring job at all. Just place the camera to the position you want, and you are good to go.
Let's take Reolink Argus 2 wireless battery powered security camera as an example.
You can simply install the camera with 3 simple steps: Launch the App on your phone -> Scan the QR code of the camera -> Start live streaming.
In terms of wired security cameras, because of trailing cables, wired security cameras cannot be easily moved or re-positioned after they have been installed. In this aspect, wireless security cameras are better than traditional hard-wired security cameras.
For your reference: With the progressive technology, many security camera companies adopt PoE (Power over Ethernet) to power wired security cameras. Thus the installation process becomes easier than those traditional wired security cameras (such as analog cameras). If you prefer wired security cameras, remember to get DIY PoE IP security cameras.
2. Purchase Wired (PoE) Security Cameras for More Stable Network Signal
Since wired security cameras are directly connected to your home network router, you don't need to worry about the Internet loss or interference. While wireless security cameras depend on WiFi signals to work, it is inevitable that sometimes the WiFi signal is weak or influenced by the environment, such as thick walls and weather (click here to learn how to solve the problem).
If you prefer a more stable data transmission, you can buy wired PoE IP security cameras. This type of security camera only needs a Cat 5/6 cable to realize both power and data transmission, so it's also very easy to install and set up.
3. Pick 100% Wire-Free WiFi CCTV Security Cameras for Perfect Aesthetics
Basically, one of the biggest differences between 5MP,4MP (1440p) and 2MP (1080p) wired and wireless security cameras is in decoration-friendliness and aesthetics. Most wired surveillance systems require you to drill holes and run security camera wires indoors and outdoors, which is not appealing visually.
With wire-free battery operated security cameras, you can remove them at any time without leaving any damage to your property.
A wireless security camera installed inside your home would not stick out too much, so your guests or friends would not feel invasive when visiting your home. If you want to disguise your wireless security cameras, you can use the skin suits to make them more hidden.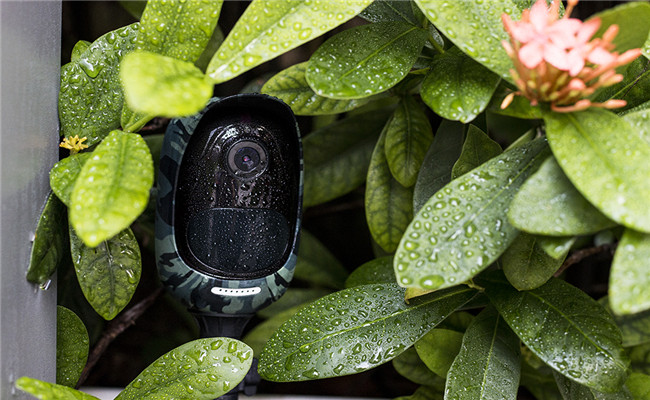 You can just place the 100% wire-free security cameras anywhere you like without drilling holes or running wires. Just place and go, and all is done.
4. Wire-Free vs. Wired Security IP Cameras for Areas Without Power & Internet
When you need to protect your remote properties, such as farm, barn and garage, where power supply and Internet access are not available, wire-free video surveillance security cameras are your only option.
Battery-powered wireless security cameras enable you to get motion videos when there are motion events. You can play back the recorded videos to see who and what triggered the alarms. If there is a thief, you can keep the videotapes as evidence to catch the bad guy.
And here is the best example:
A meter reader triggered the Argus 2 camera when she approaches the homeowner's shed. The battery-powered camera sounds the customized alert instantly but the meter reader feels quite confused since she has no ideas where the sound comes from.
You can buy a battery-powered wireless security camera with local memory card storage, so you don't need to pay monthly fees for the cloud storage.
Some high-quality battery-powered WiFi security cameras, such as Reolink Argus 2, support up to 16GB SD card storage, which enables you to store several hundreds of motion videos. So, you won't miss any important moments.
Both wired and wireless security cameras have their own pros and cons. You can get your perfect match via the above comparison details. If you have any questions, don't forget to leave them in the comment below! We can work them out together!
In order to save your time in searching for the best wired and wireless outdoor or indoor security cameras, you can check the below security camera recommendations. Now start your shopping!
Part 4. Outdoor Wired and Wireless Home Security Cameras & Systems Top Pick for You
Check the best picks below to see which one is your favorite (all security camera types are included).
1. Try Reolink Argus 2 Battery Powered Wireless Outdoor Security Camera
If you need a wire-free security camera without any subscriptions or monthly fees, go get Reolink Argus 2.
This camera uses a rechargeable battery and adds solar power option, which offers you flexible power options. The starlight night vision also makes this camera unique and invincible in the battery-powered security camera market.
You can watch the review video by a humorous tech Youtuber so see how impressive this wire-free WiFi battery security camera is.
2. Get RLC-511W Plugged-in Wireless CCTV Security Camera
RLC-511W is a 2.4/5 GHz dual-band WiFi, offering you more WiFi band options. You can simply install this camera by plugging it into the outlet.

Watch the stunning video captured by RLC-511W 5MP camera. (The video is shared by a customer).

3. Pick RLC-410 Wired PoE IP Security Camera
If you want a wired security camera, try RLC-410, one of the start products in the market.
You can check one of RLC-410 customer's reviews to see its charming points.
"I own three RLC 410 cameras and must say they are easy to set up and use making them great security devices for novices and experts alike. The cameras are well built and have handled temperatures as low as negative 40 degrees over the last couple of weeks here in Alaska. What I like most about these units is the clarity of the video images they produce. Reolink support has been outstanding, they are very responsive and provide answers to my questions the next day. I look forward to expanding my security system with Reolink products."
Check the below video captured by RLC-410 (shared by an RLC-410 user) to see its excellent image quality.

Both wired and wireless security cameras are available on security camera online shop, Walmart, BestBuy, eBay, Amazon, etc. You can find your best wired and wireless security cameras for your home/business on these websites. No matter which country you are, US, UK, Canada, Australia, Thailand, Japan or other countries, you can get your wired or wireless security cameras just by the click of a mouse.
Below are some hot FAQs about "Wired vs. Wireless Security Cameras & Systems". You can add more to this list!
Part 5. "Wired vs. Wireless Security Cameras & Systems" Hot Q&As
You'll get the detailed answers to the "Wired Versus Wireless Security Cameras" frequently asked questions.
Q 1. Are Wireless Security Cameras As Good As Wired Cameras?
Is wire or wireless security system better? Are wireless security cameras better than wired?
A 1: Both security camera types have their own pros and cons. You can choose the most suitable one based on your specific requirements.
Also get some insights about "wireless security cameras versus cable security cameras" and pick the best type in Part 3.
Q 2. Do Wireless Security Cameras Need Power?
A 2: Traditional wireless security cameras need to be plugged into a power outlet to get power supply.
The power source of advanced wireless security cameras is using batteries or solar panels, making the cameras truly wireless from the top to the bottom.
You can get more details in this post to see how security cameras get power.
Q 3. Are Wireless Alarm Systems Reliable?
A 3: When it comes to Internet reliability, hardwired security cameras would be much more reliable than the wireless type.
If you install the wireless security cameras in the place with strong WiFi signal, this type of security cameras can offer you reliable Internet connection.
In addition, some top security camera brands also add advanced security features, including SSL encryption, WPA2-AES encryption, and SSL-TLS enabled, to protect wireless CCTV cameras from being hacked.
Read More: Click here to learn more feasible ways to secure your WiFi home security cameras.
Q 4. Do You Need Internet for Wireless Security Cameras?
A 4: You can still get wireless security cameras to work even without Internet.
Cellular security cameras operate over 4G/3G network, which enables you to get remote live streaming even without Internet access.
All-in-one wireless security camera systems can connect with each other based on their proprietary network. They can offer you 24/7 video surveillance for your rural home, farm, barn and other remote areas without Internet connection.
Also note that without Internet connection or cellular network, you won't be able to access the wired or wireless CCTV cameras remotely via your smartphones or PCs.
Q 5. Is ADT Security Cameras Wired or Wireless?
A 5: ADT provides both hard-wired and wireless security cameras & systems. However, you are gonna need to sign a contract with the company and pay monthly fees for using the systems.
ADT company staff will take back the camera systems once the contract ends. And monthly subscription fees will be costly in the long run.
DIY wired and wireless security cameras without contracts would be a much more cost-saving option.
Q 6. How Long Do the Batteries Last in a Wireless Security Camera?
A 6: The battery life in a wireless battery powered security camera varies greatly among brands, settings, and environmental conditions.
Some wire-free security cameras only support about 1 or 2 months. And other advanced security camera companies use the power-saving technology, which makes the wireless battery operated security camera battery life last about 6 months.
You can take a look at Reolink Argus 2 wire-free security camera. It's powered by a rechargeable battery, so you don't need to buy replacement batteries on a daily basis.
You can also get the solar panel to charge this camera for a non-stop power supply.
Read More: Check out this post and learn how to extend the battery life of security cameras.
Q 7. How to Hardwire a Wireless Security Camera?
Can WiFi CCTV camera be hard-wired? How to convert wireless IP CCTV cameras to wired IP CCTV cameras?
A 7: If you want to get the combination of wired and wireless security camera systems, you can try the below steps to add a WiFi security camera to a wired CCTV camera system.
Here we take RLC-422W WiFi security camera and RLK8-410B4 PoE outdoor wired security camera system as examples.
There're two ways for you to connect a Wi-Fi camera to the PoE NVR:
Connect the Wi-Fi IP Camera to PoE NVR directly via an Ethernet cable.
Connect the camera to the same router which the NVR connected, the network topology is shown below:
Step 1. Log in to your NVR, and go to the IP channel.
Step 2. Select Auto Add, and click Scan so that all the cameras in the same LAN can be automatically shown on the list.
Note: the number of cameras that can be added to the NVR could be different, depending on the channel numbers of the NVR.
Step 3. If you never changed the password of the IP cameras (i.e. the password of the IP camera is the default password) and there are enough channels for all the cameras, you may press Apply to finish adding the new WiFi IP cameras.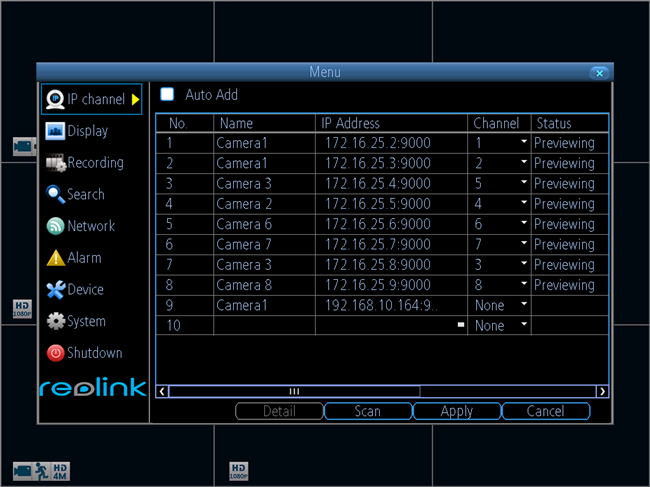 Q 8. How to Turn Your Wired Surveillance Security Cameras into the Wireless Type?
How to convert wired security cameras into wired surveillance cameras?
A 8: You may follow the steps to turn a wired security camera into the wireless type.
Components you'll need for the "Convert-Wired-Security Cameras-into-Wired-Type" DIY project:
A CCTV camera
The "Wired-to-Wireless-Camera" Converter (such as an Access Point)
Your computer
Power adapters
Power cables
Network cables
Step 1. Change your computer's IP address to the same network prefix of your IP camera.
For example, if your IP camera IP address is 192.168.177.100, you'll need to change your computer's IP address into 192.168.177.X. The number for "X" ranges between 2 and 254.
Make sure the IP address of your camera is static.
Step 2. Set up the converter (the access point). Configure your access point with an IP address that is compatible with your IP camera.
Step 3. Connect the access point (converter) to the PoE injector, and then connect the injector to your home router with the network cable.
Step 4. Log in to the converter by entering the default user name and password of the converter, and configure the WiFi band of it.
(There should be a quick start guide for the setup process.)
Step 5. Disconnect the access point from the network. Connect the access point to your camera simply by plugging the camera in to the PoE injector using the PoE cable.
Step 6. Connect the access point from your computer via WiFi.
Now it's your turn to add more Q&As to this list!