Had a strong thunderstorm and several security cameras in the backyard were completely dead or acting odd? Can't afford to keep replacing PoE switches & IP cams due to lightning, and you need some helps from professionals?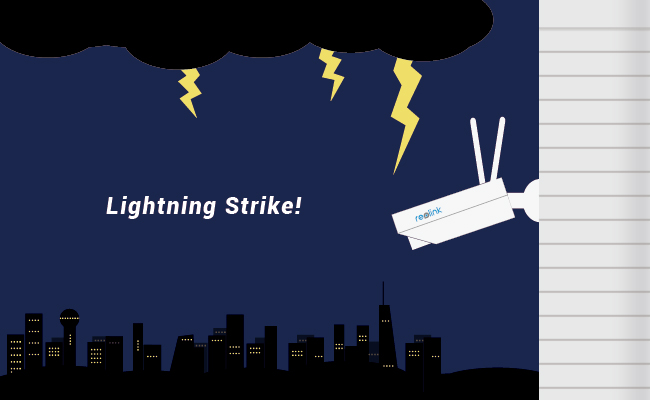 A lightening could kill your expensive outdoor CCTV cameras and even DVRs, which leaves your home vulnerable to trespassers. To protect your outdoor cameras from lightning, you can start from the following perspectives:
When It Comes to IP Camera Lightning Protection, Mounting Matters Most
lightning strikes are likely to destroy your security systems. This is especially true for your outdoor security cameras in the yard, your driveway, your garage, and other open air places.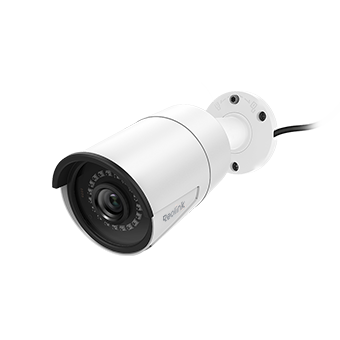 Reolink RLC-410
PoE Bullet IP Security Camera with Audio
5MP/4MP Super HD; Outdoor/Indoor Protection; 100ft Infrared Night Vision; Audio Recording; Mobile Remote Access & Control.
Thus, when
installing a security camera system
outside your home, you should use a proper grounding system and avoid mounting your camera to a metal structure. These lightning surge protection tips will help minimize the risk of a strike.
If your CCTV outdoor security camera is mounted on a building, then it should be grounded to that building's structural steel, as close as possible to the camera.
You can use 1 ½-inch copper strap for the grounding. This will reduce the risk of a power surge traveling down the coax to the NVR or DVR. Yes, your camera may still get damaged, but at least you've saved your video recorder.
If your camera is mounted to a metal pole, then it should be grounded to the pole, alongside a proper ground system installed at the base.
A lightning ground system has the ability to disperse large amounts of lightning energy into the earth quickly, lessening the possible outdoor lightning damage to your cameras.
If your camera is mounted on a non-metal support, it should be grounded to a 3-inch copper strap, running from the camera mount to the ground system at the base.
An additional 3-inch copper strap would also run from a lightning rod (or diverter) to the ground system. Be sure to separate the two straps on opposite sides of the pole, and connect them only below grade
While your building – and metal PoE and wireless cameras (systems) – attract the energy created by lightning, proper grounding and avoiding mounting your camera to a metal structure will be a proactive way of outdoor camera surge protection.
You may also want to ensure that your camera and mounting system aren't the tallest structures on your property. Installing your security camera near a lightning rod can help direct the energy of a strike to that rod, thus reducing the chance of your IP camera and DVR being destroyed by thunderstorms.
To Protect the Whole CCTV System (Camera and NVR/DVR), Power Supply Panels May Help
There's no guaranteed way to prevent your cameras (and NVR/DVR) from being damaged by lightning and surges, simply because it's left exposed in the elements.
In this instance, the last thing you can avoid is to avoid the lightning from killing your entire NVR/DVR system.
Using individual power supplies to power cameras can put your camera at greater risk of damage during a power surge.
To protect your entire outdoor security system from lightning, consider using Power Supply Panels, together with CCTV lightning surge protectors and Uninterruptible Power Supplies.
These lightning protection gadgets for CCTV cameras will significantly decrease the possibility of your home security system getting damaged, even if one of your outdoor cameras happens to get hit.
Significant power surges (lightning is a prime example) can jump between terminals, even if a fuse has blown. A UPS (Uninterruptible Power Supply) will ensure the video is not lost during power surges, lags, or lightning strikes (so long as all cameras and DVR are powered through a UPS).
Notes to Choose a Proper UPS:
There are two common types of UPS: a standby UPS and a continuous UPS.
Standby runs the NVR/DVR off the normal power supply until a problem is detected. Continuous, however, means the NVR/DVR is always running off the battery power of the UPS (and the battery is constantly being recharged).
Standby UPS's are often less expensive than their continuous counterparts; however, many folks prefer using a continuous UPS because then the NVR/DVR will always receive the optimum voltage.
Get Outdoor Camera Lightning Protection by Asking Technical Support & Choosing High-Quality Cameras
"Do I need to protect my camera against lightning?" First-time security camera users may have this confusion and don't think it necessary to add more lightning protection, especially when the camera has a grounding pin on it.
Just by the sheer makeup of security cameras (metal casing, electronics), these pieces of equipment are extremely vulnerable to lightning strikes. Generally, security camera manufacturers will suggest placing lightning rod or arresters in the rack and grounding to the grounding pipe.
Moreover, make sure you buy reliable and high-quality cameras from a trusted manufacturer. The lower-quality a security camera is, the more likely and more frequently it will get destroyed by Mother Nature. Top security camera brands, are better choices to get power surge and lightning protection.
Outdoor cameras are susceptible to lightning strikes. But try the above-mentioned lightning protection tips to protect not only your cameras but also your NVR/DVR as well. It helps minimize the cost of repairs and replacements, while avoiding downtime with your security system.
Lighting strike is just one of the many issues you come across with your home security camera. For more, you can refer to common problems and fixes of security camera systems.