Farm security cameras (systems) are a real winner in the battle against farm thieves or ranch burglars. More than 3/4 of farmers report having been victims over the past 10 years. Rural police say one of the most effective solutions is using farm security cameras (systems) like Reolink Go. Recently, 2 farm burglars got caught thanks to clear images captured by farm security cameras (view the video here).
Determined to install farm security camera systems is a no-brainer if you have experienced economic losses due to farm thieves. But what kind of security camera systems should you buy for your farm with or without Internet? What are some essentials should you consider?
You'll have a variety of security camera system options for your farms with Internet. Meanwhile, even without Internet & power cords, you can still find suitable farm security cameras (systems) to track the animal behavior in your barn, to prevent ranch thieves, etc.
Content:
Part 1: Top-Rated Security Cameras for Your Farm with Internet
Part 2: Best Security Cameras for Your Farm Without Internet
Part 3: Farm Security Camera & System Top 3 Features to Know
Part 4: How to Install Your Farm Security Cameras & Systems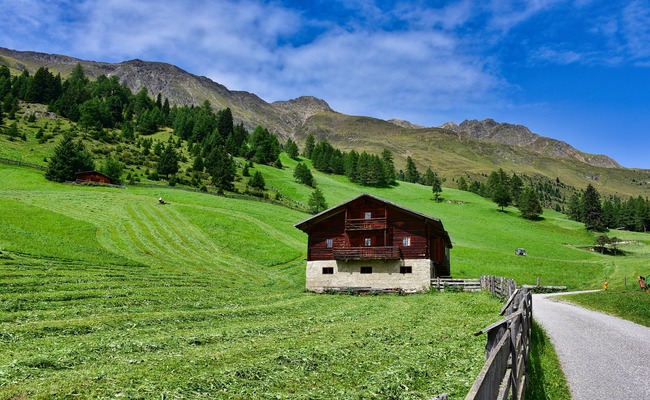 #1. Farms with Internet: Best Farm Security Cameras (Systems) You Should Get
There are 3 main types of farm security cameras (systems) for you farms & ranch outbuildings with Internet. You can choose whatever you prefer.
1. PoE IP Security Cameras — Easiest Wired Farm Security Cameras
Traditional wired outdoor & indoor farm security cameras tend to be troublesome, but the PoE security cameras for farm is an exception. You can install this kind of farm machinery surveillance cameras all by yourself without paying extra money to hire technicians.
If you want a standalone farm security camera that can monitor a wide range of your rural farm, Reolink RLC-423 PTZ camera is a good option. A single farm PTZ security camera can work the same as multiple fixed ranch security cameras, which saves your budget.

Ready. Set. Save!
Big selection, big SAVING. Get your hands on Reolink security cameras & systems before the best prices slip away!
Hint: If you don't know how many security cameras you should install for your farms, you may get some insights in this article, written by Reolink's chief editor, Yolanda, who always shares useful tips and tricks with her fans.
When you install a wired PoE security camera for your barn or farm, make sure that the wire length can reach the distance between your house and your rural farm or barn. You can use an Ethernet extender to extend the connection distance between your home router and your dairy farm security cameras.
2. Wireless (WiFi) IP Farm & Barn Security Cameras
Want to set up remote farm security cameras? Then you should never miss wireless farm security cameras. There are 3 popular WiFi security cameras for farm on the market: 2.4 GHz, 5 GHz and two-band (2.4 GHz and 5 GHz) wireless security cameras.
2.4 GHz wireless farm security cameras: This type of WiFi ranch security cameras transmit the signal via 2.4 GHz band, which every router supports.
5 GHz WiFi farm security cameras: This kind of security cameras transmit the data over the air by 5 GHz WiFi frequency.
The main differences between the 2 frequencies are the range (coverage) and bandwidth (speed) that the WiFi bands provide. 2.4 GHz wireless farm security cameras provide longer range but transmit the data at a slower speed. 5 GHz WiFi barn security cameras, on the other hand, provide less coverage but transmit date at a faster speed.
Two-band wireless farm security cameras: You can get 2 WiFi frequency options (2.4/5 GHz), and switch between them based on the actual Internet situation. Dual-band wireless security cameras are ideal for Internet connection both inside and outside your farms.
In terms of two-band security cameras, Reolink leads the way. Reolink RLC-511W WiFi security camera is one of the most popular WiFi security cameras in the world.
3. Farm Security Camera Systems — Your Best Choice to Secure Your Farms & Ranches from Thieves
A modern farm CCTV security camera system, with its array of electronic components, is designed to sense, decide, and act. The farm security system senses events such as dangers happening in your farm, decides if the event poses a threat, and then acts on that decision.
Both PoE and WiFi security camera systems can offer 24/7/365 protection for your farms. Another benefit of farm security camera systems is that they don't take up your local network when doing 24/7 video surveillance. Moreover, video is recorded in the built-in HDD disk of the NVR or DVR without occupying any of your devices' memory.
No matter what kind of IP security cameras (systems) you choose for your farms, you can access your farms with your iPhone, Android smart phones and other devices locally and remotely, when your farm security cameras and your smart devices are both connected to the Internet.
Just log into your farm security camera app, you can view your farms wherever you are. Moreover, you can receive real-time alerts via push notifications and e-mails when motion events are detected by your farm security cameras. Thus you can take actions at once.
#2. Farms Without Internet: Top-Rated Farm Security Cameras (Systems) You Should Choose
Can I monitor my farm without Internet 24/7/365 day and night?
Yes. There are 3 farm security solutions that can help you get video surveillance for your large farm property, livestock, barn, rural and remote areas, etc.
Solution 1. Buy a Ranch IP security Camera with SD Card
Farmyard security cameras with SD card can protect your ranches or feedlots without Internet. Power on your orchard security cameras, and they start monitoring your farms. Anything happening to your plantations can be recorded.
When there are any motion events, your agriculture farm security cameras will record the important video clips to the local SD card for your later playback. Even your farm has no Internet access, you won't miss anything important when there is anything unusual.
Please note that the built-in SD card memory of these smallholding security cameras is usually small, so you need to export the recorded videos before they get overwritten (if you want to back up the data).
Solution 2. Purchase Farm Cellular Battery Powered Security Cameras Without Internet & Power
Battery-powered 4G security cameras are the best farm security cameras for your ranch without power cords and WiFi connection.
Unlike other wired and wireless security cameras using a dedicated Internet connection for remote viewing, cellular security cameras operate over a 3G/4G/5G cellular network, making them usable in your farm and other remote locations where Internet access and power cords are unavailable.
Take Reolink Go as an example. This wire-free cellular security camera can be placed both outside and inside of your farm, offering you super clear day and night images with its 1080p Full HD & advanced starlight night vision.
You can watch the below video to get more smart features of Reolink Go rechargeable battery powered cellular security camera.
Solution 3. Find a Farm NVR or DVR CCTV Security Camera System
The videos & images you collect with your farm security camera systems are often used to review a crime or accident, so that you can understand what really happened in your farms when you were not there.
With evidence captured by your farm gate & window security cameras, police can catch the criminals more easily, and the likelihood of recovering your items increases.
A hobby farm or barn security camera system is the most powerful tool to protect your farms 24/7/365 whether your farms have Internet or not. High definition farm surveillance security cameras record everything and store the videos in the NVR or DVR. You can play back the recorded videos whenever you like.
#3. Farm Security Cameras (Systems) — Top 3 Features to Consider
When buying the best farm security cameras & systems when your barn, ranch and other large properties are with or without Internet access, you can check the below top 3 features to make a quick purchase.
Feature 1. Choose High Definition Farm CCTV Security Cameras
1080p security cameras are popular high definition farm security cameras on the market. Usually, for sharp and clear pictures & videos, you'd better invest in 1440p, 1920p, or higher definition farm security cameras. The higher definition the cameras are, the clearer images you will get.
FYI: For more details about the high definition farm security cameras, you can take a look at this post.
Innovative security camera companies always keep moving forward. Take Reolink as an example. This company upgrades multiple 4MP security cameras into an 8MP version so that you can get much clearer and sharper image details than other lower resolution security cameras.
You can take a look at the video captured by an 8MP security camera (shared by a customer).
Feature 2. Invest in Farm Security Cameras with Night Vision
For protecting your agricultural or livestock farms day and night, you should go for long-range night vision security cameras.
For example, Reolink RLC-423 security camera, with 6pcs infrared LEDs and 190ft night vision distance, can record crystal-clear images at dark night.
Some of you may ask, "Would the IR from a farm night vision security camera disrupt the plant cycle, or harm the flower plants?". Plants in your farm will only absorb the spectrum under 700 nm. IR light of your farm security cameras with night vision is typically above 700 nm, so the IR light will not harm your plants.
Feature 3. Find an Outdoor Farm CCTV Security Camera (System) with Weatherproof
If you want to install your farm surveillance cameras & systems for outdoor use, weatherproof security cameras with IP65 rating are your best choice. Even in a rainy day, these waterproof security cameras can perform very well.
You can monitor both inside and outside of your farm, ranch or barn by installing the IP65 or IP66 wired or wireless farm security cameras, without worrying about the weather.
You can take a look at how an IP65 weatherproof outdoor remote farm surveillance camera braves the snow (shared by a customer).
Where to Buy Your Farm Security Cameras (Systems) in US, UK, Australia, NZ, Canada, etc.
When you live in US, Perth Australia, Canada, UK or other countries, you would ask, "Where can I purchase DIY farm security cameras (systems) in NZ, Toowoomba, Alberta, India, etc.?".
The security camera online store is the best place for you to buy farm security cameras wherever you live, Vancouver Canada, Ireland, Victoria, South Africa, etc. You'll get the best after-sales services and 1-on-1 tech support when buying from the official online store (with free shipping).
Besides, farm security camera systems are also available on those popular online sites, such as Amazon, Lowes, Costco, eBay, Walmart, etc.
Now you've got the best farm security cameras for your farm, the next step is to install your wired and wireless farm security cameras & systems. You'll get some helpful tips on placing your farm security cameras in the below part.
#4. How to Install Farm Security Cameras & Systems
When you install farm security cameras, remember to cover the below important locations of your plantations, estates, pasture, pastures, etc.
• Your farm entrances, exits, driveways
• The holding pens to monitor or track animal behavior & employee working operations
• Trouble areas such as machinery storage farmhouse, fuel tanks and water supplies
When you install PoE wired farm security cameras, just connect the cameras to your router via a Cat 5 or 6 cable. You can use an Ethernet extender to extent the connection distance between your cameras and the router.
For wireless ranch or farm security cameras, you just need to power them up and all is done. As long as the WiFi security cameras & systems are within WiFi range, you can access the cameras wherever you like.
In terms of battery powered rural farm surveillance cameras, you can make them work extremely easily by inserting the batteries into the cameras. You can also connect the cameras to the solar panel to get continuous electricity for your cameras.
You can read this security camera installation guide written by Reolink senior editor Amanda, who loves sharing helpful tips on home security.
When you install security cameras for your wind farms or arable farms, sometimes you may need to run wires for your security cameras. You can get a step-by-step guide here to run security cameras.
Weighing the Cost
Farm security camera systems could be costly, but losses incurred by farm theft can be much more significant. The farm security camera system fees will undoubtedly be less than the financial and emotional aftermath that follows a farm burglary.
You're invited to join in the conversation! If you have any thoughts, tips and tricks for farm security cameras (systems), please leave them in the comments below.