Remember those upsetting times when your IP camera delivers "freezing" video feed or hits its storage ceiling in few days?
With H.265 IP cameras, now you can stream high quality videos without eating up too much bandwidth or affecting the performance of other online devices and store the footage in smaller file sizes.
So what are H.265 IP cameras? How can they affect the required bandwidth usage and storage consumption? What are differences between H.265 cameras and H.264 IP cameras? And where can you find the best H.265 security cameras in the market?
To find the answers of all these questions about H.265 IP cameras, please kindly read through this post and leave your comment below if you have any questions or would like to share your ideas with us.
What Are H.265 IP Cameras
H.265 IP cameras are the kind of surveillance cameras that adopt High Efficiency Video Coding (HEVC) or H.265 to encode the video data.
So it begs the following question: what is H.265?
H.265 (named by ITU-T and the numbers contain no special meanings), also called High Efficiency Video Coding (HEVC), refers to an advanced video compression standard that can encode video files twice as efficiently as its predecessor, Advanced Video Coding (AVC), also known as H.264.
H.264 IP cameras, as you can guess, utilize H.264 – one of the most commonly used formats for video recording and compression to provide high quality videos at substantially lower bit rates than previous standards, like MJPEG IP cameras.
In comparison to the H.264 security cameras, h.265 video cameras can double the data compression ratio at the same level of video quality.
This means you can use an H.265 surveillance camera to reduce the bandwidth utilization and storage consumption by about 50% without sacrificing the image quality for various video applications.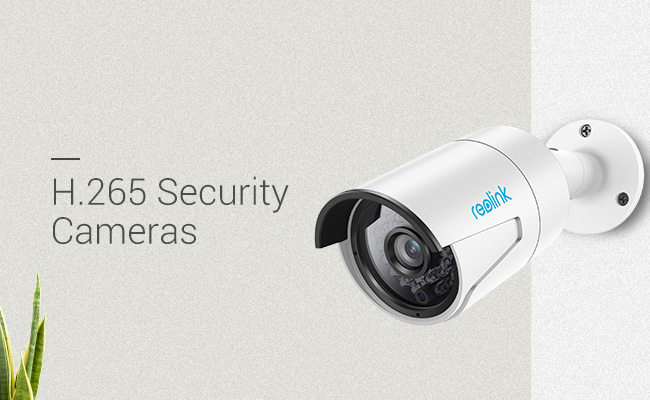 Now H.265 security cameras are generally featured with 4K/8MP high resolution and can even support up to 8192 × 4320 pixels. In the world of 1080p and 1440p contents, H.264 security cameras are still the main trend.
How Do H.265 Security Cameras Work
H.265 IP cameras firstly capture the raw footage according to the recording mode you set up, and then encode the videos in H.265 compression after processing the images.
Unlike the H.264 codec that allows for a maximum of 16 x 16 pixel macroblocks to process information, H.265 HEVC security cameras can expand the pattern comparison to sizes up to 64×64 pixel Coding Tree Units (CTUs).
Larger block sizes are more efficient to encode larger frame sizes, like 4K resolution. Other improvements with the H.265 IP cameras, such as improved deblocking filter and motion vector prediction, also contribute to their greater encoding efficiency.
In other words, H.265 CCTV cameras are therefore able to encode videos at the lowest possible bitrate while retaining a certain level of video quality.
Why Should You Choose H.265 Cameras
The advent of H.265 IP cameras has brought great convenience and opened up new possibilities in the security filed.
Why would I say so?
These following advantages of H.265 CCTV cameras will be the best answers.
1. Reduce Bandwidth Usage & Storage Consumption
H.265 IP cameras feature a lower bitrate compared with H.264 and MJPEG security cameras in the same resolution, thanks to their state-of-the-art video compression coding.
Based on the CCTV camera bandwidth calculator and storage calculation formula, lower bitrate will lead to less required bandwidth and storage capacity.
So an H.265 network camera can generally reduce bandwidth consumption and storage usage by about 50% or above. And you no long need to worry that your H.265 camera will slow down your network speed or require too much storage space.
2. Improve Live Feed & Remote Viewing Quality
As H.265 IP cameras take up less required bandwidth, you can expect to get a smooth live feed & remote viewing experience on your smart phones while maintaining the image quality.
For example, you can even stream 4K videos of an H.265 security camera over common network speed without freezing or laggy images.
3. H.265 Surveillance Cameras Offer Better Image Quality
As noted above, H.265 cameras compress information in the Coding Tree Units (CTUs), whose sizes can vary from 4×4 to 64×64, while H.264 allows a maximum block-size of 16×16.
These larger blocks of H.265 IP cameras can mean more accurate information when compressing 4K videos. Thanks to their efficient video compression coding, you'll obtain smooth footage streaming without any frozen or delayed images.
4. Allow for Longer Recording Time
H.265 IP cameras can reduce the required storage usage by about 50%-60%, which means that you'll get smaller file sizes for the recorded footage.
Whether you record the videos to an SD card or to an H.265 NVR, an H.265 security camera can allow for longer recording time before the old videos are overwritten and save you the additional cost to store data, such as paying for the cloud or an external hard disk drive for your NVR.
5. H.265 CCTV Cameras Provide Multiple Streaming Options
In virtue of the efficient video compression coding, H.265 IP cameras provide multiple different resolution streams for your options, supporting a maximum of 8K ultra HD high resolution.
If your network speed and storage space don't allow for such high resolution videos, the h.265 CCTV cameras also allow you to select sub-stream modes to deliver 1440p or 1080p footage.
H.265 IP Cameras vs H.264 IP Cameras
After testing the H.265 IP cameras and H.264 cameras, here we have concluded their main differences from the following aspects:
H.265 CCTV IP Cameras vs H.264 Cameras in Bandwidth Consumption
H.265 IP cameras possess a higher H.265 compression ratio compared with H.264 security cameras.
In the same level of video quality, H.265 PoE cameras can reduce about 50% network bandwidth consumption in transmission and increase streaming speed.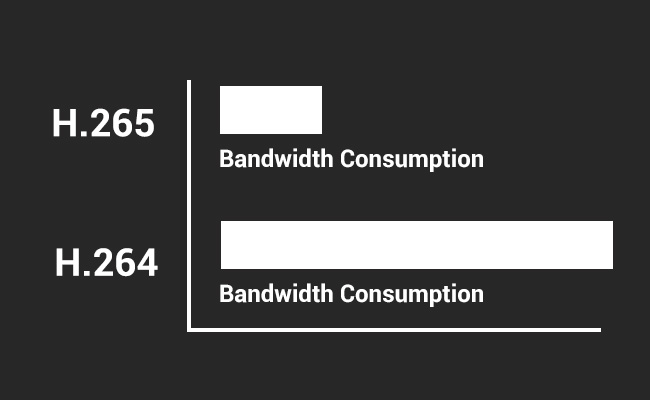 And you may refer to this table below to check out the recommended bandwidth for H.265 security cameras and H.264 security cameras in different resolutions.
Resolution

Minimum Upload Speed

H.265 IP Cameras

H.264 IP Cameras

720p

2 mbps

5 mbps

1080p

4 mbps

8 mbps

1440p

8 mbps

16 mbps

4K

15 mbps

32 mbps
Note: These results are estimated under stable network conditions and may vary with your actual environment and other factors.
H.265 IP Security Cameras vs H.264 Cameras in Storage Usage
As the bitrate is proportional to the required storage usage, H.265 IP cameras with lower bitrate can compress the videos in almost half the file sizes in comparison to H.264 cameras while retaining the original video quality.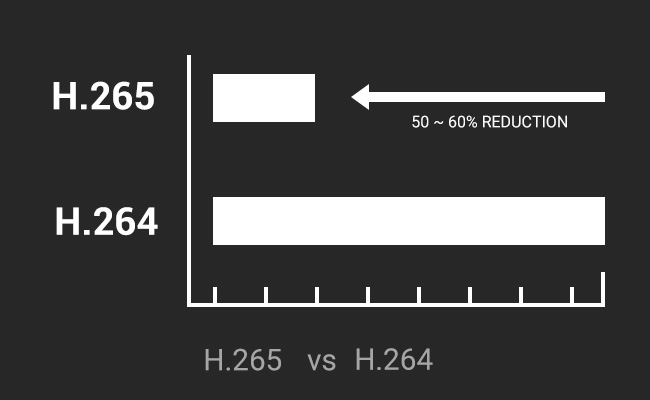 H.265 Cameras vs H.264 Cameras in Recording Time Length
Just as mentioned above, H.265 CCTV cameras are packed with a lower bitrate than h.264 IP cameras.
That is to say, with the same storage space, H.265 IP security cameras can allow for longer recording time length before the older files are automatically overwritten. (Learn more about how long security cameras can record.)
H.265 IP Cameras vs H.264 Cameras in Video Quality
By utilizing the CTUs (Coding Tree Units), H.265 cameras incorporate larger blocks to pixels than H.264 IP cameras and these larger blocks are beneficial to compress larger frame sizes.
So H.265 IP cameras are more suitable to produce higher resolution images and videos, such as 4K and 8K ultra HD footage, with less bandwidth usage and storage consumption.
H.264 cameras, on the other hand, are a better option to offer you 1080p/1440p/5MP videos.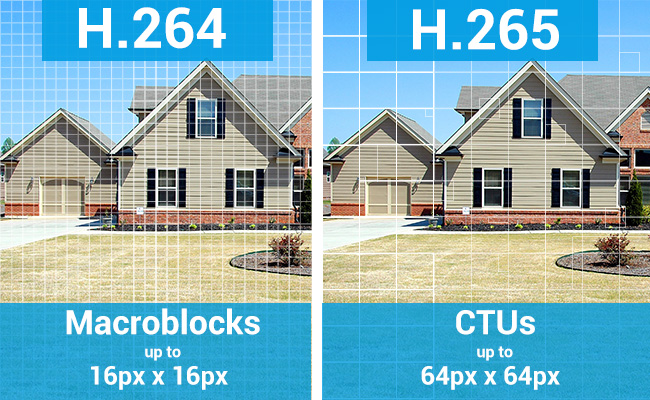 Where Can You Place H.265 Surveillance Cameras
H.265 IP cameras are suitable for a wide range of applications – indoors & outdoors, for home & business, such as your front door, back door, garden, garage, shop, constructions sites, schools, hospitals, bars, etc.
And the H.265 CCTV cameras are especially ideal for delivering ultra HD videos with the high-efficiency video compression coding, such as 4K and 8K.
Indeed, some reputable security camera brands, are already providing or plan to provide 4K H.265 cameras to stream clearest ever videos with less network consumption and storage usage.
If you need to monitor large areas with minimal bandwidth usage and storage consumption, a 4K H.265 security camera system can also meet your needs with an H.265 NVR included for long-time video storage.
Should You Buy H.265 Cameras or Not
H.265 IP cameras are gaining increasing attention now with the growing demand of video streaming in high resolution and 4K devices, such as 4K TV and monitors arriving in succession.
It is undeniable that H.265 IP cameras offer you a more efficient way to stream and store videos, but do you actually need an H.265 security camera for your application?
It depends.
As H.265 CCTV security cameras are relatively new in the security camera field, it is no surprise that they are hard to find still. And their higher price is also an important factor you should consider.
Besides, H.265 IP cameras are basically designed to deliver 4K/8MP ultra HD high definition videos, so they can only be brought into full play when greater details are required or when you need to monitor large areas, like your shared driveway, backyard, construction sites, etc. (Read this post to select a H.265 4K outdoor security camera.)
If you need to cover relatively smaller areas and have a relatively tight budget, H.264 security cameras would be enough for you to produce 5MP/1440p/1080p videos with some details included, like human face features, license plate numbers, etc. (Click here to get multiple H.264 security camera options.)
Watch the video below captured by an H.264 security camera, Reolink RLC-410.
Update: Aside from H.264 and H.265 compression code, there is also another compression code for you to choose from, which is H.264+. For example, Reolink has launched its first 4K security camera system, RLK8-800B4, which can capture videos in 8MP ultra clear image quality with H.264+ compression technology. With this security kit, you can watch everything around your property clearly without using up the storage space.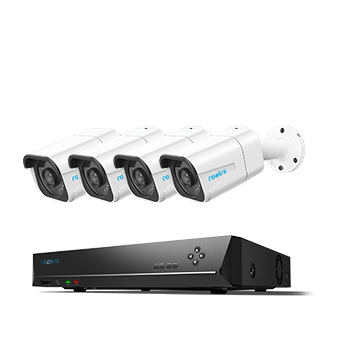 Reolink RLK-800B4
4K 8-Channel PoE Security System
4 pcs 4K Ultral HD Security Cameras; 2TB HDD 8-Channel NVR for 24/7 Recording; Plug & Play; 2 Network Solutions.
So what are your thoughts about the H.265 IP cameras? Will you consider buying one for your home or business? And do you still have any questions about H.265 cameras? Please leave your comment below and we'd like to discuss more with you.