Smartphone as Security Camera
A smartphone security camera can be easily set with your old Android phone or iPhone, to help you to spy on your dogs or watch outdoors. Just follow the quick steps below to get started:
Step 1: Choose a smartphone security camera app. For example the Manything for iPhone and IP Webcam for Android phones.
Step 2: Install the smarphone security camera app on both your old camera phone and monitor phone.
Step 3: Set up settings on the old phone to turn it into security camera, including motion detection, alerts, video quality and general settings.
Step 4: Put the old smartphone controlled security camera in the best position to monitor the area you want.
Step 5: Sign into the smartphone security camera app with the same account on your monitor phone.
Step 6: View live videos from the security camera for smartphone.
If you want more information about turning smartphone into security camera, here are detailed guides for Android phone and iPhone separately.
Pro Tips for Using Smartphone as Security Camera
Smartphone security camera is an easy and cheap way to spy on things and get some level of security. Meanwhile, there is still something you should know before running a smartphone security camera:
Smartphone security cameras can became very hot after a little while especially when you scheduled it to continuous recording mode.
Smartphone home security camera will need continuous power, so put it near a power source.
Smartphone security cameras will be useless after dark, so you will have to keep the light on if you want to view things at night.
So if you want higher level home security day and night with better features, a security camera with smartphone app will be a better choice. At least, if someone breaks in, it would be much harder for them to grasp it down and take it with them.
Actually, these days smartphone security camera can be much affordable than you think.
Buy Smartphone Security Cameras? 5 Things to Consider First
Unlike using the old smartphone as security camera, the purpose built smartphone security cameras offer you easier control on the phone.
And today, most IP cameras are smartphone security cameras and they have the ability to connect with phones, through which you can monitor the indoor and outdoor of your home easily even if you are outside of your town or city. And some can be accessed even without WiFi network, like the 4G security cameras.
Reolink Go
100% Wire-Free 3G/4G LTE Mobile Camera
No WiFi & Power Needed; Rechargeable Battery or Solar Powered; 1080p Full HD; Starlight Night Vision; 2-Way Audio; Live View Anytime Anywhere.
However, what makes up a quality smartphone security camera? Start with the below five necessary elements!
#1. Security Camera for Smartphone: Compatibility Issues
"Whether I could run the smartphone security camera app successfully in my Android/iOS phone?"
Actually almost all security cameras have smartphone remote viewing function as I have put it - just a matter of what they'll support - iPhone, Androids, desktop/laptop access, etc, and also email alerts.
So do check it out in the smartphone security cameras' product page, or its specification chart, and make sure the smartphone home security camera can work in your devices.
This is especially important if you want your smartphone security camera works in both your iPhone 4/5/6/7/8/X and your family members' Samsung/LG/Lumia phone, perhaps.
Want images and videos alerts of security camera to smartphone?
No problem. Just go to the settings of the email alerts. There are photo and 30-second video clips on your choice.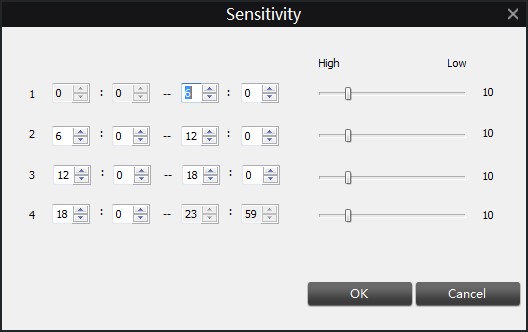 #2. Smartphone Security Camera App
"There are so many security camera with smartphone app out there, which one is better?"
Among the various smartphone security camera apps, it's advised to use the manufacturer's customized app in order to full play its functions, like PTZ, two-way audio, motion detection scheduling, video stream selection, etc.
Some 3rd party smartphone security camera apps do offer certain security camera smartphone access, like the live view on your phone and video playback, but that's pretty much everything you can expect.
Attention: Many smartphone security camera app will require subscriptions and monthly fees for live view or storage, which would be a big cost in the long run. Avoid those types if you want to save money.
Bonus: Click here to find top 10 smartphone security camera apps for Android and iOS devices. (Free download Reolink app here with no subscriptions and monthly fees.)
#3. Simple Steps to Link Security Cameras to Smartphone
The smartphone security camera setup could vary a lot between different brands, and some of them may be confusing for the average house owner with little networking background.
So it's important to know about the setup process of smartphone security camera system. Take the Reolink smartphone security camera as example. You only need 3 steps to get it done:
Step1. Install the free smartphone security camera Reolink App on your mobile phone.
Step2. Launch the app and enter a unique ID number (UID) to add the camera device.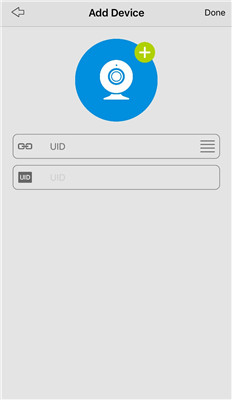 Step3. Click the smartphone security camera to get live view or set configurations.
Quick Troubleshooting:
"I do not have WiFi or a wireless router in the home. Can I still link a home security camera to my smartphone?"
Yes, you could also have everything the smartphone security camera offers – email alerts, push notifications, the live view, etc. – with 4G cellular security camera, such as the smartphone compatible wireless security camera Reolink Go.
Reolink Go
100% Wire-Free 3G/4G LTE Mobile Camera
No WiFi & Power Needed; Rechargeable Battery or Solar Powered; 1080p Full HD; Starlight Night Vision; 2-Way Audio; Live View Anytime Anywhere.
And you do have 2 solutions for wireless security cameras without Internet access, if you want to have 24/7 recording and monitoring but not via the smartphone.
You need to understand that the smartphone security camera needs network, whether it is WiFi or cellular network, to send videos and live stream to your phone.
#4. Accurate Alerts of Security Camera for Smartphone
A friend of mine just got into an embarrassing situation with his smartphone security camera: a penalty for false alarm reporting with old ADT system.
The smartphone security camera will lose the whole point if it makes your phone or mailboxes accumulated with false alarm files.
So here are two options for you to get accurate alerts with smartphone home security cameras:
Smartphone security cameras with the PIR motion sensor. The PIR motion sensor can distinguish whether it is a warm human body passes by – the burglar, intruder and thief – or just the natural cause – the varying lighting, tree's shadow, etc.
Smartphone security cameras with app advanced settings. Many manufacturer's customized smartphone Apps, like Reolink App, allow you to adjust motion detection sensitivity, period and areas to reduce the false alerts.
#5. Excellent Live View of Security Camera to Smartphone
What can be more depressed than the blurry images and video lag in the smartphone security camera live view?
Imagine you are now watching the World Cup broadcast, the image is so blurry that even you, as a die-hard fan, couldn't recognize Neymar. What's more disappointing is that the result comes out when the players in the broadcast are still fighting for another score.
It could be worse if the same thing happens to security cameras for smartphone.
Think about the tons of useless smartphone home security camera video recordings, and the situation when you want to talk to the delivery man via two-way audio, he might have already left.
Here are some tips for you to get high quality images and smooth live videos:
Choose the megapixel smartphone security cameras (4MP and above) from top security camera brands.
If you are using a smartphone compatible security camera system, leave one or two spare ports to release the network pressure.
If you are using wireless home security camera via smartphone, get the one supporting dual-band WiFi signal for better Internet connection.
Use the high quality copper cable for your smartphone security camera that could transmit data in a securer and more stable way.
Switch between different video resolutions like 1440p, 1080p and 720p to accommodate the bandwidth requirements of all your electronic devices.
Best Smartphone Security Cameras & Systems for Home
Here are 2 types of security cameras with smartphone app that will never let you down, if the above mentioned features are exactly what you want.
#1. Battery Powered Security Camera with Smartphone App – Reolink Argus® 2
Reolink Argus 2
100% Wire-Free Starlight Camera
Rechargeable Battery & Solar Powered; Outdoor/Indoor Protection; 1080 Full HD; Starlight Night Vision; 2-Way Audio; Live View Anytime Anywhere.
The battery powered security camera with smartphone app gains much attention these days, for its flexible placement indoors and outdoors, as well as its super easy setup for smartphone access.
With 3 steps to link the smartphone security camera Reolink Argus 2 to your phone, you can receive real-time alerts on the phone when strangers break into your house and check up on your cat every now and then when you are at work, with 1080p HD images like below:
#2. Wireless Security Camera with Smartphone Compatibility – RLC-410W
Reolink RLC-410W
Dual-Band Wireless Security Camera with Audio
5MP/4MP Super HD, Outdoor/Indoor Protection, Dual-Band WiFi 2.4 GHz and 5 GHz, Audio Recording, and SD Card Storage.
If you are looking for some small project in installation and want to receive instant alerts, the wireless smartphone compatible security camera Reolink RLC-410W should be right for you.
The WiFi signal is encrypted with WPA2, which is quite secure for a wireless security camera, if you have a good enough passphrase. With 2.4/5 GHz band WiFi available, there will no worries about signal loss anymore.