Wilmington, Del., April 18, 2023 - Reolink, a leading provider of innovative security and smart home solutions, highlights its solar cameras in celebration of Earth Day 2023. Also, it announces a new partnership with the Solar Village Project (SVP), a non-profit organization committed to providing renewable energy solutions to communities with limited access to electricity.
By harnessing the sun's energy, Reolink solar-powered cameras offer a practical way for individuals to contribute to a greener planet while keeping their homes and businesses secure. These eco-friendly security solutions play a vital role in reducing carbon emissions and combating climate change.
In addition to producing eco-friendly solar cameras, Reolink hopes more people can benefit from solar energy and reduce dependence on traditional electricity. As Earth Day approaches, Reolink decides to celebrate in a meaningful way and therefore collaborate with Solar Village Project (SVP). Together, Reolink and SVP aim to empower communities through access to clean, renewable solar energy, demonstrating the power of innovative technology in addressing global environmental challenges.
Embracing Sustainability with Reolink Solar Cameras
Earth Day, celebrated annually on April 22nd, is a global event that raises awareness about environmental issues and encourages individuals, communities, and businesses to take action toward a more sustainable future.
Reolink is always active in contributing to global efforts to combat climate change and promoting sustainable living. It is committed to promoting environmental sustainability through its innovative product offerings, such as its battery/solar cameras.
These eco-friendly security solutions utilize the power of solar energy, reducing reliance on traditional power sources and minimizing carbon emissions. By opting for Reolink solar cameras, customers can actively contribute to combating climate change while ensuring the safety of their homes and businesses.
Furthermore, Reolink has continuously evolved its solar camera technology to deliver more efficient, reliable, and environmentally friendly products to customers. The journey began with the first generation of the Argus series operating on dry batteries, which required frequent battery changing. While functional, this approach was not as convenient or environmentally friendly as desired.
Recognizing the need for a more sustainable solution, Reolink has developed cameras equipped with rechargeable batteries that can also be powered by solar panels. This groundbreaking innovation not only makes their cameras more convenient to use but also facilitates the adoption of clean energy for security purposes.
Today, Reolink continues to push the boundaries of solar camera technology with the introduction of the TrackMix LTE Plus. This cutting-edge security solution is equipped with a large-capacity battery and a highly-efficient solar panel for 24/7 operation, ensuring a non-stop power supply even in low-light conditions.
Furthermore, TrackMix LTE Plus has a built-in heater to warm up the battery when the temperature is low. TrackMix LTE Plus also offers advanced features, such as two lenses for intelligent motion tracking, remote monitoring, 2K high-definition video recording, etc.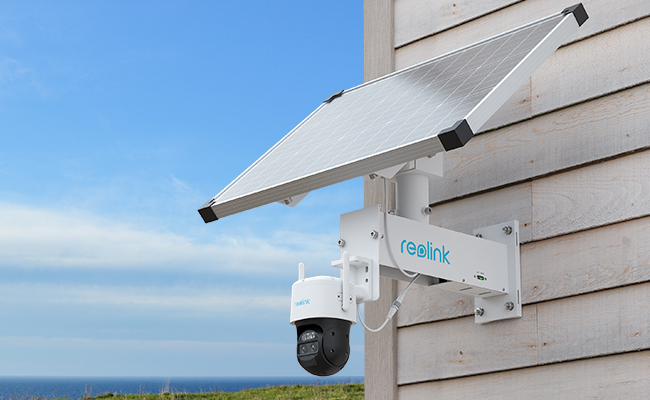 By consistently evolving its solar camera product line, Reolink demonstrates its unwavering commitment to environmental sustainability and innovation in the security industry.
Reolink's 2022 Green Achievement: Solar Cameras Impact
In 2022, Reolink made significant strides in promoting environmental sustainability through its solar camera solutions.
In the past year, Reolink sold over 1 million battery/solar cameras, which contributed to a reduction of 300,000kg of carbon dioxide emissions. This achievement highlights the potential of Reolink's battery/solar cameras to provide reliable security solutions while actively reducing greenhouse gas emissions and promoting a greener, more sustainable future.
Sharon Kwok, the Product Manager of Reolink, said, "We are encouraged by the fact that more users liked our solar cameras in 2022, and it is incredibly rewarding to see the positive impact our solar cameras have made on the environment. As we continue to innovate and enhance our product offerings, our mission remains to provide customers with reliable, sustainable security solutions that actively contribute to a healthier planet."
A Brighter Future: Reolink's Collaboration with SVP and Sustainability Vision
In honor of Earth Day, Reolink has committed to donating $10,000 to Solar Village Project, which will be used to fund solar energy facilities for two schools in communities without stable access to electricity. By providing access to clean, renewable energy, Reolink and SVP hope to create a better learning environment for the students and reduce educational inequality.
In addition to the SVP partnership, Reolink's commitment to sustainability is evident through its ongoing focus on advancing solar camera technology and expanding its range of eco-friendly products. As a leader in the home security industry, Reolink aspires to create lasting positive impacts on the environment and the communities it serves.
For more information on the evolution of Reolink's solar cameras and its partnership with SVP, visit Reolink's Earth Day campaign, or follow Reolink's social media to stay tuned.
---
About Reolink
Reolink, a global innovator in the smart home field, is always dedicated to delivering reliable and user-friendly security solutions for homes and businesses. Reolink's mission is to make security a seamless customer experience with its solid security products. Reolink products are available and sold worldwide, providing video surveillance and protection for millions of homes and families.
For Media Inquiries:
Please download the media kit here>> If you need any further details, please send an email to pr#reolink.com (replace # with @).
About Solar Village Project
Solar Village Project (SVP) is a non-profit organization dedicated to fighting climate change and alleviating the energy poverty of disenfranchised rural communities in the developing world. By offering solar power access, SVP combats energy poverty, boosts education, and enhances the quality of life for individuals living in impoverished rural areas.