"I am finally free from the endless replacement of batteries!" You might have screamed out on the discovery of rechargeable security cameras.
But before rushing to get one, better to do your homework and have a clear idea about what you are going to deal with.
1. Types of Rechargeable Security Cameras
The rechargeable security camera actually runs on rechargeable batteries. According to the way batteries get charged, you will have two options:
Charge the security camera directly like your mobile phone.
Pull out the battery pack to get charged.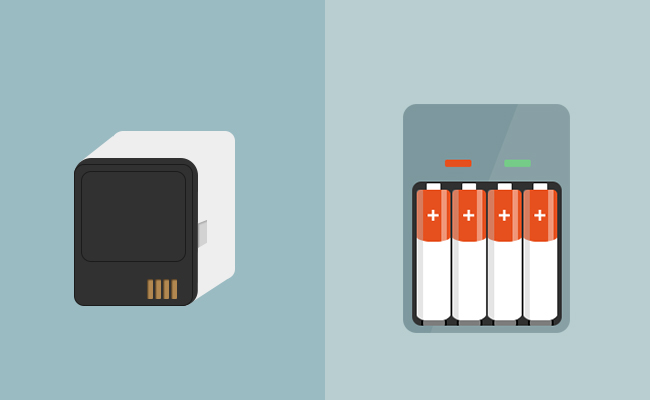 The first type is more durable due to a much larger battery capacity, and it is easier to use with higher flexibility. Other than that, it's a personal choice in regards to which type of rechargeable CCTV cameras to invest in.
If you don't want to manage the recharging things at all, some higher level rechargeable security cameras, like Reolink Argus® 2, also offer solar power and plugged-in option to realize non-stop power supply.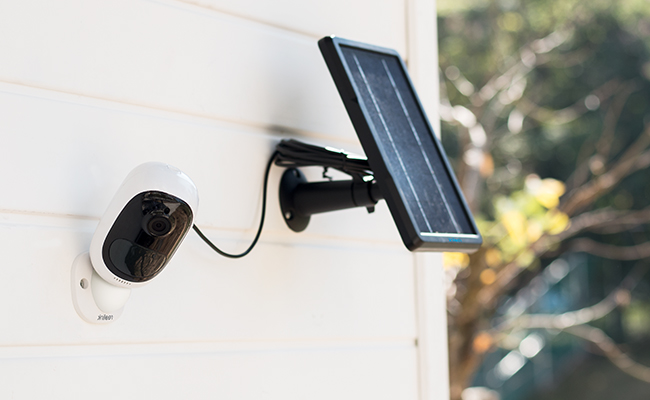 2. The Cost of Rechargeable Security Cameras
A rechargeable security camera could cost more than you think:
Higher priced rechargeable security camera
The price tag of a wireless rechargeable security camera is usually higher than other types, including the non-rechargeable battery-powered ones, the wired ones and the common wireless ones.
A simple Google search lands on some Arlo rechargeable security cameras, costing you almost $200, twice the price of a decent non-rechargeable one with similar features.
Spare batteries and chargers
Don't forget the potential cost – additional batteries and chargers (for rechargeable security camera system) – if you want to monitor non-stop 24/7, especially for outdoor rechargeable security cameras.
If you really search for rechargeable batteries online, you will find them rather pricey compared with disposable ones. Rechargeable batteries for Arlo security cameras, for example, cost at least $49.99 for a set, more than 10 times higher than a non-rechargeable one.
Is there any more cost-effective solution for rechargeable IP cameras?
It is true that a wireless rechargeable security camera will cost you more, but that doesn't mean expensive or unaffordable, as long as you choose the brand right.
A securer life should be for everyone, just as Mr. Liu, the CEO of Reolink, put it.
Bearing this in mind, Reolink upgraded its best-selling and award-winning Reolink Argus® to rechargeable Reolink Argus® 2 with pro features at only an extra 30 bucks, with no monthly fees or subscriptions of cloud storage, plus free shipping worldwide.
With a 30-day money back guarantee, you are free to file a refund if you are not happy with it. And you also enjoy 2-year warranty, which is above the average in the industry.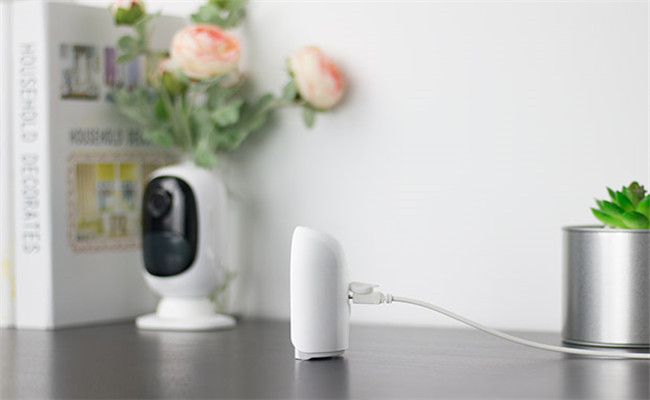 3. Rechargeable Security Camera Battery Life
How long do the rechargeable batteries last between charges?
Generally speaking, the rechargeable WiFi security camera can work for 2-6 months under normal use.
But in practical uses, the battery life varies among different brands, and it depends on how you use it as well as the working environment. If you put the rechargeable outdoor security camera in high traffic areas, you may need to recharge your batteries every couple or three months.
Bonus: Although the battery life of the rechargeable WiFi security camera is limited, you can still hope for the best of it with some clever tricks to extend battery life when using rechargeable IP cameras.
4. Rechargeable Security Cameras Installation Tips
The wireless security camera with rechargeable batteries, cutting all the wire hassles for you, enjoys almost no limit in placement theoretically.
You can even mount the security camera on the ceiling or trees with a security mount. The only thing is that you will have to manage to grasp it down again for charging. But never install the rechargeable outdoor security camera within reach, in case the burglars could easily grab it down.
Ideally, 9-10ft high is good. You can just get to them with a step ladder, but the burglars would struggle to pull them down.
Is it possible for rechargeable security cameras to work in areas with NO WiFi coverage? Reolink Go is here to help you out. Operating on 4G/3G cellular data, Reolink Go can create its own network, just like your phone, and keep an eye on your vacation home, RVs, construction sites, etc.
Reolink Go
100% Wire-Free 3G/4G LTE Mobile Camera
No WiFi & Power Needed; Rechargeable Battery or Solar Powered; 1080p Full HD; Starlight Night Vision; 2-Way Audio; Live View Anytime Anywhere.
5. What to Expect from Rechargeable Home Security Cameras
The convenience of wireless security cameras with rechargeable battery comes at a compromise, to some extent, compared with the wired or non-battery powered wireless security cameras.
The most distinctive design of rechargeable security camera is that they are used for motion detection, in order to save the battery life. They will wake up whenever there are motion events, and send you real-time alerts when danger occurs.
If you are looking for security cameras that can provide 24/7 recording, the non-battery powered cameras like Reolink RLC-410 will serve you better.
6. How to Reduce False Alarms of Rechargeable CCTV Cameras
How "smart" the motion detection is matters a lot to a rechargeable security camera.
Actually, you can trust the rechargeable security cameras with the following two qualities:
The PIR sensor-based rechargeable CCTV cameras detect motion by comparing the previous ambient temperature with the new state instead of counting the different pixels between frames.
So you don't need to worry about getting false positives from the tree or shrub movement at all. The swaying trees even during high winds or storms won't trigger the motion sensor and wear out your batteries since that won't change the environment temperature.
Pro Tips: Do make sure your rechargeable wireless IP camera in the direction crossing the possible intruder so that the PIR sensor can detect motion events.

Some rechargeable security cameras allow you to tune the sensitivity level so that the subtle natural elements won't trigger another motion event. And you can also specify the motion detection period to get more accurate alerts.
Take the rechargeable WiFi IP camera Reolink Argus 2 as an example. You can set up the PIR sensitivity easily via the free Reolink client.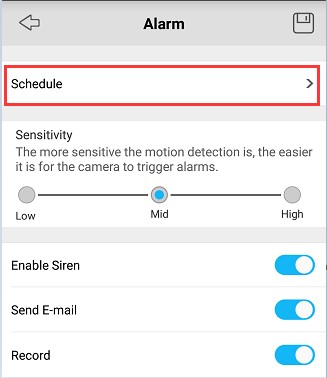 7. Is It Worth to Buy a Security Camera with Rechargeable Battery
Super easy installation, independent from the electronic outlet, real-time alerts, no additional batteries. Do all these bonuses deserve a higher price?
If the budget is not your concern, get a rechargeable security camera directly. Well, actually, the rechargeable WiFi IP cameras are getting cheaper these days. A quality one only costs about 100 bucks.
And rechargeable security cameras are more cost-effective in the long run due to the saving of endless battery replacement. So if you are hunting for home security cameras, the rechargeable one wins.
However, if you are looking for security cameras for RV or other occasional uses, the non-rechargeable security cameras could save you some money.
8. Best Rechargeable Security Cameras & Systems
If you are looking for a rechargeable CCTV camera that is durable, last and easy to use, don't miss the following two wireless rechargeable security cameras.
Best Rechargeable WiFi Security Camera – Reolink Argus 2
Upgrade from Reolink best-selling and award-winning (Innovative Product 2018 by Indiegogo) Reolink Argus®, this battery or solar powered rechargeable security camera could sustain up to 4 to 6 months with only 2 hours for a full recharge – a real trouble-free, trendy, economical and green security solution!
Just as I mentioned above, if you want a reliable rechargeable home security camera, Reolink Argus® 2 is the best choice with all the pro features you may never expect at this price range:
| | |
| --- | --- |
| Resolution | 1080p full HD |
| Night vision | Starlight night vision, up to 33ft |
| Motion detection | PIR motion sensor |
| Rich alerts | Push notifications, emails, and siren alerts |
| Audio | Two-way audio |
| Weatherproof | IP65 weatherproof |
| Remote access | Live view on smartphone & PC |
| Extra charges | No subscriptions and monthly fees |
Here is also a video of this wireless rechargeable security camera from a real user.
Best 4G Rechargeable Outdoor Security Camera – Reolink Go
What if there is NO WiFi available and you want a wireless rechargeable security camera? What if the WiFi signal is rather limited? Or what if you just want to save your home network bandwidth?
No worries. Either case, the 4G mobile wireless rechargeable security camera can meet your needs.
Running on 4G data, this rechargeable outdoor security camera will start to record, save videos, and send live streams and push to your phone with a SIM card. NO WiFi and power outlets needed!
| | |
| --- | --- |
| Resolution | 1080p full HD |
| Night Vision | Starlight night vision |
| Viewing angle | 110° wide viewing angle |
| Installation places | Construction sites, boat, wildlife, RVs |
| Audio | Two-way audio |
| Weatherproof | IP65 weatherproof |
| Remote access | Live view on smartphone & PC |
Rechargeable Security Camera Systems
Looking for a rechargeable security camera system? More to consider.
A rechargeable security camera system is easy to set up, but harder to maintain and pretty expensive.
Think about the recharging work ahead for the whole system and you are also saturating your WiFi band depending on the distribution of the cameras.
From my experience over the years, 2 to 4 rechargeable outdoor security cameras are OK for home network, but if you want to have a larger rechargeable security camera system, especially for business 24/7 monitoring, an 8 channel or 16 channel wired security camera system will do a better job.
9. Rechargeable Battery Camera Safety Issues & Fixes
Still terrified about the explosion of Samsung mobile phones?
So what you can do to keep your rechargeable battery camera safe? Here is something you can try:
Be careful to use it as an outdoor camera if you live in hot or cold areas. Rechargeable batteries are rather sensitive to high temperatures exceeding 55°C or -10°C. Mind that the rechargeable outdoor security camera's battery life could also be affected by the extremely cold or hot environment.
Only use batteries recommended. Check the manual or the product's official website when you're not sure what kind of batteries to use.
Avoid overheating batteries. Remember to unplug your security cameras once it is fully charged. This is also helpful in winning you a longer battery life.
Don't allow batteries to get wet or be exposed to water. If you are going to pull the security cameras out on a rainy day, do protect them well. If you are going to charge the rechargeable outdoor security cameras on a rainy day, do protect them well.
Another security risk for rechargeable WiFi security cameras might be the video storage privacy issues.
Some of you may worry about uploading everything to some vendor cloud. What if someone just snooping on your rechargeable security camera recordings in the cloud?
In that case, you can choose a wireless rechargeable security camera with SD card storage option.
The rechargeable CCTV camera with SD card can keep you away from the possible snooping on the Internet and also frees you from subscription or any sort of cloud-based service from the manufacturer.
OK, that's all for my share. Please let me know if you have any brilliant idea or suggestion about rechargeable battery cameras in the comment area down below!