Careful, Honda riders! 1 out of 5 motorcycles stolen is a Honda. But that doesn't mean motorbike riders of other brands will not be a motorcycle bike theft victim. There is no such thing as "least stolen motorcycles". Go over ten of the best ways that you can prevent motorcycle theft and keep your bike from ending up in someone else's hands.
Best 10 Motorcycle Theft Prevention Deterrents & Tips
How do you keep your motor vehicle from being stolen? For catching a thief, think like a thief first. And the theory also applies to protecting motorcycle from thieves. Going through various motorcycle theft protection forums and communities (Reddit, Quora, etc.), I sum up the following 10 tactics that would really work for prevention of motorcycle.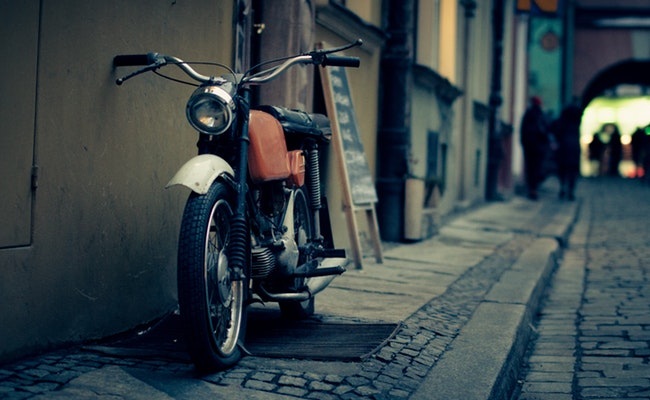 Tip 1: Install a Motorcycle Anti Theft Alarm
One of the best motorcycle anti theft devices is a motorcycle alarm (ring). This will let you know if anyone is messing with your motorbike. As long as it has the desired effect of bringing you outside to check on your car and turn off the alarm, a motorcycle theft alarm is worth the money. Most people don't bother with motorcycle alarms because the sound of a car alarm is so common, but they can be useful.
Tip 2: Install a Disc Brake Lock
Another useful motor vehicle protection tool that you can use in conjunction with, or even in place of the fork lock is the disc brake lock. A disc brake lock is added protection just like the fork lock. But instead of preventing the front wheel from being turned, this lock actually keeps your bike from moving at all. Of course, having these locks is a little inconvenient and takes up saddlebag space, but they are major deterrents to bike thieves.
Tip 3: Use Security Cameras
Consider setting up security cameras in your home. And make sure that your home security camera incorporates crystal clear images day and night, smart motion alarms, and enables mobile accessing. Reolink Super HD DIY security IP camera is highly recommended. If you are not home, you can still have your cycle in your sight by checking it on your smartphone anywhere.
A security camera not only serves as an effective motorbike theft deterrent, it also acts as a useful protection tool. If the worst happens and someone steals your motorcycle, the motorcycle theft video captured by your security camera will be pretty helpful for police investigation.
Read how to catch a thief with a security camera to know more.
Tip 4: Use or Install a Motorcycle Kill Switch
If your bike doesn't already come with a kill switch, you may want to install one. If you do have one, make sure that you are using it to shut off your bike instead of using the key.  And if possible, use a hidden kill switch to enhance your motorcycle security.
The advantage of the kill switch is that it requires an extra step to start the motorcycle. If you use a kill switch, the engine will not start until the key sends a signal to the bike that disables the kill switch. This doesn't happen if you just use the key to shut it off.
Tip 5: Install a Motorcycle Theft Prevention GPS
You should install a GPS tracker if you can, just like you do for your bike theft prevention. Installing a permanent, hidden GPS device on your motorbike could mean that the police will track it down in minutes instead of days, weeks or never. Motor vehicle anti-theft GPS tracking devices are getting more inexpensive all the time and your insurance company may even give you a discount on your premium for having one installed, which make them even more affordable.
Tip 6: Lock Your Motorbike Ignition
You definitely want to lock the ignition when you leave your bike. Most of the motorcycle thefts that happen are with the ignition shut off but not locked. It only takes an extra few moments to lock your ignition before you leave your bike, and it could mean the difference between the bike being there when you get back and being somewhere else.
Tip 7: Lock the Forks
Another motorcycle theft prevention device that is fairly inexpensive to invest in, but can make a huge difference in security, is a fork lock. If you are able to lock the fork of your wheels, no one is going to be able to roll your motorcycle away, especially if you turn your wheel inward before you put the fork lock on.
In addition, if bike thieves were able to get the bike started somehow, they will not be able to drive the motorcycle away unless they can get the fork lock off. This is an added layer of protection that will come in very handy.
Tip 8: Park Your Motorcycle with Others
You also may want to park your motorcycle with others that are wherever you happen to be. This works especially well if you are traveling with a group of other riders, but even if you are solo, you may be able to find some motorcycles to park next to. There are two reasons why this is a good idea: first, your bike is less of a target if it is with other motorcycles and second, more bikes mean more people coming and going, and motorcycle riders typically look out for each other. If parking in a garage, lock your autocycle, close and lock the garage door. Go for 6 simple ways to secure your garage from break-ins.
Tip 9: Lock Motor Bike to an Immovable Object
When you are going to be away from your bike for an extended period of time, make sure that you lock it to a stationary object that is immovable. In addition, you need to use a thick chain that it will not be easy to break with a bolt cutter, along with a padlock that is also resistant to bolt cutters. This might be too inconvenient for a trip to the grocery store, but you definitely want to do it at home.
Tip 10: Hide Your Bike
If you are parking in a garage or in a parking lot, consider parking your motor vehicle out of sight behind a large vehicle, such as an SUV. This might seem counterintuitive, since this offers a potential thief plenty of cover for trying to steal your motorcycle, but it actually does more good than harm because it is out of sight and the odds are good that if someone does go by with the ability and desire to steal your motorcycle, they won't even see your cycle.
Motorcycle Theft Facts & Statistics
Having your motorbike stolen sucks. Get to know more facts about motorcycle theft via the latest statistics 2017.
Number of motorcycles stolen in 2016 is reported to be 46,467 while 45,555 reported in 2015, a 2% rise over the previous year.
Vehicle security reports find that  motorcycle theft in UK (especially in cities like London and Edinburgh) has also risen since 2012. Motorcycle bike in London rose by 44% in 2014, compared to statistics in 2012.
Other countries, like India, also suffers the increasing motorcycle stolen issue.
Top 5 Most-Stolen Motorcycle Brands:
Honda
Yamaha
Suzuki
Kawasaki
Harley Davisson
The Month with the Most Motorbike Thefts:
States with the Most Motorcycle Thefts in US 2020:
California, Florida, Texas, South Carolina, New York, North Carolina, Nevada, Georgia, Indiana, Virginia
Cities with the Most Motorbike Thefts in US 2020:
New York, Las Vegas, San Francisco, San Diego, Miami, Houston, Los Angeles, San Antonio, Indianapolis, Albuquerque